Balcony Boss is reader-supported. When you buy through our links, we may earn a small commission at no cost to you. For additional information, please view our policies.
Urban living has plenty of benefits, but one of the things we apartment dwellers often miss out on is having a backyard or some outdoor green space.
Grass is one of those things that's synonymous with backyards, and while it's something you rarely see on balconies, it's surprisingly much easier to add grass to a balcony than you think!
In this article, we'll go over all the different ways you can do so, and we'll include ideas for both real and fake grass.
First, though, we'll think about why you might want to do this in the first place.
Why Add Balcony Grass?
While a balcony is a prime area for potted plants of all kinds, there are some advantages to using grass too. These include:
Somewhere for kids to play
A natural balcony flooring
A pet potty area
A home for bugs (helpful if you want to encourage pollinators)
Grass is an incredibly hardy plant and growing real grass on a balcony is actually much easier than you'd expect. However, this isn't the only option for adding a patch of greenery to your outdoor space.
Balcony Grass Ideas
1. Grow Real Grass
The first option is a fairly obvious one: grow real grass on your balcony. We've got a full article on how to grow real grass on a balcony, so check that out for all the details.
The short version is that you'll basically grow a patch of grass from seed or you'll roll some sod in a sandbox or similar tray. Keeping it contained in this way will prevent damage to your balcony and means the grass won't take over.
However, there are 2 major downsides to this method. One is that the grass can get waterlogged if you live somewhere rainy. The second is that, eventually, the grass will get a bit sickly when it runs out of soil and nutrients. To remedy this, you'll need to completely replace it.
Pros
Real grass is easy to maintain
Keeps things natural
Plenty of options for seed and sod types
Cons
You'll need to replace it eventually
It can easily get waterlogged
2. Use Fake Grass
Unsurprisingly, the next option is to use fake grass. It's probably a more straightforward option because once you've laid it, you're pretty much done in terms of maintenance. Other than the occasional sweeping, you don't need to do anything else.
We've got a full article on choosing the best artificial grass for a balcony, along with our 6 top picks. Check those out for all the information you could need.
Again, we've got 2 notable downsides. The first is that artificial grass isn't a great option for a doggie potty area. Fake grass sits on a membrane, and this'll basically collect your dog's leavings. You can flush it with clean water, but it'll hold smell more than real grass. Make sure you use an odor eliminating spray too.
The second is that artificial grass gets very hot in direct sunlight – up to 50 degrees F hotter than real grass. This could be an issue if you plan to use it for pets or kids, as it wouldn't be safe in full sun.
Pros
Easier to maintain than real grass
Plenty of style options
Simple to install
Cons
Can get very hot
Holds smell more than real grass
3. Get a Grass Subscription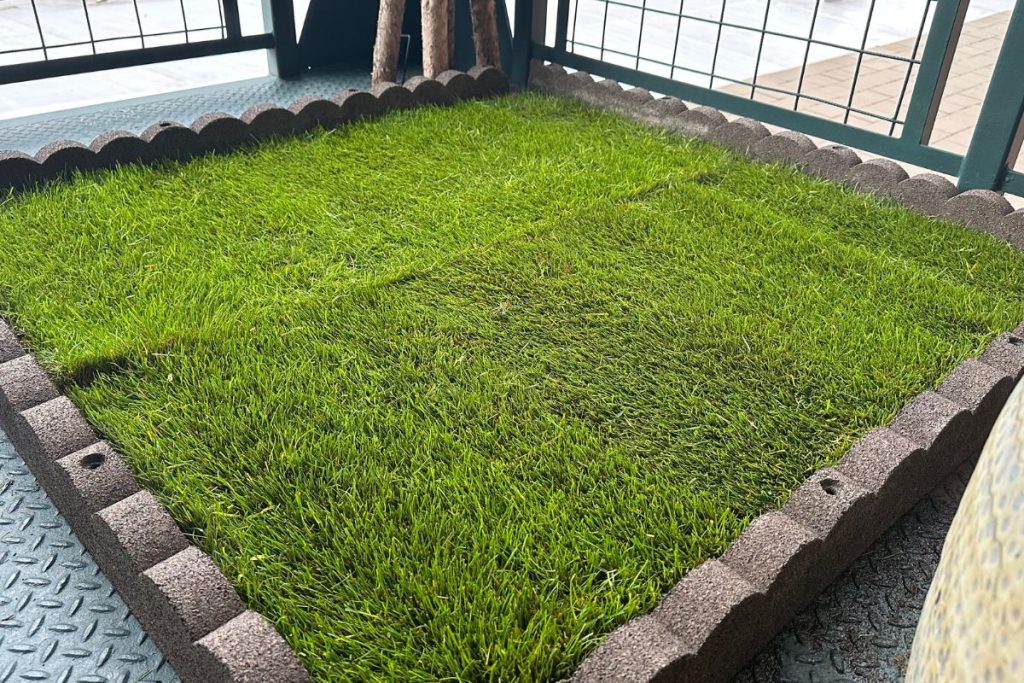 Who knew you could get grass on subscription? Well, you can, and options like Doggie Lawn are ideal for balconies. In short, they send you a patch of grass every few weeks, which you fit into a tray. Your dog can then use it to go to the bathroom.
It's a good compromise between real and fake grass. However, it can work out to be a bit pricey for what it is, and you often need to dispose of the real grass yourself. This is fine if you've got a car and a local disposal facility, but not great if you don't. Even so, it can be a decent option for dogs that want somewhere natural to go potty.
Pros
Ideal for using real grass on a balcony
Subscriptions usually come with a plastic tray
Simple to set up
Cons
You often need to dispose of used grass
Final Thoughts
Which method you use for adding grass to your balcony will depend on your space, needs, and interest in maintaining it. For most covered balconies, artificial grass will be the best option. However, few things beat real grass.
Just make sure you weigh up the pros and cons of each solution before making your pick. Regardless of whether you choose real or fake grass, adding a patch of greenery to your balcony is a fairly simple way to liven up the space.