Balcony Boss is reader-supported. When you buy through our links, we may earn a small commission at no cost to you. For additional information, please view our policies.
Zen gardens are essentially themed Japanese rock gardens. There's a lot of philosophy behind their layout and components, but the basic idea is that they use natural and man-made elements to create a relaxing space.
While they're a great project, they can be surprisingly costly once you factor in all the necessary components. Luckily, you can achieve the same goals without spending much money by swapping out some elements for budget-friendly options.
On that note, here are 9 ways to save money on your Zen garden project.
Why Might You Want to Save Money on a Zen Garden?
Budget Zen gardens are a viable alternative in many situations, such as:
You simply don't have much money to spend on a project
You want something for a small space (balcony, patio, etc.) where cost can easily outweigh the benefit
Rentals – you can't make permanent changes or install water features, etc.
With a bit of creativity, you can easily save money on your Zen garden project. Of course, look at all your options to ensure your chosen features are actually saving money, specifically for things like shipping or equipment for DIY projects.
Zen Garden Budget Ideas
1. Rocks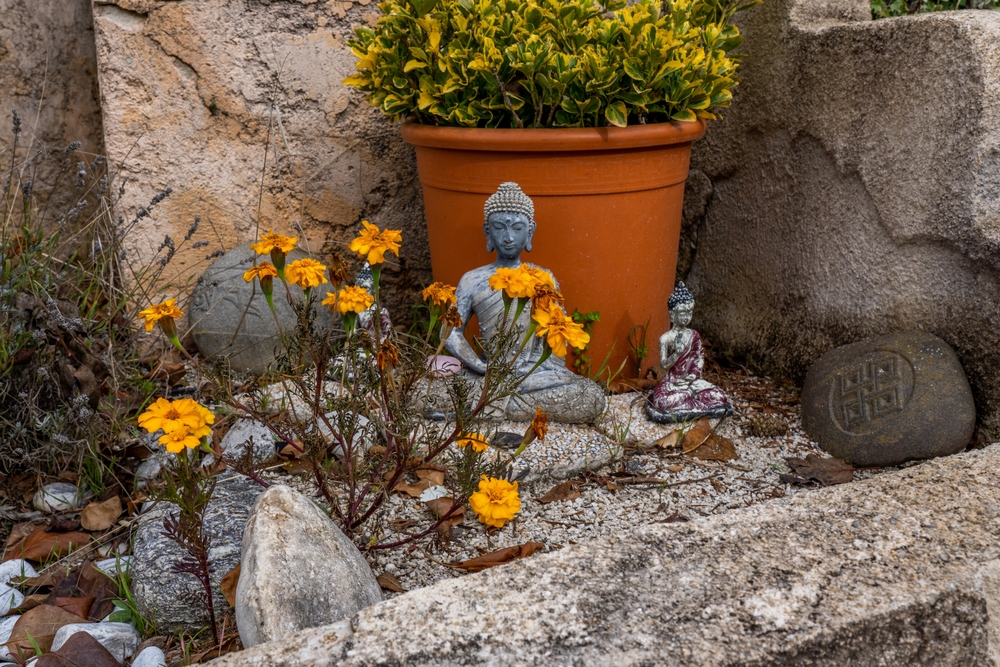 Unsurprisingly, rocks are a vital component of a Zen garden. The least expensive option is to just find some rocks laying around in the world (provided you can actually take them!)
Failing that, speak to a local landscaping contractor. They should have offcuts or leftover pieces of stone that'll work fine. Resin rock stacks are a lightweight option but can often be expensive compared to real stones.
2. Sand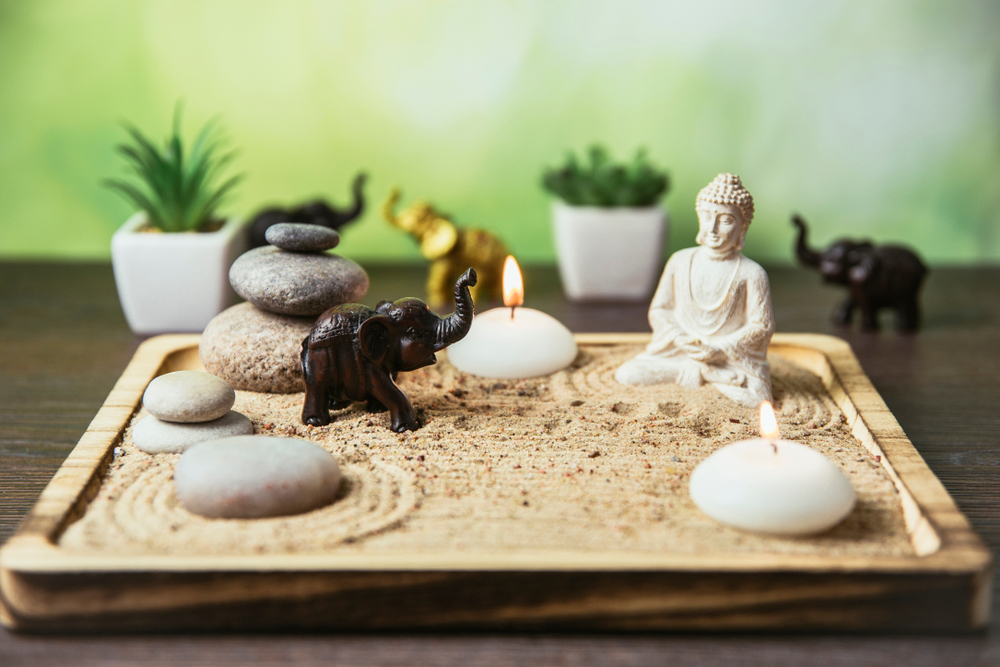 The least expensive option for the sand element is to use play sand – you can get 50lbs. for less than $30. Another option is aquarium sand, which comes in smaller bags and is particularly useful if you're creating a mini or container garden (more on this later on in our list).
While construction sand will often be much cheaper, it's best to not use it here. It's much coarser and isn't something you want to sit on!
3. Water Feature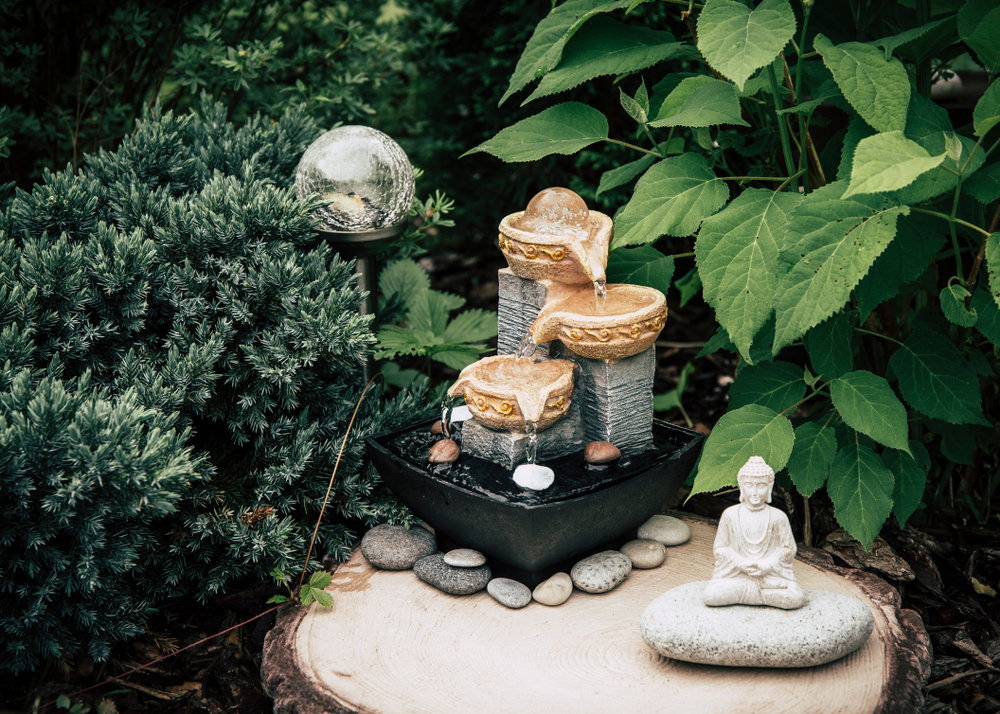 A water feature is a necessary component of a Zen garden. Unfortunately, it can also be one of the most expensive. There are some budget-friendly indoor fountains, but these won't be rated to use outside in an uncovered area.
You could make your own water fountain that'd be much larger. The instructions linked here use plant pots. Provided you can find a cheap set, this should cost you around $50.
4. Bamboo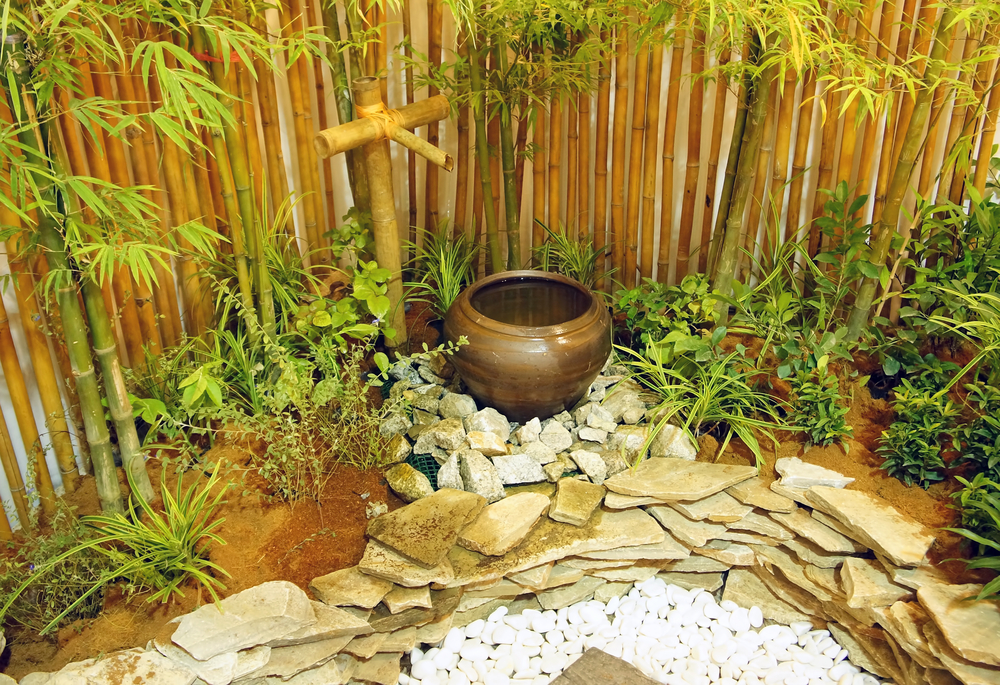 Bamboo symbolizes growth and strength and is an important component of a Zen garden. While bamboo isn't really expensive, it's worth thinking about how you can double up its use in your space.
For example, a bamboo privacy screen serves 2 needs by blocking off your space and adding bamboo. It's not necessarily super cheap, but it doesn't need to be expensive.
Another option is to use fake bamboo, which you can usually get on a budget. It comes with the benefit of not needing maintenance, and you can find plenty of options for all kinds of spaces.
5. Statues and Decorations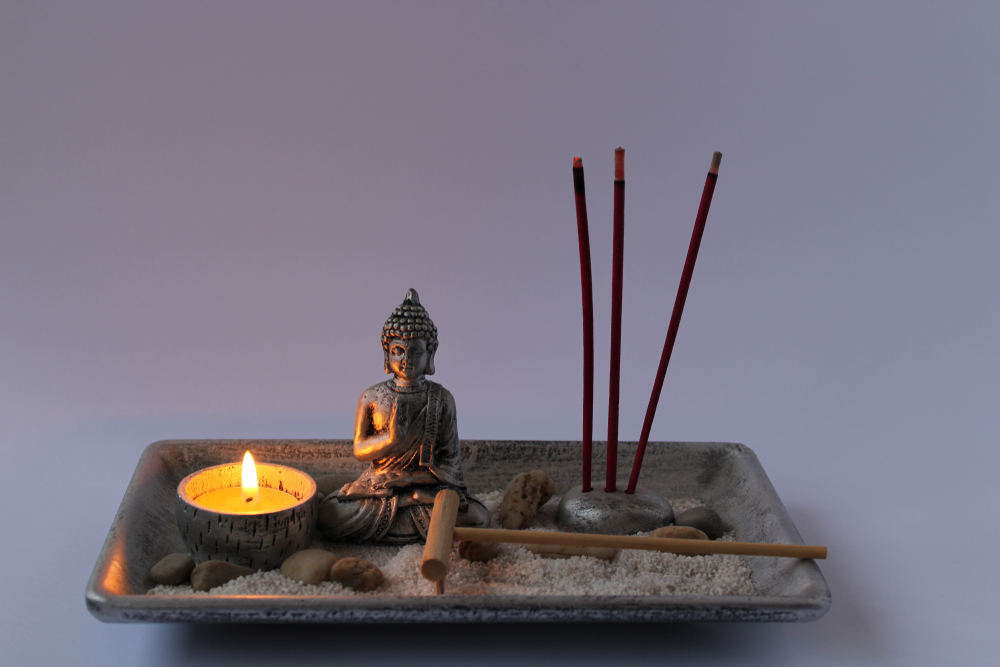 A Zen garden will typically have a Buddha statue or similar decoration. These really don't need to be expensive, and you'll find that resin statues are the cheapest. Helpfully, resin will last for ages outdoors and is very lightweight.
Aside from a Buddha statue, there are no set decorations for a Zen garden. Search thrift stores for candle holders that have a general Asian vibe, as they should be budget-friendly and will work fine in the overall design.
6. Use Color Wisely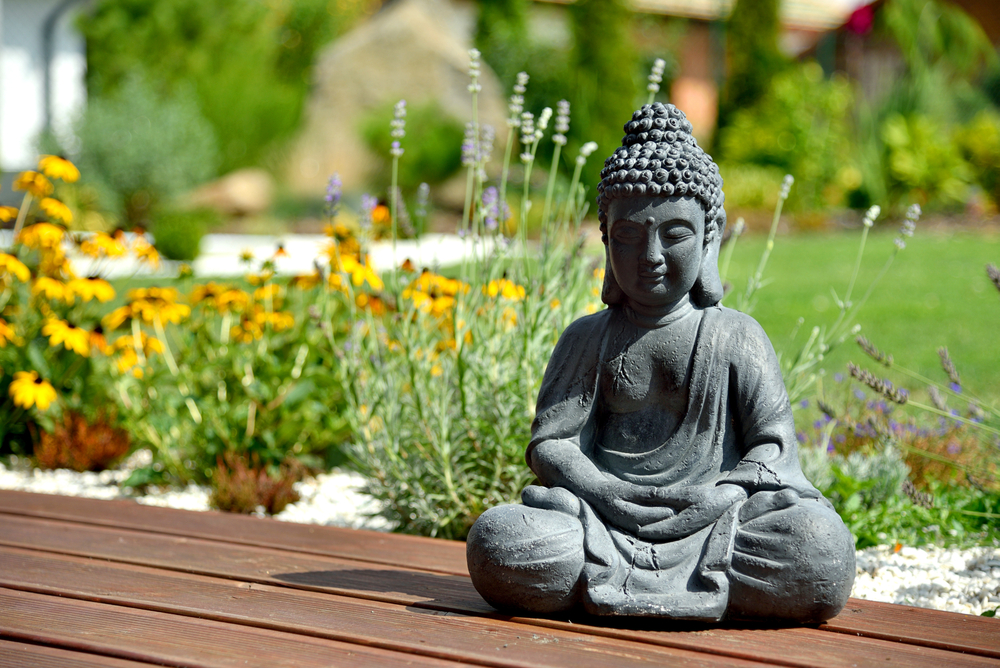 This isn't a money-saving tip per se, but it's a useful way to avoid spending too much money on decorations and other elements. Zen gardens don't use loads of color theory, as they focus more on spiritual philosophy.
However, we can find a middle ground between these by looking for a color that inspires tranquility. Luckily, green is such a color and one that's super easy to include on a budget. How? Using plants!
Whether fake or real, it's easy to find plants on a budget. Cherry blossom trees and Japanese maple are the most suitable, but these can be fairly expensive. Instead, just go with whatever you want to use or whatever you have lying around.
7. Outdoor Speaker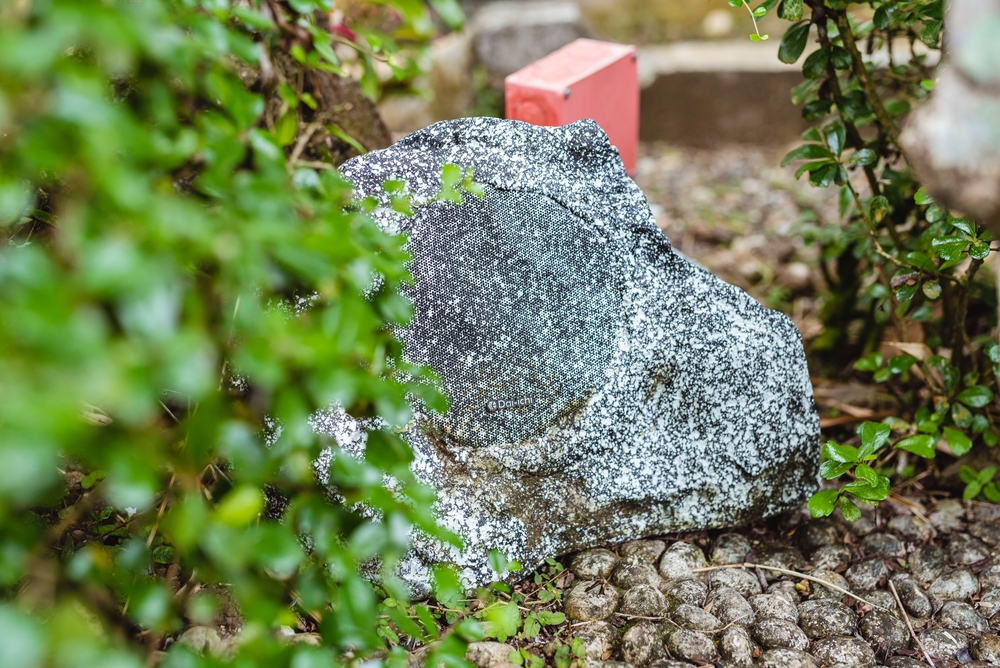 If you're really looking for a way to save money and cut down on your decoration budget, an outdoor speaker can be a great option. You could connect it to your phone, hide it somewhere, and then play ambient nature sounds while you relax!
If you really want to up your budget Zen garden game here, opt for a weatherproof rock speaker, which will take care of your rock feature and sound feature in one!
Find tracks that include flowing water and wind rustling in leaves, as these are vital components of Zen meditation. Pretty much any music streaming service will have loads, so enjoy!
8. Focus on One Aspect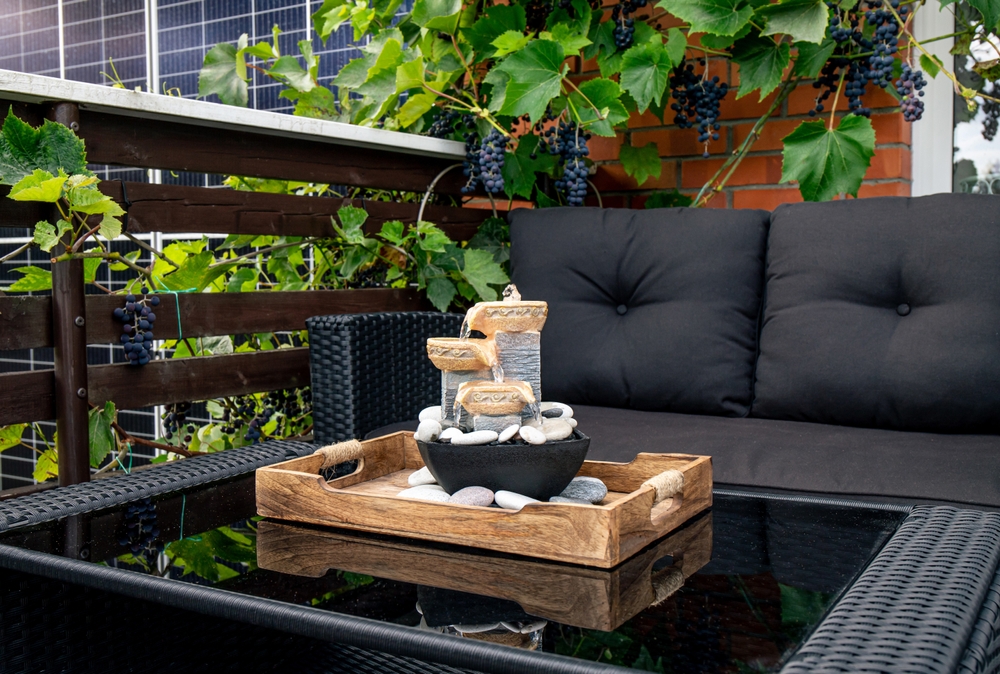 If your budget is tight – or you don't have much space – try to focus on one important aspect of a Zen garden. For example, you might have a small balcony that would benefit from a water feature. Alternatively, you might have a corner of a patio that would suit a sand raking garden.
This can help if you can't build an entire Zen garden, as certain elements can cause your budget to creep up. While it might not immediately be obvious that you're designing a Zen space, certain fundamental elements (such as water or raked sand) are quite recognizable. Plus, you can always add more at a later point.
9. Build a Container Garden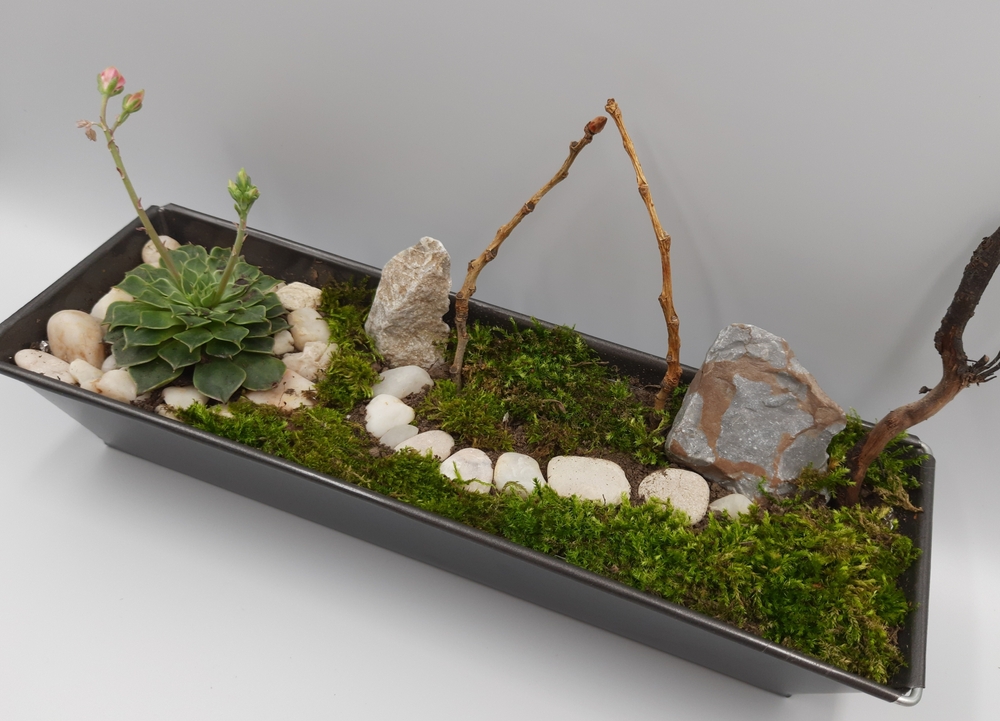 Similarly, another way to save money is to simply build a mini Zen garden in a large container. For example, you could plant a Japanese maple and arrange some rocks and gravel on the soil with a mini Buddha statue. It captures many of the important elements but gives you flexibility over placement.
Final Thoughts
As you can see, there are plenty of ways to save money on a Zen garden. Plan out your budget and spend time doing some research to see what options you have. Hopefully, this list should serve as some starting inspiration for budget-friendly ideas.