Balcony Boss is reader-supported. When you buy through our links, we may earn a small commission at no cost to you. For additional information, please view our policies.
Outdoor furniture can be very pricey, and it's often difficult to find pieces that match your style and the size of your balcony.
Luckily, there's a great alternative: a pallet couch.
Also known as a pallet sofa, they're super easy to make (you can even do it without tools).
In this article, we'll cover a few methods for making a DIY pallet couch. There should be at least one option suited to your DIY skills, time and budget.
What is a Pallet Couch?
A pallet couch is simply a seating arrangement made from shipping pallets. These are the large wooden things you see all kinds of materials shipped on. Pallets are super easy to find and good to work with because you can turn them into almost everything.
Where to Find Pallets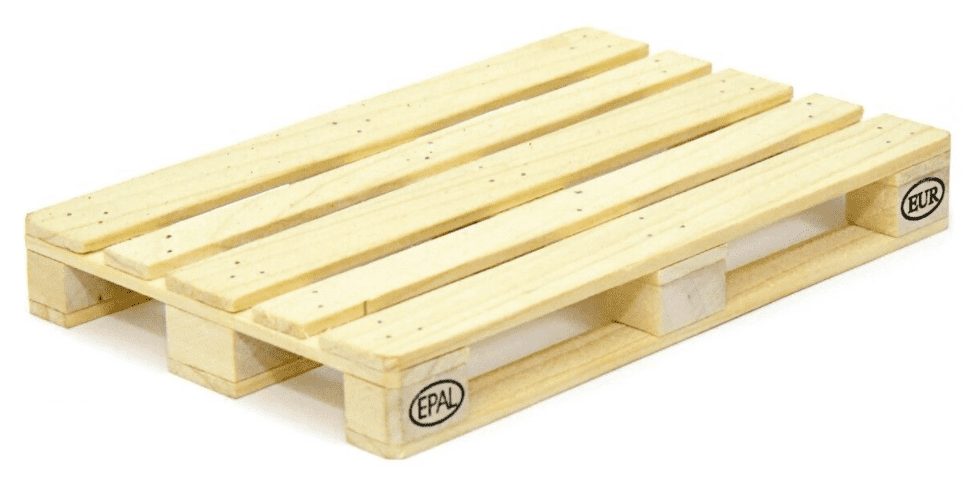 You can find pallets at any builder's yard or DIY store. They won't necessarily be for sale, but many places will let you take them for free because they have so many spare. Go to your local store and ask.
Alternatively, check sites like Craigslist or Facebook Marketplace. Some people even sell them on eBay if you're really stuck.
In short, you shouldn't have any trouble getting hold of pallets for your pallet outdoor couch. They're widely available in rural areas and cities and many places will gladly give them away for free.
Depending on where you buy your pallets, they might need some work before you get started. Some companies pre-treat and kiln fire their pallets, and these are ready to go.
But, some are much rougher products. They'll need sanding first to remove any sharp bits. You likely don't own a power sander, but you can get them sanded at a hardware store. Alternatively, you can also rent power sanders.
Finally, if you're feeling really masochistic, you can sand them by hand using sandpaper. Good luck, though, as this'll take ages.
Always make sure you inspect pallets for nails or staples sticking out. You'll need to remove these before you start construction to avoid any accidents.
It's also worth pointing out that some pallets should be avoided entirely. Check out our full guide on pallet safety tips for more information.
Why Build a Pallet Sofa for Your Balcony?
Building a pallet couch for your balcony has numerous benefits. These include:
A pallet sofa is a cheaper alternative to ready-made furniture
You can build them to your available space
You can accessorize them in whatever way you choose
They're arguably better for the environment (reusing materials rather than buying new ones)
A pallet outdoor couch is perfectly suited to balcony styles such as boho, Scandi, shabby-chic and much more. You can mix a pallet sofa into basically any rustic-themed style.
How to Build a DIY Pallet Couch
Luckily, building even a complicated DIY pallet couch is really easy. As long as you know how to use a power drill (and maybe a saw), you should have all the skills you need to get started.
Below are a few different methods for building pallet couches. If you're willing to put a bit more work in, you can adjust the couch's measurements to suit your balcony space.
Pallet Couch with no Tools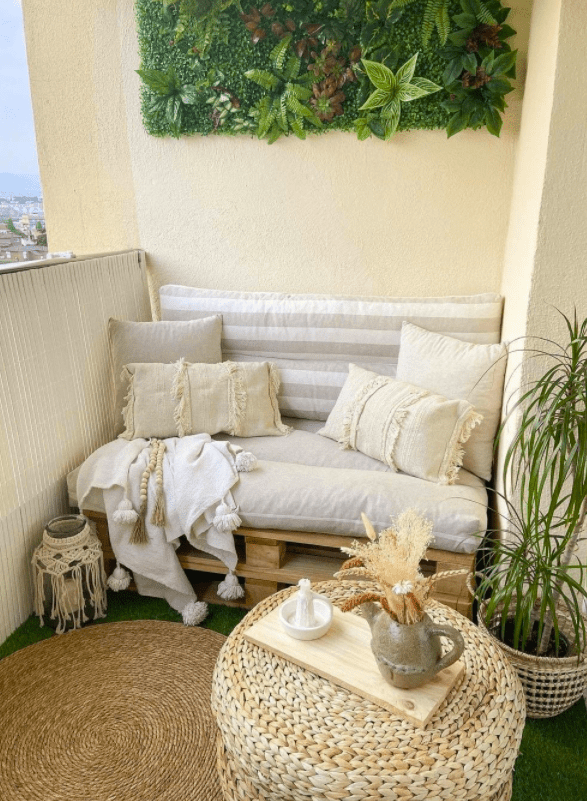 The first method is the simplest, as it doesn't require any tools (providing your pallets have been sanded). You'll still want to paint/treat the wood, so make sure you have the materials handy.
Materials
Method
Stack 2 pallets to make the seat for the sofa. Do this twice to make 2 units.
Stand a pallet behind each base. It should look like the backrest of a sofa.
Where the vertical and horizontal pallets meet, start tying them together with rope. Wrap it around 3 or 4 times and tie it with a normal knot.
Pallets have a block of wood holding the top and bottom planks in place. It's ideal for tying the rope around on the pallet seat. For the vertical one, use the crossbeams.
Continue tying the rope around all available spots on the vertical pallet.
To decorate, either paint or stain (you can do this before you start construction). Alternatively, cover with a sheet.
That's literally all there is to it. Try to do as much building of the pallet couch where it'll eventually sit, as they can get quite heavy. It'll take more than one person to drag it into position.
Standard Pallet Couch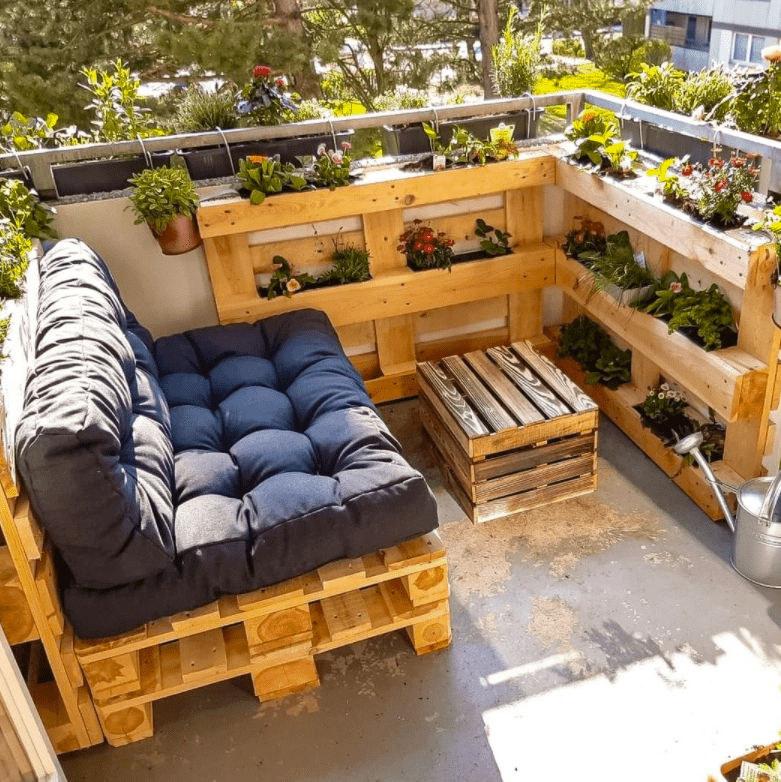 This is perhaps the most standard pallet sofa design and does require a few tools. They're nothing major, and if you don't already have them, you can pick them up online or in a hardware store.
Materials
Pallets (6 makes a two-seater sofa)
Electric screwdriver
Paint or wood stain
Method
Paint all your pallets before construction, as it's easier to reach the small gaps before screwing everything together.
Stack 2 pallets to form the base of the couch (you can always use 3 if you want a higher base).
Use the brace brackets to secure the pallets together (use one bracket on each block – up to 6 for each seat).
Position a pallet vertically for the back of each seat. Fix in place using screws – you'll need long ones for this job.
If you're making 2 units for a longer sofa, it helps to secure them together using brace brackets and screws.
Decorate with cushions, throws, or whatever else you choose.
If you want to change the size of your pallet outdoor couch, you'll have to cut the pallets using a saw. It's best to do this near a support block for obvious reasons.
That said, you can always remove the block from the offcut and nail it in place. Each pallet should have 3 support blocks, and it's best to keep it at this number if you want a longer seat.
Pallet Sectional Couch or Corner Sofa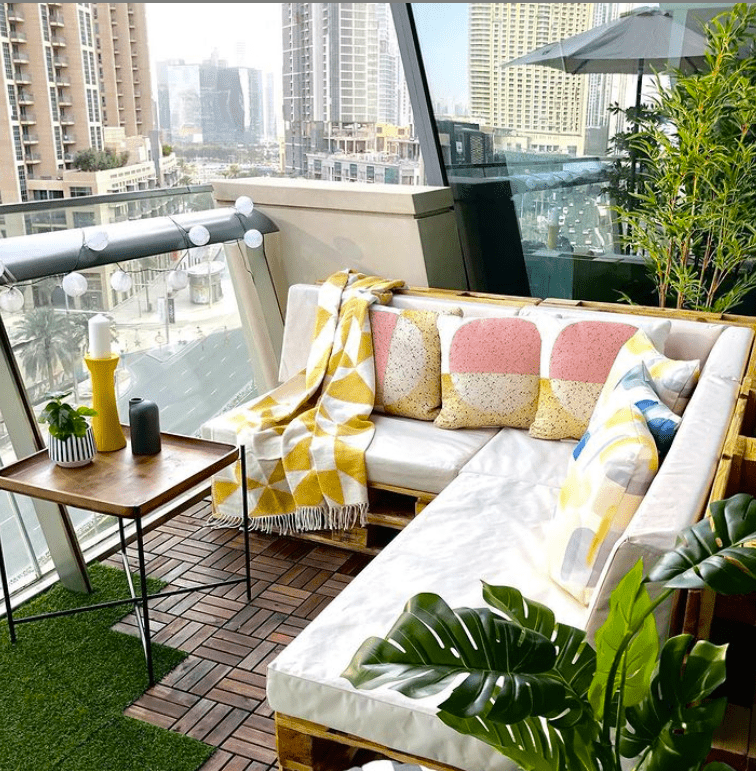 For a pallet sectional couch, you're essentially making individual units that you can position however you want. It's the easiest way to do this because a pallet sofa can get very heavy, and you'll struggle to move a larger corner sofa.
The only real difference is that, for the corner unit, you'll want to fix 2 backrests on it. You can do this by fixing one on as normal and then resting the second at a right angle.
There shouldn't be any gaps providing your first pallet properly lines up with the seat. If not, do a dry assembly first so you can cut the pieces to size as needed.
For a decent size pallet sectional couch, build at least 3 units. Having 4 units will give you even more seating, but might be a bit large for a balcony. But that's the beauty of a pallet sofa: you can adapt it to fit your needs.
DIY Pallet Couch with Storage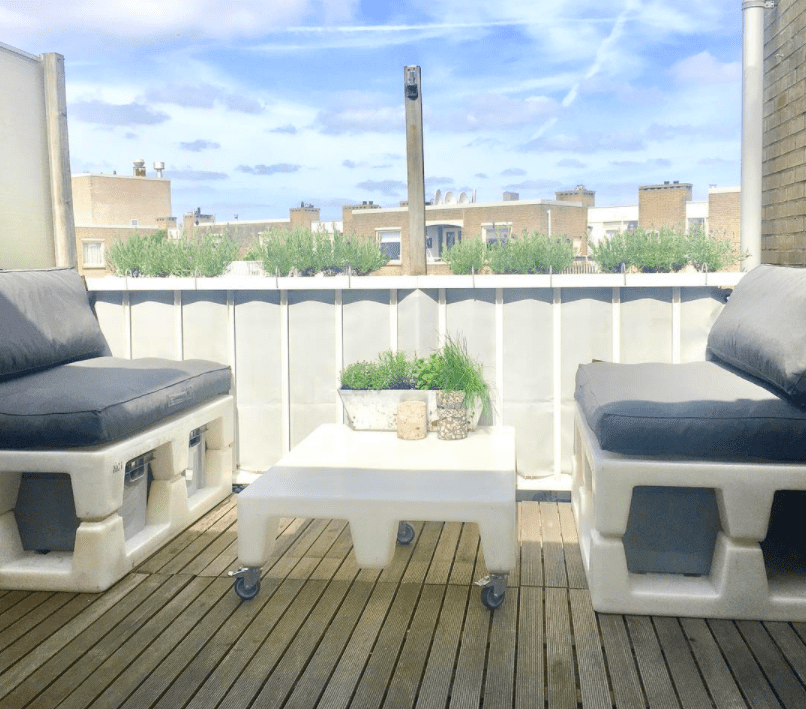 For a DIY pallet couch with storage, you just need to slightly adapt the method for the standard pallet couch.
When stacking the 2 pallets for the base, stack them bottom-to-bottom. The bottom of a pallet usually has fewer planks, and you'll need to remove these. It shouldn't make a difference to the seat's overall strength, as you screw the pallets together as normal.
Doing this creates a larger open space under the seating unit. You can then fill the space with waterproof bags or make some drawers out of the leftover lumber.
Decorating a DIY Pallet Couch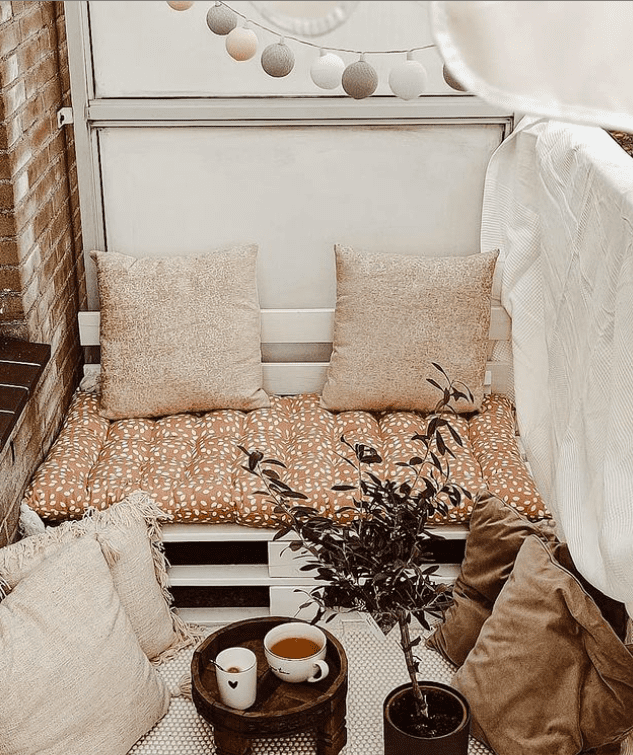 When it comes to decorating a pallet couch, it completely depends on your balcony style. Regardless, you'll want some kind of sofa cushion to make it more comfortable.
Loveseat cushions are almost exactly the right size, and they're often waterproof. Of course, you can make your own with some cushion filler and waterproof material.
When furnishing the pallet couch, opt for waterproof cushions if your balcony is uncovered. You can then accessorize it further with some string lights and a coffee table.
Maintaining a Pallet Sofa
If properly treated, a pallet couch can last decades. Use a suitable outdoor wood paint or stain during construction, making sure you get into all the small gaps.
As with any other wooden product, an outdoor pallet couch may be prone to warping, shrinking and other natural movements. You can reduce these by completely waterproofing the pallets.
In terms of general maintenance, give it a brush down at the end of the summer and again at the beginning of spring. You'll need to repaint it every few years depending on the paint manufacturer's instructions.
Final Thoughts on Building a DIY Pallet Couch
Regardless of which method you choose, building a pallet sofa really isn't that difficult. You can get the bigger jobs (such as sanding) done for you, meaning you just need to wield a drill for an hour or two.
The best thing about pallet sofas is that they're so versatile. You can match them your style and size requirements quite easily. However you go about it, make sure you have fun building the perfect balcony sofa.