Balcony Boss is reader-supported. When you buy through our links, we may earn a small commission at no cost to you. For additional information, please view our policies.
Using a lattice for privacy is just one of the product's many functions. While you'll get the best results if you grow plants up, this isn't always necessary, unlike with a trellis.
Surprisingly, there are plenty of ways to use a privacy lattice on a balcony.
To help get you inspired, we'll cover a bunch of different ways to set up a lattice for privacy.
Privacy Lattice Benefits
Well, the most important benefits include:
They're inexpensive
They're easy to install, with or without drilling/nails
You can grow plants up them for extra privacy
Privacy lattice panels exist for this exact reason
They come in different designs, making it easy to fit them into your overall style
Things to Consider Before Setting Up a Privacy Lattice
There's really not much you need to consider when setting up your lattices. That said, make sure you think about the following:
Permanence
Lattices are a fairly permanent option, if only because they're not easy to store. If you want something storable, check out our article on privacy screens for some other options. That said, an expandable lattice is probably the most sensible, storable choice.
Maintenance
While lattices don't need a ton of maintenance, they're not as long-lasting as metal screens. If you want your privacy lattice to be long-term, make sure the wood is treated first. Alternatively, buy vinyl, plastic or metal privacy lattice panels because they'll last a lot longer.
Renter restrictions
If you rent your apartment, you probably can't drill holes or put up nails. This shouldn't be a massive issue, as we suggest some renter-friendly options below. Just make sure you pay attention to which are most suitable.
6 Ways to Use a Balcony Privacy Lattice
1. Block the railing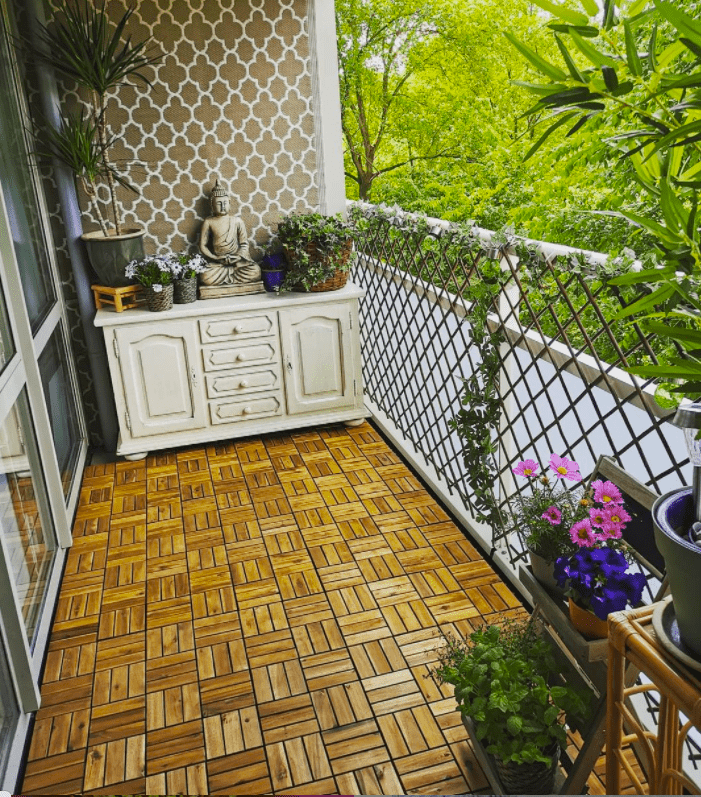 The most obvious use for a privacy lattice is to fix it to your balcony railing. Doing so breaks up the view, so is particularly useful for iron railings that have lots of gaps.
For maximum privacy, you'll want quite a fine lattice (i.e. holes smaller than an inch) like this one. Installation should be a breeze, though, as you can just use zip ties. That said, zip ties might not hold up too well on windy balconies.
Lattices with larger holes are a bit more common, so you can always use an expandable lattice like this one and add more privacy with real or artificial plants.
Pros
Cons
2. Hung from the ceiling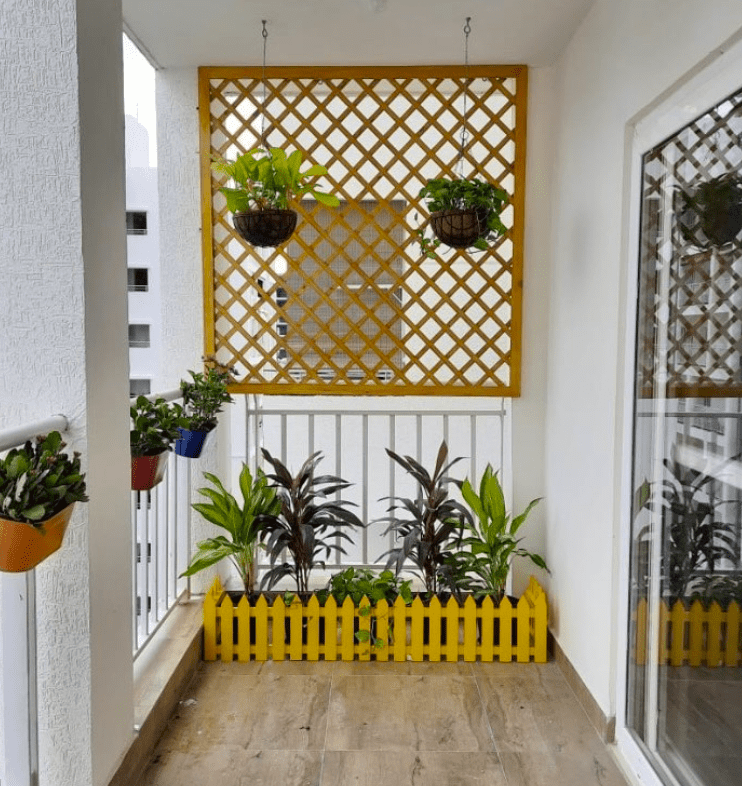 On its own, a privacy lattice hung from your balcony's ceiling won't do a ton. But you could use it as the basis for a larger privacy setup, such as hanging curtains or plants to create a more contained space.
The best lattice option for this would be a wall-mounted one (like this). It's thinner than usual, giving you greater flexibility with placement.
To install, you could either drill holes to hang hooks, or use adhesive hooks (like these) for a renter-friendly option.
Pros
Good basis for a larger privacy setup
Ideal for hanging plants or curtains
Renter friendly
Cons
Privacy lattice panels on the ceiling won't do much on their own
3. Freestanding privacy lattice panels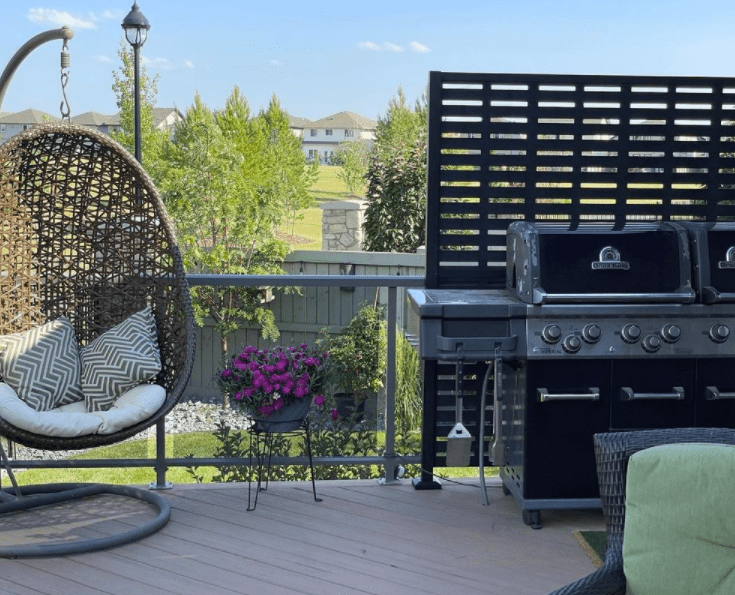 Freestanding panels (such as these) are ideal as space dividers or as a flexible privacy option. Unlike other lattices, they obviously don't need to be fixed to a surface.
As such, they'd be good for separating, say, an L-shaped balcony or for removing when you don't need to block your balcony.
But they do come with some downsides. First, you can't grow plants up them if you want to move them around. Second, they take up quite a bit of floor space and are prone to blowing over. To avoid this, make sure they have big feet.
Pros
Flexible privacy option
No installation needed
Renter friendly
Cons
You can't grow plants up them
Take up floor space
4. Wall topper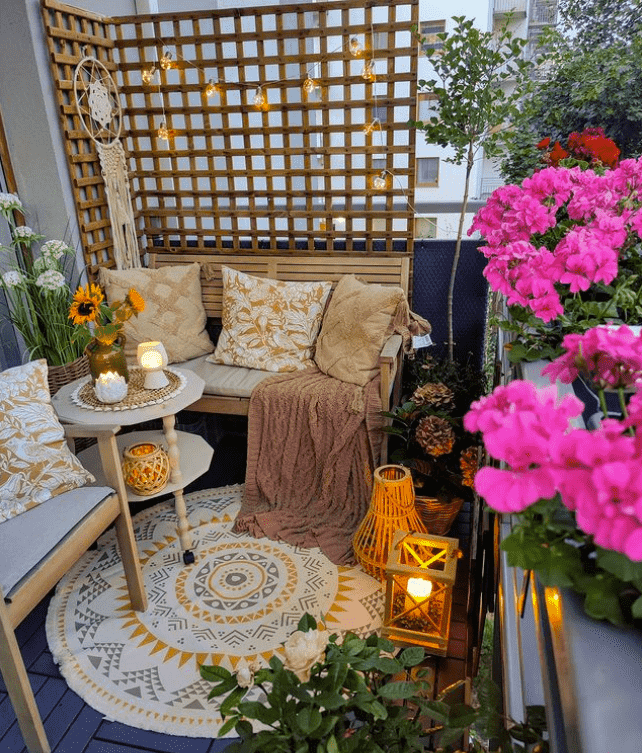 If you have a balcony wall rather than a railing, consider using a privacy lattice as a topper. A small expandable lattice (such as this) is ideal for adding extra height and support for plants.
We've got a whole article on privacy toppers, so check that out for more information.
Pros
Ideal for adding extra height to a wall
Suitable for different materials
Cons
Takes more installation than other options
Probably not renter friendly
5. Plant support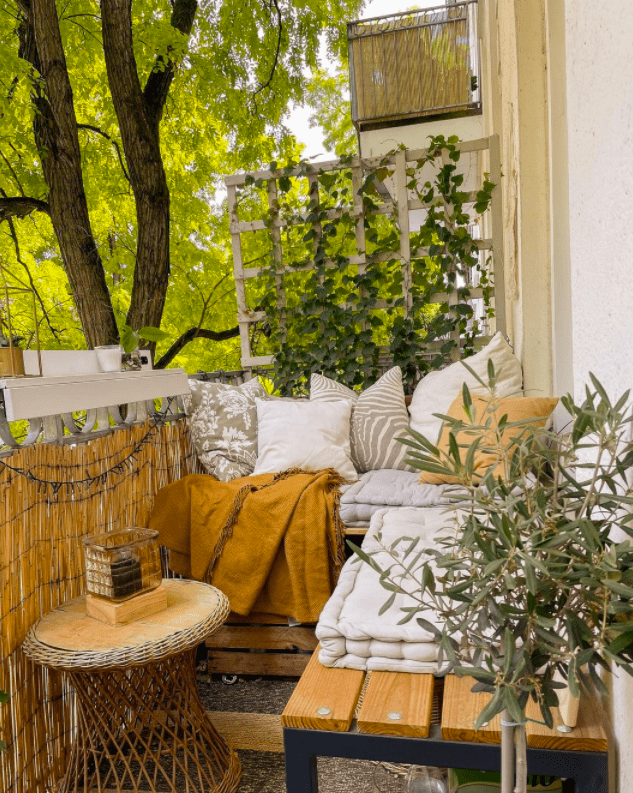 In some ways, this doesn't deserve its own entry because you won't really be using the lattice for privacy. Instead, the plants you grow up it will be doing all the work.
However, it's worth mentioning because it's essentially why lattices exist. So, you could use a privacy lattice in any of the ways mentioned above as support for big, bushy plants.
As for what plants you grow, that's up to you. Climbers (e.g. honeysuckle) are ideal for this purpose. You can read our guide on privacy plants for some more inspiration.
The main downside of using a privacy lattice for plants is that, over time, it can sustain damage. Lattices aren't super durable anyway, and plenty of plants use suckers or snap the wood by gripping onto it.
Pros
Plants are ideal for privacy
Lattices are a good basis for plant support
Gives you more growing room on smaller balconies
Cons
Plants can damage lattices over time
6. Blocking off areas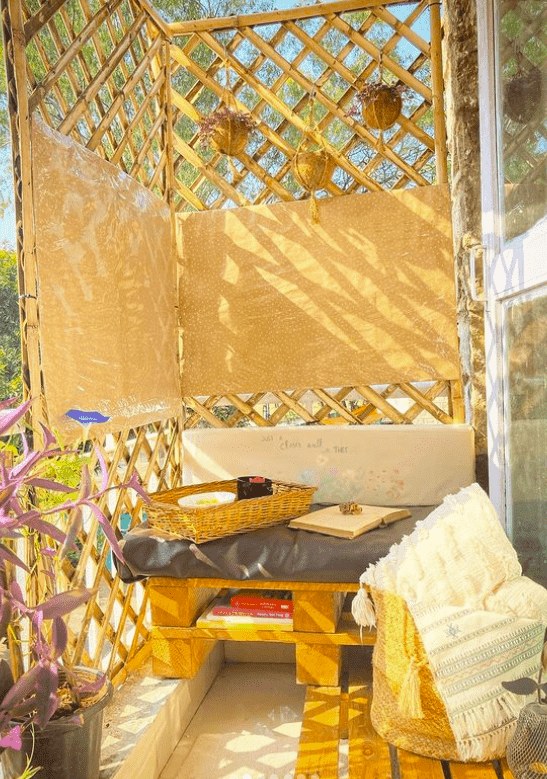 While we mainly consider privacy as blocking out views, we could also look at hiding areas. For example, you might want to use lattice privacy panels to cover your hot tub, trash can area, or AC unit.
For these, freestanding/folding lattice panels (such as these) are best. They won't completely block the view but do enough to break it up. But if you want complete privacy, consider using opaque panels.
Pros
Easy to use
No installation needed
Ideal for blocking things like bins or AC units
Cons
Won't fully block the view
Final Thoughts on Privacy Lattice Panels
Hopefully, you've now got some inspiration for how to use a lattice for privacy. They're surprisingly versatile and are ideal for balconies. So, figure out what you want to make private and see which option works the best!