Balcony Boss is reader-supported. When you buy through our links, we may earn a small commission at no cost to you. For additional information, please view our policies.
Screening in a porch allows you to use the space throughout the year without worrying about bugs or other creatures. However, screening in a porch can get pretty expensive – averaging $2,000 for a 200 sq. ft. porch. Expect labor to make up around 60% of this price, too.
But if you're willing to get your hands dirty, and get creative with your materials, you could do the same job for a few hundred dollars.
To get you started, here are 7 screen porch ideas on a budget.
Why Screen in a Porch?
Adding a screen to your porch has numerous benefits, including:
Gives you usable outdoor space without worrying about bugs
Can add value to your home
Can block out some sunlight, giving you a bit of shade
Creates a transitional area between indoors and outdoors
The bottom line is that a screened porch is useful for giving you access to fresh air and the outdoors while not being pestered by bugs or having to sit in the blaring hot sun.
Best Screen Porch Ideas on a Budget
1. Outdoor Curtains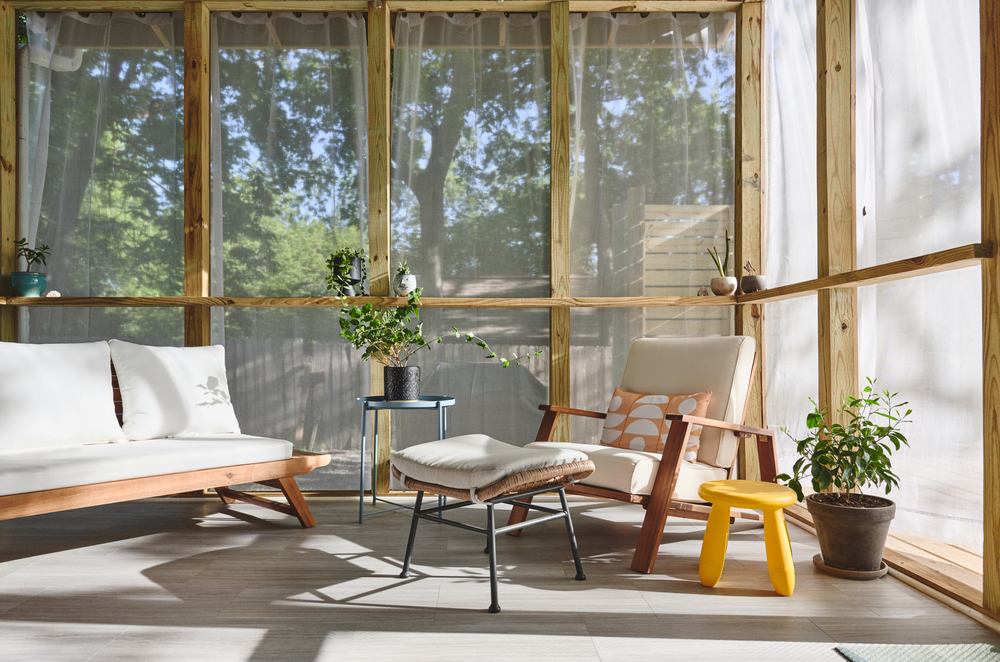 A budget-friendly alternative to a traditional porch screen is outdoor curtains. Depending on how much privacy/shade you want, you could choose from opaque curtains (such as these) or sheer net curtains (such as these).
Unsurprisingly, you'll need to fix curtain rails to your porch roof, but this is easy enough. You'll also need to measure the length of the space you're screening in to get the right number of curtains.
Wind can be a nuisance when dealing with outdoor curtains. Make sure you check out our article on how to stop curtains from blowing around for some tips!
Pros
Plenty of budget-friendly options
Less permanent option than a traditional screen
Can provide varying levels of privacy
Cons
Will need maintaining to keep them looking nice
2. Roller Shades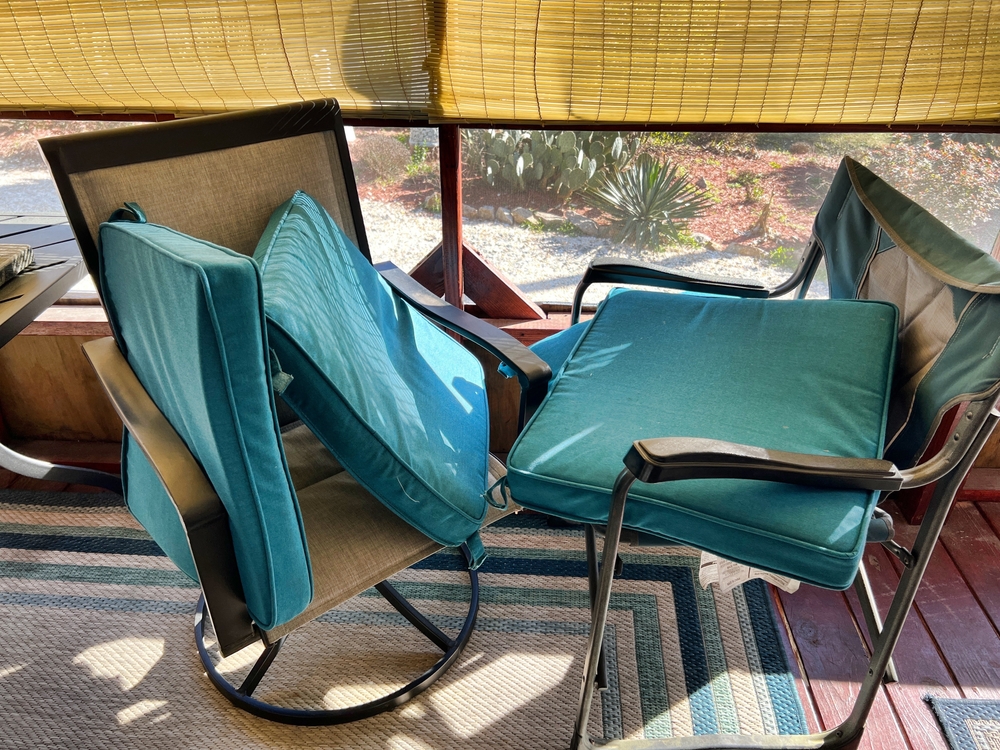 A similar budget-friendly option is roller blinds. Bamboo shades are a good option because they're inexpensive and lightweight. However, they're not as weather-resistant as treated fabric curtains, so make sure you take them down during wetter weather.
Installing them is usually pretty easy: you'll need to drill some holes and fit some screws. Make sure you measure the section you're screening in and buy shades with the appropriate width.
As with curtains, you might want a way to hold the shades in place. While you can weigh curtains down, it'll be better to install some hooks for roll up blinds. They're more fragile, so hanging weights from them could rip them.
Pros
Can add a boho or natural look to your balcony
Inexpensive and easy to install
Plenty of sizes available
Cons
Not especially weather-resistant
Can be quite fragile
3. DIY Screens
If you want actual porch screens, the best material to use is fiberglass mesh (such as this). It's less expensive than metal mesh and is safer around kids and pets because there's no risk of injury.
To make the screens, you'll need to build individual panels out of treated wood. You then attach the mesh to these, stretching it taut. Finally, fix the panels to your existing patio, ideally in a way that makes them easily removable.
While this method sounds simple, it's really not difficult if you have some basic DIY knowledge. Check out this video on how to make screen panels for a more visual guide.
Pros
Can mimic professional porch screens if built well
Generally the best option for ensuring no bugs get in
Cheaper than metal mesh or readymade panels
Cons
Probably the most expensive budget option
4. Vinyl Sheeting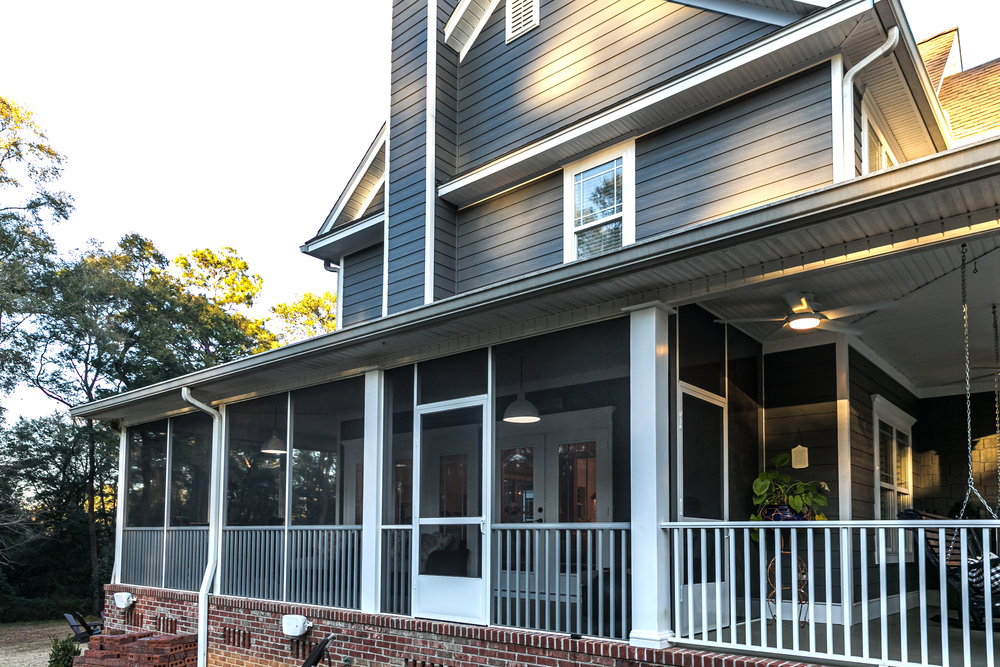 If you want a screened in porch that doesn't have any breeze come through, something like vinyl sheeting is a good option. Obviously, you'll want to go for transparent vinyl sheeting (such as this) if you still want visibility.
How you install it depends on how permanent you want it to be. For example, you could build panels (following the method given above) and install these on your porch. Alternatively, you could fix the vinyl sheeting directly to the porch. Either way, you can use normal screws because vinyl is tearproof.
It has good weather resistance, but the specifics depend on the thickness you use. Also, bear in mind it could make your porch very warm, which could be nice in the winter but less so in the summer.
Pros
Different thicknesses available
Fairly easy to install
Works out around $2.50-$3.00 per sq. ft.
Cons
Will likely create a greenhouse effect on your porch
5. Artificial Greenery Roll
This is a self-explanatory option. Using artificial hedge (such as this) is as simple as fixing it over your porch windows, which you can do with cable ties and hooks.
Artificial hedge will give you plenty of privacy but won't be as weatherproof as traditional porch screens. Also, it'll still let bugs through, so bear that in mind if either of these factors are a priority.
Also, this option can get a bit pricey depending on how much you need. Once you've measured the size of your porch, try to buy all the hedge you need in one roll because it'll be cheaper than buying several smaller pieces.
Pros
Offers a high level of privacy
Can be cost-effective if bought in bulk
Easy to install
Cons
Doesn't really block weather or bugs
You will lose your view
6. Plants
A more natural option for screening in a porch is to use plants. Of course, it won't give you the same kind of weather resistance as mesh, but it'll help block sunlight and a decent proportion of a breeze.
If your porch borders a lawn or unpaved area, make a flowerbed around its perimeter. For the best wind-blocking, use evergreen shrubs like boxwood hedge, privet, etc. You could also use flowering climbers like honeysuckle or jasmine if you build a plant support.
Alternatively, if you want a quicker plant screen, add potted plants to the porch itself. Bear in mind, though, that mature evergreen shrubs will be more expensive than juvenile ones. You'd want more mature ones in pots for a more immediate porch screen.
Pros
Cons
Takes a while to grow
May attract more bugs
7. Lattice Screens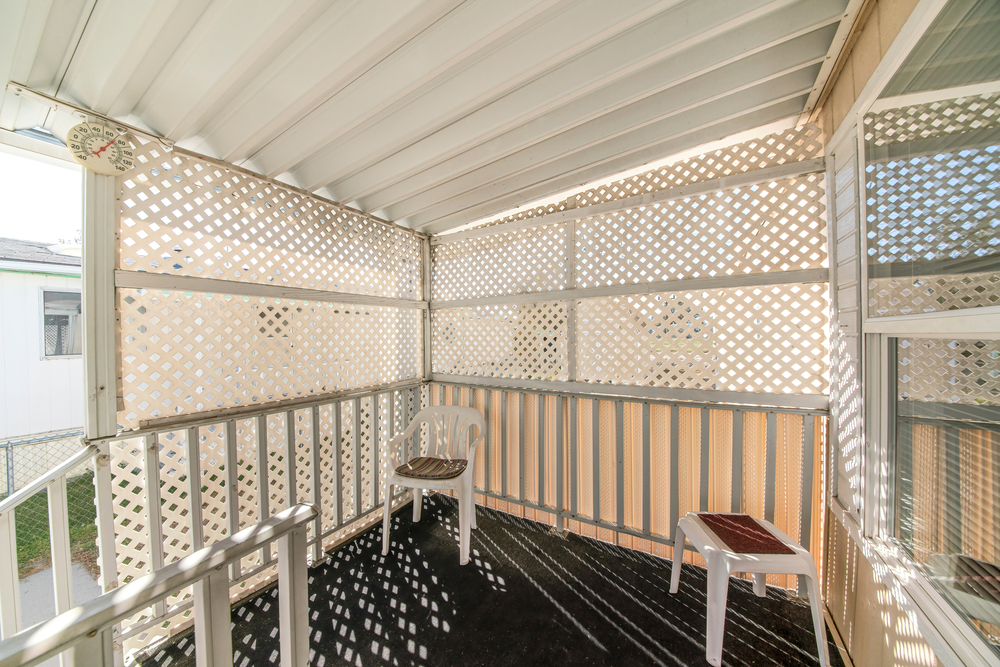 Lattice screens (such as this) are a great way to create a classic screened in porch vibe. It may be obvious, but a lattice on its own won't block bugs or weather. However, you could use the lattice as a support for climbing plants (such as jasmine or honeysuckle), which would give you some shade and relief from the wind.
While you could absolutely build a DIY lattice screen (you could use this lattice privacy wall video for inspiration), it's arguably not worth the time and money.
You can buy lattice screens from most large DIY stores (Lowe's, Home Depot, etc.) for less money than you'd spend on the materials to build them.
We've got a full article on how to use lattice screens for privacy, so check that out for inspiration on how to incorporate them into your porch.
Pros
Easy to fit onto a porch
Provides a base for climbing plants
Has a classic screen in porch appearance
Cons
Lattices don't help block bugs or weather on their own
Final Thoughts
Screening in a porch on a budget often requires you to prioritize one factor over another. For example, some options will block sunlight but let in wind, whereas others will block insects but will make your porch into a greenhouse.
It's worth spending some time thinking about what's most important to figure out the best option for your needs. Also, measure your porch before going any further, as you might find you're immediately priced out of some options!