Balcony Boss is reader-supported. When you buy through our links, we may earn a small commission at no cost to you. For additional information, please view our policies.
Using plants to create shade is an environmentally-friendly alternative to something like a parasol or shade sail. Plants naturally cool areas by creating shade, which is perfect for outdoor spaces that sit in full sun.
In this article, we'll look at some of the best plants for creating shade on balconies, patios and decks. First, we'll discuss things you should look for when choosing the right plants for your space.
What to Look for in Shady Plants
The most obvious thing to look for in shade-crating plants is foliage. Leaves are what block sunlight, so you'll want the leafiest plants you can find. You could break this down into either leaf density (how many there are) or leaf size. Both produce the same results in slightly different ways.
Height can be another important factor depending on the size of your outdoor space. For patios and decks, you'll want the tallest plants you can find, especially if you can plant them directly in the ground. For balconies, you'll generally only need plants that reach about 6ft. in height.
Things to Consider When Choosing Shade Plants
So, along with foliage and height, make sure you consider the following when making your selection:
Growth Speed
Depending on the plant's initial maturity, you might have to wait a few years for it to reach its full height and spread. This is a limiting factor when buying any plant, but it's important to mention here because you won't get immediate shade using plants. If this is what you're after, check out our articles on balcony shades.
Planting Area
Plants need soil to live, and the amount of soil you can provide will dictate the eventual size of a plant. Specifically, plants grown in pots will be smaller than those growing directly in the ground.
As such, choosing shady plants for a balcony requires a bit more thought. After all, you won't be able to grow a full tree on a balcony, as it won't have enough space to spread its roots.
Theoretically, this shouldn't be an issue for decks and patios, although it obviously depends on the surrounding area. Any plant that's suitable for a balcony (i.e., potted) should also be fine for decks and patios.
Maintenance and Care
Unsurprisingly, all plants need some level of maintenance. While this should be straightforward for most potted plants, be sure to consider the difficulty of maintaining a full tree. For example, if you plant a cypress hedge, you'll need to prune it twice a year, and the bushes can get very tall.
Equally, climbing plants can get difficult to control if left alone. You'll also find that they drop foliage on their lower limbs in favor of new branches, meaning you'll get bald spots. However, if you keep them pruned properly, this won't happen as much.
In short, maintenance is vital for keeping your shade-creating plant in check and ensuring it's doing what you want. Plant maintenance isn't difficult, but it's something you must factor in when planting something for a specific purpose.
7 Best Plants for Creating Shade
1. Cypress
Best for: Patios and decks with access to actual soil
Where better to start than with the classic hedge plant, cypress. There are lots of plants that fall into this category, but anything in the cupressocyparis or chamaecyparis species will do the job.
They're very hardy and fast-growing, reaching a maximum height of 30ft! Cypress is incredibly easy to maintain: simply trim it twice a year with hedge cutters. You can keep them compact or let them grow tall depending on how much shade you need. Importantly, their foliage is very dense, meaning they provide great shade.
Pros
Suitable for pretty much all soil types and climates
Also serves as a windbreak and privacy screen
Grows very quickly
Cons
Cypress can quickly get out of hand if not maintained
2. Flowering Dogwood
Best for: Balconies or decks
Although flowering dogwood can reach up to 24ft. in height, you can grow smaller varieties in pots. Provided you prune them properly, they can grow dense foliage that offers decent shade.
Dogwood needs cold winters so it becomes dormant, meaning it won't be suitable for warmer climates. Also, these plants have fast-growing roots, so you'll need the biggest planters you can find (at least 24" in diameter and depth). This might limit their use on smaller balconies or decks, although it'll be worth growing them if you have the room because their blooms are great.
Pros
Branches can be very dense if pruned correctly
Growing in pots keeps the plant smaller
Flowers are beautiful and plentiful
Cons
Dogwood requires massive pots to grow properly
3. Privet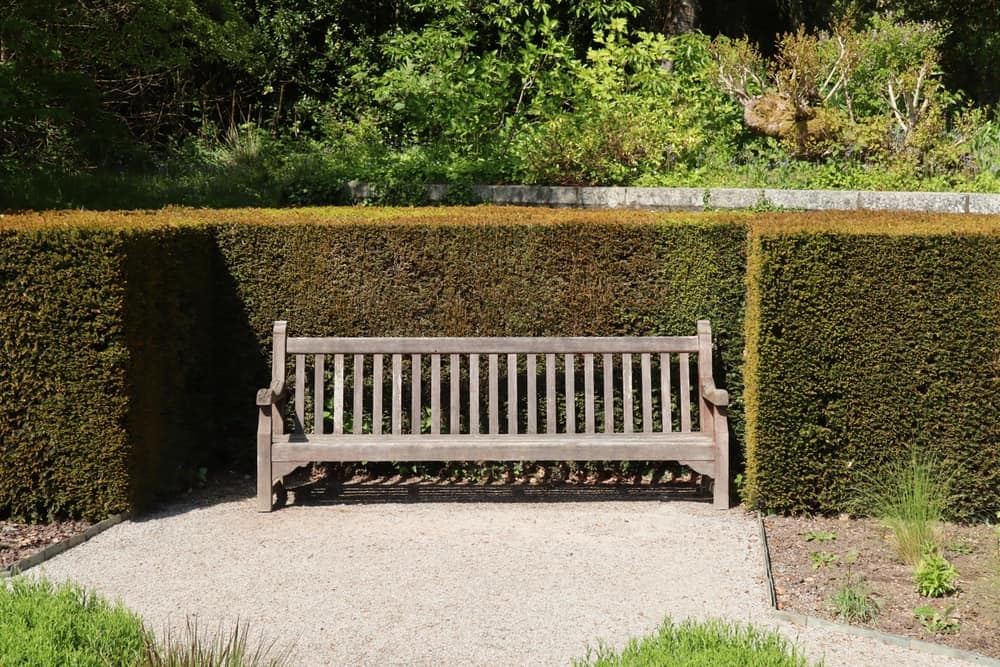 Best for: Patios and decks with access to actual soil
Like cypress, privet is another classic hedge plant. It's better suited to slightly warmer climates but it can survive mild-to-cold winters. There are around 50 species of privet that are both deciduous and evergreen. Obviously, evergreen is a better choice if you still need shade in the winter.
Privet can be grown in pots, but it won't do amazingly. As such, it's best planted directly in the ground, where it can reach a maximum height of 15ft. This makes it ideal for creating shade over patios and raised decks, although you'll need to prune it twice a year to keep it dense.
Pros
Plenty of species for different climates
Ideal for shade, privacy and wind protection
Cons
Grows better in warmer climates
4. Clematis
Best for: Balconies, decks or patios
Clematis is a low-maintenance climbing plant that works well in pots or directly in the ground. It has fairly dense foliage when established and produces tons of flowers that smell great. Importantly, clematis grows fairly quickly and it's easy to prune, provided you can keep track of all the new shoots!
However, as you might already know, a climbing plant requires a growing frame. This could be anything from a trellis or fence to a pergola or other plants. As such, it's best for providing shade on a covered or walled area, which might limit where you can grow it.
Pros
Grows very quickly
Produces loads of flowers
Ideal for filling in gaps in fences or between other plants
Cons
Requires support – could limit growing areas
5. Spartan Juniper
Best for: Patios and decks with access to actual soil
Spartan juniper is a type of coniferous tree that can reach a maximum height of 15ft. This makes it a better option for small- or medium-sized outdoor spaces where standard junipers might be too big. With a spread of 5ft., they're fairly narrow, but you can bunch several together to make a tree wall.
As with cypress trees, they require minimal maintenance. The advantage of using a spartan juniper is that their maximum height is smaller, meaning there's less of a problem if you forget to trim them for a few years. You can grow spartan junipers in pots, although you'll either need massive pots or end up with small plants. As such, they won't be a good option for balcony shade.
Pros
Relatively compact coniferous tree
Easy to maintain
Fast-growing
Cons
Narrow spread – you'll need several to make a decent shade wall
6. Rhododendron
Best for: Balconies, patios and decks
Rhododendrons are a fairly large genus of plants, and they might not be your first thought for creating shade. However, their large leaves and wide spread mean they can block quite a lot of sun. Unlike others on this list, you'll still find a bit of sun breaks through the foliage, so rhododendrons can make a good middle ground.
For a potted plant, go for something like Hydro Dawn. It only grows 5ft. tall, so it'd be ideal for casting a bit of shade on a balcony. Other varieties can reach 30ft. tall if given the chance, although it'll take a few years for them to reach this height.
Pros
Nice balance between sun and shade
Plenty of varieties available for different needs
Beautiful flowers in spring
Cons
7. Honeysuckle
Best for: Balconies, decks or patios
Honeysuckle fulfils a similar role to clematis, except its foliage isn't as dense. As such, it does a similar job to a rhododendron in that it won't block all sunlight that comes through. If that's something you're after, clematis or jasmine will be better picks.
It grows very quickly and is easy to prune, but it can be invasive if it has the right growing conditions. Unfortunately, keeping it in a pot won't prevent this, as its branches can grow roots very quickly. A honeysuckle will look great grown up a pergola or arbor for covering shade over a deck or patio.
Pros
Grows quickly
Flowers smell great
Still allows some sunlight through
Cons
Final Thoughts
There are plenty of options for creating shade with plants, regardless of what kind of outdoor space you're working with. Provided you choose something that's within your means to maintain, any of the options above will do a great job.