Balcony Boss is reader-supported. When you buy through our links, we may earn a small commission at no cost to you. For additional information, please view our policies.
Small balconies are often a symptom of urban living, and can unfortunately feel cramped and uninviting. However, playing with some simple design techniques can make your space feel much larger, enhancing your outdoor living experience to give you maximum usage from your balcony.
So, here are 14 tips to make a small balcony look (and feel) bigger.
How to Make a Small Balcony Look and Feel Bigger
1. Try Minimalism
This is a pretty simple place to start: try minimalist décor. By its very definition, minimalism relies on sparing use of elements, meaning there's objectively more space on your balcony.
To implement this, simply cut back to the bare essentials on your balcony, and the space should look larger.
2. Use Wall Space
In smaller spaces, you'll want to use every surface available. On a balcony, this means using walls and railings for hanging things, such as storage and decorations. If nothing else, it allows you to cut down on what's stored on the floor, which can help your balcony seem larger.
3. Grow Plenty of Plants
Plants can help your balcony feel bigger by drawing the eye in different directions. By extension, it prevents you from focusing on the hard lines that define the edges of your balcony.
To do this correctly, use hanging plants and railing planters to draw attention away from the obvious (and small) boundaries of your balcony.
4. DIY Furniture
Building your own furniture should be a fairly obvious way to work with your balcony's spatial restrictions. For example, you could build a custom seating area that's perfectly suited to your narrow balcony.
There are plenty of ways to bring DIY furniture into your balcony. Also, you don't need to be super skilled at DIY, as you can make plenty of things from old pallets.
5. Add a Rug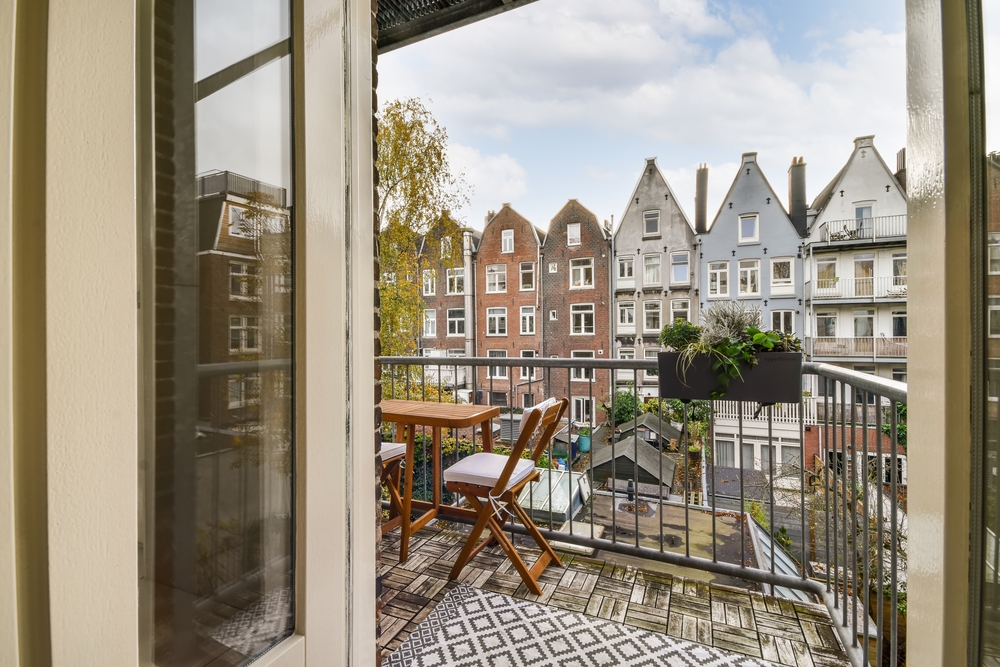 Throwing a loud rug on the floor can make a balcony feel much larger, provided it's the right pattern. Geometric shapes work well, as do straight lines (think of what you know about wearing horizontal/vertical stripes).
That said, there's no magic ratio to how much pattern will help. A well-placed rug and some cushions will do a lot more than loads of different patterns, which can make a space feel overwhelming and distracting.
6. Be Selective with Lighting
Lighting is necessary if you want to use your balcony at night. However, you can also use it to create the illusion of space. To do so, mix soft lighting with string lights – make sure you place lights to draw attention away from small corners and harsh borders.
7. Use a Hanging Chair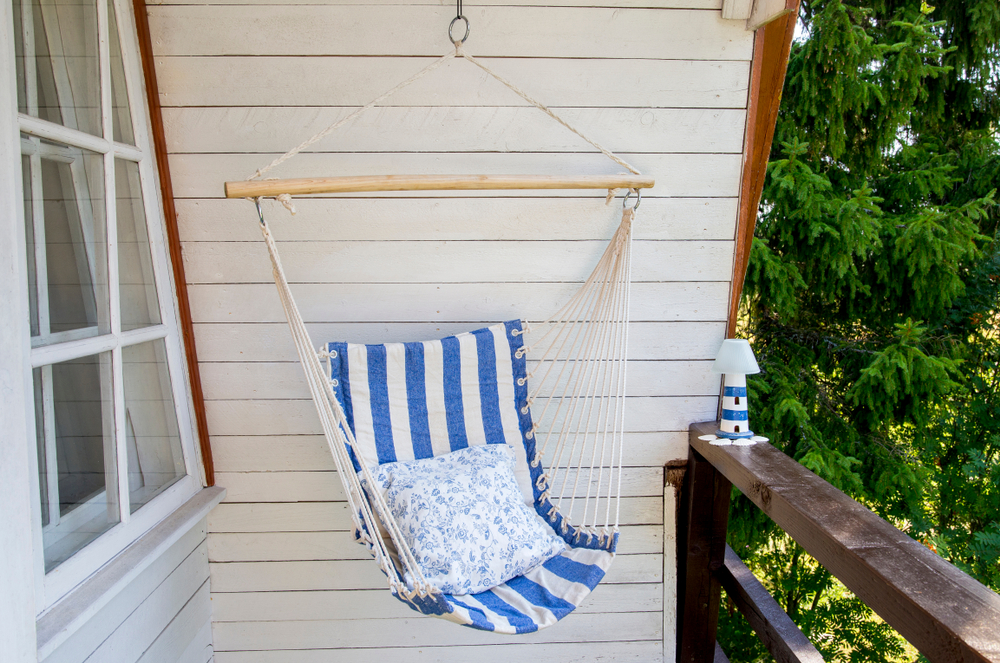 This tip relies on the same logic as number 2: lifting stuff off the floor. If possible, consider hanging a swing chair to create the illusion of more floor space. You'll ideally need a covered balcony, as a swing chair on a stand isn't going to do the same thing.
Another option is to use a hammock. The best part about a hammock is that you can take it down when you're done, making your balcony appear much larger.
8. Focus on Multifunctional Pieces
If you're short on space but need certain things on your balcony, consider multifunctional pieces. For example, find seating that doubles as storage or even foldable furniture that you can tuck away when not in use.
It shouldn't come as much surprise that finding pieces with more than one purpose will help with your space. However, you'll need to be quite selective with your choices, ensuring everything brings value.
9. Build or Buy Railing Table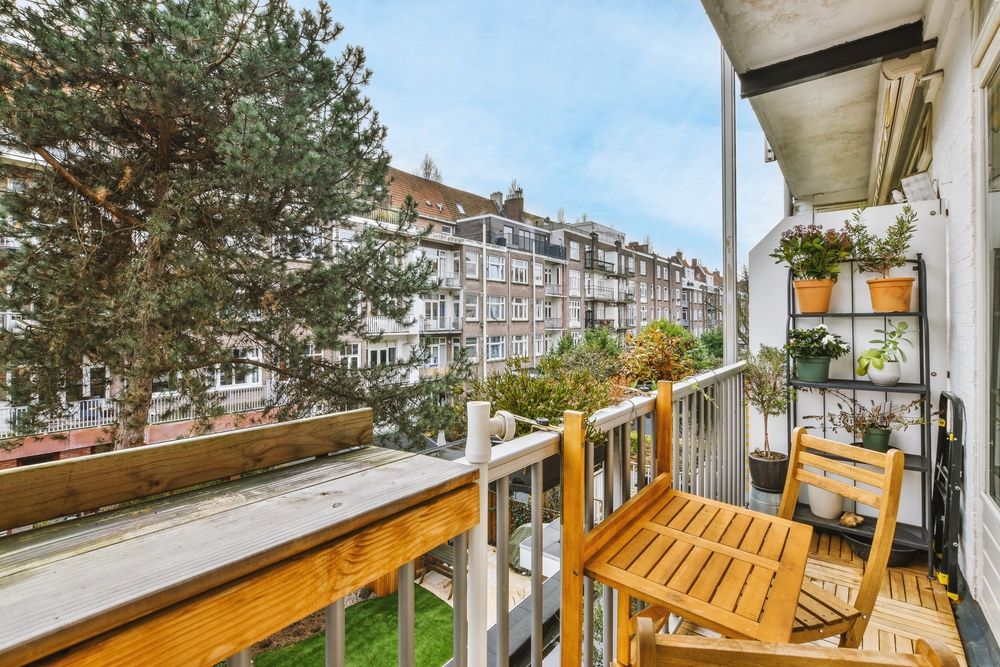 A railing table is a table that fits over your balcony railing. The benefit of making your own is that it can be as big as you need, although you can buy them too. While it won't offer all the same functions as a standard table, it'll be fine for holding your drinks in an evening or your laptop if you're out there working.
10. Set Up a Privacy Screen
Setting up a privacy screen on your small balcony might sound counterintuitive. However, you can use a privacy screen as a way to bring color to your balcony, or as a support for plants. Adding interest in this way will draw the eye away from the space, making it seem bigger than it is.
11. Move Away from Furniture
If DIY or multifunctional furniture isn't an option, why not ditch it altogether? Instead, get some throw pillows and set up a seating area on the floor. When you're not using it, you can simply store it indoors, making your balcony feel much bigger.
12. Make Use of Corners
While you might not have the option on a small balcony, focusing on corners can give the illusion of more space. After all, if the middle of your balcony floor is free, it's going to feel larger than if all the floor space is covered.
You might not be overloaded with choice, but corners can be ideal spaces for bars, storage or seating.
13. Focus on the View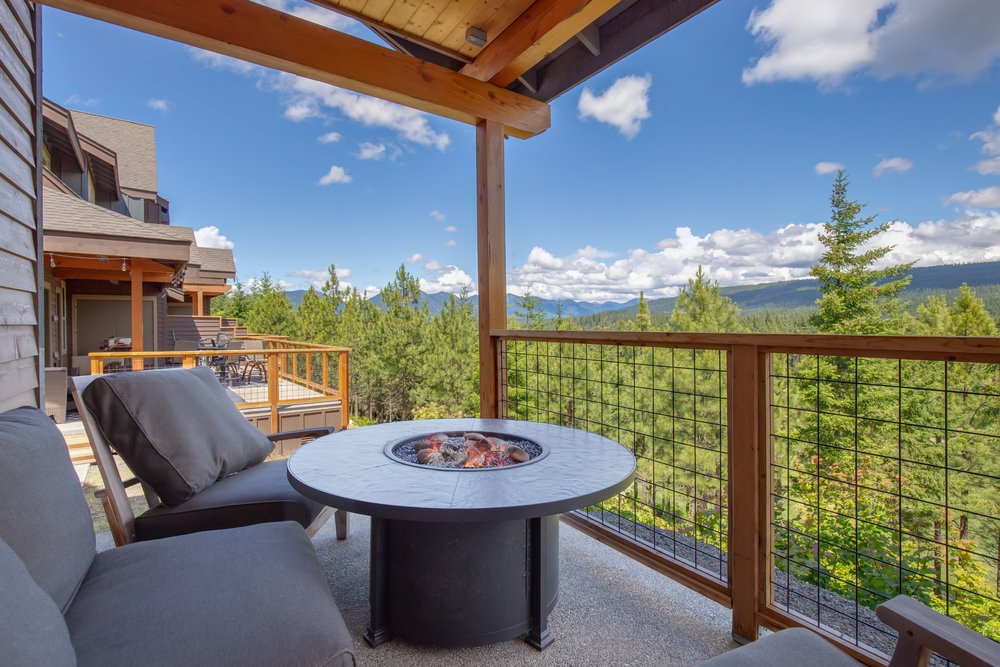 If your balcony has an amazing view, make it the star of the show. Ensure nothing is covering your railing and that you're drawing the eye towards the view. You can do this with strategic furniture placement and by blocking off the sides of your balcony with privacy screens or privacy plants.
14. Understand Scale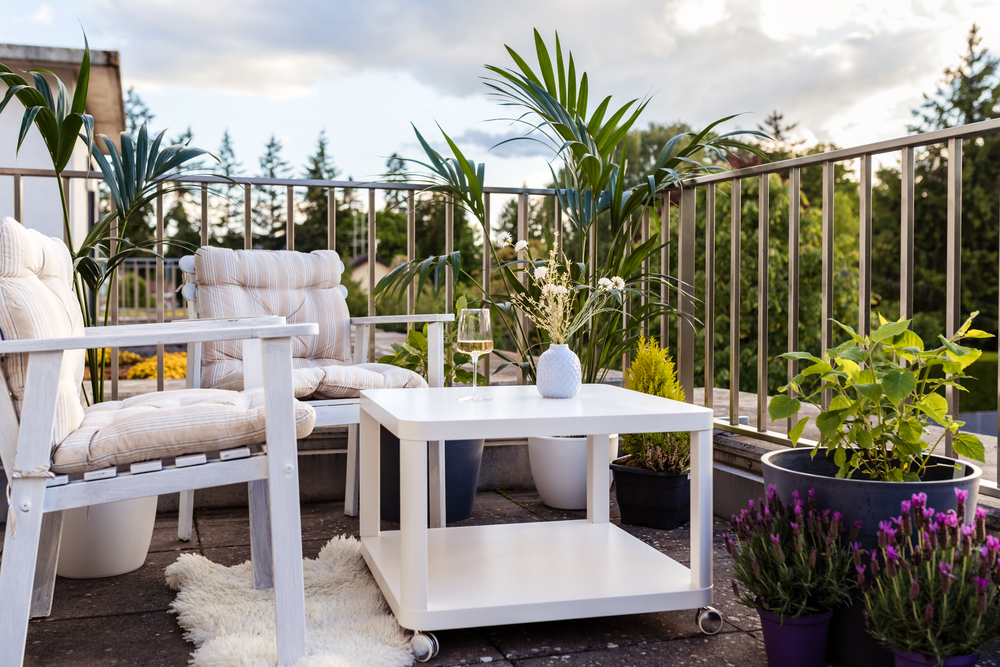 When working with a small space, understanding scale is vital. Specifically, don't buy furniture or decorations that feel too big for your balcony, as they can overwhelm it. Everything should fit comfortably without anything being the main focus of your space. Ideally, the eye should be drawn to different areas in turn.
Final Thoughts
Making a small balcony feel bigger can take some work, but it's perfectly possible. As you can see, most of the tips focus on distracting the eye and drawing it away from the obvious signs of a small space. With a bit of planning, you should end up with a balcony that appears much larger than it is.