Take a look around any city, and you'll see a ton of balconies dot the facades of residential apartments and condos. In fact, according to the 2019 American Housing Survey, over two-thirds of apartment dwellers nationally have access to a balcony, deck, porch or patio area. Access to a balcony or outdoor private space typically costs more and is considered to be a "must have" for many city renters, but have you ever noticed that you rarely see people on them?
There are a number of reasons for why these spaces go unused. One of the most common reasons is lack of privacy, and this is particularly true for residents in city apartments or large residential complexes. Neighbors can be great, but when they're just a handshake's distance away, your outdoor space can start feeling more like a common area than an extension of your indoor space, and you're less likely to use it, let alone love it. Luckily, this problem can be solved very easily by adding a privacy screen, and we've compiled a list of products that will easily transform your space in no time.
Top Balcony Screens for Apartments
1. Metal Privacy Screen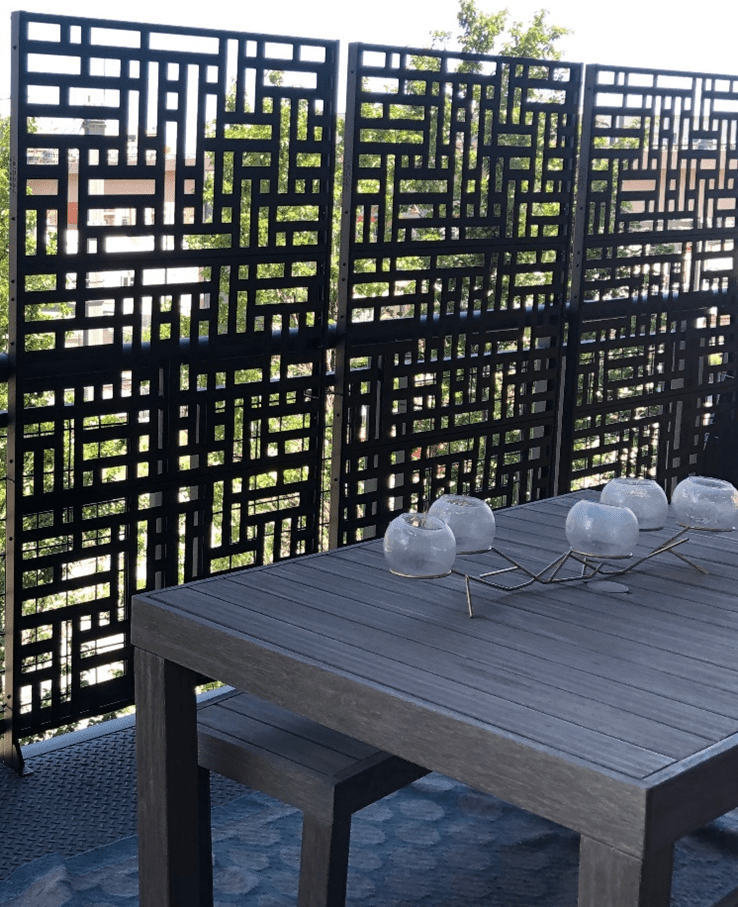 The Veradek Blocks Decorative Outdoor Divider Set provides privacy and style with zero maintenance required, no matter what climate you live in. At over six feet tall, this is a fantastic choice for those needing height to block bad views and for those wanting to create more of an enclosed feel on their balcony or deck. Set up is easy and renter-friendly as zip ties can be purchased separately to further secure the screen to your railing.
2. Balcony Railing Cover
A top-rated and heavily reviewed product, the Love Story Balcony Screen Privacy Fence Cover comes in a variety of colors and sizes to meet different styles and layouts, and is available at a fraction of the cost when compared to other solutions. This balcony railing cover is low maintenance and will hold up in all seasons and weather conditions. While the screen is made of solid fabric, it does allow for breeze and some light to pass through. Set up is easy and zip ties are included to secure to your fence.
3. Faux Greenery
Upgrade your unexciting view of a parking lot or building and create a relaxing garden atmosphere with this Artificial Leaf Faux Ivy Fence. Available as single-sided to enhance ambiance and décor or as double-sided to provide extra privacy, this screen is a simple solution for transforming a small space. The artificial leaves are sunlight and water resistant, and you'll just need to clean off with water from time to time.
4. Pebbles…?
If you're looking for something different looking, check out the Pebble Design Deck and Fence Privacy Screen. It's great at blocking out unwanted views and creating an enclosed space.
5. Faux Flower Expandable Screen
For those who like the garden look but want a bit more color, the Wooden Hedge with Artificial Flower Leaves comes with artificial green leaf vines and cherry blossoms that can brighten up any space. This privacy screen can be used outdoors or indoors and will block most UV rays while still allowing air to pass through freely. Since this is an expandable fence, final lengths and height will be dependent on how stretch the fence (i.e. the wider you stretch the fence, the shorter is gets), so make sure you plan accordingly when figuring out how many fences you'll need. Installation is easy with the help of some zip ties.
6. Bamboo Fence
If you're after more of a tropical look, a bamboo or Natural Reed Fence can enhance your balcony's décor while also creating privacy from your neighbors. This fence has an opacity of 85%, meaning it's not totally opaque, but you can double it up to fully block out the elements.
7. Frosted Glass Stickers
Units with glass balconies typically also have big glass windows throughout, so it can be a challenge to add a privacy screen without interrupting the overall aesthetics. This is where waterproof and removable Frosted Glass Stickers come in handy. Installation isn't super complicated, but it will take you longer than the other options on our list. Just make sure you follow the supplier's detailed instructions.
Conclusion
You'll be amazed at how much of a difference a simple item like an apartment balcony privacy screen can make. It will make you wonder why you waited so long to get around to purchasing one.