Balcony Boss is reader-supported. When you buy through our links, we may earn a small commission at no cost to you. For additional information, please view our policies.
Lavender is an almost perfect addition to any balcony garden. It's low maintenance, smells great, and provides an attraction to all kinds of pollinators. It can also provide your balcony with some much needed privacy.
So, what does it take to care for lavender on a balcony? Luckily, not much.
Lavender Requirements
Lavender grows in USDA Hardiness Zones 5a-9a. But, it's a Mediterranean plant, so you could grow it in warmer zones with a bit of care. There are so many types available, some of which grow up to 8ft. tall. Dwarf varieties are best for small pots, whereas larger types work well as focal plants.
English lavender is hardier and produces the long purple flower stalks most of us recognize. French lavender is a bit more delicate and grows bulbous flower heads with little bunny ears. If you're new to lavender, look for English varieties.
Important Things to Know
Sunlight: Full sun
Grow in pots: Yes – containers at least 16" in diameter
Grow indoors: Yes
Soil type: Chalky, sandy or loamy, neutral pH
When to plant: Winter or spring
Growing Lavender on a Balcony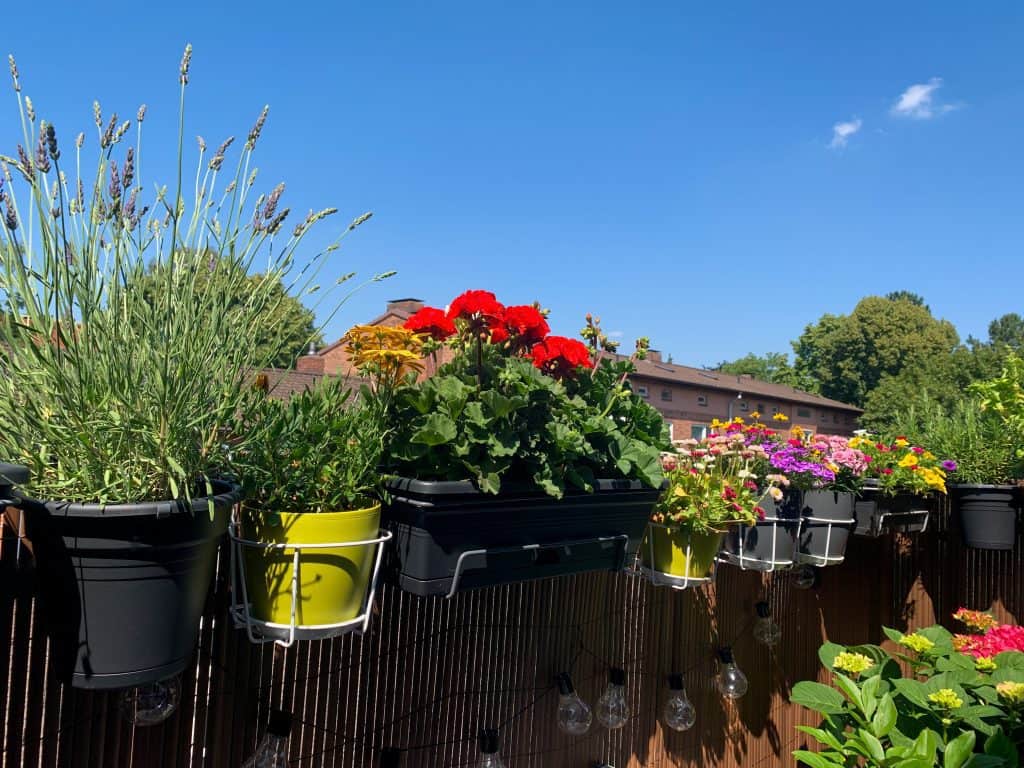 To grow lavender on a balcony, you'll need:
Method
Lavender should be readily available as established plants from most stores. Don't bother growing it from seed, as it takes too long.
Mix your soil and perlite together and sprinkle some into your container. You can always add some broken pot to the bottom for extra drainage.
Remove the lavender from its pot and shake excess soil from its roots.
Place the lavender in the pot and hold the stalks out the way while you backfill using the remaining soil.
Press the soil down gently every now and then.
Leave for a week and then water thoroughly, repeating until it's fully established. This should take about 4 months.
Place the pot in full sun, and you're done!
Maintenance and Care
Lavender is a drought-tolerant plant that often thrives on neglect. Providing it gets enough sun, you won't need to do much else. Water it every few weeks, increasing to once a week in high summer.
Avoid nitrogen-rich fertilizer; instead, opt for a high potash mix. Use it once a month during the growing season for full growth.
Prune English lavender after flowering. Remove dead flowers and up to an inch of the current year's growth. French lavender should be pruned in mid-spring or after the first flush of flowers.
Avoid cutting off too much old wood, as this can cause lavender to die.
While you can buy artificial lavender, there's little point. After all, its scent is the best part, and the living plants are easy to look after.
Final Thoughts on Lavender
Growing lavender on your balcony will give you a ready supply of flowers, which you can use for everything from scenting your wardrobe to tea! Considering it looks great, too, it's pretty much a no-brainer to add it to your garden.