Often, people who live in apartments or condos don't make the most of their balcony or patio space. Privacy is a big barrier to enjoying a balcony, and it's completely understandable.
After all, why would you want all your neighbors to see you relaxing on your balcony?
With a little research and creativity, this no longer has to be a restriction in making the most of your outdoor space. Here are 8 different ways to achieve balcony privacy.
1. Privacy screens
Perhaps the most obvious place to start is with a balcony privacy screen. It can be as expensive or as DIY as you want; your options are almost endless.
You could make your own from bamboo canes tied together with string, weave one from something like jute, or simply buy one.
What's more, privacy screens are ideal hanging spots for everything from lanterns to potted plants.
Of course, a privacy screen is two-way, meaning you'll lose some of your view when you install one.
If this is a problem, consider buying a ready-made screen with a larger pattern. For example, something with a large geometric pattern will offer you privacy while still letting in plenty of light.
But if you're feeling extra fancy, consider investing in a retractable privacy screen. These have mesh screens fitted on metal arms, which allow you to open and close them as needed.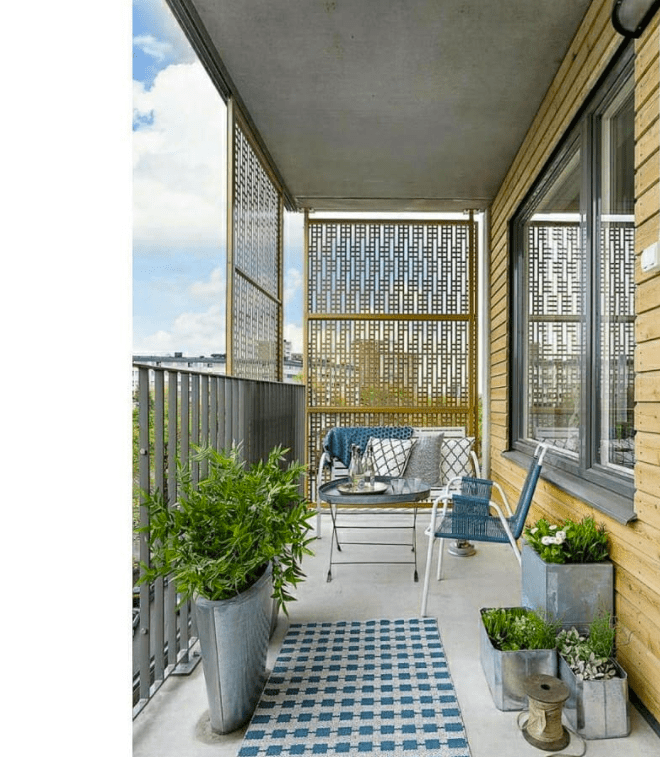 2. Balcony Privacy Plants
A great option for balcony privacy involves using tall plants in pots. Not only will this make your space feel more private, it'll add plenty of green, too.
Your best choices are tall bushy shrubs like juniper trees or large flowering bushes like lilac. Palm trees or Yucca palms are good options also.
Alternatively, rather than going for tall plants in pots for privacy, consider trailing or hanging plants instead. You'll simply need to find somewhere to put the pot (such as hanging on the wall) and then trail the plant where desired.
Some good options for this include:
Jasmine
Honeysuckle
Clematis
These plants all grow very quickly and get very bushy. Even better, they require minimal upkeep.
Finally, potted bamboo is a good option. After all, it's the fastest growing plant in the world!
Adding different plants helps to create interest and depth, and you might as well make your additions beautiful and functional.
One slight downside with this option is that you'll have to wait for the plants to grow to size. It's unlikely you'll be able to buy mature plants, which would be difficult to carry up to an apartment anyway.
That said, fast growing shrubs will reach maturity in a year or two, so you won't have to wait that long.
See related: A Beginner's Guide to Balcony Privacy Plants
3. Outdoor curtains
Outdoor curtains are ideal for enclosing an apartment balcony because they offer privacy and make the space feel cozier. Curtains will obviously block out the sun, which may or may not be a benefit.
Generally, outdoor curtains will be exactly the same as interior curtains, although some brands sell waterproof models for greater outdoor durability.
You can choose from opaque curtains if you want complete privacy or sheer fabric curtains if you want some middle ground.
An obvious benefit of curtains, aside from the practical aspect, is that they're a great way of adding color and interest to your outdoor space. You'll find a wide range of colors and textures, so getting a suitable option won't be difficult.
Of course, you can make your own curtains, too. If you're going down this route, be sure to use a weather-resistant fabric like canvas, oilcloth, or treated cotton.
Fitting curtains does require hanging a curtain rail. Check your building regulations to see if this is allowed. If not, you can always tack or staple them in place. While this won't look as good, it gets the job done.
4. Fake ivy and trellis
If you like the idea of greenery but don't want to wait for it to grow, fake ivy is the next best thing. It's a good option for those wondering how to make a balcony private quickly because it's ready within minutes.
As with real ivy, you'll need to provide a support frame around which you can wrap the fake ivy. A trellis is ideal because it's cheap, easy to build, and can be adjusted to any size.
You can buy a trellis for next to nothing or make your own from bamboo canes or lumber. In fact, you can probably skimp on the trellis slightly because you won't be able to see it if you use enough fake ivy!
Alternatively, with a bit of DIY skill, you could turn fake ivy into a set of curtains. All you'd need to do is cut it into strips and fix these to curtain eyelets. Doing this would give you all the benefits of fake ivy but in a flexible option.
Fake ivy isn't your only option, of course. There are so many kinds of fake vines available, some of which are incredibly realistic. Over time, however, you might find they start to look a bit battered depending on the weather.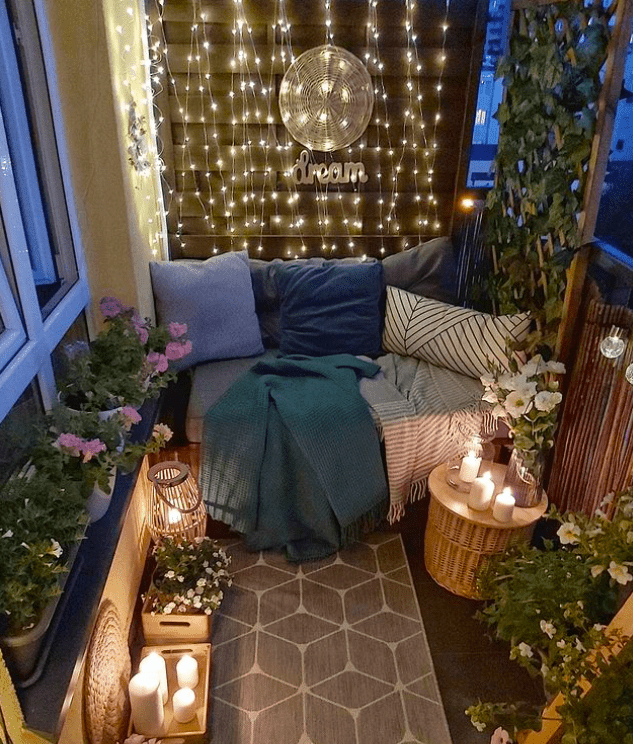 5. Roll-up outdoor shades
Another good choice for enclosing an apartment balcony is to use roll-up shades. These are essentially blinds that aren't made from fabric, meaning they're suitable for all weather conditions.
Typically, these shades are made from thin bamboo canes, which offers plenty of privacy but still allows some light through.
As with curtains, the main benefit of shades is that you can open them when you don't need as much privacy. Depending on the style you choose, they're a great way of adding a touch of design to your balcony décor, too.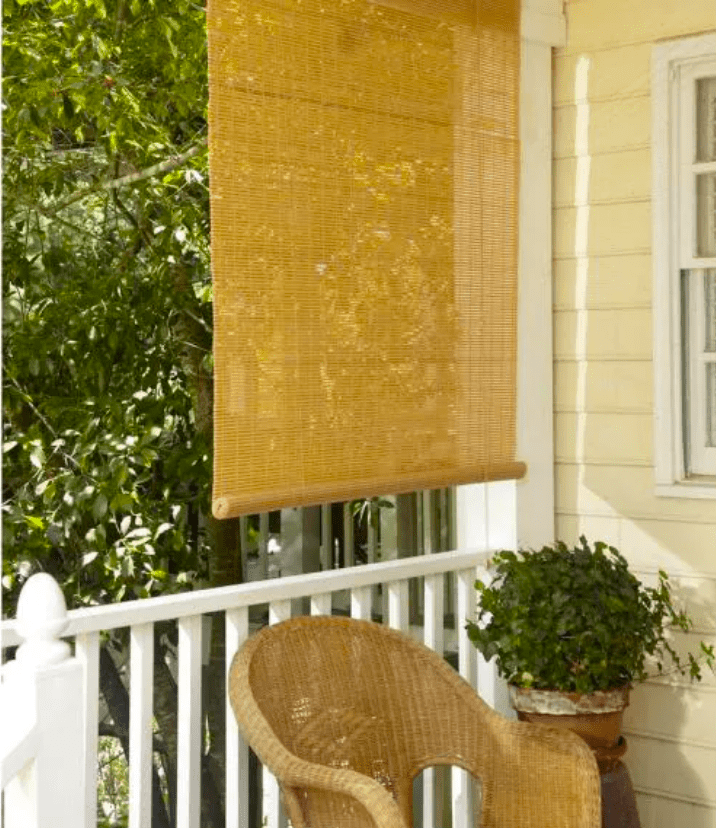 6. DIY privacy screen
If your balcony has railings rather than a solid wall, hanging a fabric screen is ideal for creating privacy and adding a pop of color to your outdoor space.
At the most basic level, you could just fix some fabric to the railing with cable ties or string.
But if you're willing to get a bit more crafty, build a rectangular frame from lumber first and stretch the fabric across. This will give it greater stability and structure, and make it much easier to hang.
Also, filling the frame with wadding or acoustic foam tiles will offer a level of soundproofing against unwanted noise pollution. While this isn't the main purpose of balcony privacy, it can help turn your space into a little oasis.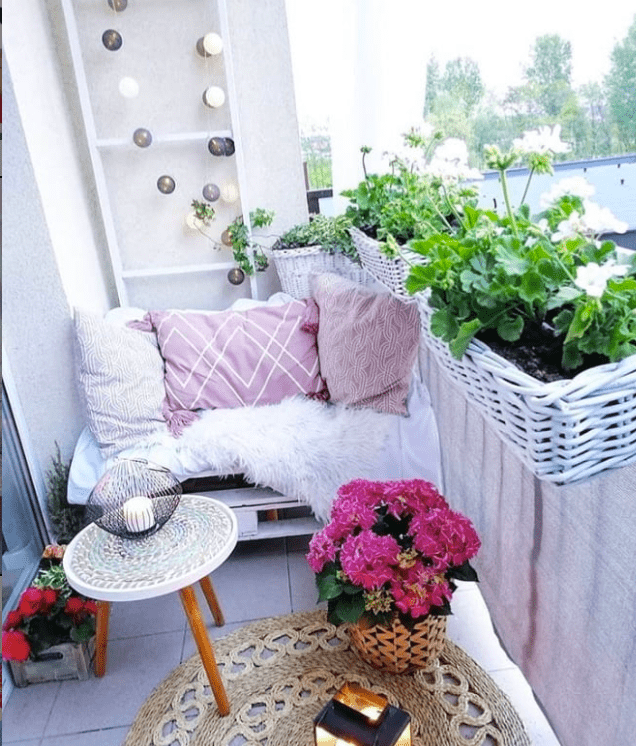 7. Bamboo room dividers
Room dividers are designed for just this sort of job. They're typically used indoors as a freestanding privacy divider and originally served to create changing areas.
Generally, they fold up in accordion style, which makes them super easy to store when not in use.
When shopping for a room divider, choose one that's suitable for outdoor use as a balcony divider. This will ideally be made from bamboo or wood. If you buy an untreated wood screen, be sure to coat it in paint or preserver to make it last longer.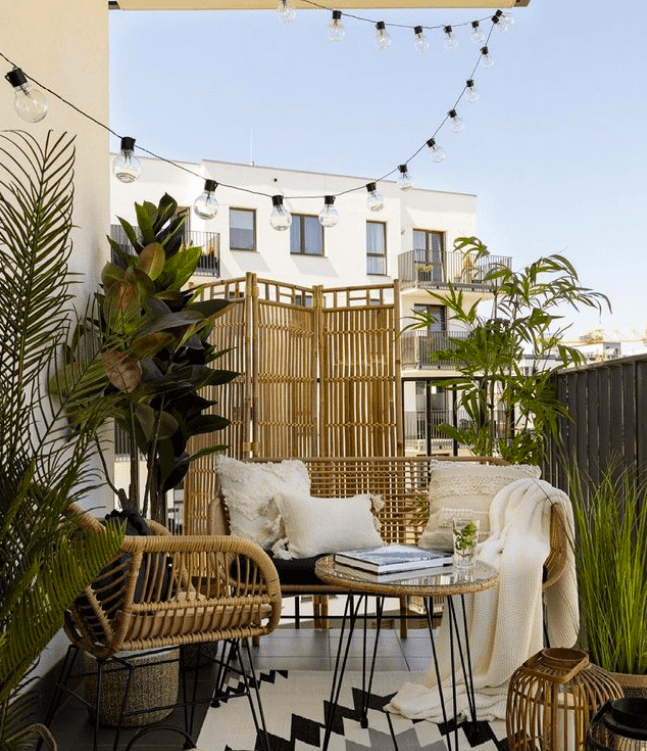 8. Outdoor screen enclosure
An outdoor screen enclosure is slightly different from a privacy screen. As the name implies, it's designed to enclose a space rather than serve as a screen. Typically, this means it has sides and maybe even a roof rather than just a single side.
The screen is ideal for keeping out bugs and protecting you from the elements along with offering privacy.
You'll usually find outdoor enclosure screens made for spaces like patios, but it's really not difficult to adapt one to a balcony or to make your own.
Most outdoor screen enclosures are a metal frame with mesh screen stretched over it. This makes them a good choice for enclosing an apartment balcony because you can essentially convert it into an outdoor room.
To install one, you'll need to start by attaching the frame to the existing structure. Begin by fixing screws into the balcony and then fitting track channels over these.
After fitting the track channels in place, you'll need to cut the mesh screen to size. There's a little groove around the frame that you feed the screen into.
You'll need to buy some screen spline, which is thin rubber stripping that sits in the groove over the screen. This is what keeps it in place.
Overall, it should take you a few hours.
Conclusion
Hopefully, this article has given you some helpful information on apartment balcony privacy ideas. As you can see, there are plenty of options that don't sacrifice your ability to enjoy your outdoor space.
An outdoor enclosure screen might be the best option for making your balcony a private space. This is because they're a sort of middle ground between the outdoors and indoors. Better yet, they offer privacy while sacrificing as little natural light as possible.
Of course, be sure to base your choice on important factors like weather and sun exposure. After all, you won't want something that blocks out the sun on a south-facing balcony but still lets in the rain!