Balcony Boss is reader-supported. When you buy through our links, we may earn a small commission at no cost to you. For additional information, please view our policies.
Have you ever thought about brightening your apartment's outdoor area with a balcony garden? While it can be challenging to use smaller spaces for gardens, it's possible with some planning.
So, to get you started, here are 10 different balcony garden ideas.
Whether you want to create a food garden, a relaxing space or a simple, decorative area, we've got you covered!
1. Flower Garden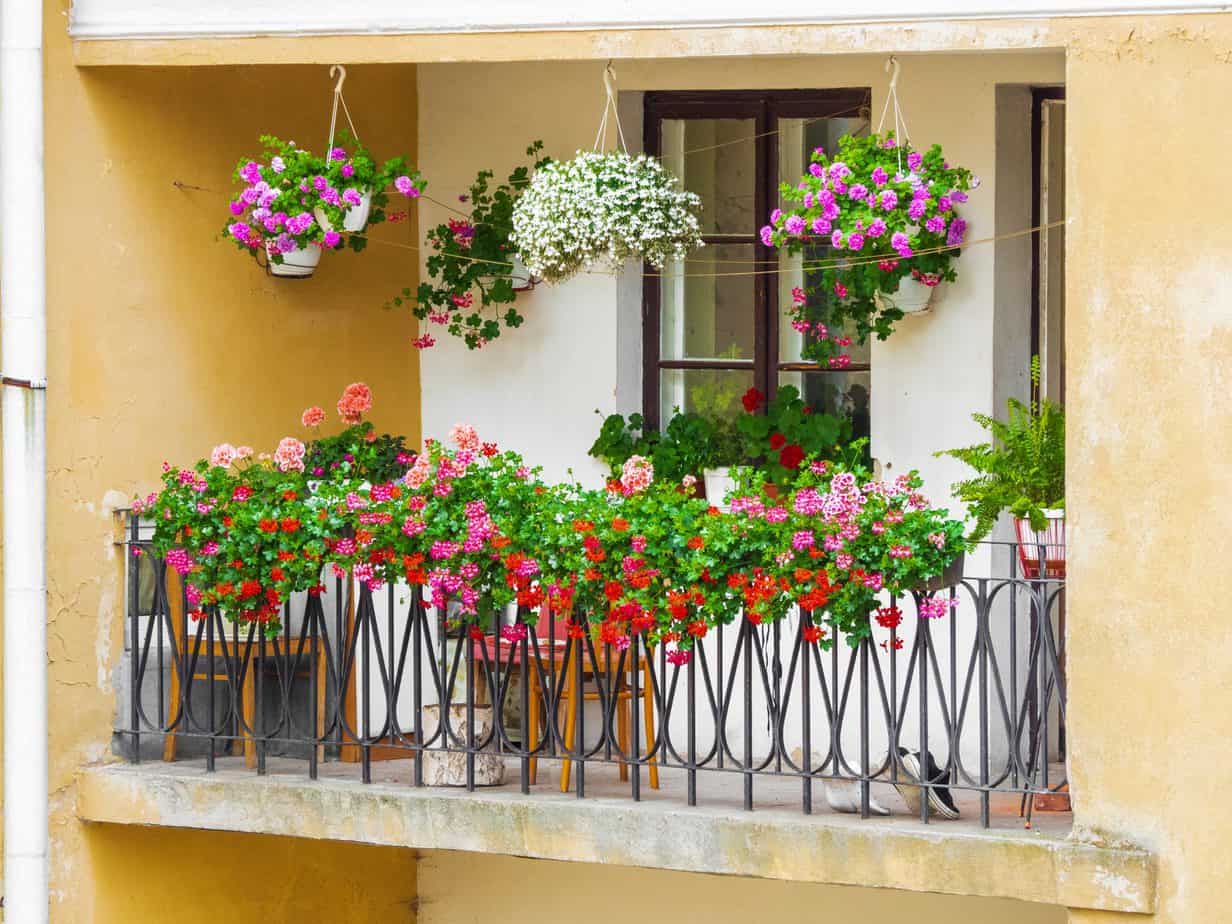 Where better to start than a flower garden? It's arguably one of the easiest to set up because you just need pots and either seeds or seedlings. Check out our article on balcony railing planters for some great pot choices.
Mix in color and scent with your flower choices, and offset these with large foliage. Some great low-maintenance flowers include:
Lavender
Geraniums
Petunias
Marigolds
The most important consideration with this idea is your climate. Some flowering plants are perennial but most are annuals. As such, this means you might have a bare balcony in the colder months. Look into seasonal flowers to cover you all year round.
2. Herb Garden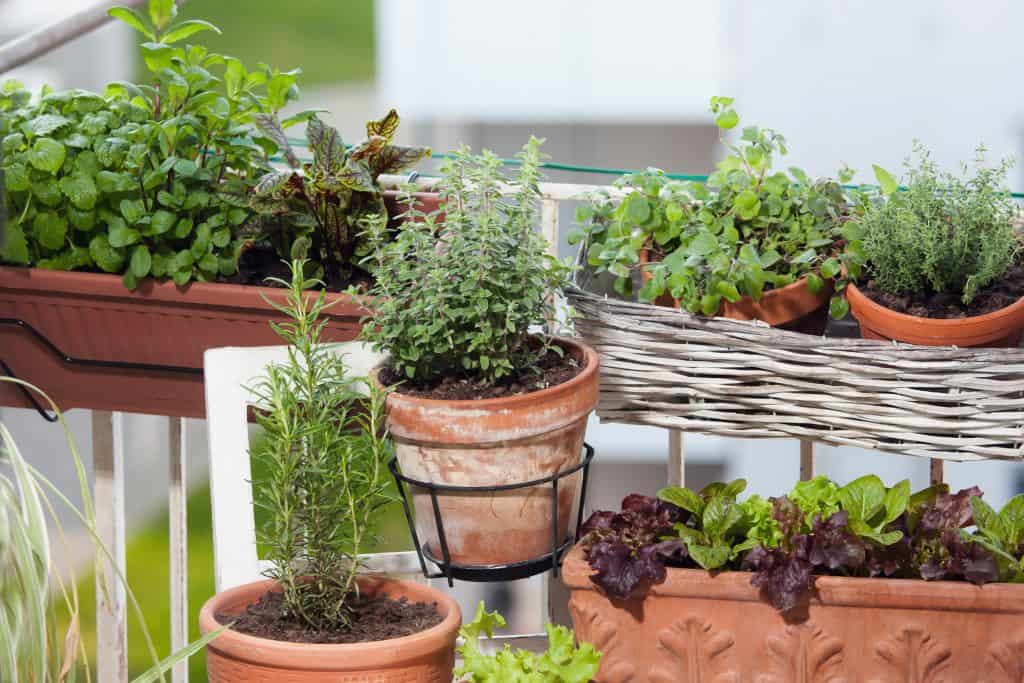 If scent is your main priority with your balcony garden, plant some herbs. Better yet, you can use them in your cooking, too. We've previously written a guide about starting a balcony herb garden, so read through that for further information.
Providing you pick herbs suitable for your climate and weather, there's very little else you need to think about. Things like rosemary are low-maintenance and smell great.
3. Zen Garden
A Zen garden focuses on relaxation and style, and is primarily Japanese in inspiration. It's more about sounds than smells, so consider putting in a small water fountain and some bamboo. Bamboo is a great addition to your apartment balcony garden because it also functions as a privacy screen.
You can also decorate with rock arrangements and raised beds if you have the space. If not, add in planters at different heights to create interest and increase privacy.
There aren't many considerations for starting a Zen balcony other than being careful with rocks and fountains if you have kids or pets.
4. Travel-inspired Garden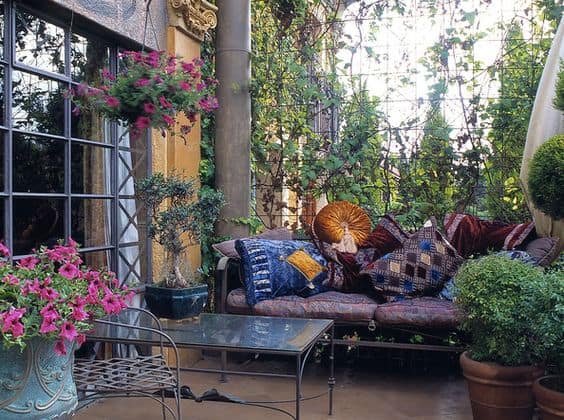 Although there's no set theme for a travel-inspired balcony garden, you should theme it around items not traditionally associated with your location. You could use things you've collected on vacation or take inspiration from a culture you enjoy.
For example, terracotta pots and geometric patterns could represent Morocco or Turkey. Tropical plants and woven furniture could be India or East Asia, or you could go stripped-back with a Scandinavian style balcony.
5. Meditation Garden
This is another of the more free-form balcony garden ideas. There's not really a set structure for a meditation garden, as it's a space for you to relax in. But, if you do meditation or yoga, there are certain things you should include:
Set the space up however you choose based on your activity. You can take inspiration from Zen gardens, too, as they're designed to achieve the same goal. Just design a space that's relaxing based on what you enjoy.
6. Vegetable Garden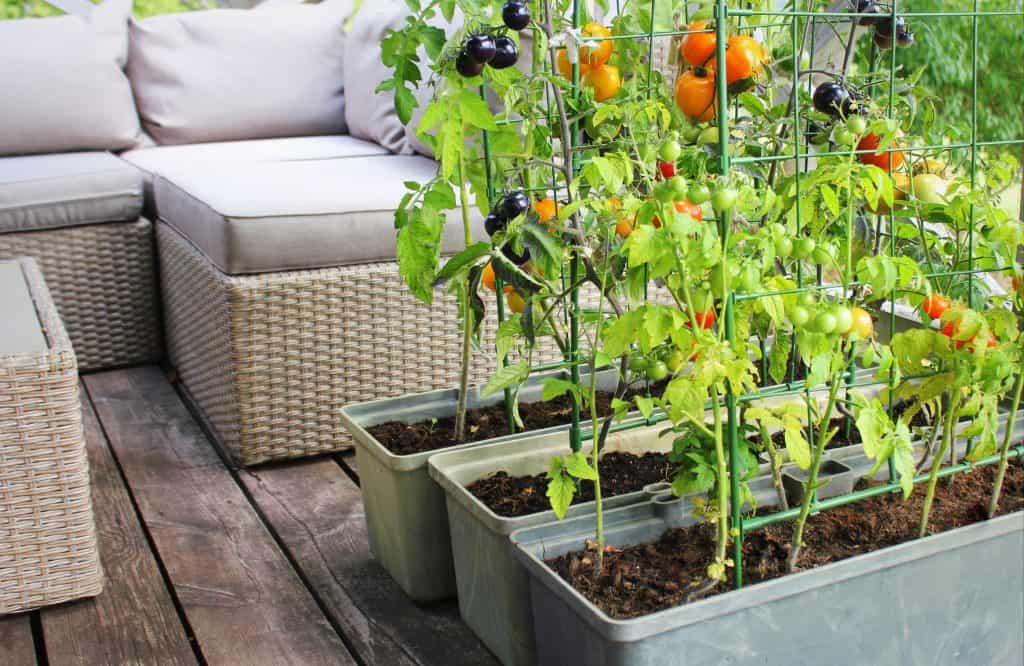 Much like an herb garden, this is a more interactive project. Use your balcony space to grow vegetables; you'd be surprised what you can fit into a compact area.
We've previously written about growing a balcony vegetable garden, so check that article out for more in-depth information.
The most important facts are:
Combine climbing plants with bushy plants to make the best use of space.
Opt for high-yield plants to justify growing them.
Choose things that you won't typically find in a supermarket.
Growing vegetables on your balcony is surprisingly easy and can be a great way to get kids involved.
7. Reading Garden
Your first thought when coming up with balcony garden ideas might not be a reading space. But, having somewhere quiet and relaxing to enjoy a good book can do wonders for your mental health.
How do you make a reading garden on your balcony? Quite simply, it needs to be comfy and relaxing.
Take inspiration from Zen garden ideas: include tall grasses like pampas grass or a fountain to block out noise pollution. Both are similar to white noise, which can help cut out distractions when you're trying to read.
If you want the ultimate reading space, hang some string lights so you can enjoy it at night, too.
As for the comfy chair, that's entirely up to you.
8. Deck-style Garden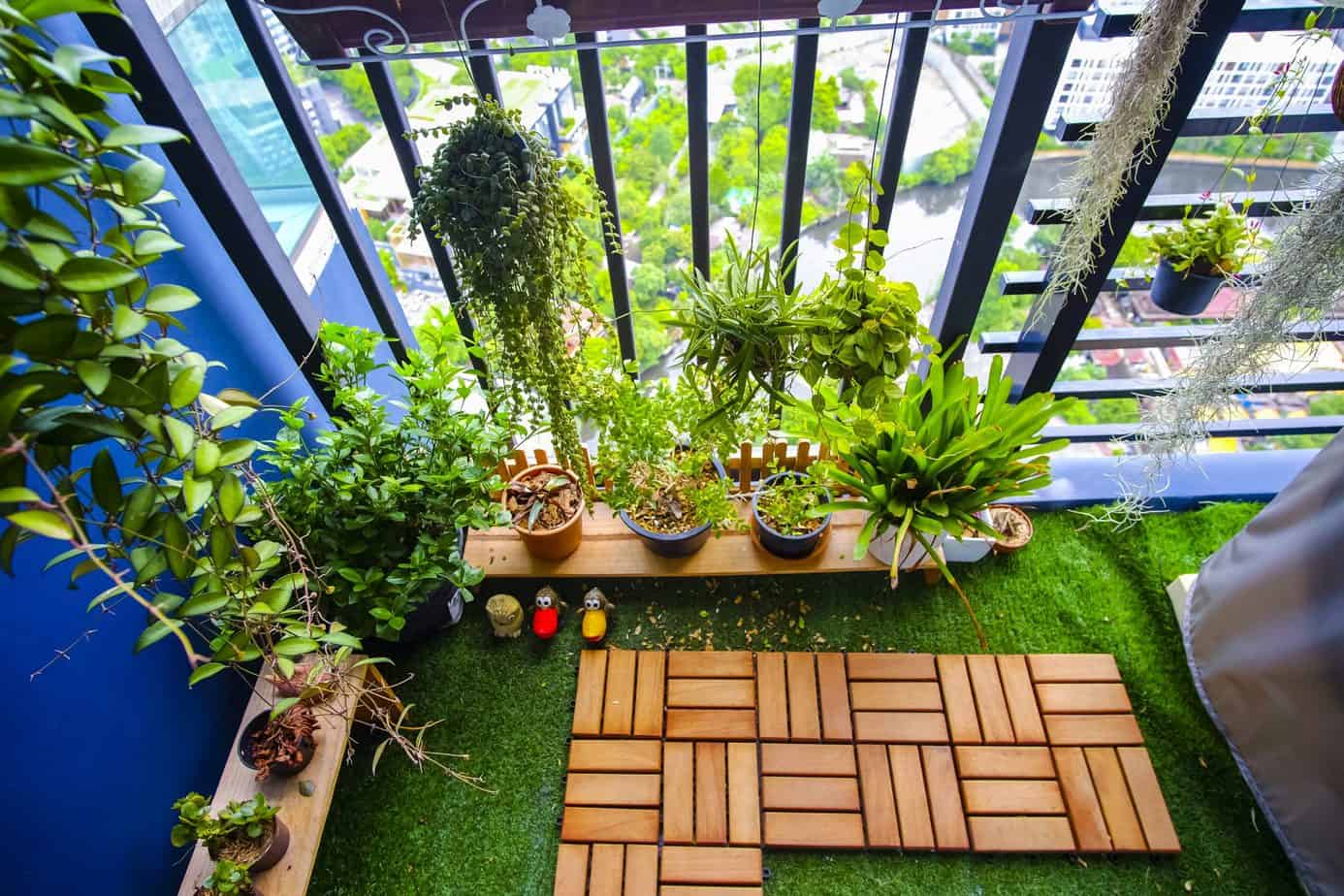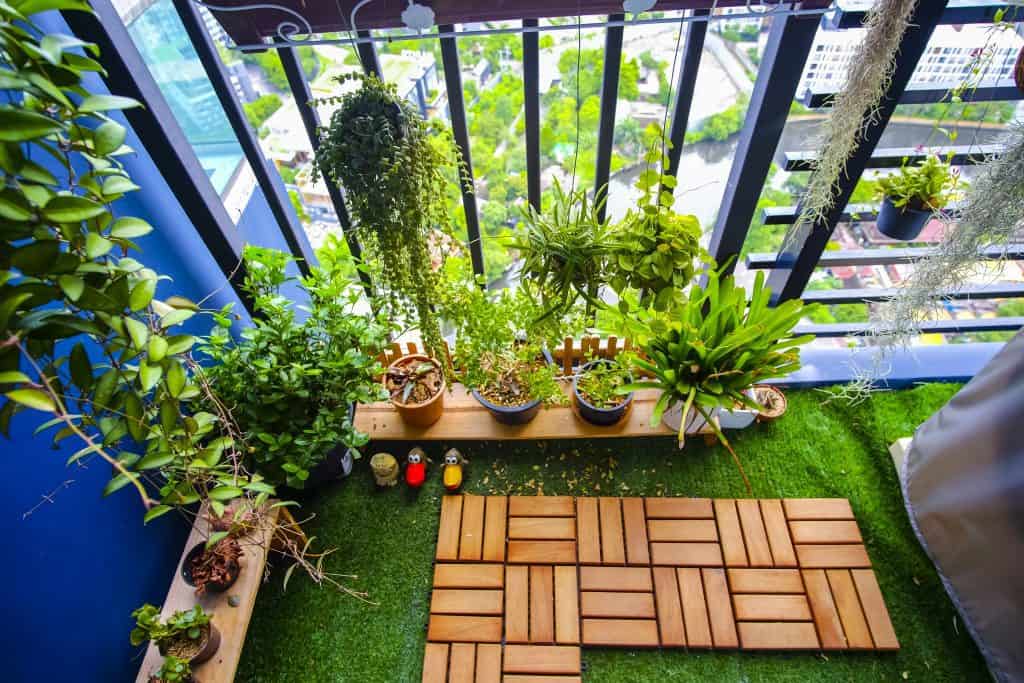 Mixing decking and grass can make your apartment balcony feel like a more natural backyard space. Of course, you're more limited in what you can do, but that doesn't mean you can be creative.
First, add fake grass for convenience. Some higher-end fake grass feels very real, and is much easier to maintain than real grass.
Then add some deck tiles. The beauty of these is that they interlock and don't require any permanent installation. So, even if you rent, it's easy to take them up when you need to.
9. Vertical Garden/Living Wall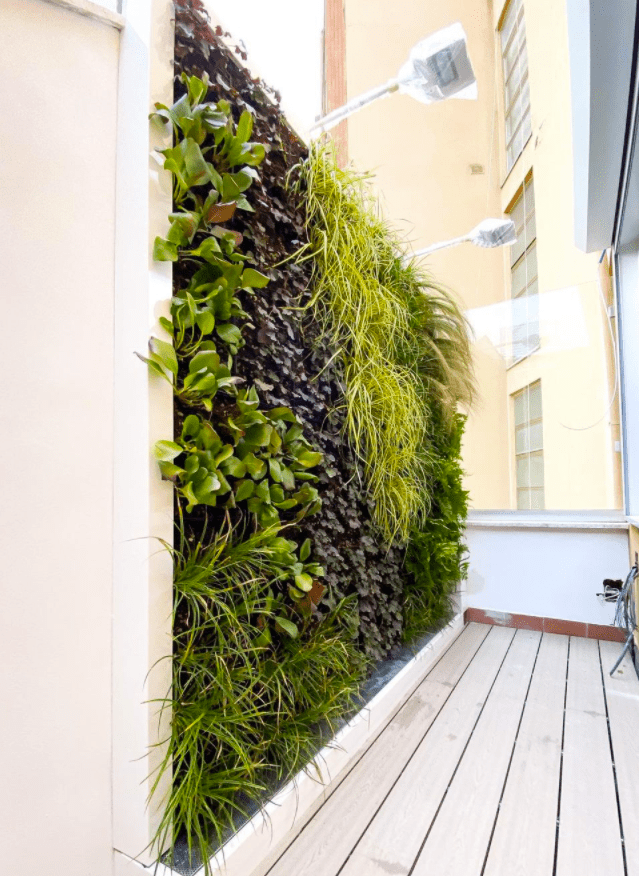 If you have minimal space on your balcony, why not make a vertical garden? As a balcony garden, it's great, as it means you can still have greenery without losing any floor space.
Obviously, it can be quite a DIY heavy project, although you don't need to permanently attach anything to the wall. As such, you can adjust it for rental apartments and strict HOA rules.
You can check out our article on Vertical Gardening for Beginners to get started.
You could use vertical planters for flowers, herbs, or vegetables. For example, lettuce and strawberries are great in these.
But if you're not interested in doing DIY for your balcony garden, simply buy vertical wall planters instead.
10. Privacy Garden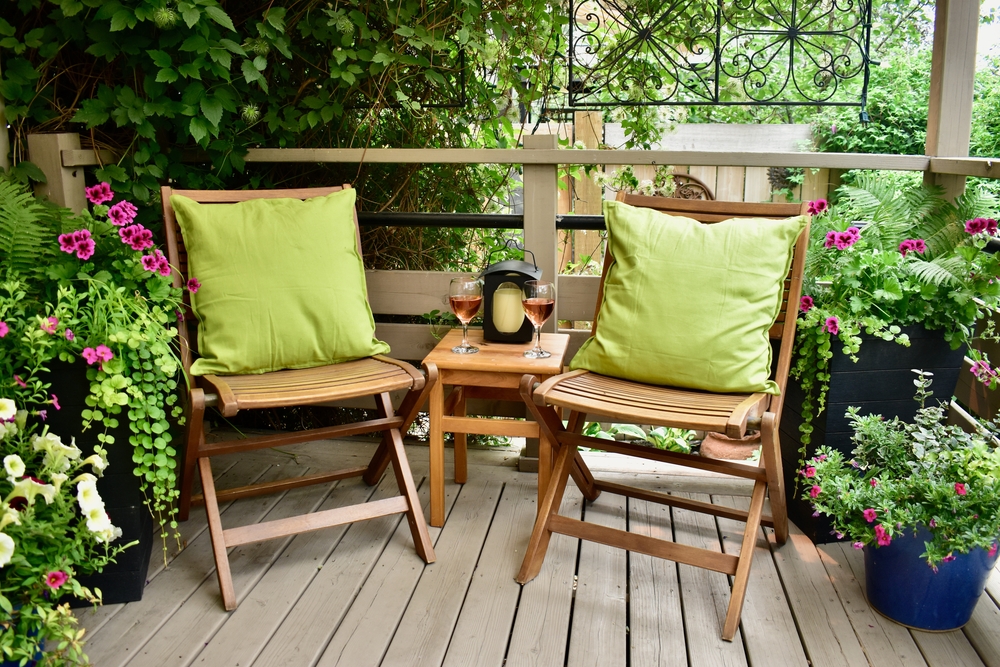 Sometimes, there's nothing better than setting up shop in a private, tranquil space surrounded by greenery.
Enter the idea of a privacy garden.
In order to set up a privacy garden, you're going to need some privacy plants. These can be tall plants in pots, hanging plants, climbing plants, or fake plants that simply cover your balcony railing.
Final Thoughts on Balcony Garden Ideas
Hopefully, some of these balcony garden ideas will give you inspiration for your space. What you choose for your balcony garden ultimately depends on size and needs, but don't forget other considerations like cost and housing regulations.