Balcony Boss is reader-supported. When you buy through our links, we may earn a small commission at no cost to you. For additional information, please view our policies.
Boho plants should incorporate everything characteristic of boho décor. Luckily, this is pretty easy, as most popular houseplants come from warm areas across the globe, meaning they tick the traveler box of boho style.
In this article, we'll look at the top contenders for the best boho plants and some ways to style them in your boho décor.
What is a Boho Plant?
Boho style brings together elements such as natural materials, global décor, colors and patterns. So, a boho plant uses some (or all) of these.
It might sound a bit vague, but boho décor usually is. That said, it's probably easier to bring boho elements together in plants because most popular houseplants are tropical in origin and have some amazing colors and patterns.
You could pass almost anything off as a boho plant with enough justification. However, in our definition of boho plants, we'll ignore things we might usually associate with "cottage" vibes (such as lavender), and we won't go too heavy on flowers, either.
9 Best Boho Plants
So, let's get into the list of best boho plants.
1. Spider plant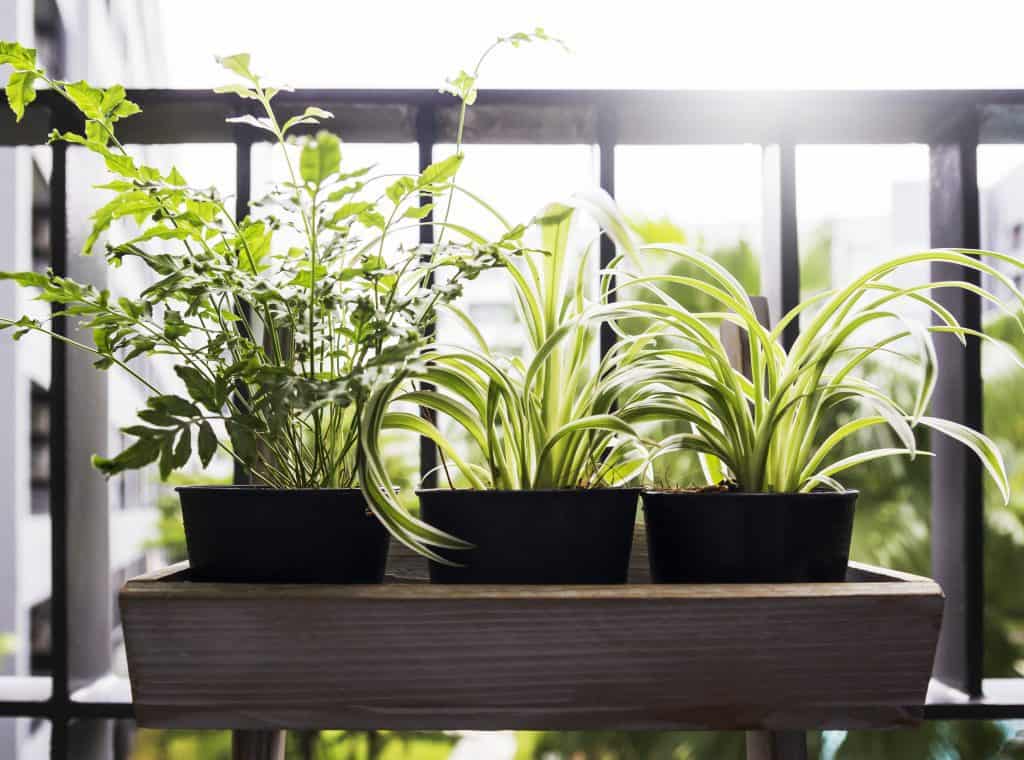 Spider plants are a classic boho choice because they soared in popularity during the 60s and 70s when boho as we know it originally peaked. Native to South Africa, spider plants tick the worldly element and are perfect for texture, color, and interest.
You can put them outdoors during the summer, but, as you can imagine with an African plant, they'll need bringing indoors in the winter.
Due to their long trailing leaves and pup stems, spider plants work well in hanging pots. This can be a perfect way of bringing in macramé and rattan, too.
2. Succulents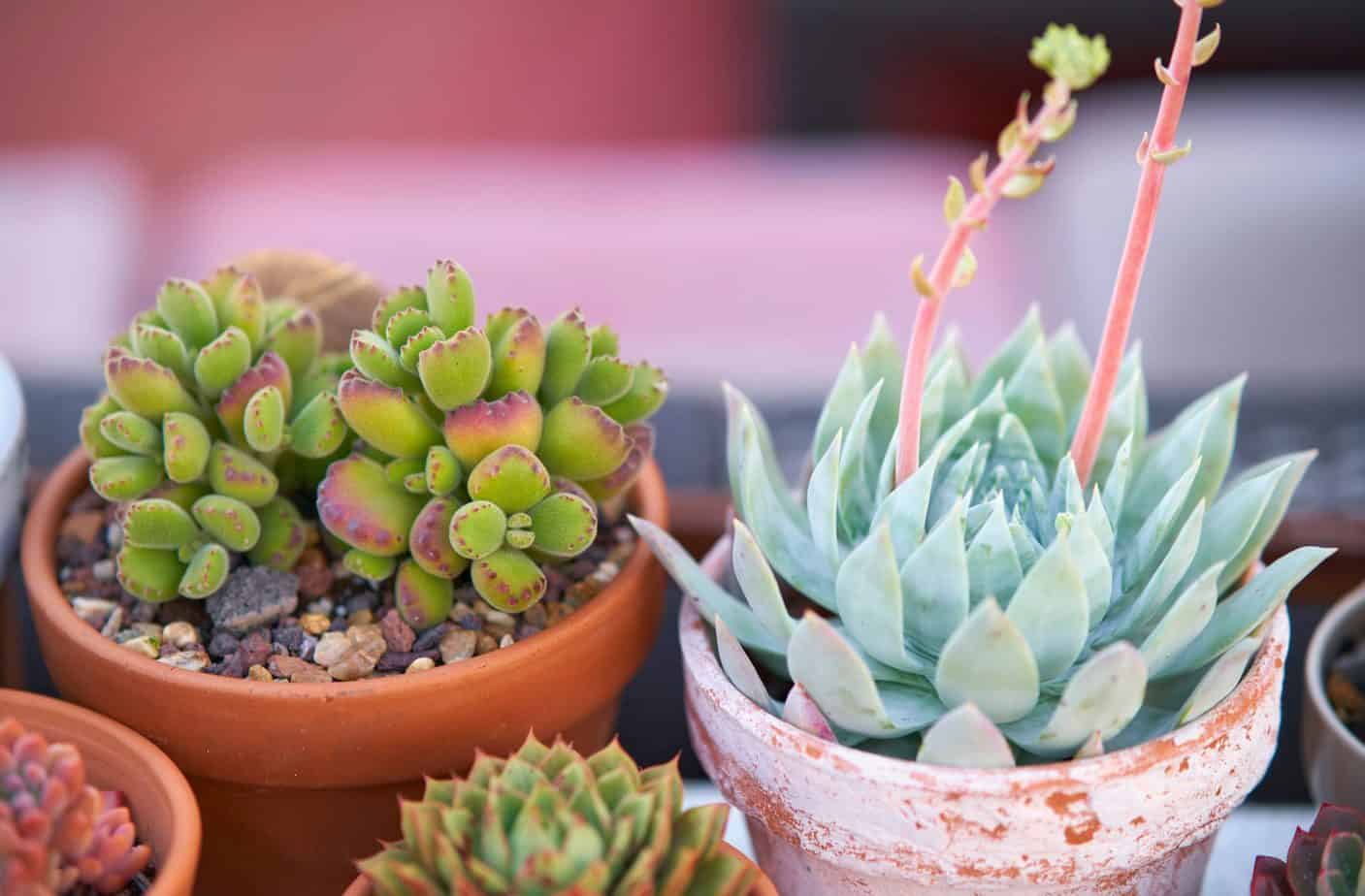 Succulents work well as boho plants because you can create some amazing displays with them. They'll suit almost all pot types, such as railing planters, hanging pots, stands or wall displays.
Most succulents like terracotta pots so they can dry out properly. Luckily, terracotta is a popular boho material. You could always bring in rattan or jute as pot covers or hanging supports.
Succulents love full sun and warm temperatures but can tolerate colder outdoor environments. For the most part, they'll need bringing in over the winter.
3. Pampas grass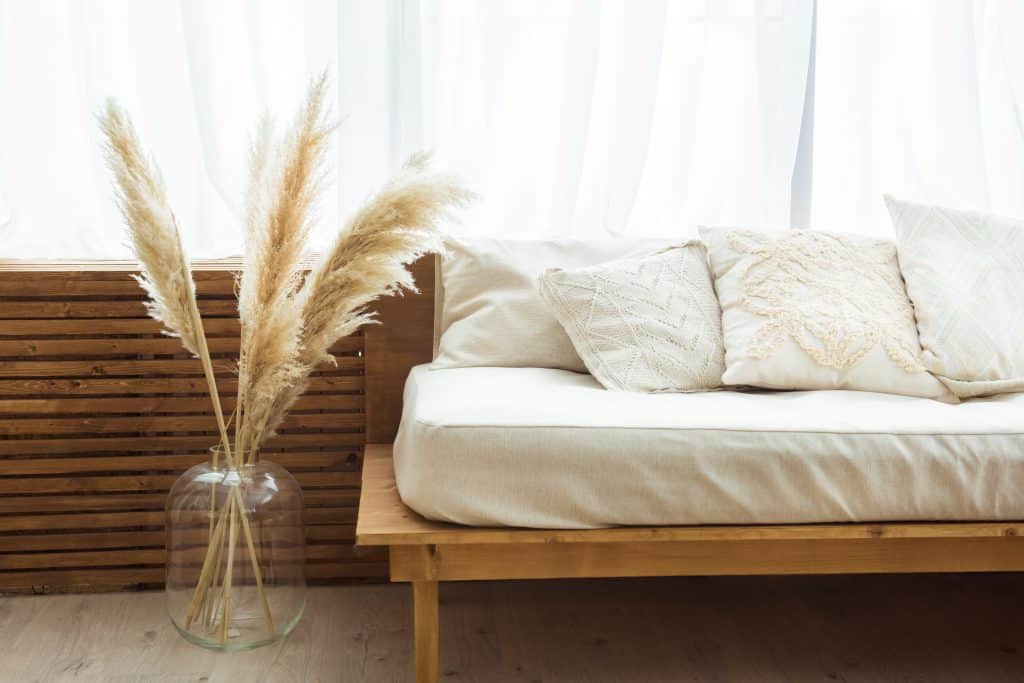 Like spider plants, pampas grass was popular in the 70s, so has a strong affiliation with the boho style. We've got a full guide on how to use pampas grass in your outdoor space; check it out for décor tips.
It works best in large pots, although you could grow dwarf varieties in a plant stand.
4. Yucca
Yucca is a type of palm tree that can grow in anything from a floor pot to a plant stand. Its stem works great with jute pot covers, too.
You can keep it outdoors in warm areas, and it'll survive winter if it doesn't get too cold. It likes full sunlight and doesn't enjoy getting too wet, making it a low-maintenance addition.
Yucca are popular boho plants because they add texture and interest and are obviously "worldly" plants. They're quite obviously palm trees, so add the globetrotter element of boho style.
5. Pothos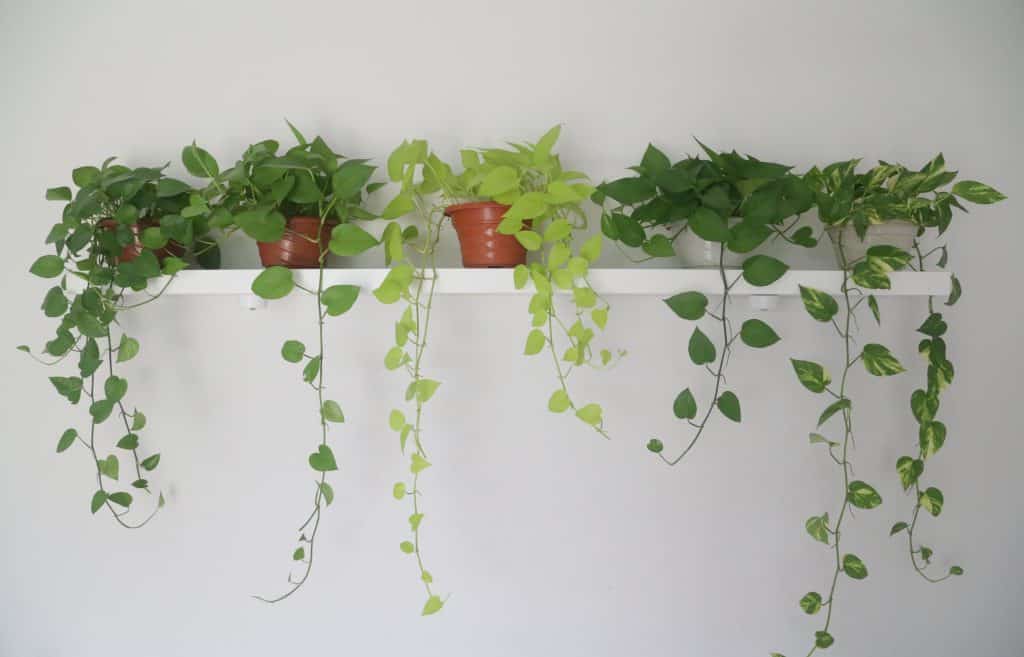 What boho space is complete without a pothos? The classic trailing houseplant, a pothos is a perfect accessory for high shelves or empty walls. Pothos look great in macramé hanging pots or grown in plant stands and trailed up the wall.
Pothos tolerate cooler outdoor temperatures and shade, making them a good choice for balconies. Be careful, though, as they can get pretty out of control and are poisonous to animals.
6. Ferns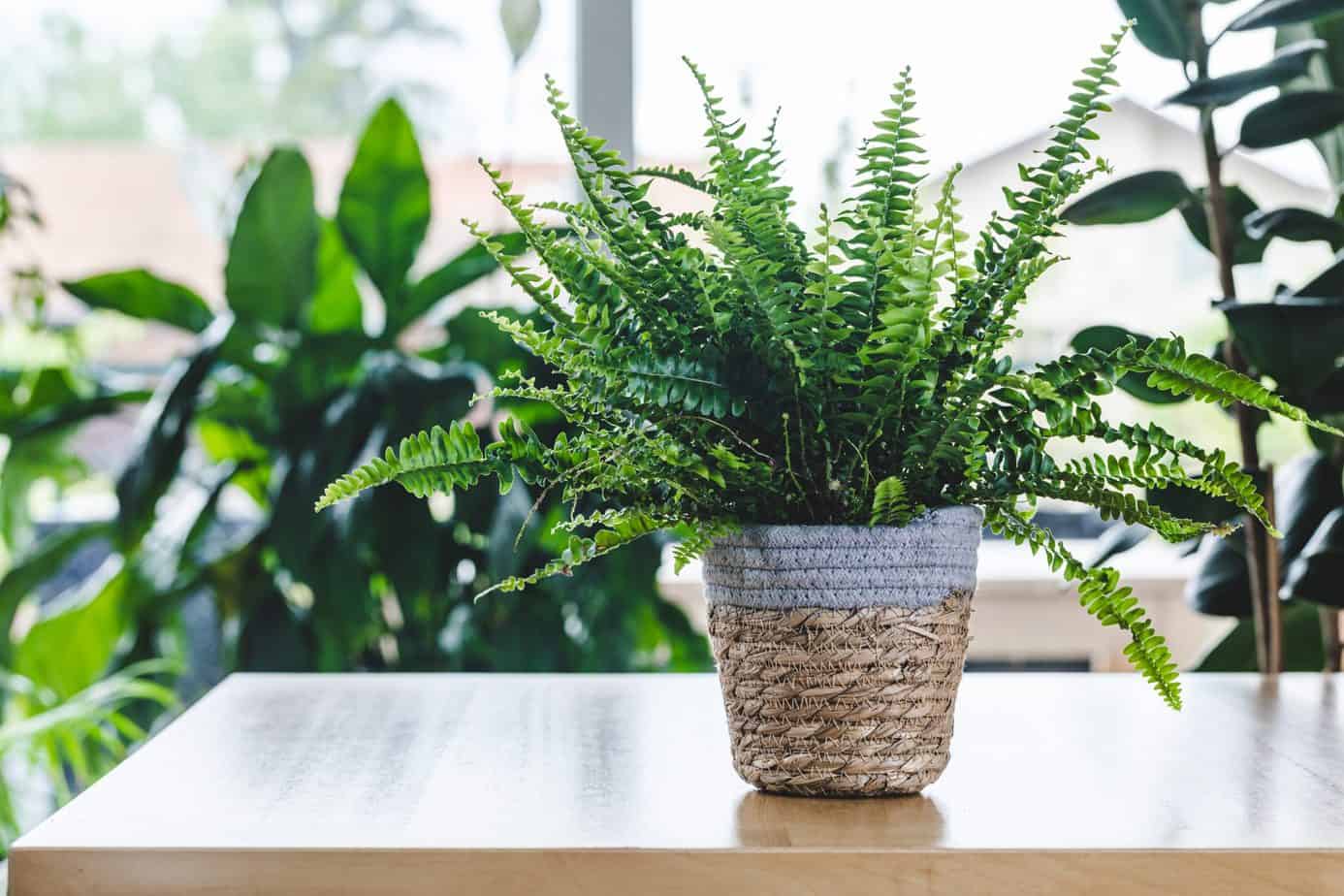 Ferns are ideal boho plants for the same reasons as spider plants and pampas grass. Almost every house in the 70s had a fern or two, making them a cornerstone of boho style.
Ferns work well outdoors or indoors, but they need more maintenance if kept inside. They love humidity, which is much easier to achieve outdoors. Again, you can keep them in anything from hanging pots to plant stands, as drooping ferns add interest.
There are so many kinds of ferns, all of which add amazing texture and color to a boho space. Be aware, though, some kinds (such as maidenhair ferns) are complete divas and need a lot of attention.
7. Bamboo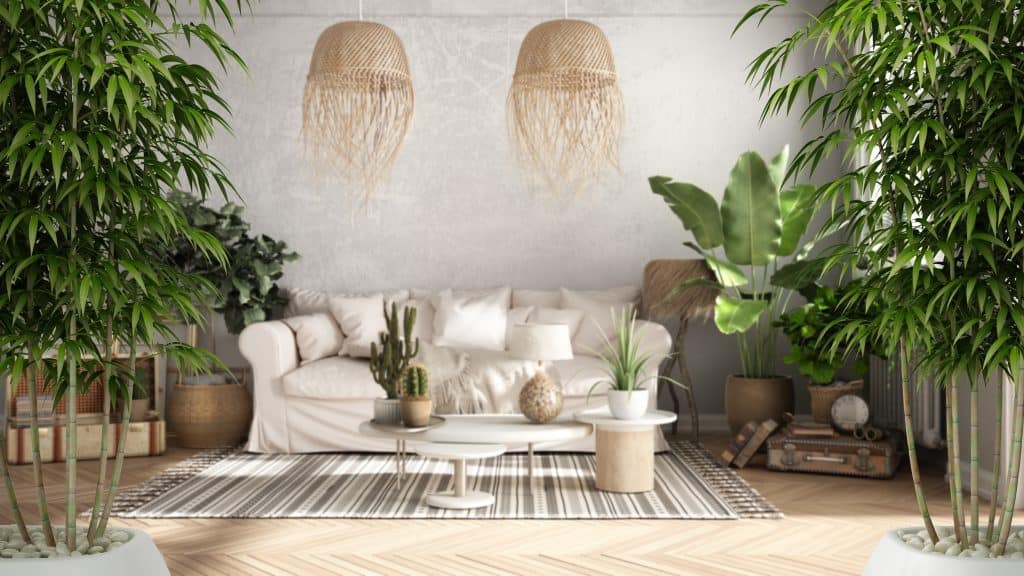 Why not get some bamboo on the go in your boho space? Considering it's a popular material for bamboo furniture, it makes sense to have some living plants on the go, too.
Bamboo works best in big pots and, depending on the variety, will grow in almost all climates. Choosing a boho pot will be easy for bamboo, as it'll work with pretty much everything.
8. Bird of paradise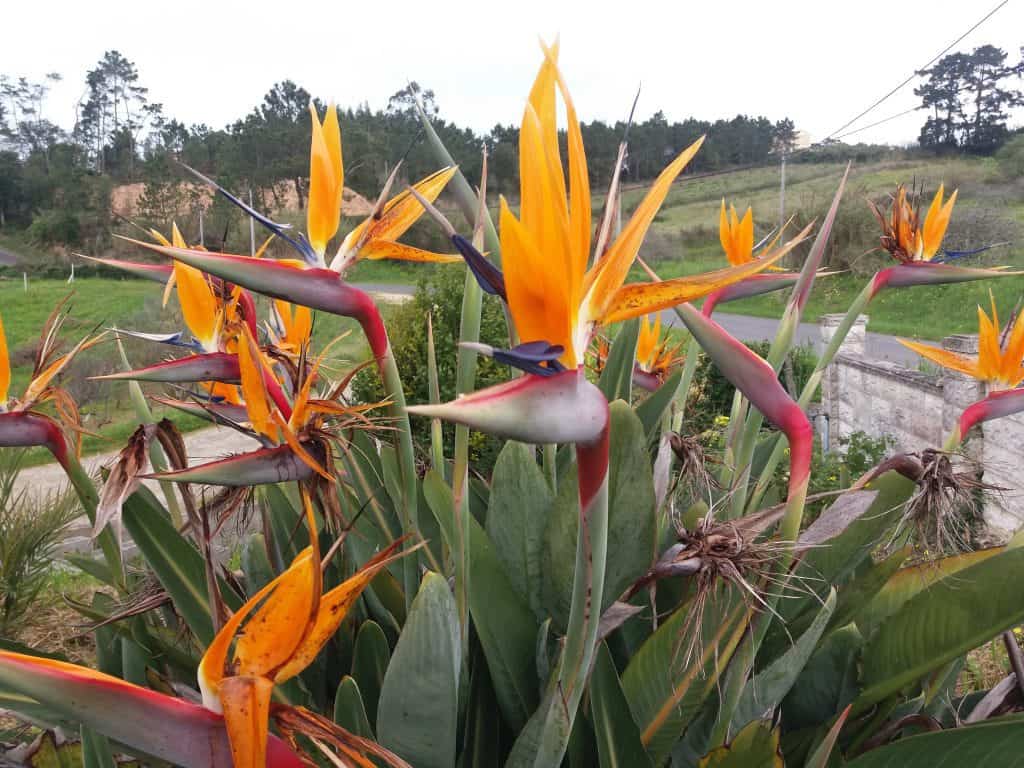 Bird of paradise is an amazing houseplant that produces striking leaves in a deep green color. When it flowers, it'll add even more interest to your space.
It works with other boho plants because it adds more height with its large leaves, which combines well with things like pothos and ferns. Place a bird of paradise in anything that you consider to be a boho pot, and it'll fit in perfectly.
Much like the other tropical plants on this list, a bird of paradise can be kept outdoors but will need bringing in over winter.
9. Calathea
Calathea add great color and interest, and are one of the few entries on this list with patterned leaves. Also known as prayer plants, calathea's leaves move throughout the day, so add some good drama.
They grow upwards or can creep depending on how they're planted. As such, calathea make good boho plants on stands, hung from a wall, or placed on a shelf. In short, there's nowhere that won't benefit from a calathea!
Final Thoughts on Boho Plants
There are very few restrictions on boho plants, as you can probably tell from this list. If it fits the brief of texture, color and worldly elements, it can be boho!
For true boho inspiration, look back to the 60s and 70s to see what was popular. You can't go wrong drawing inspiration from the actual boho era.