Balcony Boss is reader-supported. When you buy through our links, we may earn a small commission at no cost to you. For additional information, please view our policies.
Artificial flowers are a great alternative to the real thing if you can't (or don't want to) grow them. With the right materials, you can fill up an outdoor planter to look pretty realistic.
Here are some of the best options for how to fill an outdoor planter with artificial flowers.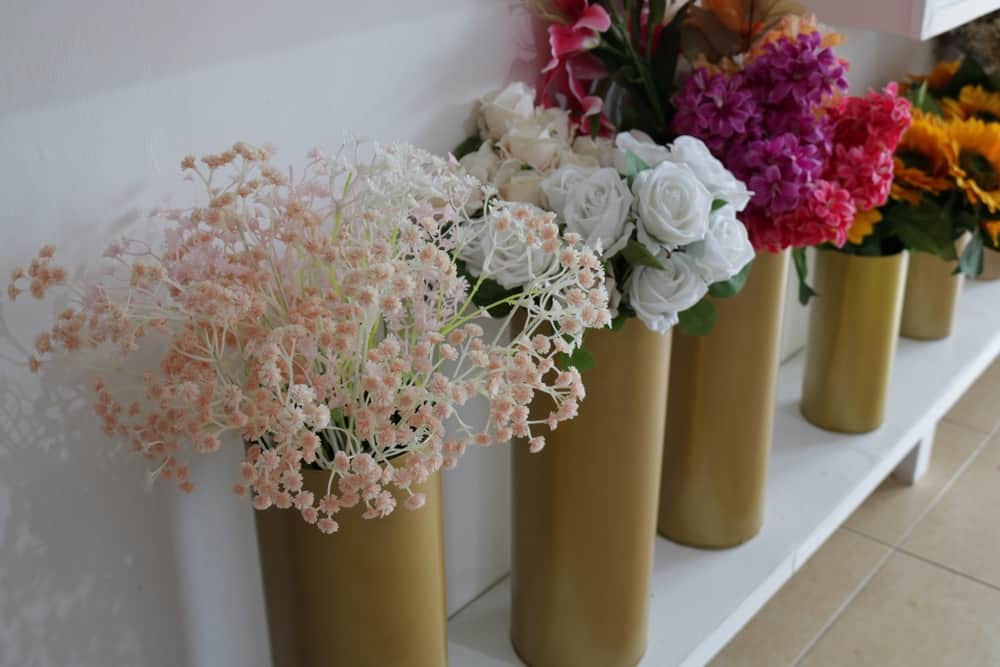 How to Fill an Outdoor Planter with Artificial Flowers
1. Florists Foam
Florists foam is pretty much designed for this job. It's easy to use: you put some in a planter and then poke the flowers into it. Florists foam might not be the most attractive option, but it gets the job done. Use the dry version (rather than wet), and don't let it get wet because it'll rot quite easily.
Pros
Cons
Not suitable for planters in uncovered areas
Doesn't look great
2. Gravel
If you've just got a small planter and want to put a whole artificial plant in it (rather than cut flowers), gravel will do the job fine. Simply fill the planter with gravel and bury the plant in it. This looks particularly good with artificial succulents.
Pros
Makes plants look more realistic
Ideal for whole plants rather than cut flowers
Cons
Impractical for large planters (heavy and expensive)
3. Soil
Just as with gravel, you can use normal soil to get a more realistic appearance. For convenience, add some florists foam in the bottom of the planter and cover with a thin layer of soil. Sand will do the same job too.
Pros
Gives a realistic look
Cheaper and easier to use than gravel
Cons
Expect it to attract bugs as it would in any other planter
4. Gardener's Wire
If you don't think the "soil" will be seen, you can skip this step altogether and just hold the plants in place with wire. Gardening wire is thin and flexible, making it perfect for this job. It'll be a good option for hanging baskets where you might be using ivy or trailing plants, for example.
Pros
Saves you from having to use soil or gravel
Inexpensive
Cons
Won't look great if you can see into the planter
5. Epoxy Resin
This might not be a cheap option, but it's great if you want to create a fake water look. Clear epoxy resin is essentially a pourable plastic that'll look like water in a vase once it hardens. Mix the 2 parts together, pour it into your vase and then arrange your fake flowers.
Obviously, this is only worth doing if the vase is see-through. For opaque vases, just use gardener's wire.
Pros
Looks like water
Resin will hold fake flowers in place
Cons
Final Thoughts
One of these options should be ideal for filling your outdoor planter with artificial flowers. Before choosing, decide what sort of look you want. If you don't care, wire or florists foam will do the job fine. But for more realistic looks, expect to pay a bit more money.