Balcony Boss is reader-supported. When you buy through our links, we may earn a small commission at no cost to you. For additional information, please view our policies.
A pumpkin vase or flowerpot is one of the most Instagrammable items of fall décor. Whether painted or left its natural color, a pumpkin makes a surprisingly good planter or vase.
In this article, we'll cover the steps for making a pumpkin vase with real flowers, fake flowers, and decorative arrangements. Despite it being fairly easy, there are lots of different variations, and it's worth prepping your project to get the most from your pumpkin.
Getting Started with Your Pumpkin Vase
There are basically 3 steps to making a pumpkin flower pot. However, it's worth considering the following before you get started on this project.
What to Put in it
The first step is deciding what you should put in your pumpkin. You can use anything you want, whether it's real or fake flowers, decorative arrangements, or living plants in soil.
Your display will obviously dictate what you fill your pumpkin with (more on this later), but also think about:
Watering. Nothing will stop you from watering real plants in a pumpkin vase, but excess water will cause it to rot quicker.
Color. Orange flowers are popular for obvious reasons, but contrasting colors (pink, green, purple, etc.) also work well.
Succulents. Succulents are popular in images of pumpkin flower pots because their foliage works well against the pot. Again, nothing is stopping you from using them, but think about the time of year (succulents won't do well outdoors in fall).
Instead, try some of the following:
Dahlia
Celosia
Poppies
Aster
Chrysanthemum
Anemones
Filling Material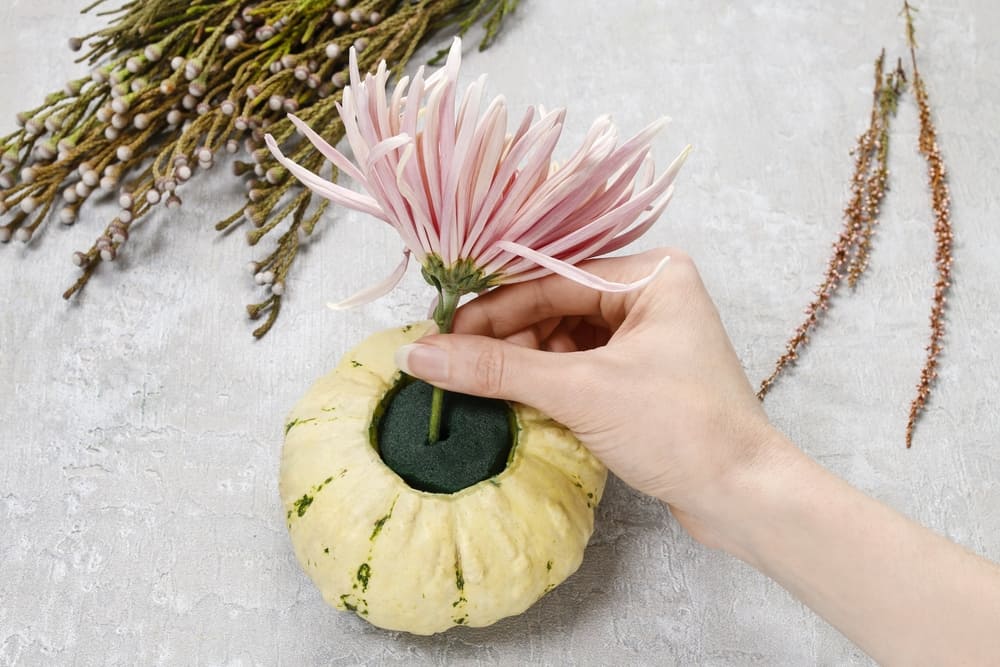 In terms of pumpkin vase filler, you have a few options.
If you plan to use living plants, stick with soil.
If you plan to use fake plants or flowers, floral foam (also called oasis) is probably the best material. Failing that, polystyrene will work fine, providing you poke holes in it first.
Floral foam can also be used with living cut flowers as long as you soak the foam in water first (more on this later).
Preserving Your Pumpkin
In the right weather conditions, a pumpkin vase can last up to a month. You'll find they'll rot much quicker in warmer climates and in late summer months, so aim to not put your pumpkin vase out until October 1.
There's not much you can do to make your pumpkin vase last longer. Traditional home remedies, such as glue or bleach, don't work and will harm any living plants you use.
Pumpkins have high water content and, short of drying it out, you can't do anything about this. An alternative is to use ornamental squash or gourds. They have a much lower water content anyway, and are dried in advance to make them much harder. You could get several months of use from an ornamental squash.
But if you want to use traditional orange pumpkins, pick the smallest and freshest ones you can find.
If you want them to last indefinitely, just buy plastic pumpkins instead.
How to Make a Pumpkin Vase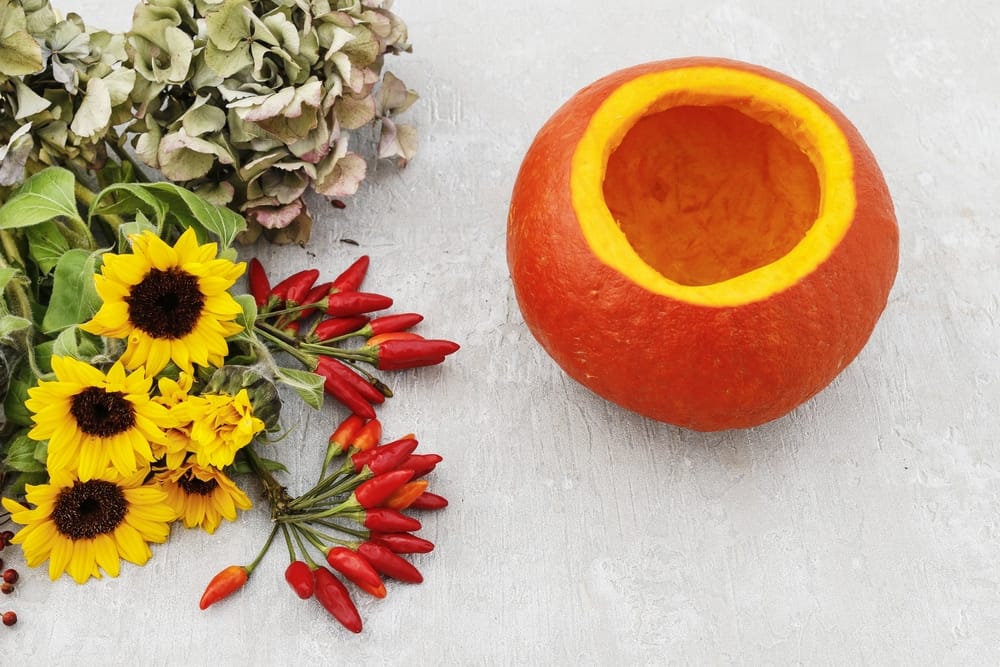 We'll go over a few different options below, but the initial steps are always the same. For these, you'll need:
A pumpkin
A serrated knife (such as a bread knife)
A spoon
The steps are as follows:
1. Cut around the pumpkin's stem. The size of the hole will depend on what you're putting in it.
2. Scoop out as much of the inside as possible.
3. If you're painting the pumpkin, make sure you use acrylic for the best coverage.
That's basically it. Here are some variations depending on what you're putting inside.
Pumpkin Flowerpot for Living Plants
Once you've hollowed out your pumpkin, cut a drainage hole in the bottom. It doesn't need to be massive (around a quarter-inch). Alternatively, poke several holes in the bottom using a skewer.
You could either fill the pumpkin directly with soil or put the plant in it in a plastic pot. Using a pot will probably make the pumpkin last longer, and it'll make it easier to take the plant out again.
Just water the plant as usual, ensuring water drains out of the pumpkin. If you notice it pooling inside, remove the plant and tip out the water. Add more drainage holes so this doesn't happen.
Pumpkin Vase for Floral Arrangements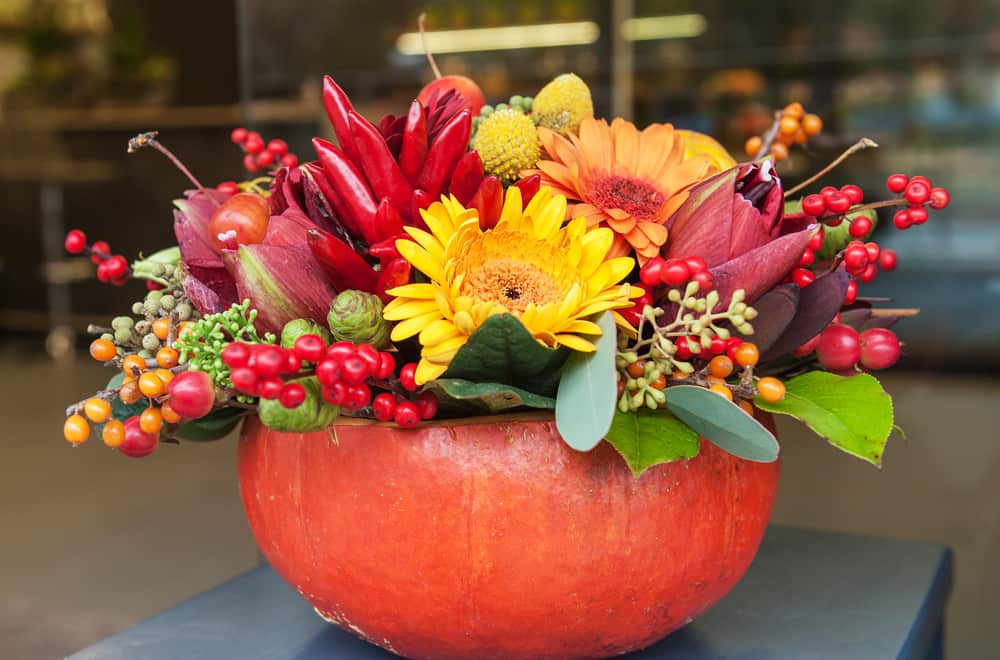 For floral arrangements, use floral foam. Because pumpkins are an awkward shape, you'll probably need to cut several smaller chunks and stuff them in. Make sure the center is properly filled.
If you're using living cut flowers, soak the foam in water for about 2 minutes. You can just use dry foam for fake flowers. Then, just arrange your flowers however you want.
Final Thoughts on Pumpkin Vases
The biggest challenge with a pumpkin vase is having it last the fall season. With the right prep and care (and the correct pumpkin), you could get several months from it. Perfect for spooky season and to complement your Halloween plants!