Balcony Boss is reader-supported. When you buy through our links, we may earn a small commission at no cost to you. For additional information, please view our policies.
Bike storage on an apartment balcony can be tricky – your space is already limited inside, and chances are that your outdoor space is pretty small as well. You don't want to use your entire balcony space to store your bike, so what do you do? Below you'll find some creative and space-saving balcony bike storage ideas.
1. Balcony Bike Rack
Perhaps the most renter friendly of all bike storage options, a balcony bike rack enables you to securely store your bike without having to drill any holes into walls or flooring.
Depending on your balcony's layout and your space saving needs, you can find rack options that will store your bike either vertically like this one or horizontally like this one. You can also find options that will accommodate one or multiple bikes.
2. Wall Mount
Wall mounts like the Steadyrack Classic Rack are great space saving solution for small balconies because they allow you to store your bike vertically while taking up minimal floor space. This can be an especially effective option for narrow balconies that would otherwise be completely overtaken by a bike.
As an added bonus, wall mounts can even free up enough space on a tiny balcony to accommodate a small table and chairs.
3. Parking Rack Stand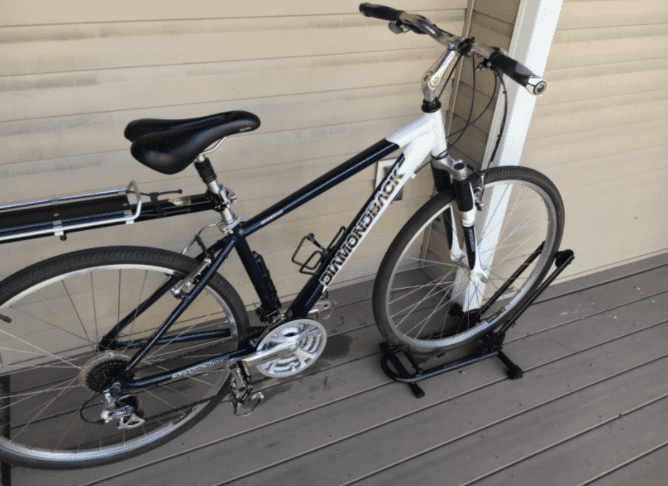 If you're looking for a simple and stable way to park your bike on your balcony (and are sick of leaning it against your railing or wall), a parking rack stand is a great solution. Some stands will require you to lift the bike into it, while others like this one use a very easy push in design.
4. Bike Tent
Bike tents or covers are best for those wanting to keep a bike from being exposed to the elements. While covered balconies already offer some level of protection, bike covers are even better options for those who live in areas where it rains or snows.
5. Ceiling Mount
Ceiling mounts use a pulley system to hoist and store your bike overhead. While they are traditionally used to store bikes in garages or sheds, they can also work in certain balcony spaces. You'll obviously need to have a covered balcony to begin with, but make sure you check the product install requirements to ensure your balcony ceiling can accommodate before committing to this option.
6. Furniture Mount
This option technically isn't on the balcony, but it's an idea for how to creatively use the space right inside your balcony door. A Steadyrack customer came up with a cool way to utilize otherwise unused space and mounted a Classic Rack onto a shelving unit just inside from their balcony entrance.
7. Storage Cubby
Storage units aren't just for indoor use and can be paired with a classic rack to stylishly store a bicycle and other items on a balcony. It's probably best to implement this option when it can be anchored to a wall.
8. Extension of Furniture
Who doesn't love something that's multi-functional? Peddler and the Roof created The Pergola Shelter which provides aesthetically pleasing bike storage underneath. The shelter can also double up as a bar top or place to put small plants or decorations.
9. Pure Decoration
When a bicycle gets little to no usage, you might want to consider simply turning it into a piece of décor. Here are a couple of ways that people have gotten creative.
Conclusion
Bikes are great, but they can take up a lot of precious space when not in use. Hopefully we've given you some creative and space-saving bike storage ideas that you can implement in your home.