Balcony Boss is reader-supported. When you buy through our links, we may earn a small commission at no cost to you. For additional information, please view our policies.
Apartment bike storage is vital for security but it's tricky to organize in small spaces. After all, you want your bike to be safe without having to climb over it every time you need to move around your apartment.
Below are our top bike storage ideas for apartments. We've arranged them by indoor storage and balcony bike storage, so there should be suitable options no matter what space you have available!
Challenges of Apartment Bike Storage
Storing a bike in an apartment can be a pain, particularly because bikes are surprisingly bulky things. Short of buying a folding bike, there's little you can do about this. The main solution is to get it out of the way somehow, but this is much easier in theory.
Aside from simplicity, there are 2 other important considerations:
Rental or HOA Restrictions
Numerous bike storage ideas for apartments involve drilling holes and putting up frames. Generally, this isn't possible for renters, although it should be fine for homeowners.
Luckily, we've managed to come up with some solutions that are renter friendly. We'll mention where this is or isn't the case.
For apartment owners, you might want to check where you're actually allowed to store your bike. Some HOAs won't allow bikes to be stored on a balcony, which is where our indoor recommendations will come in handy. Check your bylaws if you're unsure.
Security
We can break security down into 2 points: preventing your bike from being stolen and preventing it from falling down and causing injury.
If you're considering balcony bike storage, it'll be worth thinking about balcony security. Of course, this'll only be an issue if you're in a first-floor apartment, as it's unlikely a thief will climb up the side of a building to steal a bike!
But if you set up any of the apartment bike storage options that involve suspension, always ensure your bike is secured properly. Bikes are pretty heavy, and having one fall off the wall could cause injury and will likely damage your belongings.
Most solutions are easy to install, but make sure you're proficient enough with DIY to know the surface you're working with. After all, hanging a bike rack is slightly different to putting up a picture. Weight considerations are pretty important, and something like drywall is difficult to work with in this scenario.
Indoor Bike Storage Ideas for Apartments
1. Floor Stand
A bike floor stand (like this) might not be the most space-efficient option, but it's certainly the easiest. The only real advantage it offers is that it stands your bike up rather than you having to lean it against a wall.
However, you'd at least be able to park it out the way and not worry about it falling over. You can also get bike stands for more than one bike (like this), but these obviously take up more room.
Pros
No installation – suitable for renters
Inexpensive
Easy to set up
Cons
Not the most space-saving option
2. Vertical Bike Stand
Sure, this apartment bike storage option is still a stand, but it's far more convenient. A vertical stand, unsurprisingly, supports the bike vertically. This means it only takes up as much floor space as the size of one wheel.
A vertical bike stand (like this) typically rotates, meaning you secure your bike into it and then move it into a vertical position. Having the stand do this part at least saves a bit of effort.
Pros
Saves more space than a normal bike stand
No installation – suitable for renters
Easy to tuck away in a corner out of the way
Cons
You need one stand per bike
3. Ceiling Hanger
Hanging your bike from the ceiling is perhaps one of the better bike storage ideas for apartments. After all, it means you lose zero floor or wall space, but you will have a bike hanging from your ceiling!
You can get different setups for this, including a winch system (like this) or simple hooks (like these). These solutions are typically the cheapest indoor storage option. However, they will require installation, meaning they're not suitable for renters.
Pros
No loss of floor or wall space
Surprisingly inexpensive
Easy to set up
Cons
Will require installation – not suitable for renters
4. Storage Stand
A storage stand is essentially a pole that secures to the ceiling and floor of your apartment. Better yet, options like this one require no invasive installation. Instead, you simply extend the pole and lock it in place. The rubber ends maintain tension against the surface, meaning it's pretty secure.
A bike stand like this is a great option for anyone who doesn't want to install wall-mounted storage. You also have a bit more flexibility because you could set it up anywhere, both inside and out.
Pros
No installation needed – suitable for renters
Can hold 2 bikes
Really easy to use
Cons
Not as space-saving as a wall mount
Balcony Bike Storage Options
1. Wall Hooks
Granted, wall hooks aren't a specific balcony bike storage option, but it makes more sense to be drilling holes outside. Plus, most require solid walls to support a bike's weight, which you're more likely to find outside.
You have numerous options, including horizontal wall mounts (like this) or vertical wall mounts (like this). They're inexpensive and, providing you know how to use a hammer drill, are easy to set up.
Pros
Don't take up floor space
Suitable for solid exterior walls
Not difficult to install
Cons
Require drilling – not suitable for renters
2. Freestanding Bike Mount
A freestanding bike mount (like this) is pretty self-explanatory. It doesn't fix to anything and has hooks from which you hang bikes. That's pretty much it.
There are a few things to note, though. First, this wouldn't be a suitable option for first-floor apartments because the rack could be stolen without too much difficulty. Second, it won't be super stable, so consider a different option if your balcony is windy.
Pros
No installation needed
Inexpensive
Some stands can hold up to 4 bikes
Cons
Not the most secure balcony bike storage option
3. Balcony Bike Pergola
If you have access to a bit of lumber, you could easily make yourself a mini balcony pergola for your bike. Think of it like a shed but with only one side and a roof. The main goal is to simply keep your bike out of the weather.
A balcony pergola like this would work well fixed to a balcony railing. For example, you could build the pergola on an uncovered balcony, attach it to your railing, and then use it for both security and weather protection.
The actual construction won't be difficult: it's a right-angle frame with 2 sides of planks. Installing it on your balcony railing will be a bit more of a challenge. But, if nothing else, it could be tied in place. Plus, you could use the roof as a balcony bar!
Pros
Can be tailored to your balcony décor
A good option for uncovered balconies
Doubles up as a balcony shelf
Cons
Does require DIY knowledge
4. Bike Cover
Sure, this might not be a balcony bike storage solution like the others, but we can't overlook weatherproofing. And a simple bike cover like this one is pretty much all you need outdoors.
At the very minimum, ensure you find one that's waterproof. If you're willing to spend a bit more money, opt for one (like this) that entirely covers the wheels. Although bikes are fairly rust-resistant, you'll want to minimize any chance of this happening, particularly with long-term storage.
Pros
Basic weatherproofing is sometimes all you need
Most options protect against rain, dust, UV, etc.
Inexpensive and easy to store when not in use
Cons
Doesn't offer off-floor storage
5. Horizontal Ceiling Storage
Sure, we've mentioned ceiling storage above, but it's worth suggesting this option here. A horizontal ceiling hoist (like this) is suitable for covered balconies and lower indoor ceilings.
As the name suggests, it mounts on the ceiling but holds the bike horizontally. This at least gives you a bit of clearance under the bike, but the same downsides mentioned above are true here.
Pros
Provides more clearance under the bike
Doesn't take up floor space
Suitable for solid ceilings and wood joists
Cons
6. Bike Lock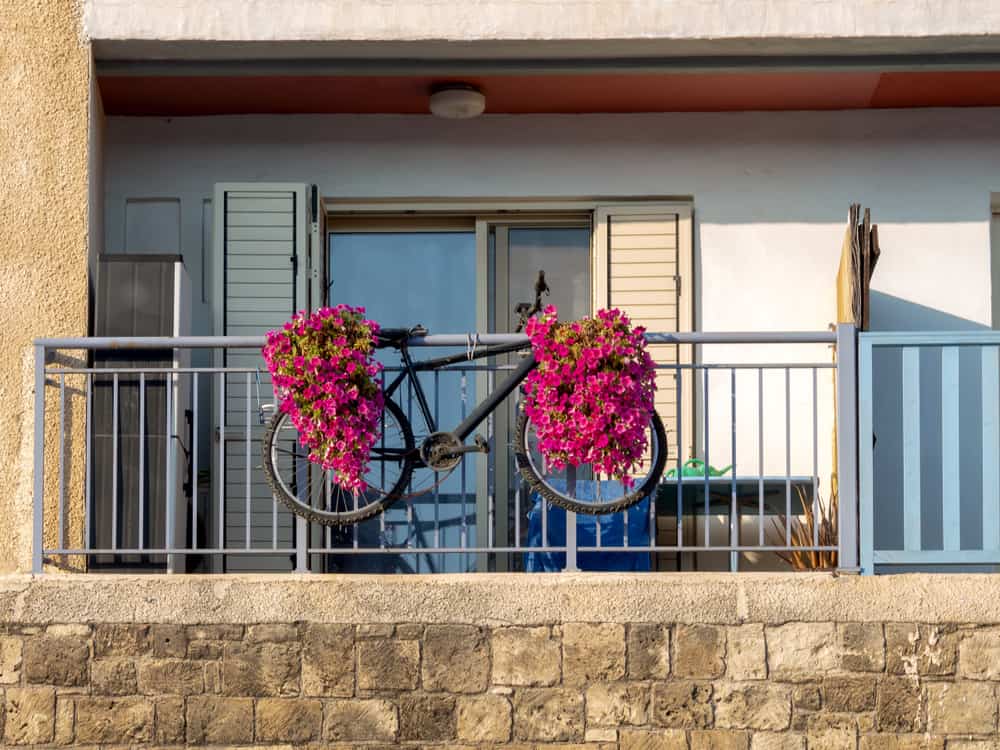 How could we talk about balcony bike storage and not mention the humble bike lock? After all, your main storage concern on first-floor balconies is it not getting stolen. If so, opt for a combination bike lock (like this) because it's arguably more secure than a key-and-lock one.
You can obviously use a bike lock with pretty much any solution mentioned in this article. Some bike covers have holes so you can lock the cover to the bike, and you could also feed the lock through any building-mounted rack. The only option where it won't help is freestanding racks.
Unsurprisingly, a bike lock would be the most sensible option if you just want to fix your bike to your balcony railing. While you could set up a more elaborate system, it'll do the job just fine.
Pros
Stops your bike from getting stolen
Even high-end locks are inexpensive
Can be used with other storage options
Cons
Locks don't do anything for space-saving on their own
Final Thoughts on Apartment Bike Storage
Hopefully, some of these bike storage ideas for apartments will work for you. Generally, the balcony bike storage options can work indoors and vice versa. Just make sure you have solid walls indoors, though.
Whatever option you choose for your bike storage, always check the height and weight restrictions first. After all, you don't want to install a bike rack only to find out it's too small!