Balcony Boss is reader-supported. When you buy through our links, we may earn a small commission at no cost to you. For additional information, please view our policies.
Moroccan décor is a fascinating blend of influences from Europe and Africa. It's particularly popular as an outdoor décor style because of the elements that characterize Moroccan living.
So, if you want to create a Moroccan décor style for your balcony, here are the top tips you should follow.
What is Moroccan décor?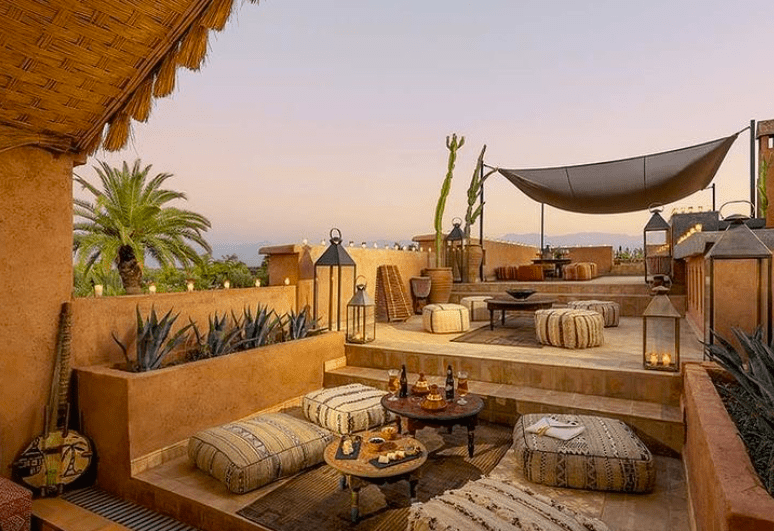 Morocco is a country in northern Africa that blends elements from French, Spanish, Arabic, and African cultures. Luckily, its distinctive heritage makes it easy to follow from a design perspective.
Some of the most important characteristics come from its cultural groups, which include the Moors and Berbers. If you've ever been to Morocco, you'll have seen Moorish architecture in almost every building, and Berber décor within.
We'll discuss the characteristics of Moroccan style in more detail below, but some of the key points include:
Lots of color
Intricate wooden carvings
Geometric shapes and patterns
Ceramics
Scents and plants
Leather
How to Create Moroccan Outdoor Décor for Your Balcony
The Moroccan décor ideas below are only rough guidelines. While you can shop around for items that fit these descriptions, blending them together in the correct way is what'll truly create Moroccan style décor.
1. Wooden Furniture
Morocco is big on wooden furniture, most of which is intricately carved. Some good options for bringing this into your Moroccan outdoor décor are seating and tables.
For example, a wood end table can add style easily, while a carved room divider will add the intricate design elements that characterize Moroccan wood.
2. Color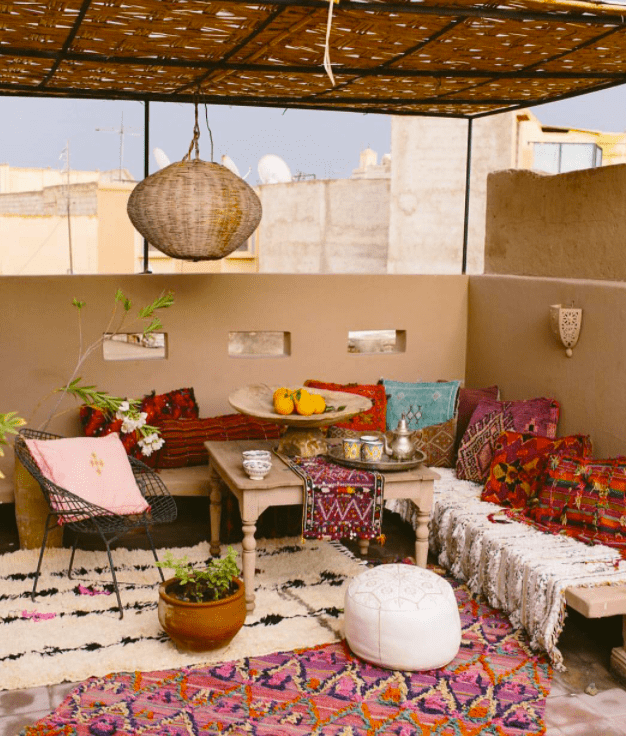 Some areas of Morocco, like the central medinas of Marrakech, are almost an assault of color. Therefore, it's pretty vital that you bring in colorful elements if you want to create a Moroccan style balcony.
Typically, you'll want earthy and neutral colors as your backdrop. For example, a light-colored sofa would work well, as would white or cream walls.
Then, you can go pretty over the top with color. Jewel tones are popular (red, green, purple), as are blues to represent the ocean. A mosaic lampshade works well, as would a window privacy film on a glass balcony.
The important thing with Moroccan décor is that you keep the backdrop neutral so colors pop more. Morocco is a hot country, so white buildings are popular. However, if you want some true color inspiration, look at the Jardin Majorelle, Yves Saint Laurent's house in Marrakech.
3. Soft Furnishings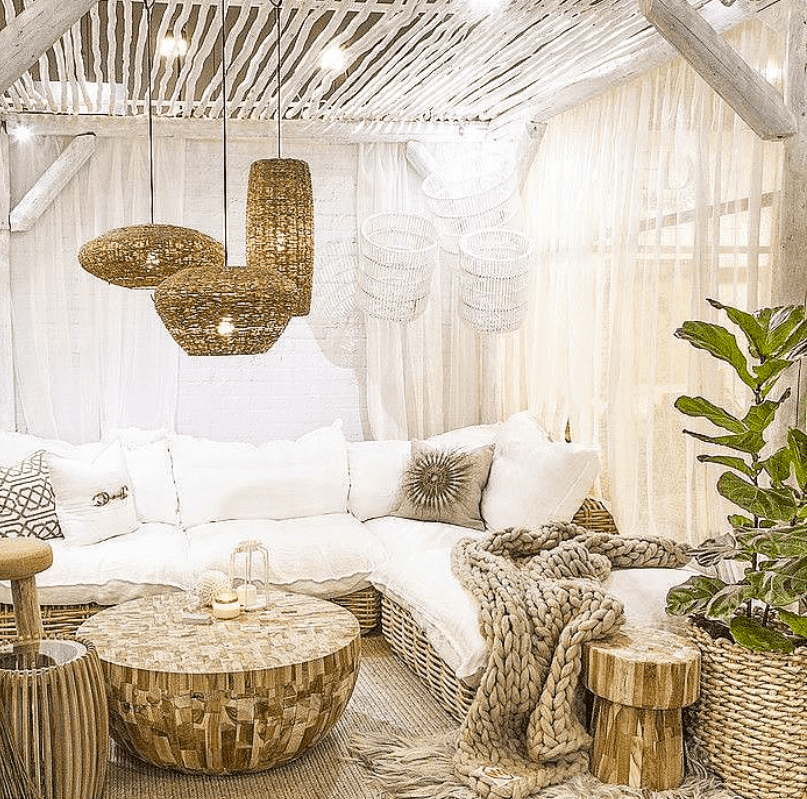 Moroccan style décor includes lavish soft furnishings: lots of cushions, rugs, wall hangings, and blankets. A floor cushion would work well for Moroccan décor, particularly if it's colorful and patterned.
One of the country's native people, the Berber, make intricate rugs and wall hangings. While you probably won't spend thousands on a real Berber rug, you can find some good imitation rugs online. Just make sure it includes abstract or geometric patterns.
4. Leather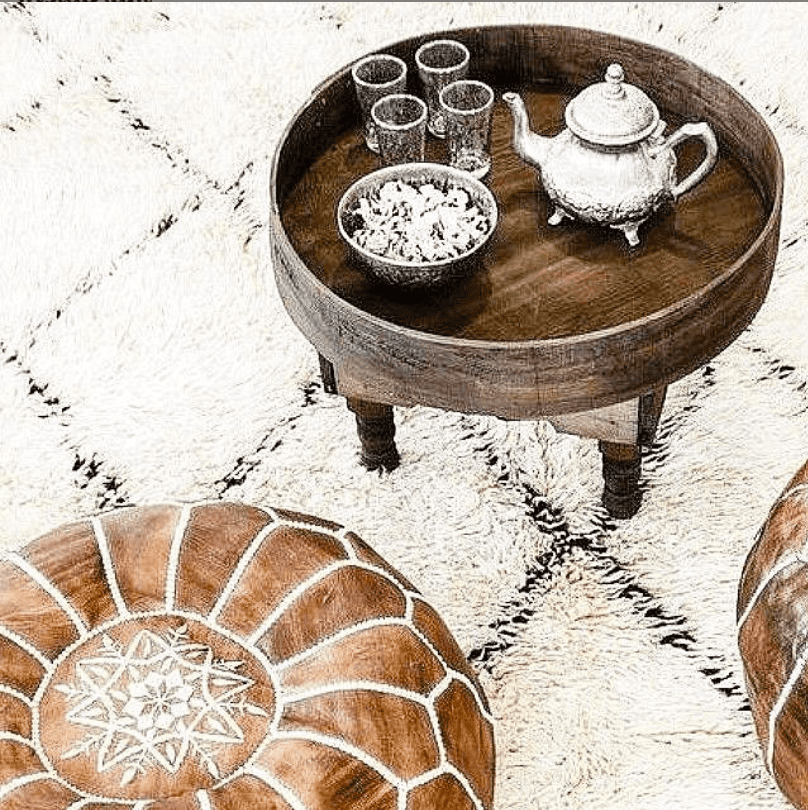 Marrakech exports millions of dollars worth of leather each year, so it's an important part of Moroccan décor. An easy way to include it is through an ottoman or footstool or through leather cushions.
Of course, you could also use wood chairs with leather seats, but this isn't typical in Moroccan style décor.
5. Seating
On the subject of seating, your choices should be relaxed and comfortable. Floor seating is common in the country and works well with Moroccan outdoor décor.
For example, through a load of floor cushions on top of your Moroccan style rug and you're basically done.
You could use a sofa or chair instead, but floor seating has the most authentic Moroccan style. If you want a compromise between the two, something like a pallet sofa would work well, as you could still use lots of cushions on it.
6. Patterns
If you hadn't already guessed, Moroccan style involves lots of colorful geometric patterns. You can include these on accessories such as lamps and pillows, or find a way to include them elsewhere.
Most homes in Morocco have tile floors, and medinas (walled areas in a town) will usually have tiles up the walls, too.
Of course, re-tiling a balcony is a lot of work. Luckily, Moroccan tiles are popular, so there are plenty of vinyl sticker options online. You could stick these on walls, glass balconies, outdoor furniture, or apartment windows.
7. Plants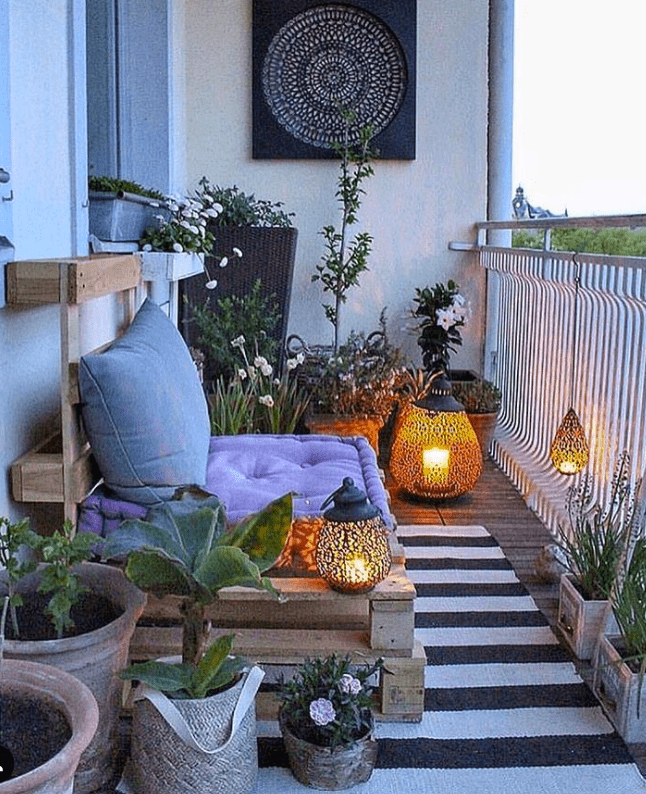 Despite most of Morocco being desert, some plants won't look out of place on a Moroccan style balcony. Plants are a good way to add color and texture, and you can use woven baskets or painted pots to bring in extra elements of Moroccan style.
Which plants you choose doesn't matter too much, as you won't have access to native Moroccan ones. Decorative miniature trees work well, as would things like banana plants and snake plants.
Of course, if you want to go all out, plant some mint. Moroccans love mint tea, so it'd be a nice homage to Moroccan culture.
8. Accessories
Terracotta is popular in Morocco, so is a key element in Moroccan décor ideas. Pots make good accessories, particularly ones with intricate carvings.
Also try to include large ornate mirrors with gold frames, as these bring together different aspects of Moroccan décor.
Finish off with things like glass vases, wooden bowls, wall hangings, and perhaps even canvas curtains around your seating area. This is a nod to the Berber people, who build massive tents in the desert.
9. Scents
The final touch is to add diffusers, incense or scented candles to get the right Moroccan smell. Anything spicy or fragrant will work, particularly things like cinnamon, rose, clove, jasmine, orange blossom, and saffron.
Final Thoughts on Moroccan Style Décor
Hopefully, this article has given you some Moroccan décor ideas. As mentioned, it's an easy one to follow because there are so many aspects that make it distinctive.
Use these tips as a starting point and spend some time looking at pictures of Moroccan homes and outdoor areas. It won't take you long to build a clear idea of Moroccan décor before you translate it to your balcony space.