Balcony Boss is reader-supported. When you buy through our links, we may earn a small commission at no cost to you. For additional information, please view our policies.
A metal privacy screen is far more durable than the other privacy screen options available. While they're often on the more expensive end of the price scale, the extra investment is arguably worth it.
But, that doesn't mean all metal privacy screens or panels are worth buying. So, we've rounded up the best outdoor metal privacy screens, and we'll cover how to choose the best one for your space. If you're considering adding a metal privacy screen to your balcony or outdoor space but are unsure of how to go about making a selection, you've come to the right place!
Choosing a Metal Privacy Screen
The main reason to choose outdoor metal privacy screens over other types is because of their durability. While canvas and mesh screens might look a bit nicer (depending on your aesthetic, that is), they don't have good weather resistance. The same is obviously true for wood screens.
There isn't a ton that you need to consider before buying metal privacy screens. That said, think about the following:
Weather
If you'll be leaving the screen up all year (or putting it near a hot tub or other water sources), ensure it's rust- and corrosion-resistant. Stainless steel or similar is obviously a good choice for this.
While rust can add a certain look to an outdoor space, it's best avoided where possible, as it could lead to the screen breaking. If you want that weathered look, find a rust-effect screen.
Installation
Installing a metal privacy screen doesn't need to be difficult. Your options will fall into one of two categories: screens or freestanding panels.
As the name suggests, freestanding panels come with legs and so don't require anything more than initial construction. This makes them suitable for renters and people who want to easily move them around.
Screens often come in rolls and can be installed using cable ties. Some might have grommets to make this job easier. You can fix them to balcony railings, hooks, or other structures quite easily.
In short, there's no real reason to whip out a drill and start making hook holes as most metal privacy screens are very easy to install. This makes metal privacy screens suitable for all kinds of situations.
Height of Screen
Generally, metal screens and panels come in standardized heights. These are usually 3ft. and 6ft. Of course, you'll find others in between, but it might take a bit more shopping around.
Picking the right height depends on where – and why – you're installing the privacy screen. 3ft. high screens should be fine to cover most balcony railings, whereas 6ft. screens are better as hot tub screens or privacy dividers. In any case, if you're looking to achieve privacy via the height of your screen, the taller the better!
Coverage
When shopping around for screens, you might notice that there's a coverage rating attached to many privacy screens. This rating (usually marked as a percentage) gives you an indication of how much privacy/coverage the screen offers. Simply put, a higher percentage means more coverage.
If you're looking to achieve as much privacy as possible, stick to options with a higher rating.
If you want some privacy but also want to be able to see through the screen and enjoy your view, a coverage rating of 55%-65% might be ideal for you.
Budget
As mentioned, metal privacy screens will usually be more expensive than fabric or wood versions. While this isn't always true, it's worth spending a bit more on a high-quality metal product. It could last decades compared to the few years you'd get from a canvas or wood screen.
And, a bonus for renters – because metal screens are so easy to install and move around, you can take your screen with you whenever you move.
The Best Outdoor Metal Privacy Screens for Balconies
1. Block Design Metal Privacy Screen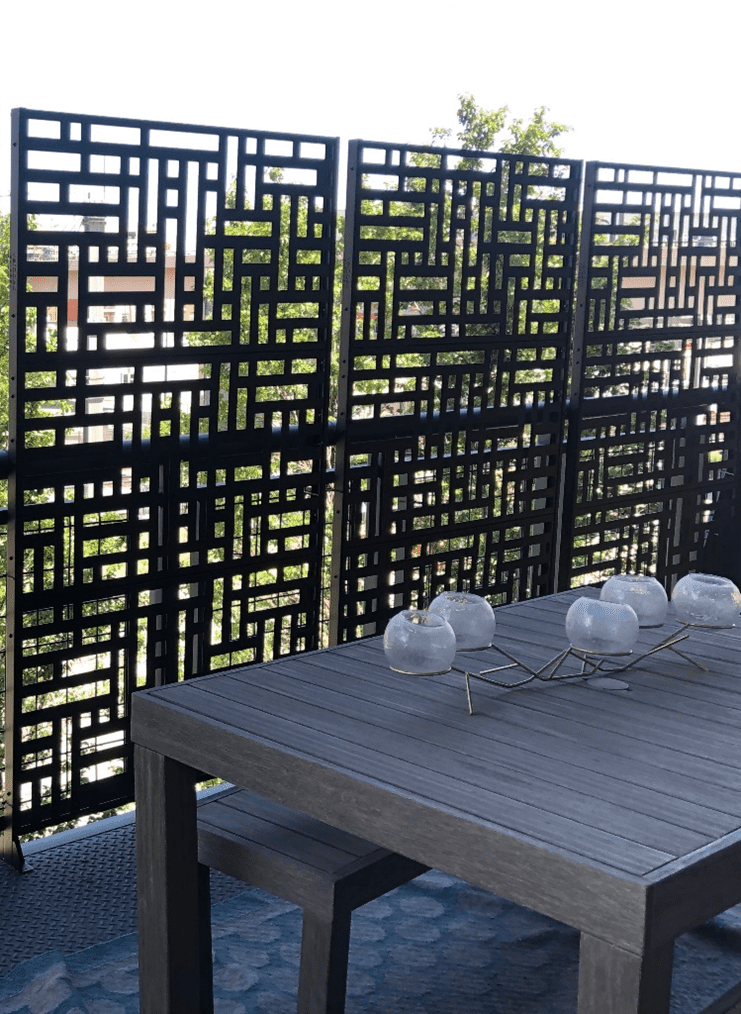 The block design privacy screen is freestanding, making it a good choice for renters and those looking to divide up their balcony space. It'd also be suitable for use around hot tubs or for blocking off trash cans or pool equipment.
It's made from galvanized steel that's powder coated, meaning it's rust-resistant and won't fade. Installation is super easy: you just build what's in the box (tools are included) and then put it where you want.
While it's got an interesting geometric pattern, it's not the most private design. It has a coverage rating of about 65%. But, the holes mean it's easy to grow climbing plants up the front, which will improve privacy and is ideal for anyone looking to add some greenery to their space. That said, it'll also mean you can move the screen around pretty easily.
Pros
Rust and UV resistant
Freestanding – suitable for different applications
Easy to build
Cons
Not the most private screen
2. Brick or Quadra Design Privacy Screen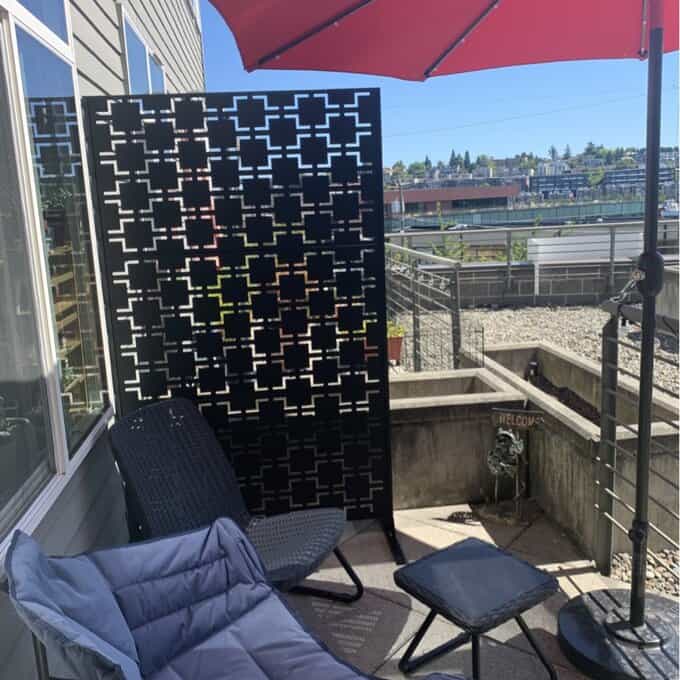 If you want to stick with a more modern design but want more coverage, something like a brick or quadra design will be better. Both designs have 85% coverage, making it suitable for blocking areas from prying eyes.
Like most other laser cut metal privacy screens, these designs are clean and have a sleek finish. The screen is made from powder-coated galvanized steel, so is resistant to rust and weathering.
However, these patterns might not be suitable for windy balconies. They're solid enough that it'll likely blow over in the wind. And, considering it's freestanding, this won't be too difficult. It'll be suitable for propping up in corners to block trash cans or AC vents.
Pros
85% privacy coverage
Modern design
Ideal for shielding trash bins or AC vents
Cons
Will likely blow over in the wind
3. Web Design Decorative Privacy Screen
The web design on these outdoor decorative metal privacy screens will suit most design styles. It'll work well with modern styles but also more traditional vintage styles, too.
Due to the more open pattern, it provides 65% coverage. However, it'll be easy to grow plants up it, which will vastly improve privacy. The powder coating means it'll be suitable to use around hot tubs and AC vents.
Again, it's freestanding, but is less likely to blow over because it's more open. If this is a huge concern, you can always use zip ties to secure the screen to your railing for more piece of mind. Also, it's a modular design, meaning you can link several panels together, giving you plenty of flexibility.
Pros
Suitable for different outdoor aesthetics
Can be used around hot tubs
Ideal for growing plants up
Cons
Not suitable for full privacy
4. Parilla Decorative Outdoor Privacy Screen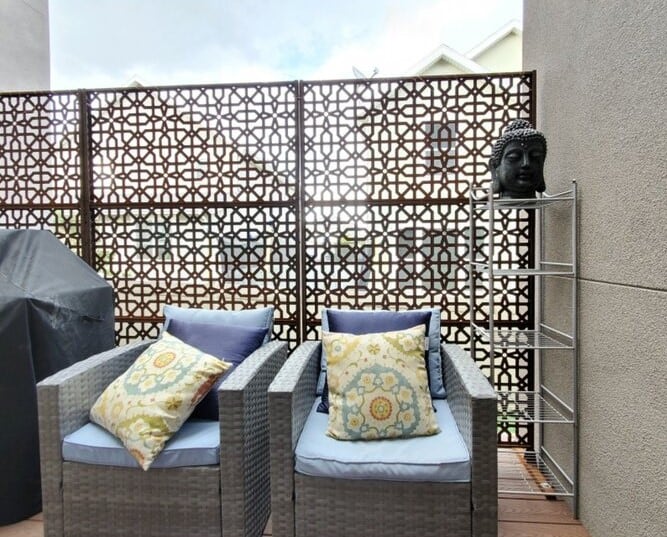 This geometric design would suit Middle Eastern-themed balconies, such as a Moroccan medina style. While this won't match everyone's tastes, it'll be easy to incorporate into plenty of other outdoor styles.
As with other open outdoor decorative metal privacy screens, it offers 65% coverage. But, its smaller pattern means this is less obvious, and you could probably still use it for shielding your balcony from your neighbors.
It'll also be suitable for shielding hot tubs, although you'd be better with more coverage for blocking off pumps and vents. It's made from powder-coated galvanized steel, so is fine to use around water and steam sources.
Pros
Will suit all kinds of balcony styles
Not obvious that it provides less coverage
Weather resistant
Cons
Pattern can feel very busy
5. Leaf Design Privacy Screen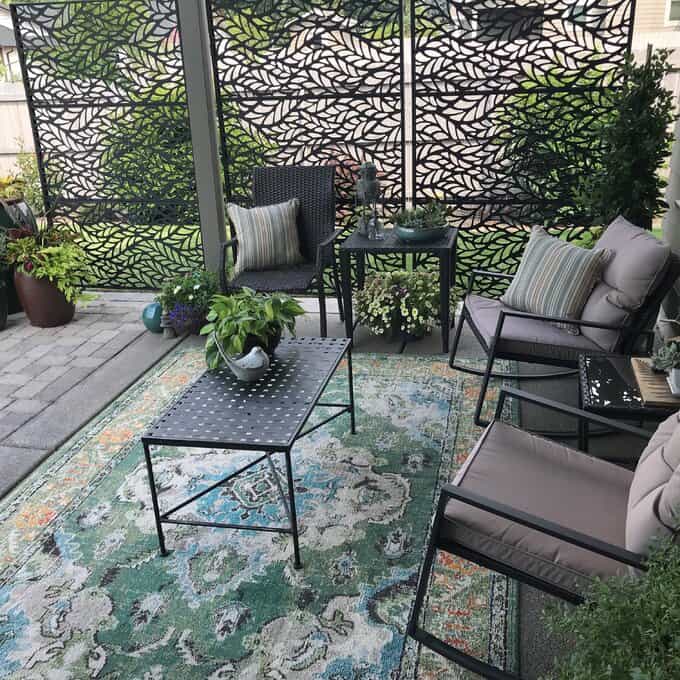 A leaf design should be one of the easiest to match with any outdoor balcony style. Of course, it'll look even better if you actually have some plants on your balcony!
However, it offers the least coverage of all designs on this list, coming in at a mere 55%. It'll be fine as a space divider, such as for marking a seating area off from the rest of the balcony. But, due to the lack of coverage, it won't be suitable for much else.
It's more of a decorative screen than a privacy screen. While you could grow plants up it, you'd be buying this one for its design, so it wouldn't make much sense to cover it up. If you want a screen with more coverage, choose literally any other one on this list.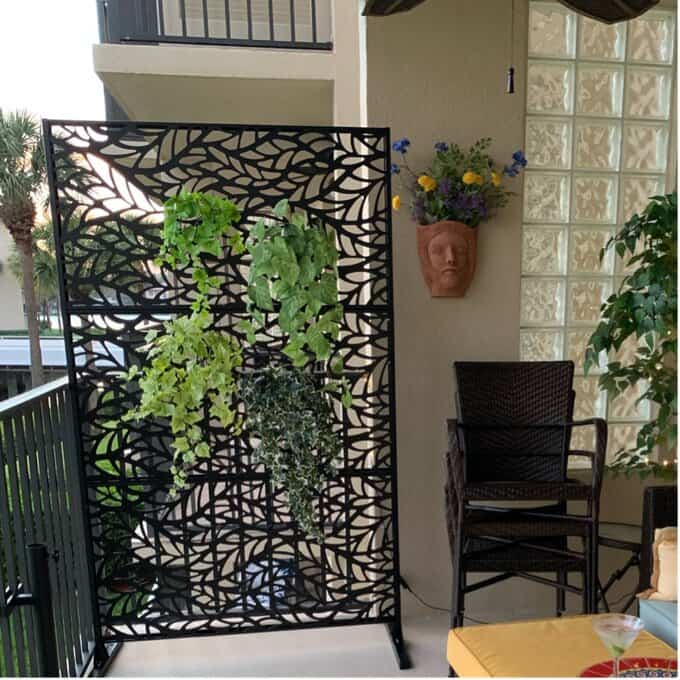 Pros
Leaf design is easy to match to outdoor elements
Ideal as a space divider
Weather resistant
Cons
Won't do much in terms of privacy
6. Chevron Design Privacy Screen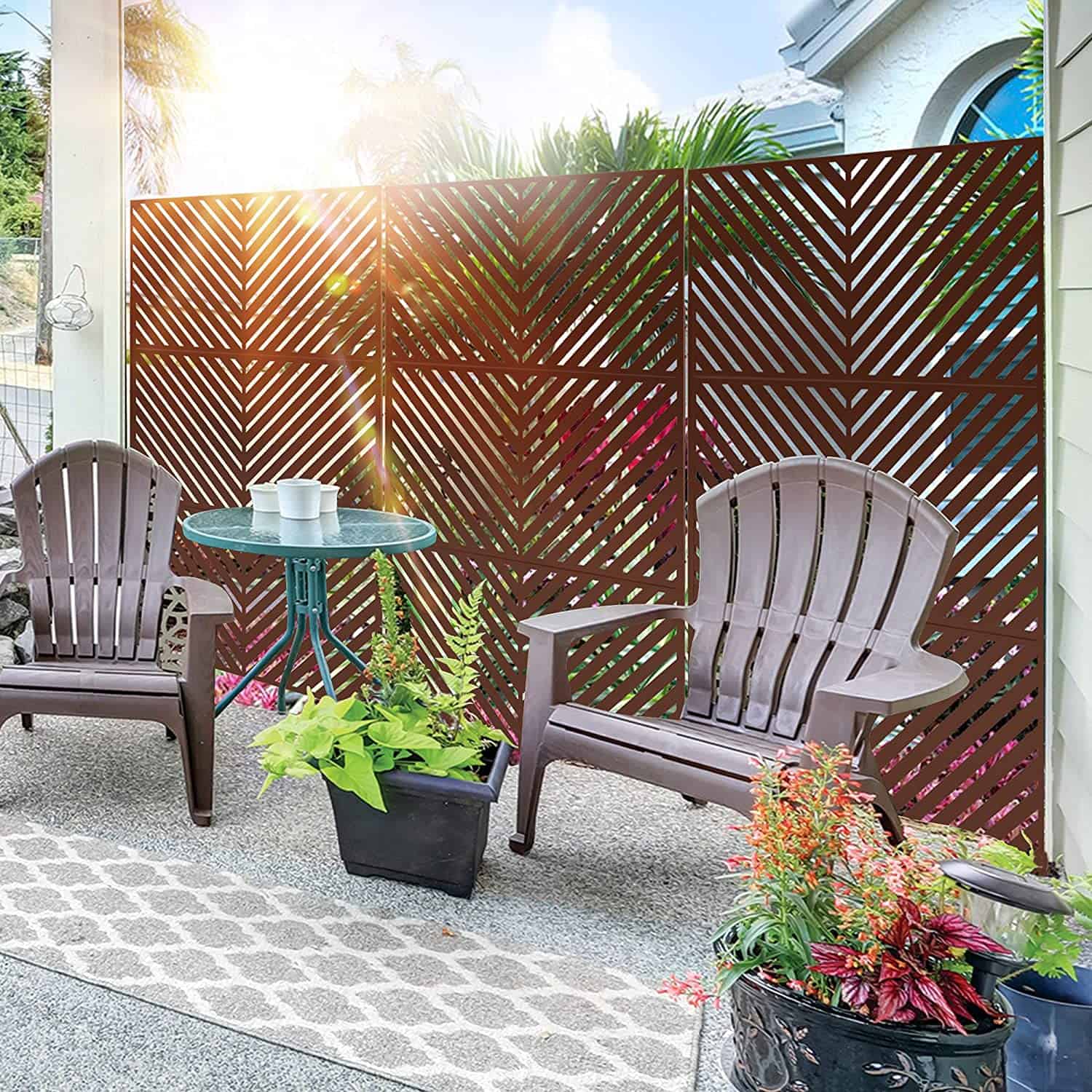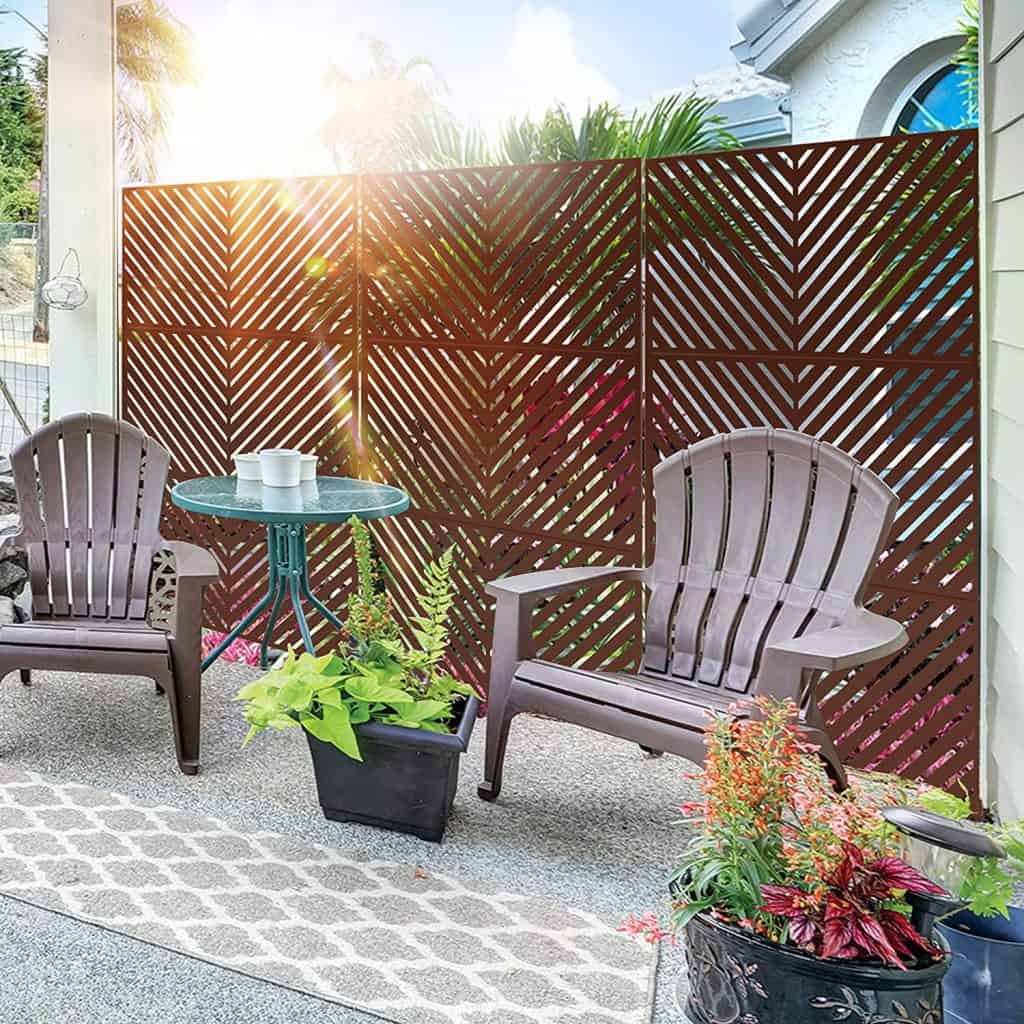 Chevrons (arrows) are another all-round style that'll match most balcony designs. This model offers 75% coverage but, much like the parilla pattern above, it looks like more because the design is small.
These laser cut metal privacy screens are weather resistant and have UV protection. You could use them for all different privacy needs, such as around hot tubs, blocking off bins, or shielding your balcony from the neighbors.
The only thing you won't be able to do is grow plants up it as easily. Other patterns have more room for plants to grow, and most climbers will struggle with this chevron design. Overall though, this privacy screen probably gives the best balance of coverage and accessibility.
Pros
Good coverage
Suitable for all privacy needs
Will match most balcony styles
Cons
Not the best for growing plants up
7. Star Design Outdoor Divider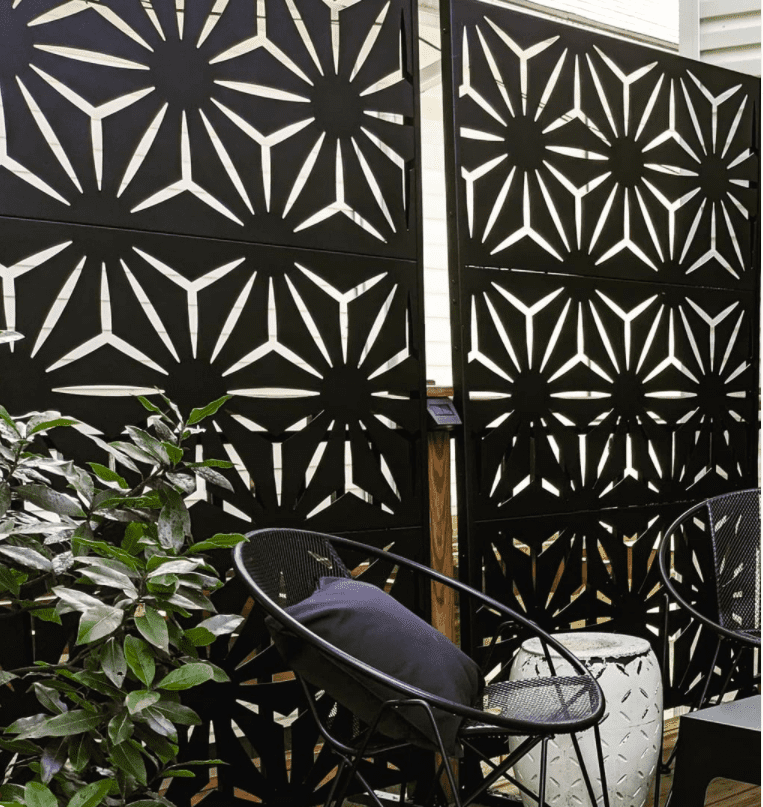 At 85% coverage, this star design metal privacy screen is tied for providing the most privacy. It'll work great with modern style balconies but might look a bit too harsh for softer, more vintage or Boho styles.
Again, like the brick style divider above, you might have problems on windy balconies due to the design's solidity. However, you could get around this by weighing the feet down or tying the screen to your balcony railings.
Like the others, the freestanding design makes it perfect for renters, as there's no installation needed. It's easy to set up out of the box, and the modular design means you can link several together to cover a larger area.
Pros
Tied for most coverage
Suitable for modern style balconies
Modular design makes it easy to set up
Cons
Might blow over in strong winds
Final Thoughts on the Best Outdoor Metal Privacy Screens
Hopefully, this list has given you some ideas for which metal privacy screens will best suit your needs. There's a slight trade-off between coverage and weather resistance, so it's important to decide what you want most out of your screen before making your selection. The chevron style screen probably offers the best balance of everything, but all of the options on this list are great investments for adding more privacy to your space!