Balcony Boss is reader-supported. When you buy through our links, we may earn a small commission at no cost to you. For additional information, please view our policies.
Whether you live in a city or suburban area, attracting birds onto your balcony is a great way to still see a bit of nature.
The easiest way to do this, of course, is with a balcony bird feeder.
This article covers how to pick the right kind of bird feeder for an apartment balcony. We'll weigh up the pros and cons of each and provide any other information you might need to make a selection.
Considerations Before Buying a Balcony Bird Feeder
So, you've decided you want to feed birds from your balcony. It's as simple as buying the best bird feeder for your balcony, right? Not necessarily.
Below are some important things to consider before tempting birds to your apartment balcony.
Types of Birds
What type of bird do you actually want to attract? While you don't have to name a specific species, it does help to have a vague idea. Some birds prefer seeds while others are happy with a fat ball.
But, more importantly, you might not have a lot of choice over the birds that visit your feeder. In a city, this'll mean pigeons, and probably lots of them.
Pigeons aren't nice birds and most people consider them to be pests. Bear in mind that you might have to deal with pigeons if you want to feed other birds.
Do you have Plants?
Some birds will help your plants by eating bugs, berries, or seeds. But, other birds could ruin your plants by simply landing on them.
Things like sunflowers and climbing plants are great if you want birds to interact with your plants. But if you have some delicate or special plants on your balcony, consider shielding them from the birds.
Attracting Birds
If you want birds to use your feeder, you'll need to attract birds to your balcony. One way is to add plants, as mentioned above, but another option is to have a birdbath.
Not only will this attract birds, but it'll also ensure they have something to drink. Before long, your apartment balcony will be the number one stop for neighborhood birds.
Another option is to hang ribbons in bright colors such as red and yellow. Birds associate these colors with food, making it easier to attract them.
Will your Neighbors Mind?
You might find some HOAs or tenancy agreements have rules about bird feeders. There could be rules about what food you use in them or rules banning you from installing a balcony bird feeder at all.
Also, consider the chances of the bird feeder attracting pests, such as squirrels and rats. It won't be too much of a problem in a high-rise apartment, but lower-level apartments and houses should think carefully about offering free food.
The best bird feeder for a balcony will ideally have some kind of protection against other animals. For example, it might hang on a pole or have a wide lip at the bottom to stop rats and squirrels.
If you think other animals will be a problem, look out for these specific models of balcony bird feeder.
Types of Bird Feeders to consider
Choosing the right bird feeder for an apartment balcony really depends on the type of balcony you have. The suggestions below cover things like railings, glass-fronted balconies, and Juliet balconies. It hopefully won't be too difficult for you to find the right one.
Squirrel Proof Bird Feeder
A squirrel-proof balcony bird feeder uses a special design to stop squirrels from climbing on it. For example, you can get one that spins around under the squirrel's weight, flipping it off in the process.
Others work in a similar way by dropping the squirrel off. Whichever design you choose, it should be almost impossible for the squirrel to get the birdseed.
Most are hanging designs not specifically made for balconies. So, you'll need a feeder with a clamp-on hook, but these are easy to use. Clamp it to your balcony railing and then hang the bird feeder as normal.
To maintain it, simply clean it out completely once a month or so and wash it with some warm water.
Pros
Stops squirrels – ideal for low-level apartments
Easy to use
Different feed mixes can attract different birds
Inexpensive
Cons
Not specifically designed as a balcony bird feeder
2-in-1 Balcony Bird Feeder
A 2-in-1 balcony bird feeder has a seed dish and a water bath, making it one of the best all-round designs.
They're suitable as a bird feeder for a balcony railing because most have a clamp on the bottom to fix it in place. And that's about as complicated as installation gets.
Try and find one that has a mesh feed bowl, as this is much easier to clean and maintain. Wash both bowls with hot soapy water when dirty, and rinse properly.
Pros
Provides both food and water
Feed bowl can hold different types of seeds and food
Inexpensive
Easy to install and maintain
Cons
Can't prevent unwanted guests
Most designs aren't suitable for larger birds
Suction Cup Bird Feeder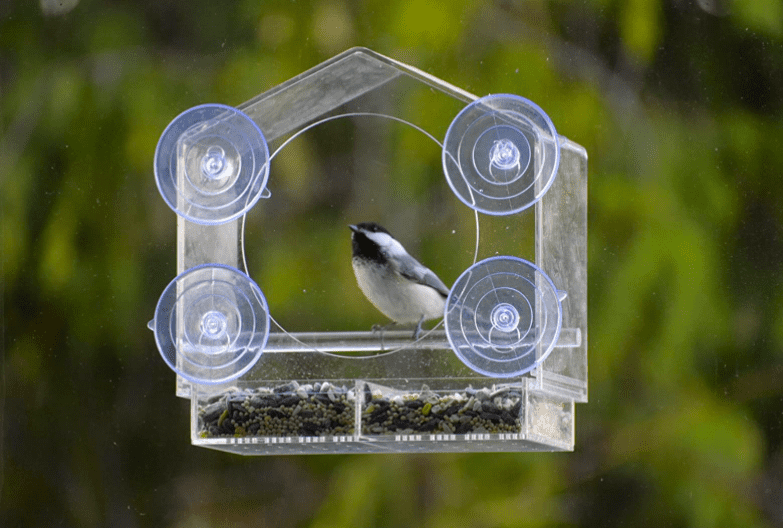 If you need a Juliet balcony bird feeder, one with suction cups is ideal. While they're designed for windows, they'll easily stick to the glass on either the balcony railing or the door.
Find one with removable feed trays because it saves you having to take the feeder down each time it needs refilling. Also, choose one with strong suction cups so it can support larger birds.
Installation is again very easy: wet the suction cups and stick them to glass. Most will be Perspex, which you can wipe clean or wash depending on how dirty it gets.
Pros
Ideal Juliet balcony bird feeder
Easy to use
You can fill the trays with different kinds of feed
You can stick it on any glass surface
Cons
Might not be ideal for larger birds
Feeder will probably break if the cups lose suction and it falls off
Pole Bird Feeder
Another suitable bird feeder for a balcony railing is a pole model. Rather than having to buy a separate clamp-on hook, this style comes with one.
You'll have plenty of choice with style, but try to find one that has space for a water bowl and feed tray. Some, like the one linked above, even include a hook for a hanging basket.
This kind of feature is ideal for attracting birds more easily.
Installation and maintenance are the same as the styles mentioned above. Ideally, pick a model with removable bowls for easier cleaning, and ensure the clamp is strong but won't damage your balcony railing.
Pros
Some come with extra features (such as fat ball basket or plant hook)
Feed tray is suitable for fruit, seeds, fat, etc.
Clamp is temporary option and won't leave any marks on balcony railing
Cons
Can't stop pests
Strong winds might dislodge clamp
You might have some falling debris (seed husks, fruit)
Tray Feeder
A tray feeder is one of the simplest types of bird feeder for an apartment balcony. Most styles will either be a metal mesh or plastic tray suspended from chains. Again, you'll need to buy a separate clamp-on hook, but these are easy to find.
However, it might not be the best bird feeder for a balcony because it doesn't give a great view of the birds when they land. There's also little you can do to discourage larger birds, which you may not want.
Installation and maintenance are simple. A metal mesh tray might be best because it'll be easier to clean and won't hold water like a plastic one will.
Pros
Simple design
You can use any type of bird food
Suitable for railings, Juliet balconies, and more
You can use any tray you want, not just a specific bird feeder
Cons
Can attract pigeons and other pest birds
Balcony Bird Feeder for Small Birds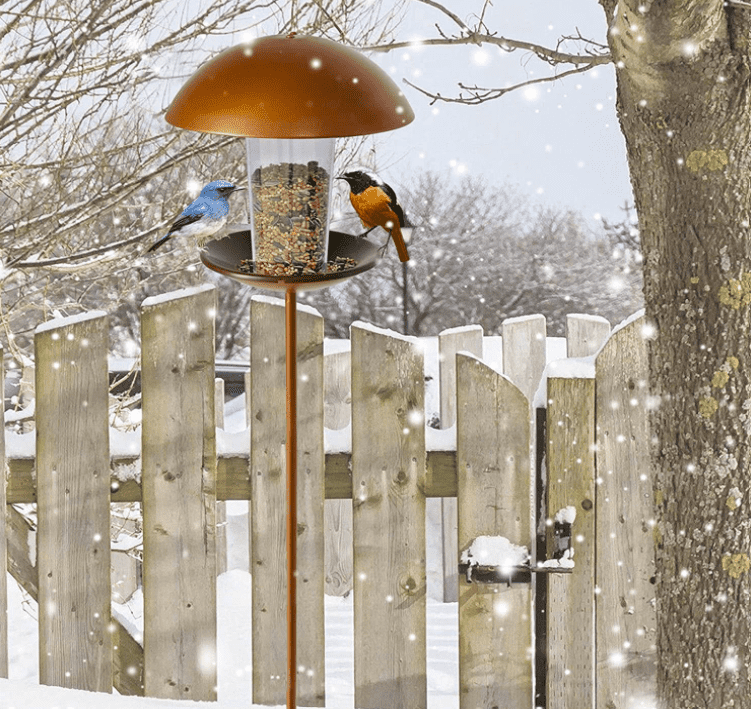 If you're concerned about larger birds muscling in on your feeder, consider one specifically designed for small birds.
The balcony bird feeder itself is smaller and it's designed to stop larger birds from landing on the feeding tray.
A freestanding design might work best as a bird feeder for an apartment balcony because it'll make it harder for larger birds to get to it. You could stand it on your balcony and this might put bigger birds off.
If you don't want a freestanding one though, you'll need a clamp-on hook again. Plastic bird feeders are easy to keep clean, and be sure to buy one with a large lid to keep the rain away from the food.
Pros
Suitable for small birds
Plenty of designs available
Come in freestanding or hanging versions
Cons
Conclusion
Hopefully, one of the styles above will be the best bird feeder for your balcony. It depends on the type of birds you want to attract and the type of balcony you have.
It'll help to do some research first to learn about the types of birds you have in the area. Then, buy a suitable balcony bird feeder based on their favorite foods.