Balcony Boss is reader-supported. When you buy through our links, we may earn a small commission at no cost to you. For additional information, please view our policies.
Living in an apartment doesn't mean you can't host a BBQ with friends and family. While you might not have space for a huge multi-layer grill, there are plenty of options for a good balcony grill.
This article offers a roundup of the best grills for your home balcony. First, though, we'll cover a comprehensive guide for choosing the best balcony BBQ grill.
Hopefully, by the end you'll have the perfect grill for your apartment balcony or will at least have some useful information to make a good choice.
Balcony BBQ Grill Buying Guide
Before jumping into a list of the best grills for apartment dwellers, it's worth considering some of the most important buying factors.
Bear these in mind when making your selection, as these criteria will make narrowing down your choices much easier.
Can You Grill on an Apartment Balcony?
The first thing to consider is restrictions on whether you're even allowed a grill on your balcony. HOA or renter agreements will likely include a clause stating if you can and what kind it must be.
Check this first, and if you can't find any information, speak to your building owner or supervisor. After all, you don't want to spend lots of money on a fancy grill only to be told you can't use it!
Balcony Setup
Your balcony setup will be a big influence on the type of balcony grill you buy. Consider:
The size of your balcony
Its configuration
The prevalence of soft furnishings
How close your neighbors are
Whether your balcony is covered
A covered balcony is important if you want an electric grill, as these are obviously more susceptible to water damage. It's less important for a charcoal or gas grill, however.
Weather
Weather isn't a major concern when choosing a balcony BBQ grill, particularly if your balcony is covered. Of course, if you're determined to have a cookout, a bit of rain doesn't matter!
A charcoal grill will get smoky if it's wet and an electric grill risks breaking altogether. As you might have to store it outside when not in use, consider investing in a cover regardless of what type you buy.
Type of BBQ
The type of balcony grill you choose has an impact on everything from convenience, ease of use, and even the flavor of the food you cook on it. Generally speaking, there are 3 main types.
Gas Grill
Propane gas grills are the most convenient and easiest to use type of grill. You can control the temperature with the twist of a knob and they don't really produce any smoke.
The only real downside is that you can run out of gas, but you can buy this pretty easily.
Electric Grill
Electric grills are also super convenient – you just need to plug it in and turn it on. They're generally the safest option, too, providing you don't get them wet.
But they have 2 main downsides. The first is that electric doesn't produce the same kind of heat intensity, meaning it can take longer to cook things.
The second is that, frankly, it's a boring way to cook. You likely have an electric cooker in your apartment so don't gain much from grilling outside instead. Plus, electric heating elements are very expensive to run.
Also, electric cooking has absolutely no influence on the food's taste. In short, you might as well just cook it in your oven.
Charcoal Grill
The classic charcoal grill is still a preferable option for the smoky taste it gives food. Coal retains heat for ages, which makes cooking large amounts of food much easier.
But, they're not very efficient and are difficult to set up if you don't have much experience.
Also, charcoal grills can be dangerous in a small space like an apartment balcony because they kick out embers. One stray ember could result in a fire, which isn't ideal.
The Best Balcony BBQ Grills
Below are the top picks for the best balcony grill. These selections are based on the buying criteria above and come in a range of budget options to suit everyone.
This grill from George Foreman comes on a stand, which makes it easy to position on your balcony. What's more, the stand is removable for greater flexibility.
Its grill space measures 240 square inches, which is plenty when cooking for larger parties.
Also, as it's electric, it should conform to most apartment regulations.
It has a non-stick coating on the grill and adjustable temperature control, meaning you get great food every time.
If you're looking for a compact balcony BBQ grill, the Cuisinart portable gas grill might be a great option. Even though it only measures 17.75 x 14.5 x 15 inches, it still has 176 square inches of grill space.
It runs on propane, which gives you a more intense heat than electric. Also, it's really easy to set up (and take to other places) and can be ready to grill in under 5 minutes. In short, it's a small gas grill with plenty of power.
This grill comes with a drip tray and a latching lid for easier storage. All of the cooking surfaces are dishwasher safe, which makes cleaning up a breeze.
This charcoal grill will be a good option if you're not as restricted on space. It has a fairly large stand and even includes a side drawer and work surface.
It stands 44 inches tall and is 31 inches wide and 21 inches deep. It has 250 square inches of cooking space, which makes it good for large parties.
There's plenty of storage on the grill and it features an ash dump, stay-cool handle, and air vent. Of course, it runs on charcoal, which might be the best for cooking but isn't always the safest option for a balcony BBQ grill.
Techwood has designed this BBQ to look like a traditional charcoal one, but it's electric. It's a countertop grill but has small legs to raise it off the surface. As it's electric, it's less likely to char the surface it sits on, too.
It has 240 square inches of cooking space and also features a warming rack for storing food.
Even though it's electric, it heats up very quickly and comes with adjustable temperature control.
If you've got a spacious balcony, this grill might be another good option. It has 2 propane burners, which gives you a lot of cooking space. 300 square inches in fact!
Along with the main cooking area, there's also a 100 square inch warming rack.
It stands 44 inches high and weighs 82.5lbs. in total. While this might not make it easy to transport, you could store it outside if you bought a cover.
The grill uses electric ignition and heats up really quickly. It also features 2 side shelves, which fold away when not in use.
This grill is a good option if you don't want to spend loads of money and also don't have loads of space. It's compact but has the added benefit of a telescopic stand, meaning you don't have to use it on a surface.
It features a 145 square inch cooking area, which is enough for up to 8 burgers. The heating element runs on mains voltage and can simply be plugged in and turned on.
The grill is made from porcelain-enameled steel and is super easy to clean. There's also a removable drip tray so you don't have to worry about cleaning the inside either.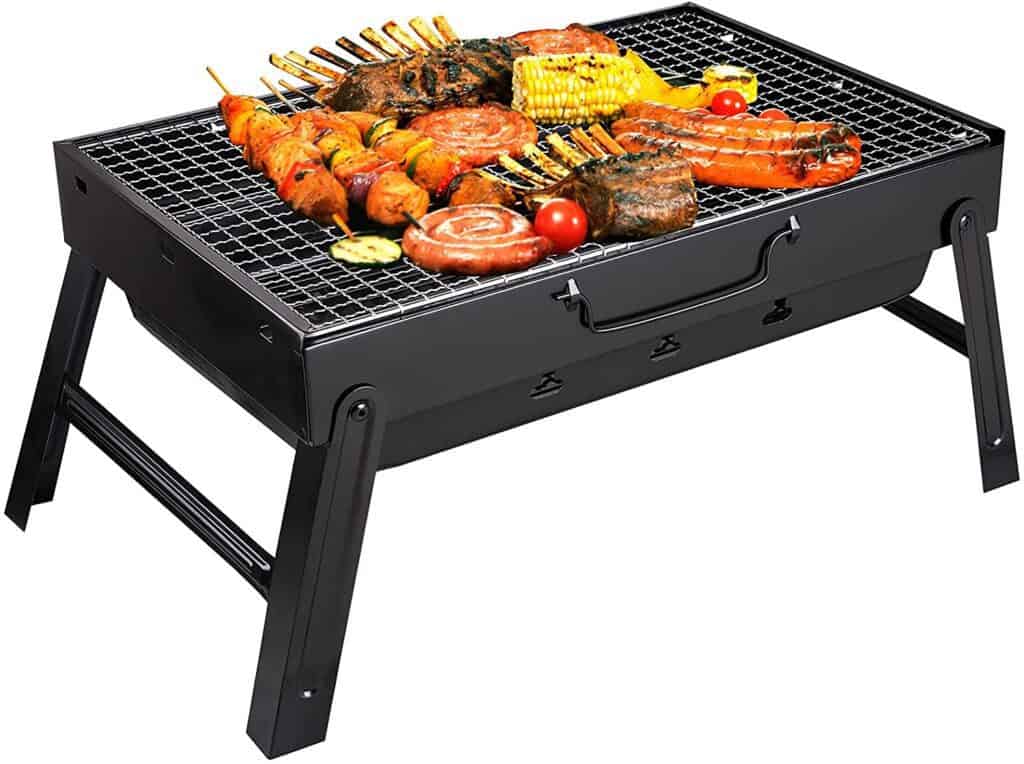 Providing you can use charcoal for your balcony grill, this one might be a good option.
It has a large grill area that can cook enough food for up to 6 people at a time. Also, it's very straightforward: you fold out the legs and light the charcoal.
Its simple design makes it easy to store, too. Of course, it's more difficult to clean up than other options because it doesn't feature a drip tray.
But if you're looking for a portable, inexpensive, convenient charcoal balcony grill, this could be the one for you.
Masterbuilt has designed a small gas grill that's easy to use and pretty powerful. It has 288 square inches of cooking space, which is a lot for a tabletop model.
It features stainless steel cooking racks and a chrome coated warming rack. You'll also find temperature control and push-button ignition.
Overall, this is a convenient and powerful small gas grill that would be ideal for those short on space on their balcony.
Conclusion
Hopefully, a balcony BBQ grill on this list is suitable for your apartment needs. There are options to suit every balcony size and budget so it shouldn't be too difficult to choose.
If not, though, be sure to use the buying guide to narrow down your choices elsewhere to make a good selection. Remember, the best grills for apartment dwellers should sacrifice nothing but size!