Balcony Boss is reader-supported. When you buy through our links, we may earn a small commission at no cost to you. For additional information, please view our policies.
Building a mini Zen garden on your balcony is a great way to curate a themed, relaxing space. Zen gardens, also called Japanese rock gardens, date back to the 8th century and encompass numerous aspects of Japanese culture.
In this article, we'll cover some balcony Zen garden ideas. Of course, there are some important considerations for Zen garden ideas for small spaces and budgets, but we'll go over those below.
Why Would You Want a Zen Garden?
A Zen garden is essentially a themed space. So, what makes it stand out among other themed garden ideas?
Simply put, they're incredibly relaxing. From trickling water to patterns raked in sand, the whole point of a Zen garden is to connect you with nature and allow you to focus on the design itself.
If you have an unused balcony or outdoor space, a mini Zen garden can be a great way to use it. More than anything, it gives you a focus for your design choices.
Considerations Before Building a Balcony Zen Garden
There are some things worth considering before starting on specific Zen balcony ideas. These include:
HOA/Renter Restrictions
You shouldn't have many restrictions around creating a Zen garden as there aren't many intrusive elements. That said, be sure to check your rights with things like running water and weight. It's unlikely you'll exceed the balcony's weight allowance, but it's worth confirming.
Using Sand
Sand is quite a big element of Zen gardens. However, it can be a problematic aspect when setting up a balcony Zen garden. If your balcony is uncovered, the sand will wash away and could clog up drains and gutters. Luckily, there are plenty of alternatives, so consider these.
Permanent Features
If you're a renter, there are numerous reasons why you might not be able to build a permanent balcony Zen garden. In these situations, you could compromise by building a tray (or using a kid's sandbox) so it's a more temporary feature.
Budget
There's no reason why your mini Zen garden should cost a fortune. As such, we suggest plenty of budget-friendly ideas so you can have a relaxing space without spending hundreds of dollars.
The Key Elements of a Mini Zen Garden
Zen gardens have numerous key elements that define their design. Below are the most important, which you can use to inform your balcony Zen garden ideas.
Flooring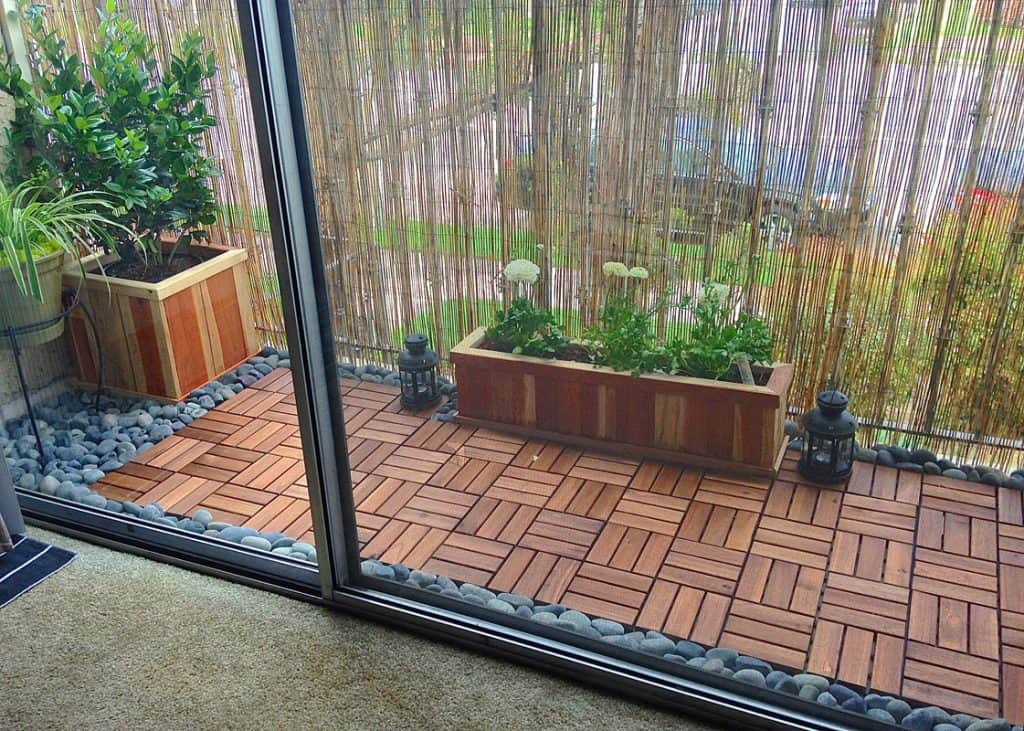 Zen gardens bring together different elements of nature, specifically mountains, beaches and forests. The easiest way to bring in the forest is through wood floor tiles.
Look for ones that lock together and have rubber backs. It'll make them last longer and ensures you don't have to relay your balcony floor.
Of course, if your balcony is already wood, you've saved yourself some money!
Your mini Zen garden should have a wood floor border around the sand/gravel element.
Sand or Gravel
Based on the advice above, we'll only suggest gravel here. You can use sand, but gravel is generally easier to handle.
It represents beaches and land, so is an important element of the overall theme.
White landscaper's gravel chips is the easiest product to use. They should be smooth so they sit fairly flat, which will prevent them from washing away. If they're fine enough, you can still rake them into shapes.
While they're not expensive, if you're looking for Zen garden ideas on a budget, consider going to a local hardware or DIY store. They'll be cheap there, and, if you shop smartly, you might even get some free samples. If you're making a mini Zen garden, a few free samples should be enough.
Rocks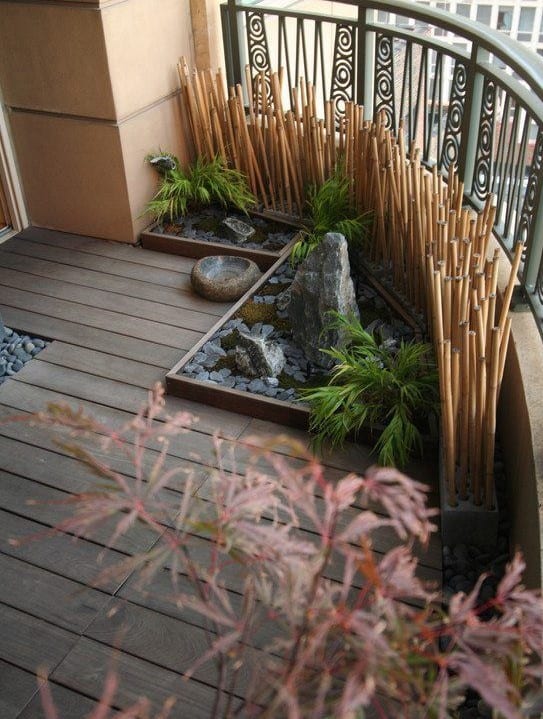 In a Zen garden, rocks represent mountains. They stand upright to give height and interest to the otherwise flat space.
For small spaces, mix them in with the plants you'll put around the border. For larger spaces, they can sit in the gravel.
You can buy them at a DIY or hardware store. But, if you're on a budget, simply find some locally in a forest or something. 3 or 4 will be fine for a mini Zen garden.
Water Feature
Water features are one of the most important elements in a Zen garden. Go for something fairly plain so it matches the minimalist style. The best choices for Zen garden balconies are self-contained fountains rather than ones that require plumbing.
If running water could be a problem in your space, an indoor fountain might be an idea. They're much smaller, meaning you can store them when not in use.
Plants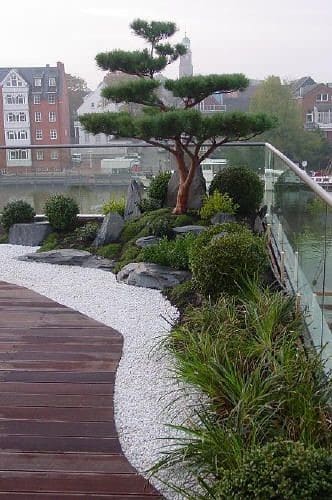 Moss is popular in Zen gardens. There's no need for you to buy some. Simply scrape some off a building somewhere and propagate it. Check out this video for the full process.
It's great if you want Zen garden ideas on a budget because it's free.
For other plants in a mini Zen garden, stick with the Japanese theme. Bonsai pine trees are great, as are potted Acers (Japanese maple). Bamboo is another good choice, as it's popular in Japan. We've got a whole article on growing bamboo on a balcony, so check that out.
Other than these, go for plants that add sensory interest, such as:
Grasses
Azalea
Oxalis
Dahlia
Peonies
Irises
Cherry trees
All will work fine in pots. If you're on a budget, invest in perennials (plants that come back every year) rather than annuals.
Statues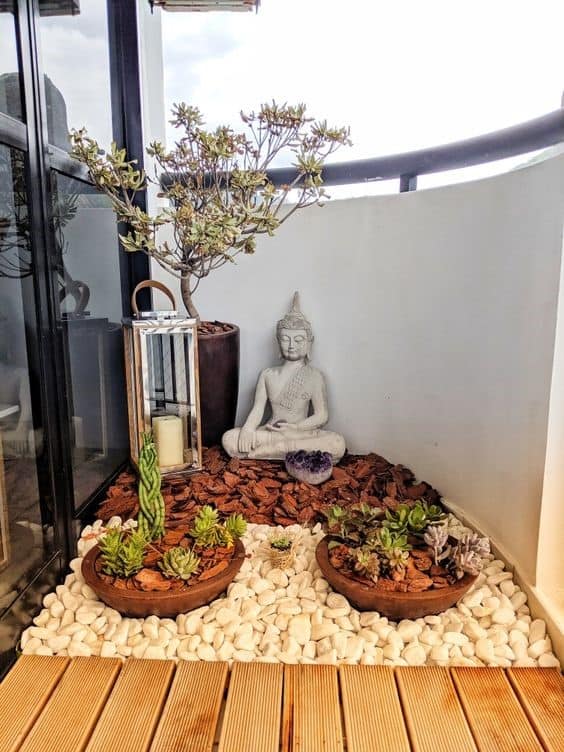 Finally, you'll want to consider adding Zen garden statues to your balcony Zen garden. The Buddha is a common choice for obvious reasons, as are mini pergolas. For those on a budget, consider buying resin stone stacks. Doing so will save you looking for real stones elsewhere.
Final Thoughts on Zen Balcony Ideas
Hopefully, these balcony Zen garden ideas are enough to get you started. While building a mini Zen garden is a personal experience, there's a set formula to follow.
Spend some time looking at pictures to get a good idea of the best layout for your balcony Zen garden.