Balcony Boss is reader-supported. When you buy through our links, we may earn a small commission at no cost to you. For additional information, please view our policies.
So – you have a balcony and aren't quite sure what to do with it. Maybe you have a super tiny space or maybe you're just not sure on the best types of balcony chairs to buy.
You've come to the right place!
Understanding balcony décor can be a challenge, particularly if you don't have a ton of experience with general design principles. Luckily, the basics are pretty simple, and you can use them in any future decorating projects, both inside and out.
Balcony Boss was created specifically to help people make the most out of their small outdoor spaces. We've written hundreds of guides on everything from the Best Balcony Privacy Plants to How to Hang a Flag on a Balcony.
To get you started, we've put together the below Balcony Decorating 101 Guide. We'll look at everything you need to know in order to get started on decorating (or redecorating) your balcony.
Setting Goals for Balcony Decorating
Whether you're giving your balcony a complete makeover, a simple refresh, or you just need a focus for your project, it's important to set your goals early. These include:
Timeline
Budget
Style
Restrictions
This is the same for any decorating or design project. Granted, you might not have a firm idea of the style you want, but working this out early helps with other elements, such as setting your budget and timeline. Project timelines might not be as important if you're doing everything yourself, but it can be as simple as wanting it done before winter hits or summer rolls around.
We'll cover more about style below, and there's not loads to say about budget. It helps to do some research into materials and accessories before setting a firm budget for your balcony decorating project. Then, once you've got this, set aside an extra 10% for emergencies.
If you know for certain, though, that you're on a budget, check out our Ideas for Decorating a Balcony on a Budget.
Renter and HOA Restrictions
The only aspect worth discussing in any detail is rental or HOA restrictions. As a general rule, renters can't drill holes or make permanent alterations. Luckily, there are ways around these issues, which we touch on later.
For things like painting, always make sure you ask your landlord first. Painting isn't permanent in the same sense, as you can always cover it up before you move out.
HOA restrictions are far more varied and, sometimes, pretty ridiculous. There's not loads you can do about them, so just make sure you're familiar with your building's rules before you start a balcony decorating project.
The Basics of Balcony Decorating
Before we cover the basics of balcony design, it's worth noting that you can essentially treat it as a mix between an interior design project and a garden makeover. They share some key concepts but are also quite different. Below, we've highlighted the most important considerations.
For the most part, these are ordered from most general to most specific. As such, you should be able to work your way down the list using your thoughts from the previous sections to narrow your ideas.
Use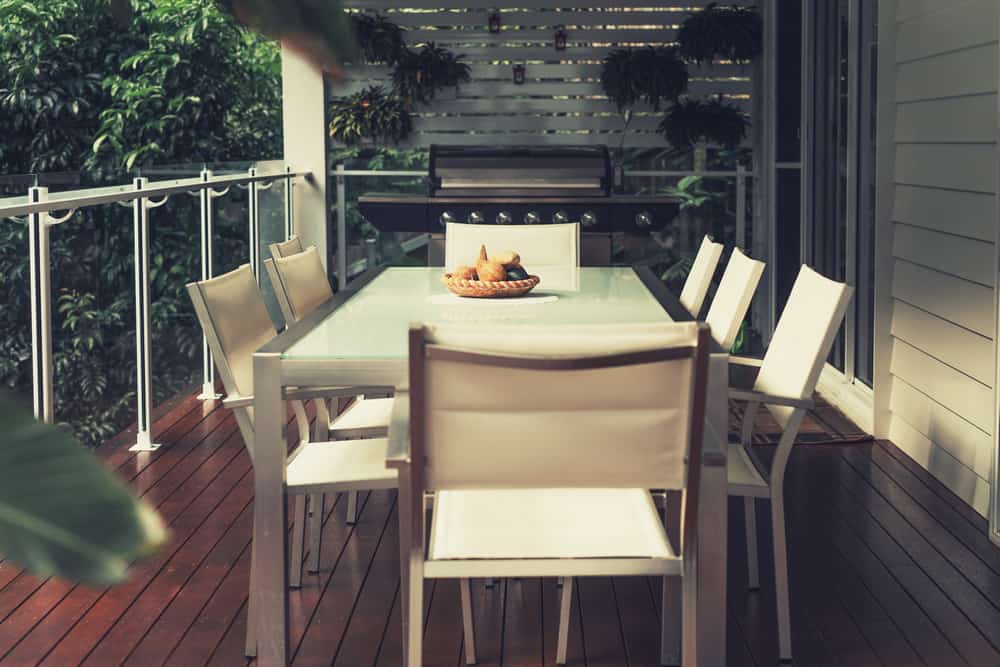 The most obvious place to start is with the intended use of your balcony. Some popular ideas include:
Chill-out area
Dining area
Outdoor bar/entertainment area
Mini outdoor cinema
You can obviously have a multi-purpose space, but try not to cram too many things into it. This'll be dictated by the size and layout of your balcony primarily. Aim for no more than 2 uses at the same time, as it could get crowded otherwise.
Bear in mind whether your balcony is covered or uncovered and how this will impact the furniture and balcony décor you use.
Style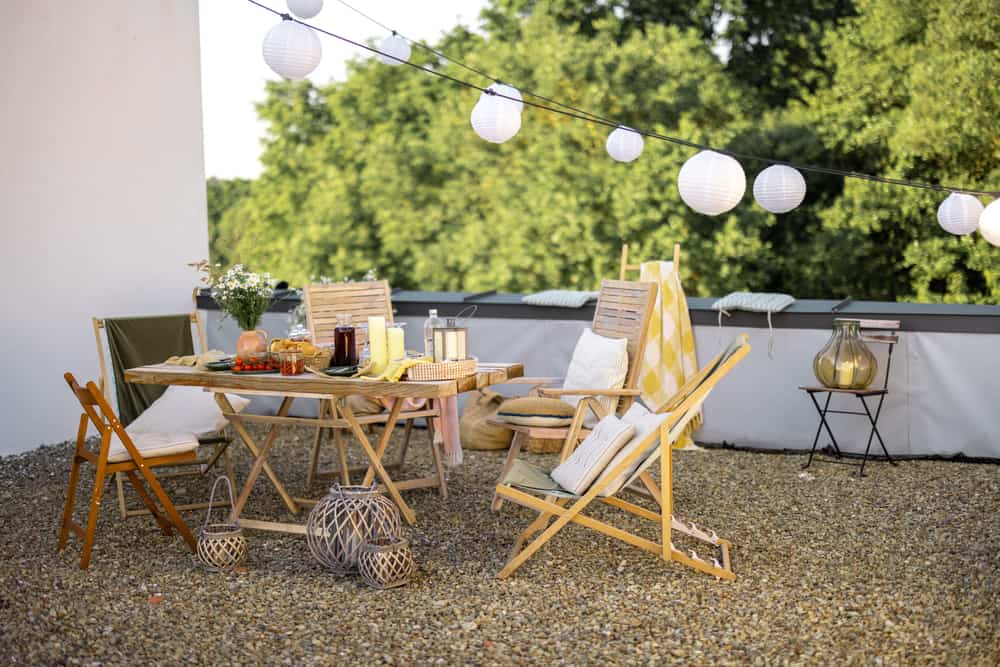 Next, comes style. If you don't have much experience with interior design, pick a style that's easy to emulate with clear principles. But if you know what you're doing, mix it up a bit!
Some examples of interior design styles that work well on a balcony include:
Scandi – modern look, neutral colors
Boho – mixed patterns and textures, eclectic style
Modern – monochrome, minimalist décor
Tropical – bright colors, lots of plants and natural materials
Nautical – blues and greens, stripes, seagrass and jute textures
Moroccan/Middle Eastern – bold colors, soft textures, lots of brass or gold
Zen – contemporary décor, clean lines, minimalist appearance
Industrial – exposed brick, metal décor
No matter what style you choose, there are several elements you must consider.
Color
We could write a complete article on color theory, but the basics are:
Bright or light colors make spaces look bigger
Dark colors make spaces look smaller
Neutral colors work well for walls, and bolder colors work well for décor
Contrasting and complimentary colors are completely different things, and you should only use both in the same space with caution.
Your color palette might be dictated by your balcony design style. If so, it's pretty easy to put a mood board together.
Balance
Balance is a key design principle, but it's only so relevant when discussing balcony design. The important part is that there should always be a focal point in your space that draws the eye.
It could be your railing, a piece of furniture, a feature wall, etc. Consider what you want on your balcony (and where) and decide what would make the best focal point.
Pattern and Texture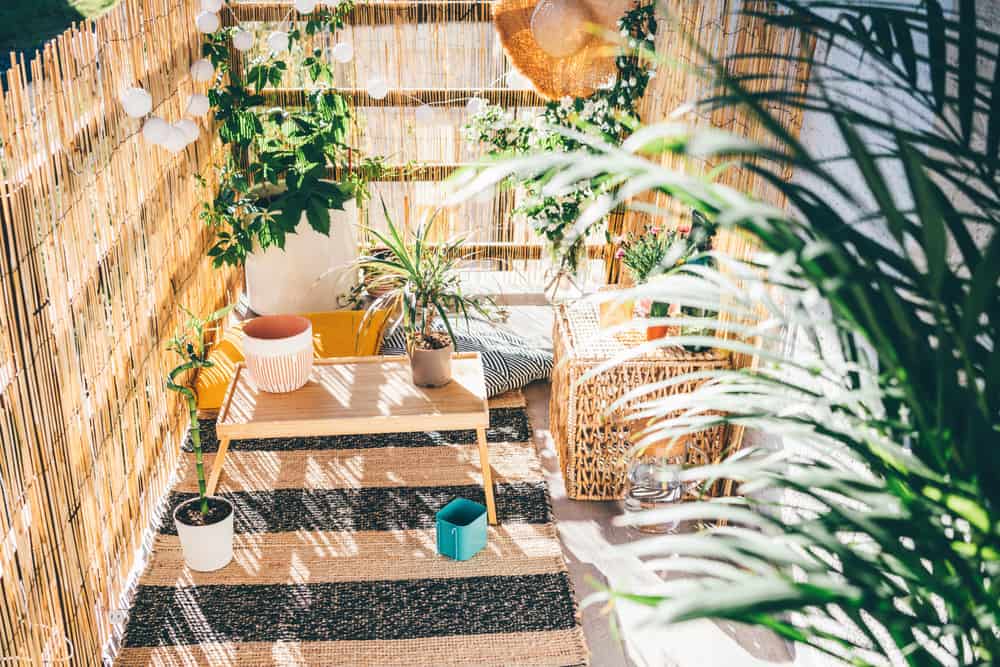 Pattern and texture are essentially the finishing elements of a decorating project. They're the easiest way to add interest to a space, along with contrast and variety.
Again, this'll likely be dictated by the balcony décor style you choose, but our top tips are:
Consider scale and size – a large patterned rug can work wonders
Patterns don't have to match – they can contrast but should have an element that ties them together
Be careful with bold patterns – too many can make a space look busy, especially if it's small
Balcony Décor Elements
After settling on a style and considering the key details above, you can move on to the more specific balcony décor elements. In no particular order, these are:
Flooring
It's easy to overlook flooring as something you can't change, but this isn't always the case. As we explain in our balcony flooring guide, you can get tiles that look like wood, stone, or any other material. You simply lay them on top of the existing surface.
Failing that, a rug is the next best option. As mentioned, this is an easy way to add texture and color while also making your space look bigger. Plastic rugs are perfect for use outdoors, and make sure you check out our article on how to select the correct size rug for your balcony.
Furniture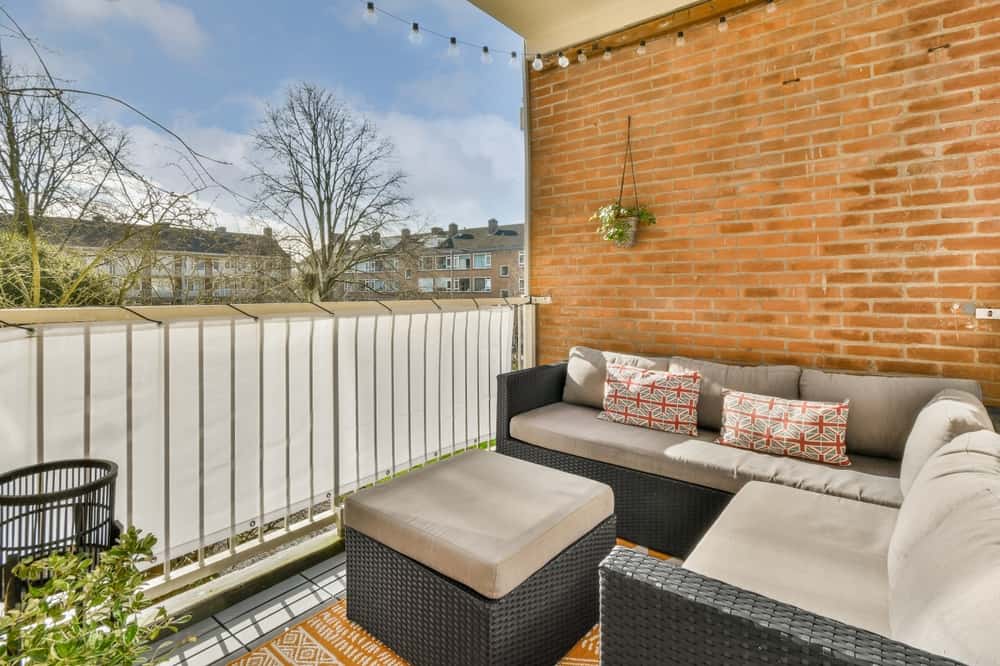 The furniture you include on your balcony will depend on your use, layout, and balcony size. At the very least, you'll probably want some chairs and a table, but some other options include:
Shelving unit
Sofas / lounges
Hammocks and swing chairs
Storage
For soft furnishings, always aim to get ones that are suitable for outdoors. While this might limit your color and texture options slightly, there are plenty to choose from if you do enough research.
Privacy and Shade
Incorporating privacy elements into your balcony decorating project is pretty easy and has plenty of benefits. Importantly, there are so many ways you can do it. Some examples include:
We've got various guides on making your balcony more private, including privacy screen ideas and a roundup of the best types of privacy screens.
There's not much to say that we haven't covered elsewhere. In the guides linked above, you'll find ideas suitable for all kinds of balcony décor styles and rental restrictions.
Creating shade on your balcony overlaps with privacy somewhat, but the options are slightly different. For example, you could install an umbrella, make your own shade, or use curtains.
Balcony Railing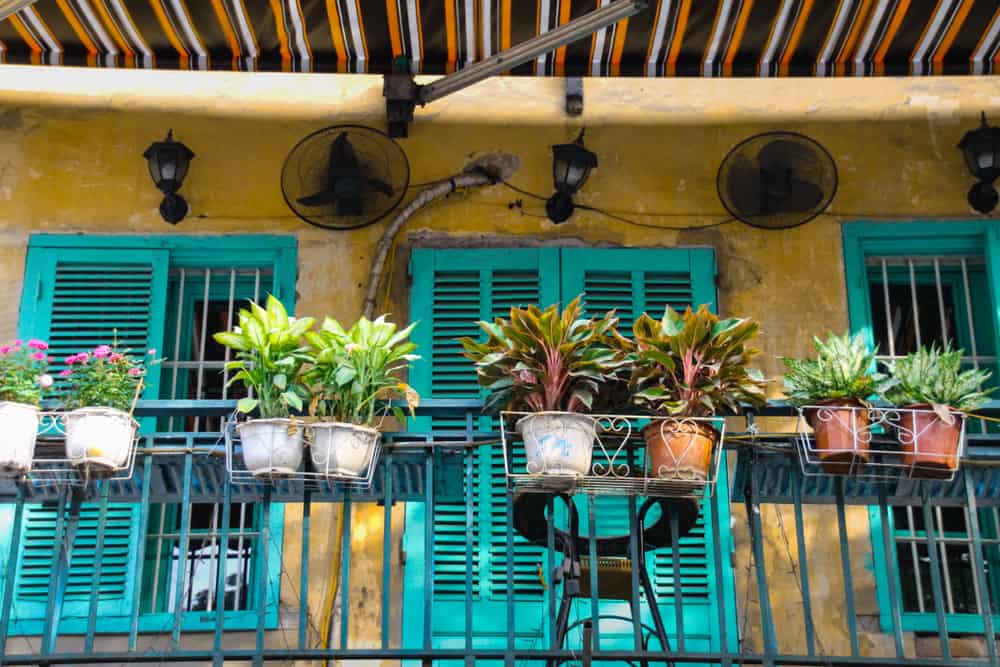 Pay special attention to your railing when coming up with balcony design ideas. After all, it's a pretty key element of the space. What you can do with it depends on the kind of railing you have, though.
Some ideas include:
Trailing plants (for metal railings)
Privacy screens (for glass or metal railings)
Failing that, a fresh coat of paint will work wonders. Your balcony railing can work well as a focal point in your design project, so spend some time deciding how you want to use it.
Plants and Greenery
No outdoor space is complete without some kind of greenery. If you don't fancy caring for plants, use fake ones to add some life to the space. After all, being around greenery (even fake stuff) has proven benefits for our mental health.
An obvious place to start is whether you want plants for looks or function. If it's the latter, focus on high-yield crops that are easy to grow in pots. These include potatoes, tomatoes, eggplant, peppers, herbs, etc.
If you're just after pretty plants, make sure they work in your climate and are happy being kept in pots. Warmer areas can use houseplants outside, but cooler areas should stick to outdoor plants.
Climbing plants can look great on a balcony, and there are plenty of nice-smelling plants that are happy in pots. Also, consider whether there are some plants that work best with the design style you've chosen.
Accessories
Accessories are the final dressing pieces of a balcony decorating project. They might include lighting, cushions, pots and vases, or just general decorations.
Lighting is only really necessary if you want to use the space at night or add ambiance. Check out our article on balcony lighting for some interesting ideas on how to use your space to your advantage.
Similarly, accessories are ideal for adding texture and pattern over otherwise neutral balcony décor elements. For example, patterned cushions look great against a plain chair, and something like pampas grass adds amazing texture against walls and furniture.
As this is the final element, it's a perfect way to add your personal touch to your balcony design. Spend time researching accessories and playing around with how they'll look in your space to create something personal, comfortable, and functional.
Design and Layout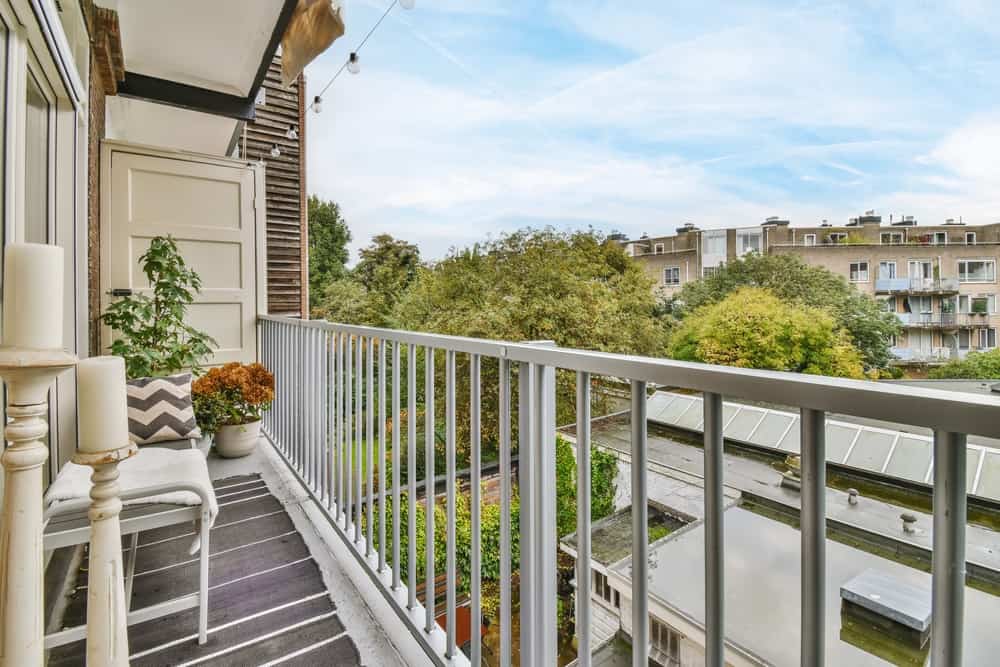 Most balconies will be fairly simple shapes (rectangles, squares), meaning design and layout should be pretty easy. Some spaces can be extra narrow, so check out our article on ideas for a narrow balcony.
How you arrange furniture and décor in your space depends on your personal tastes and the space itself. There's not much advice that can be given here, other than to ensure the layout is practical.
We've put this section at the end because it's dependent on everything mentioned above. When shopping around for products, make a note of dimensions for the tip below.
The best thing to do is to make a scale drawing of your balcony on a piece of paper. Make similar scale models of what you intend to put on it and play around with how things fit together.
Final Thoughts on Balcony Décor Basics
Hopefully, this balcony decorating guide isn't too overwhelming, as there's a lot of information here.
To get the most from our balcony design guide, work your way through the advice, and you should end up with a fairly solid plan by the time you finish. Sure, it's not an exhaustive list of tips, but it's a pretty good starting point.
However you choose to approach your balcony decorating project, make sure you end up with a space that works for you.