Balcony Boss is reader-supported. When you buy through our links, we may earn a small commission at no cost to you. For additional information, please view our policies.
Finding the balance between floor space and greenery on a balcony can be challenging. Luckily, balcony railing planters were invented for just this reason.
You don't need to sacrifice valuable floor space with a railing planter, and they're ideal for improving privacy (with the right plants, of course).
In this article, we'll discuss how to select the best railing planter for your space, and we'll cover all the different types of railing planters, including the pros and cons for each. We'll also provide some guidance on the best plants to help you get started.
Why Add Railing Planters to Your Balcony?
There are several reasons why adding a balcony railing planter can be a good idea. These include:
Simply put, a balcony railing planter is a great idea. Finding the right one for your style is vital, of course.
Considerations When Choosing a Balcony Railing Planter
As with any purchase, it's worth thinking about some things before buying. Granted, a railing planter box isn't on the same level as, say, a BBQ or new balcony flooring, but you still need to consider the following.
Start by thinking about the type of rail you're decorating. It's not a massive deal, but some planters will sit better on different types of railing. For example, something made for a sturdy concrete wall won't sit properly on a wrought-iron railing.
Then, of course, there are HOA or landlord restrictions. If you're renting, it's unlikely your landlord will have a problem with a balcony planter box, but be sure to check first.
HOAs, however, can be unnecessarily strict. You might be limited in the types of plants you can grow, the boxes you keep them in, and much more. Check your HOA guidelines before making any decisions.
Types of Balcony Railing Planters
There are several main types of balcony railing planter boxes, which we cover below. Within each you'll find options made from plastic, metal, wood or ceramic.
1. Bracketed Railing Box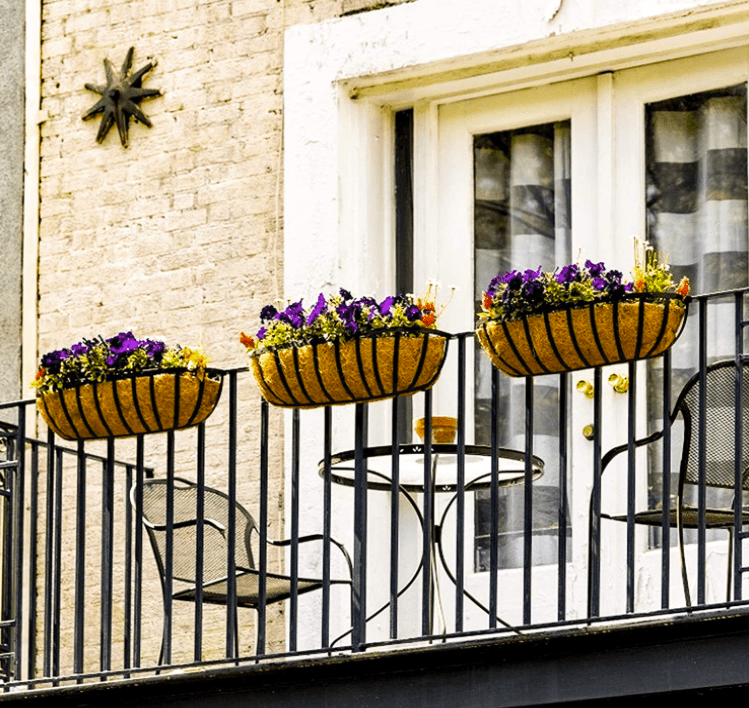 This type of balcony planter box simply hooks over the balcony railing, making it really easy to install. Better yet, ones with adjustable brackets will fit any balcony railing from walls to iron.
Your options are fairly broad for this category, but the best choice will depend on what you want to grow and your climate.
For drier areas, consider a self-watering planter box with no drainage holes. It'll help keep your plants healthy and means you don't need to water them every day.
In wetter areas, opt for a design with excellent drainage. Steel-framed planter boxes with coco liner are perfect. They allow water to flow through, keeping the plants' roots in good shape.
Pros
Adjustable brackets are suitable for all balcony railings
Wide range of options for style
Suitable for any budget
Cons
Might be wobbly on narrower railings
2. Balcony Railing Planter Pots
A common option for adding pops of color is balcony railing planter pots. Rather than long planter boxes, they're instead individual flowerpots. Most designs hook over the railing, making installation a breeze.
There are plenty of style options too, and most come as multipacks.
But, you have more restrictions with these than with normal planters. First, most don't have adjustable hooks and are only suitable for narrower railings.
You can't usually use them for growing fruit or veg either. You might be able to fit a different herb in each, but most of these designs are quite small. That said, they're great for small flowering plants like marigolds.
Pros
Great for adding pops of color along your balcony
Plenty of options for different styles
Ideal for growing herbs or small flowering plants
Cons
Not suitable for all balcony railings
You can't grow larger fruit and veg plants in them
3. Plant Pot Holder Bracket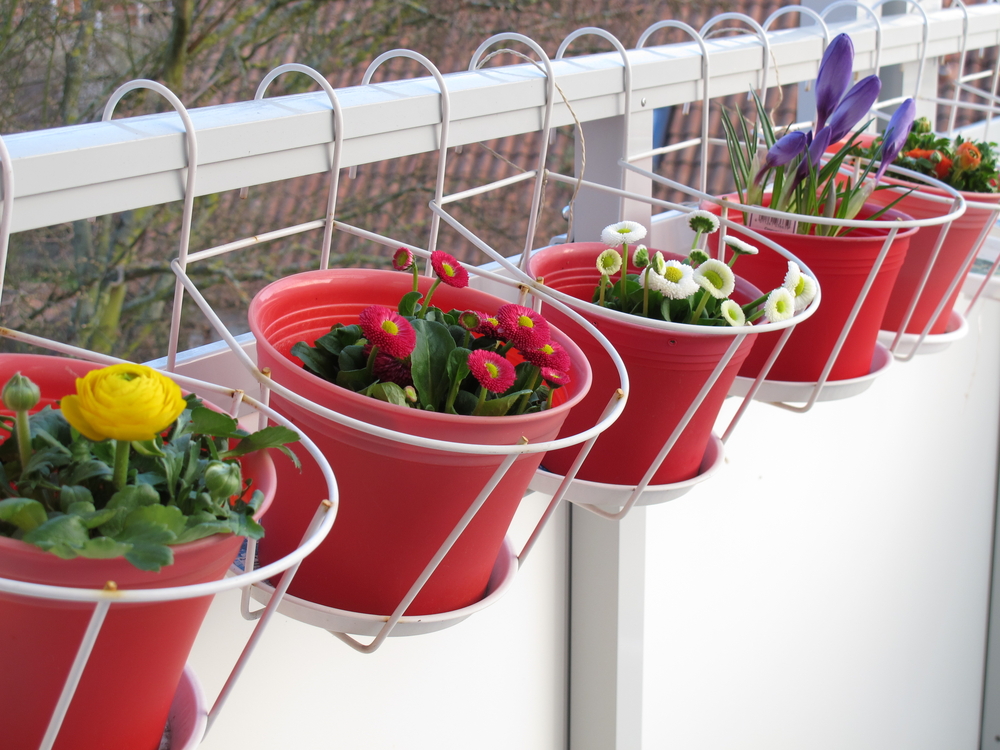 If you already own some lovely plants and pots but need the floor space, this could be the answer. Rather than buying a balcony railing planter, consider buying a pot bracket instead.
It should be obvious what this does. A pot bracket clips onto the balcony railing and allows you to insert a normal plant pot. There are plenty of options, including ones that hook over the top of the railing.
You're not limited in the type of plants you keep in them, as it'll take whatever you can fit in the pot. If you have larger plants, simply opt for a larger bracket.
They won't be as good for trailing plants or for adding privacy, as some designs clip onto the railing rather than hook over the top. But, they're a perfectly convenient option if you already have some plants you need to move around.
Pros
Ideal for making use of existing pots
A more flexible option than buying entirely new planters
Fewer restrictions on what you grow
Cons
4. Ridge Balcony Railing Planter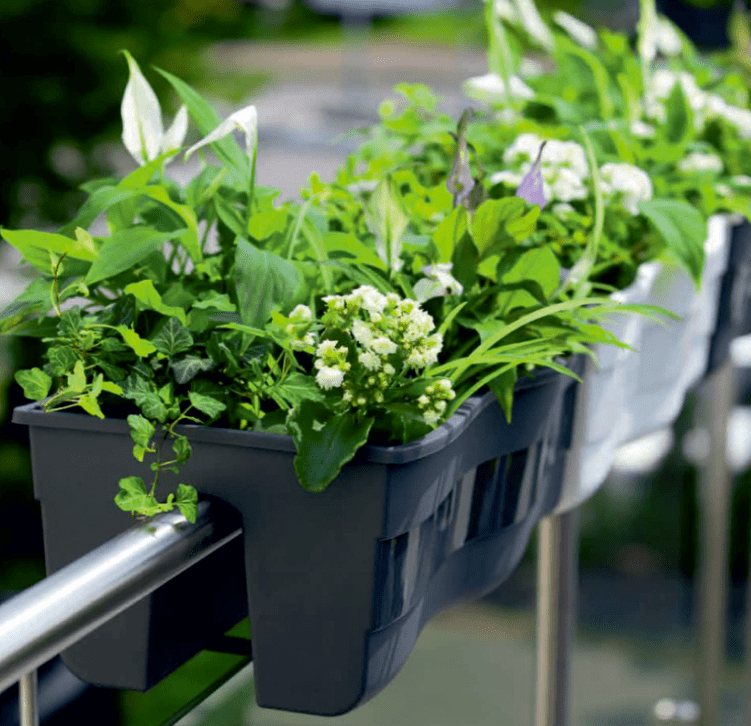 An over-the-top balcony rail planter box might be just the solution for growing privacy plants or a privacy curtain. This design straddles the balcony railing, meaning it's quite secure regardless of wind conditions.
Some designs fit a single railing width, whereas others have a widening groove down the middle. Ideally, look for one with fasteners for extra security.
As you might expect, installation is easy: you just put it on top of the railing. But, the main restriction is the type of railing these fit on. Some fit railings up to 4" wide while others fit a maximum of 2". Be sure to check before you buy.
While they might not be the deepest type of balcony planter box, you should be able to grow some fruit and veg in them. Things like strawberries, lettuce, herbs, and even some varieties of tomato would all get on fine.
Pros
Ideal for growing privacy curtains
Suitable for easy-going fruit and veg
Different types for different balcony railings
Cons
Not suitable for balcony walls – greatest width is usually around 4"
5. DIY Balcony Railing Planter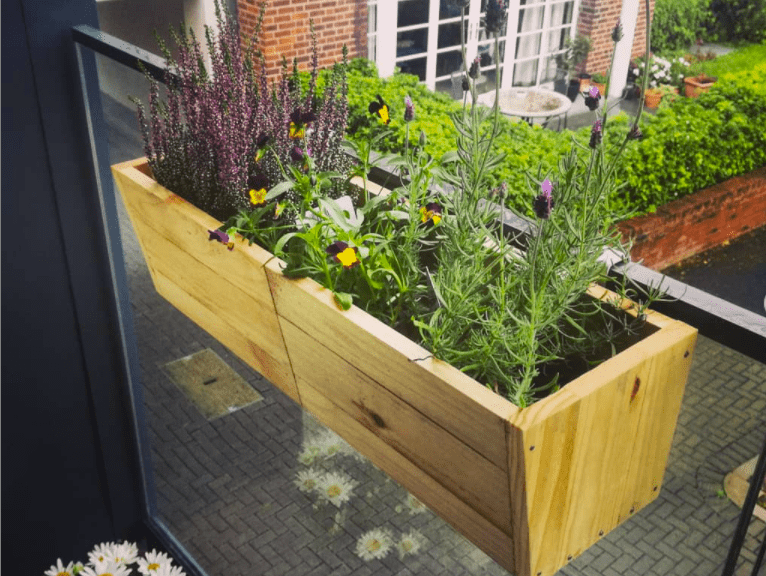 Building a DIY balcony planter box is surprisingly easy. If you want a super-simple option, buy 2 wooden window boxes and fix them together with a few pieces of wood.
Along with the window boxes, to build a DIY railing planter you'll need:
1×4 lumber
0.5×1.5 lumber
Drill
Screws
Method:
Measure the width of your balcony railing.
Add a bottom brace to each using the 0.5×1.5 lumber. It should be thick enough so that it sits against the railing.
Make a connector from the 1×4 lumber, which will sit over the top of the railing.
Screw both window boxes to this top connector, plant up, and sit on your railing.
These might be brief instructions, but there's not much else to it. If you'd like a more visual guide or would like to start from scratch, check out this video.
Pros
You can build it to whatever size you need
Ideal for privacy curtains and veg
Adaptable to suit your style
Cons
Requires some DIY knowledge and tools
Best Plants for a Balcony Railing Planter
The best plants for your balcony planter box entirely depend on what you want to achieve. If it's just some greenery, go for whatever you fancy. But, if you have a specific purpose in mind, some of the suggestions below should help.
Balcony Privacy Plants
To improve privacy, you'll want to use a climbing or creeping plant. Bear in mind, though, they won't do much for you in the winter, as many climbers are perennial but die off.
Some good options include:
Jasmine (very bushy, smells great)
Honeysuckle (amazing for wildlife)
Sweet potato vine
Nasturtium (not as bushy, dies off completely)
Clematis
Passionflower
Fruit and Veg
Granted, you won't be able to get a whole allotment going in a balcony railing planter, but you can take advantage of small, high volume plants with shallow root systems.
Some good options include:
Strawberries (look great as hanging plants)
Lettuce – incredibly easy to grow
Tomatoes (also great as a hanging plant)
Kitchen herbs
To get the most out of your planter, choose things that are best when very fresh or that produce a high yield per plant. Lettuce is a perfect example, as you can trim leaves off whenever you want without harming the plant.
Flowers
If you're opting for individual balcony railing planter pots, small flowers might be your best choice. You can grow herbs in them, but some of the easiest flowers for a balcony include:
Petunia
Marigold
Geranium
Zinnia
Heather
Ivy (for shady locations)
You're much less limited with this option, as you can use anything that'll fit in a small pot. Visit a garden center and go wild!
Finding the Right Balcony Rail Planter Box
Hopefully, the advice above will help you narrow down your choices for the best balcony rail planter. What you plan to grow is less important than finding the right planter for your railing.
Few plants are picky about the container you grow them in, and you can always punch drainage holes in the bottom of most planters.
Make sure you spend some time browsing to find the right model, or simply build your own!