Balcony Boss is reader-supported. When you buy through our links, we may earn a small commission at no cost to you. For additional information, please view our policies.
Concrete patios, while practical, aren't particularly attractive. They can be an eyesore in any outdoor area, but are arguably more obvious in small spaces because they're so dominant. Luckily, covering a concrete patio doesn't need to be an expensive job.
How you plan to use the space will impact the most suitable options. But, as we come into spring and summer, now is the best time to think about this and get started on your next outdoor DIY project. To help you out, here are 10 inexpensive ways to cover a concrete patio.
How to Cover a Concrete Patio
1. Lay Down a Rug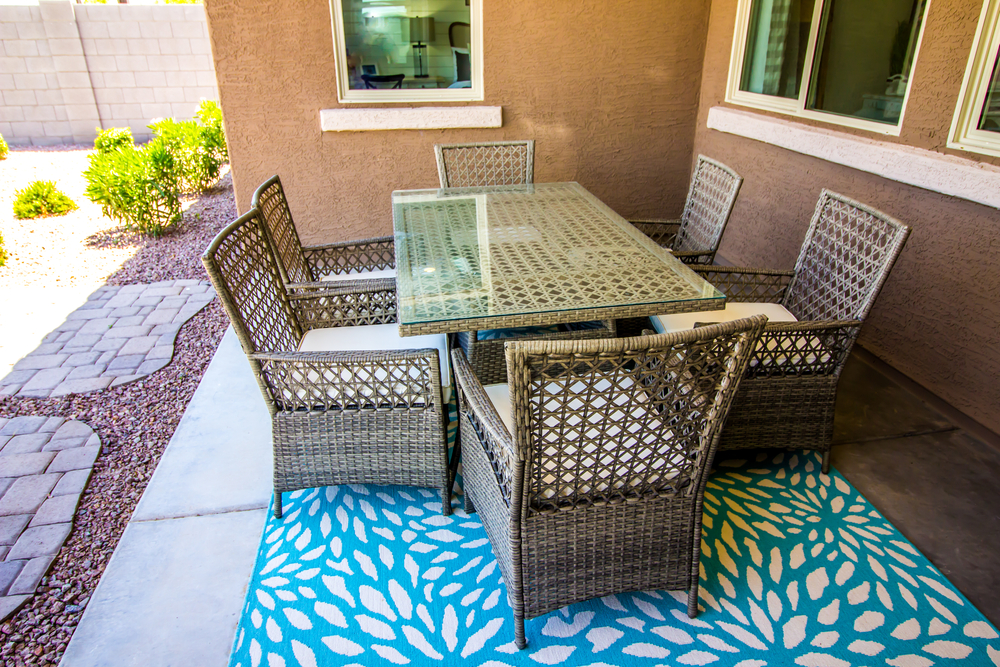 Let's start with an obvious option: laying down a rug. It's probably one of the quickest solutions that's also renter friendly. After all, you're not doing anything that can't easily be reversed when you move out!
There are loads of options for outdoor rugs that work in all climates. While the cost will depend mainly on the rug's size, it won't necessarily be more expensive than other options.
Estimated cost: $100-200
Pros
Requires almost no effort
Easy way to add color and pattern to an outdoor space
Cons
Some outdoor rugs can be quite expensive
2. Play with Paint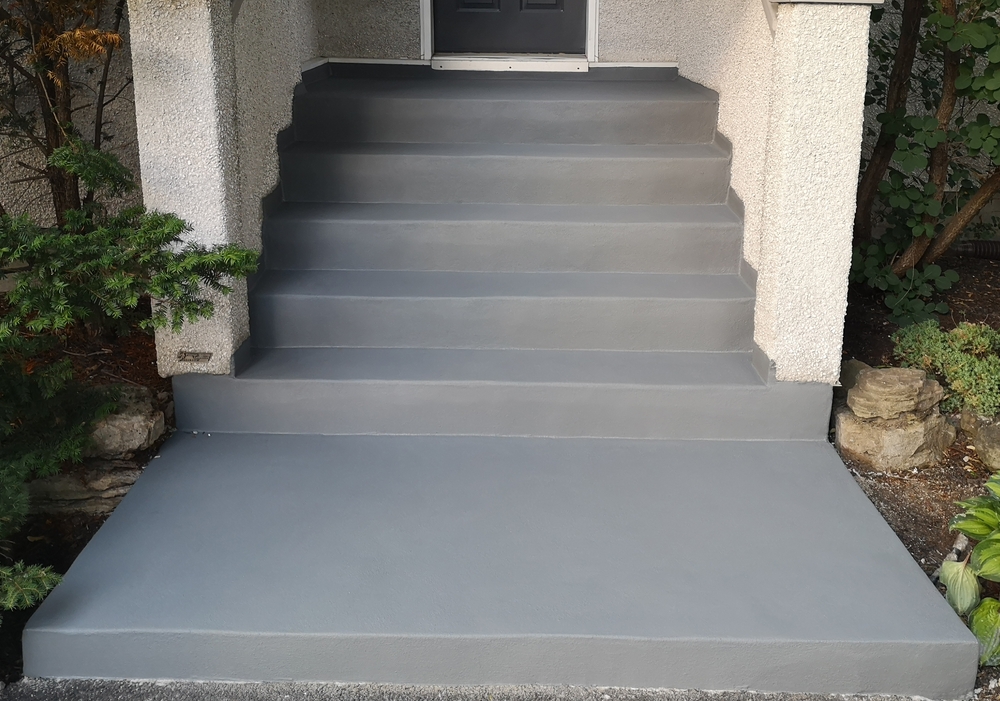 Concrete is super easy to paint, so this can be a quick option for brightening up your boring patio. Any masonry paint (such as this) will work on concrete. Bear in mind, though, that masonry paint is typically white or gray. If you want a more interesting color, you'll probably need to spend a bit more money.
Estimated cost: $30-40 per gallon of paint
Pros
Easy fix for boring concrete patio
Whole job should only take a day
Cons
Non-standard colors will be expensive
Not suitable for renters
3. Distract with Lighting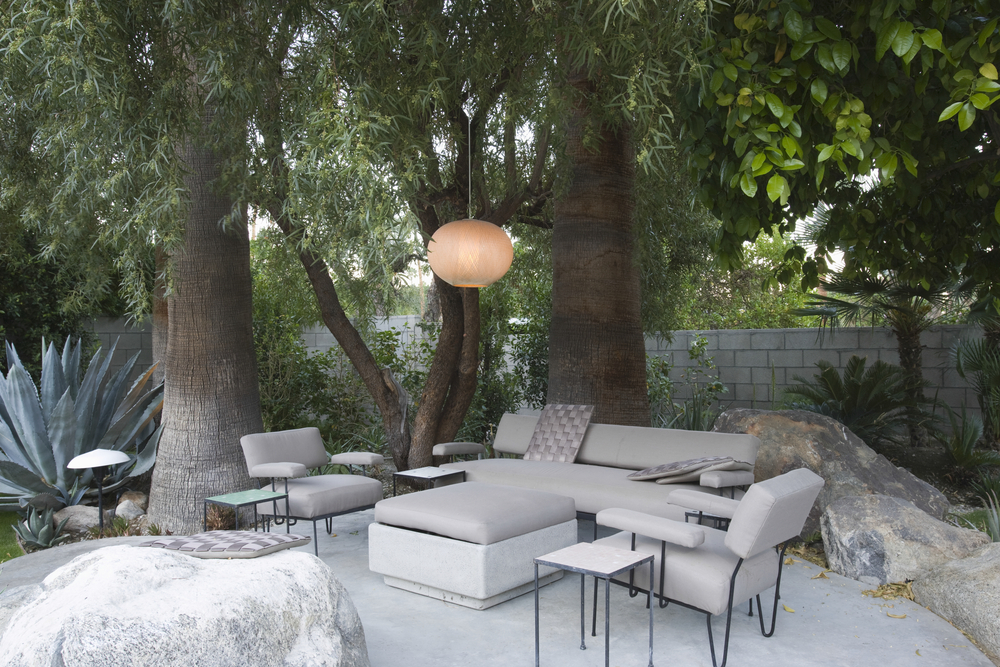 If covering the floor isn't really an option, you could try distracting the eye with overhead lighting. For example, string lights running from a wall over the patio will give you something more interesting to look at. Lighting is a renter-friendly option because you don't need to do anything invasive.
There are different ways to hang string lights that can add interest. Also, in the summer, you could take it a step further and even add some bunting!
Estimated cost: $30-50
Pros
Renter friendly
Distracts from the boring concrete
Cons
Doesn't actually cover up the floor
4. Cover with Temporary Tiles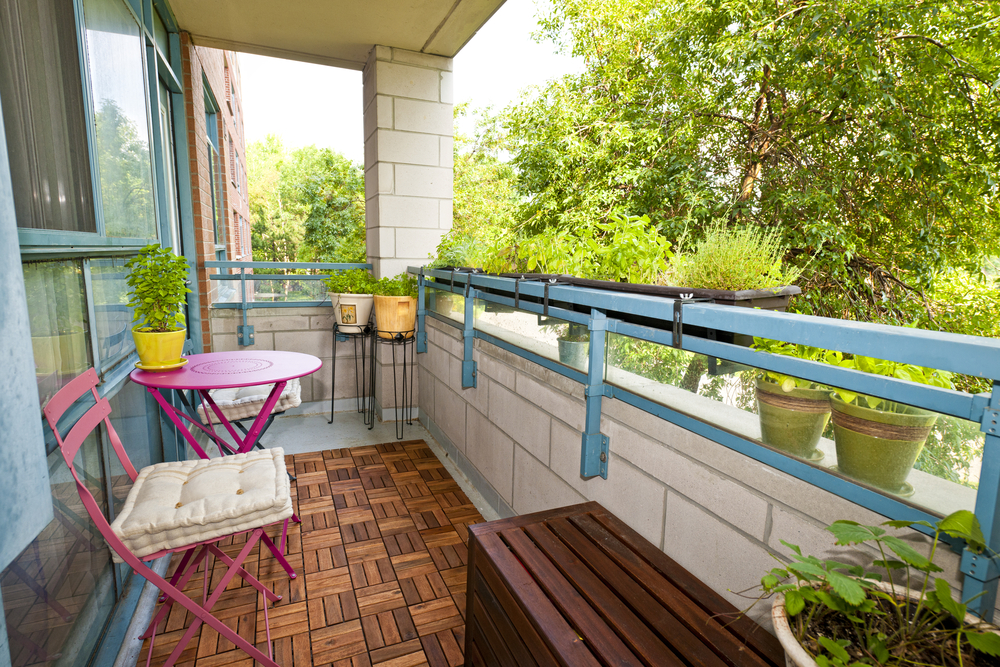 Wood deck tiles (such as these) work best when applied over concrete, which is lucky for us! They lock together and have rubber backing, which provides decent weather resistance. Wood tiles will completely change the look of your patio and can add a nice modern touch.
Bear in mind that these aren't the cheapest option. Depending on the size of your patio, you could spend several hundred dollars, so it's probably best to save wood tiles for small spaces.
Estimated cost: $50-200 depending on the size of your patio
Pros
Quick to install
Renter friendly
Cons
Can get pricey for larger spaces
5. Grow a Mini Jungle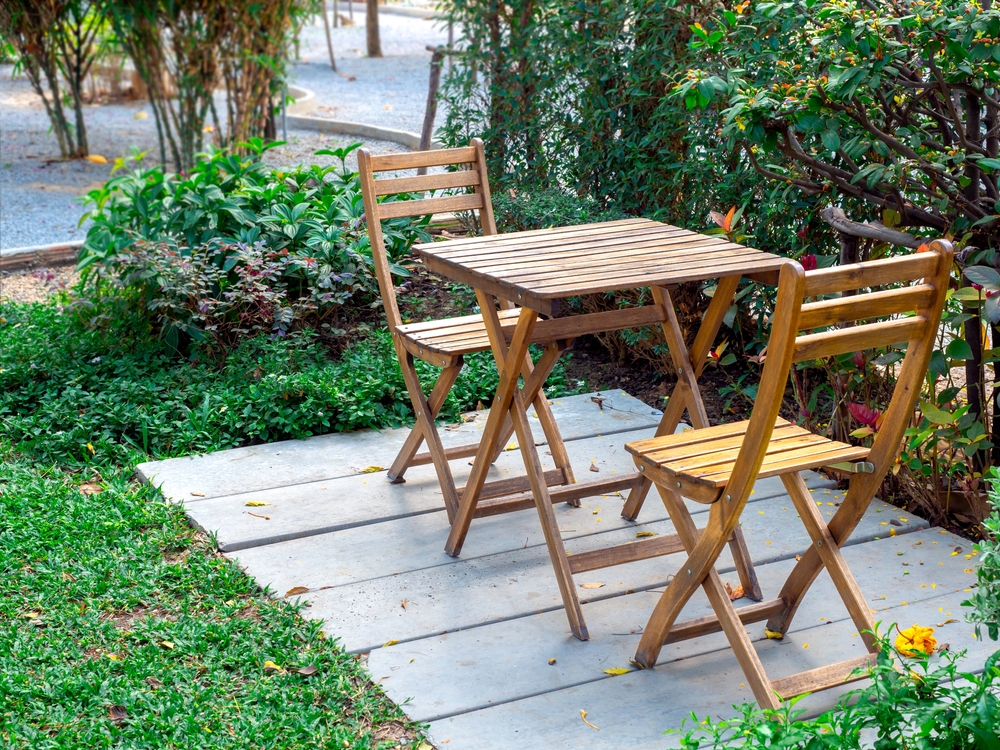 Another good option for distracting the eye is to grow loads of plants on your patio. While the pots will hide the floor to an extent, you couldn't really cover an entire patio with planters.
However, if you choose planters of different colors and heights and use a variety of plants, you'll create enough visual interest that you won't even be thinking about the floor!
Estimated cost: $50+
Pros
Ideal for distracting the eye
Plenty of options for plants and planters
Cons
Doesn't completely cover the patio
6. Cover It with a Lawn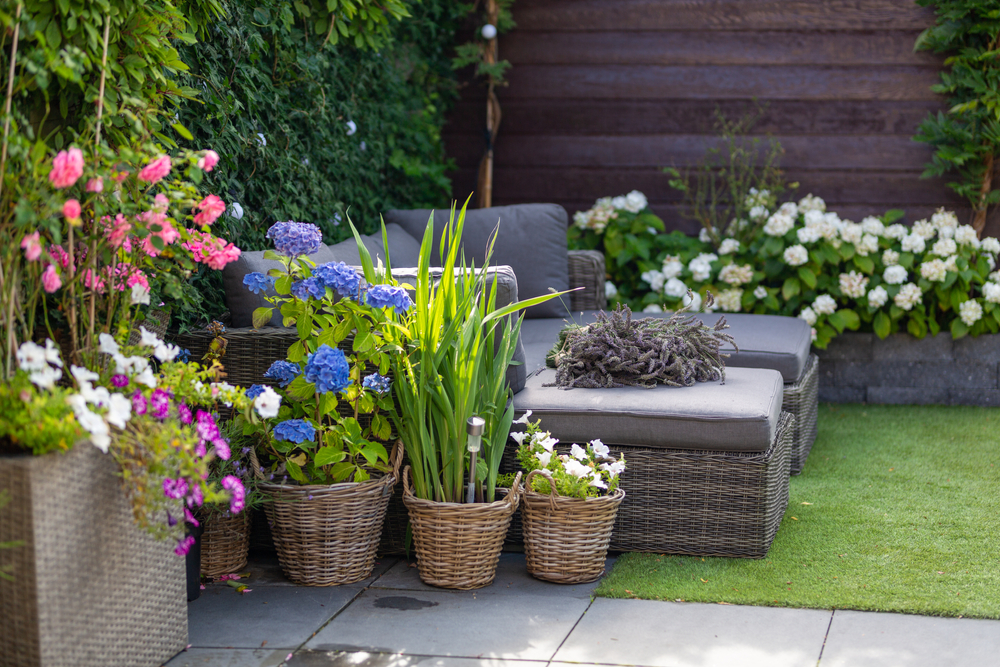 If your concrete patio is the only outdoor space you have, covering it with artificial grass is ideal for adding more greenery. While artificial grass doesn't need to be expensive, you'll need to invest a bit more money if you want a product that looks realistic.
However, once you've made your pick, installation is typically a breeze. You can do it yourself if you want to save some money, and you can have it as a temporary option by using lawn tape.
Estimated cost: $100-200
Pros
Easy way to add greenery
Renter friendly
Cons
Artificial grass gets really hot in direct sun – be careful installing it if you have kids or pets
7. Use an Umbrella or Sail Shade
A patio umbrella, as you can probably imagine, won't cover the patio. It'll help distract from the boring concrete though by drawing the eye upwards. Make sure you choose a bright color that contrasts against the surrounding walls and concrete patio.
An umbrella or sail shade is obviously helpful for summer, too, as it'll give you plenty of shade. Umbrellas are the better option for renters because they don't need to be installed like a sail shade does.
Estimated cost: $30-100
Pros
Distracts the eye with minimal effort
Provides shade during the summer
Cons
Not all options are renter friendly
8. Throw Down some Gravel or Stones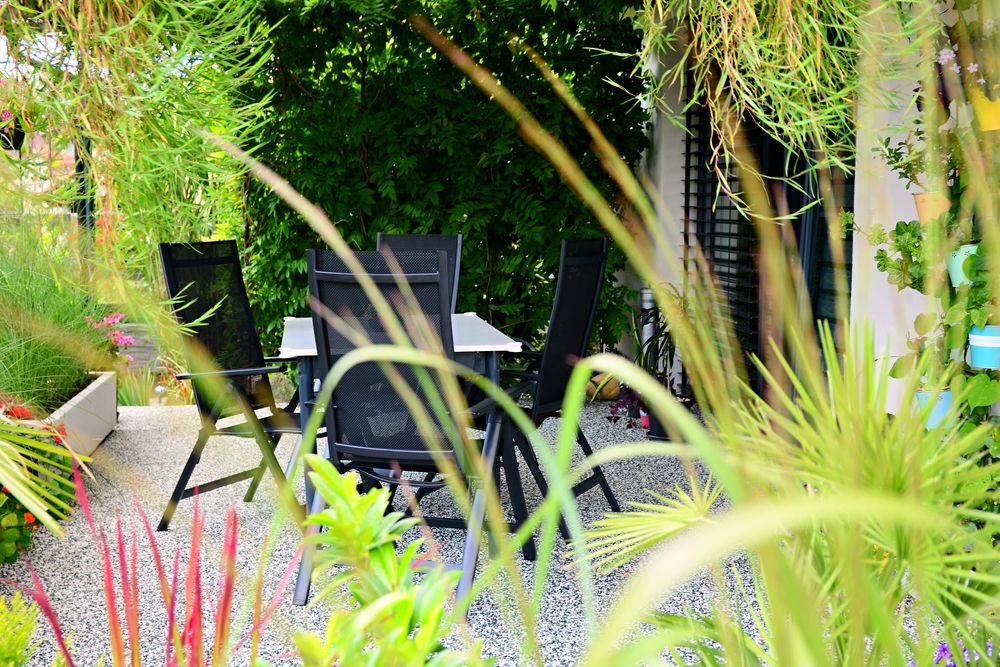 A really easy option for covering a concrete patio is to just lay some gravel. If you put down a thick layer, you won't even remember the patio is there. Plus, gravel is inexpensive and you can lay it yourself with basically no effort.
A helpful cost-saving point here is that you won't need weed-proof underlayment because you're going over concrete. You could add a bit more interest to the gravel by adding stepping stones, although this'll push your budget up.
Estimated cost: $1-3 per square foot
Pros
Simple to lay over concrete
You can dress a gravel patio up in loads of ways
Cons
It can be difficult to keep gravel neat long-term
9. Consider How You Arrange Furniture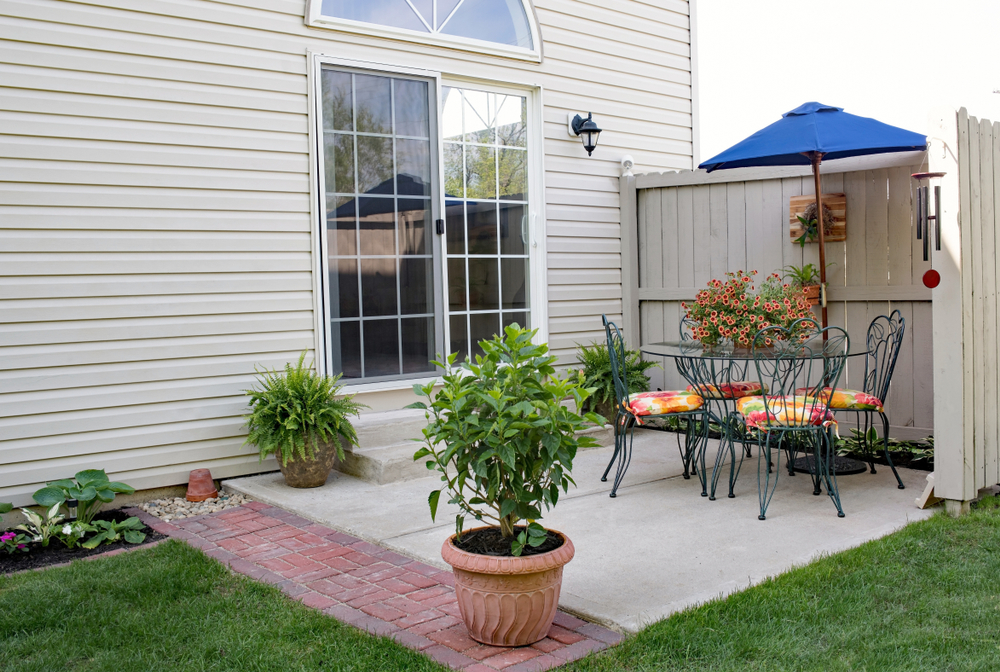 This is another distraction technique, but think about how you arrange your patio furniture. Start with a fairly big table that you can dress with a bright tablecloth – this'll be ideal for drawing the eye.
You could also use bright metal furniture or colorful cushions. Ideally, you want to float your furniture, which means putting it in the middle of the patio. Bunching it against the walls or around edges will leave too much floor exposed.
Estimated cost: Free if you already own the furniture
Pros
Doesn't have to cost anything
Works with what you already own
Cons
Won't be very distracting if your furniture isn't brightly colored
10. Stain the Concrete to Change Its Color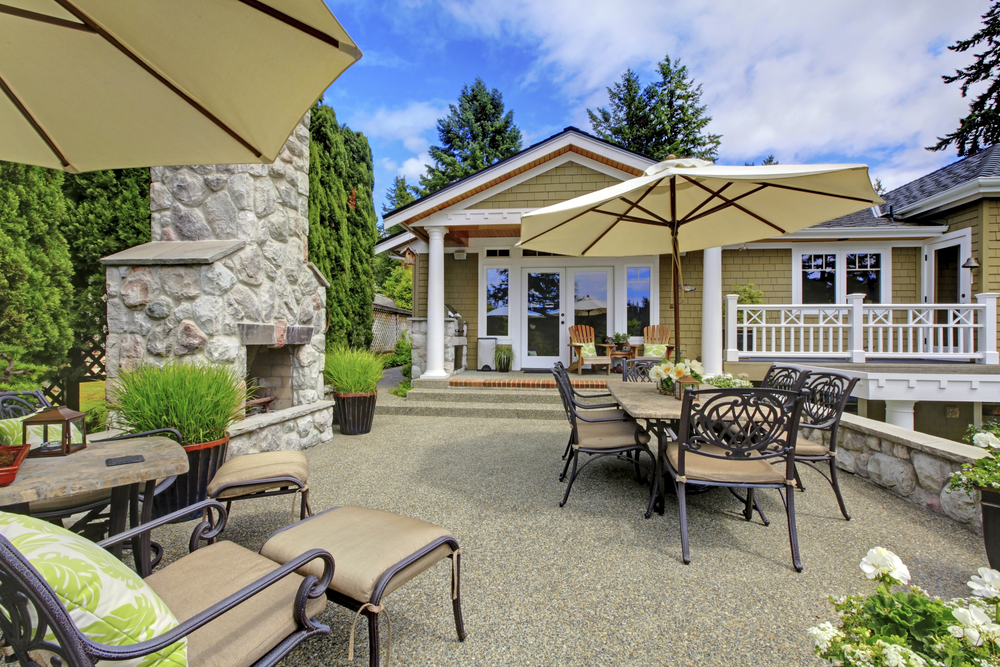 Unsurprisingly, concrete stain (such as this) changes the concrete's color. However, lots of brands also change the appearance to make it look like marble or other types of stone. This is a very permanent option, though, so it's not suitable for renters.
You can get water- and acid-based stains. Acid stains are more durable and have more finish options but are pretty toxic. If you have kids or pets, water-based stains will be better, even though the acidic fumes don't last longer than a few days.
Estimated cost: $50-100 per gallon
Pros
Completely changes the appearance of concrete
Application is generally as simple as pouring it on
Cons
Acid-based stains give off horrible fumes
Final Thoughts
You can cover a concrete patio for less than a hundred dollars if you're clever with what you use. However, you should consider any method that costs less than $200 to be inexpensive, as you can easily spend a lot more than this.
Go through the options above and see which would be best based on your budget and your ability to make permanent changes. Happy concrete covering!