Balcony Boss is reader-supported. When you buy through our links, we may earn a small commission at no cost to you. For additional information, please view our policies.
Plastic outdoor rugs are great for adding color and interest to your balcony, patio, or porch. As with indoor rugs, there are plenty of factors to consider when making a purchase. These include color, material, weave, and more.
So, if you're thinking of buying a plastic outdoor rug for your space, here's everything you need to know to make the best pick.
If you're in a hurry, here's a brief roundup of our favorite outdoor rugs:
1. Mirani Outdoor Rug – This 3D machine-woven rug will suit all kinds of neutral décor styles.
2. Minuyan Outdoor Rug – This option shows you the kind of colors and styles that are possible with synthetic fibers.
3. Spilsby Outdoor Rug – Made from olefin, this black and white rug will look great on a balcony or patio.
4. Sitangkai Outdoor Rug – You can't get more classic than a diamond pattern rug. It'll add a splash of brightness to all kinds of décor styles.
5. Waseca Outdoor Rug – This rug is recycled PET, making it an environmentally-friendly option.
Why Choose a Plastic Outdoor Rug?
The most obvious reason why you'd choose a plastic outdoor rug is that they're water-resistant. Whereas normal rug materials – such as cotton – are fine for indoors, they can be ruined by rain and wind.
If you have a covered balcony or porch, you have a bit more freedom with materials. But plastic rugs are still a better choice because they're simply more resilient than their indoor counterparts.
A plastic outdoor rug could last up to 20 years if cared for properly. Of course, less expensive rugs won't last as long, but you could expect even 5-10 years from budget rugs. Proper care is vital for getting the most use from your outdoor rug.
Materials Used in Plastic Rugs
Outdoor rugs use different kinds of plastic, each of which has beneficial properties. There are clear differences in price, too, but this will also depend on where you buy them. The most common plastics used in outdoor rugs are:
Polyester
Polyester is one of the cheaper materials used in outdoor rugs. It can hold brighter colors than other materials and is UV-resistant. However, it sheds fibers more than others and can be stained with oil. As such, it's not a great choice for high-traffic areas.
Recycled PET
You might see some outdoor rugs labeled as recycled PET. This is polyester created by reusing plastic bottles. It's a more sustainable option than 'virgin' plastics, but obviously comes with the same limitations mentioned above. As such, it might seem like a better choice, but it could work out more sustainable to buy a new rug and have it last 2-3 times as long.
Nylon
Nylon is another common material on the lower end of the price scale. It's far more durable than polyester and is water- and fade-resistant. However, nylon can't hold bright colors like polyester can. That said, if you're on a budget, nylon is the obvious choice.
Polypropylene
Polypropylene is probably the most common material used for outdoor rugs. It's stain- and mold-resistant because it doesn't absorb any moisture. In its base form, it's not UV-resistant, but outdoor products are treated to prevent them from staining.
Olefin
Olefin is the top-tier material for outdoor fabrics. It's essentially made from polyethylene or polypropylene, but the fibers are modified to make them stronger and thicker but with less weight.
Simply put, olefin is the material of choice here. It holds color better than every other material and is naturally resistant to water, mold, mildew and sunlight. Olefin is typically on the higher end of the price scale, but it'll last much longer.
Buying Factors When Choosing Outdoor Rugs
Material is the most obvious thing to look for when buying a plastic outdoor rug. But there are other things to consider, including:
Weave
Most plastic outdoor rugs are machine-made. They're created on power looms, which makes them more affordable and leads to more intricate styles. You can also get hand-hooked, which is the most expensive option. Generally, it's not worth shelling out on a handmade outdoor rug.
The final option is flatweave. Without getting too intricate, the main difference is that they're flatter. Also, they don't have a backing, so are reversible.
Pile
Rug pile is the term given to its density, and, by extension, how fluffy it is. Generally, outdoor rugs will have short pile, which could even be listed as 0. This means the rug is about as flat as it can get.
Outdoors, short pile is always better. It's easier to care for and is stronger and more resilient. Save the shag pile rugs for indoors.
Colorfastness
Colorfastness simply means how resilient the rug's color is to fading. Synthetic fibers are often solution-dyed: the color is put in with the plastic mix during creation. As such, fading is almost non-existent. This differs to natural fibers, which must be dyed after spinning.
Another thing to consider is resistance to fading. Outdoor rugs will often sit in the sun for weeks, so they need some level of UV resistance. As a rule, outdoor rugs won't always mention whether they're UV-resistant. But most plastic fibers are, whether as a standard property or through treatment.
Generally, there are no climate restrictions for outdoor rugs. Providing it's UV-resistant, you could live somewhere hot and have no issue. The biggest thing to consider, though, is color. You obviously won't want a dark rug in a sunny location, as it'll get pretty hot.
Cleaning and Care
First, make sure you store your rug in fall and winter, as it'll make it last longer. Before bringing it in, clean and dry it fully so it'll be fresh the following year.
We have a complete article on how to clean outdoor rugs, so check that out for instructions. Also, plenty of plastic outdoor rugs are machine washable, which makes maintenance even easier.
Pros and Cons of Plastic Outdoor Rugs
Most of the benefits of plastic outdoor rugs should be obvious, but here they are for clarity.
Pros
Very resilient to water, mold, mildew, stains, and fading.
Plenty of options for all budgets.
Little (if any) difference between a quality plastic rug and a natural rug.
Can be used indoors, too.
Cons
Plastic rugs generally smell when new. There's not much you can do about this other than leave it outdoors for a few days. This process is called off-gassing.
Some plastic rugs can shed fibers, making them look tatty quickly.
Top 5 Plastic Outdoor Rugs
Now that we have a good idea of what to look for when buying plastic outdoor rugs, let's look at some examples. These should help you get an idea of the colors, styles, and materials available.
1. Mirani Outdoor Rug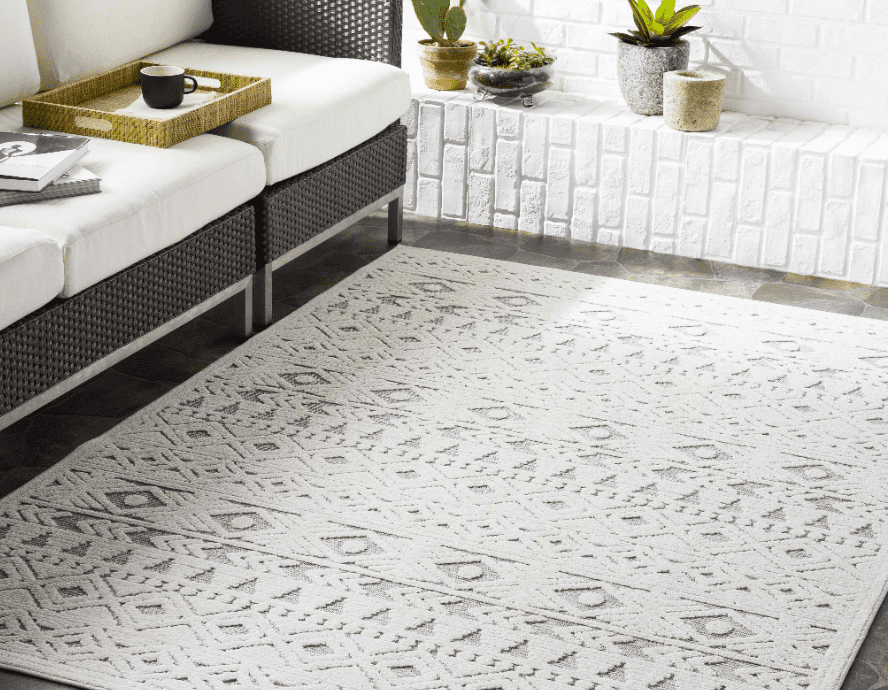 The Mirani outdoor rug is 100% polypropylene and has a low pile. As such, it's UV- and water-resistant, so would be suitable for covered and uncovered spaces. The smallest size is 2' x 2'11, meaning you'll easily find one for balconies and patios of all sizes.
The machine-woven pattern is raised off the backing, giving it a 3D appearance. It'll easily suit boho-style balconies but would probably work with a wide range of styles because it's a nice neutral color.
Pros
Neutral color will work well almost anywhere.
Pattern is bold enough to work in small spaces.
Plenty of size options.
Cons
Light color will show marks easily.
2. Minuyan Outdoor Rug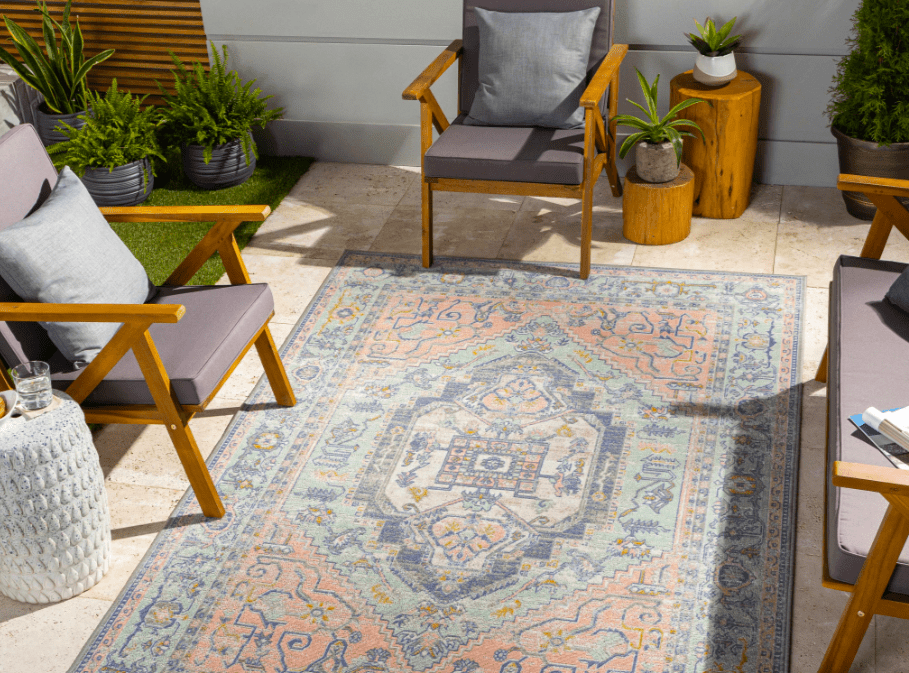 While this rug isn't the most colorful option, it at least shows you what's possible with synthetic fibers. Better yet, it looks worn, giving it a vintage appearance. It also means wear and tear won't show up as easily!
It's another polypropylene rug, but it has a slightly taller pile. As such, it's a bit softer but is slightly more susceptible to damage. The design will work well with boho, world, and vintage themes.
Pros
Good example of color and design options.
Looks like a vintage Persian rug.
Completely outdoor safe.
Cons
Pre-worn look won't appeal to everyone.
3. Spilsby Outdoor Rug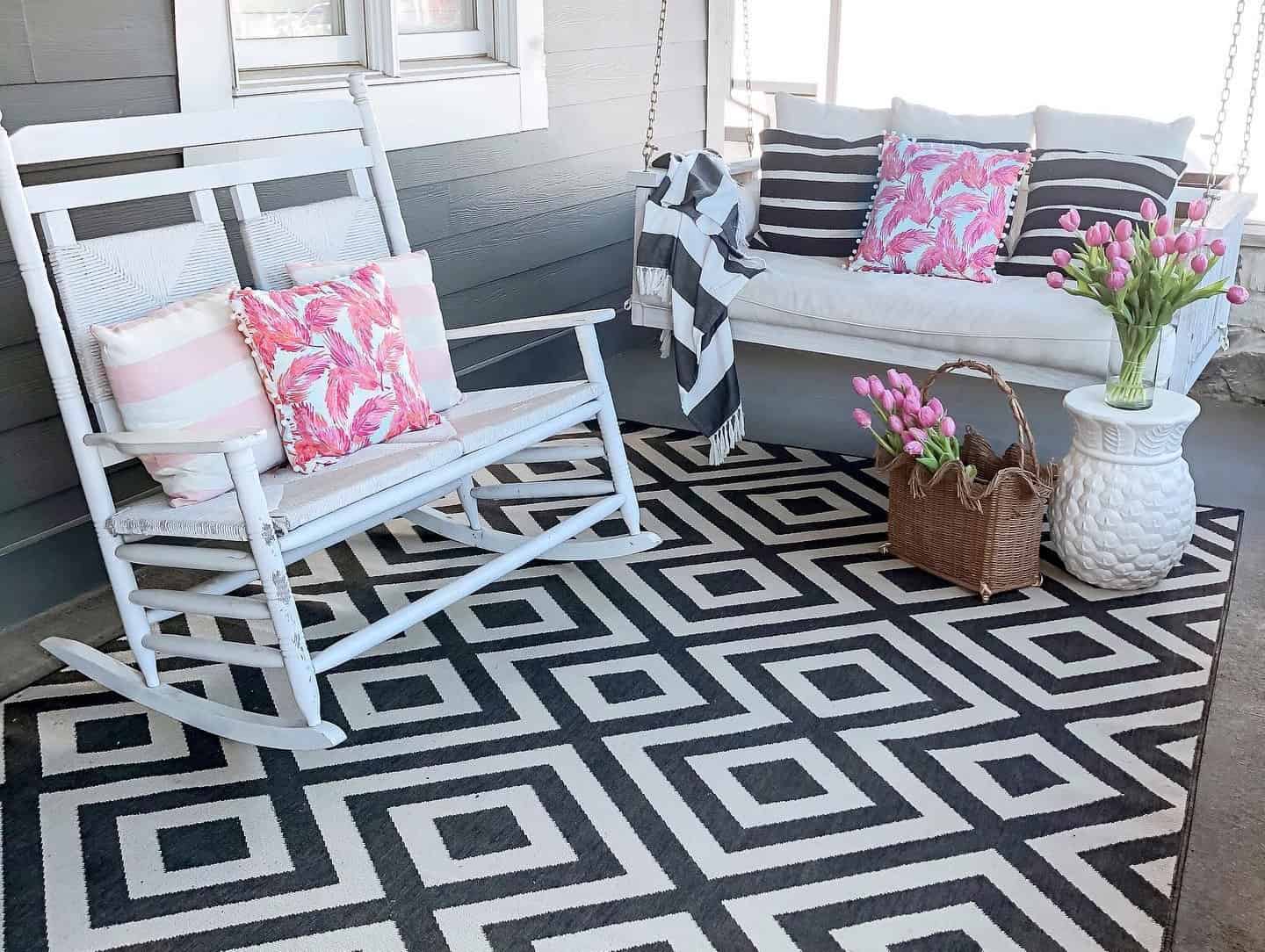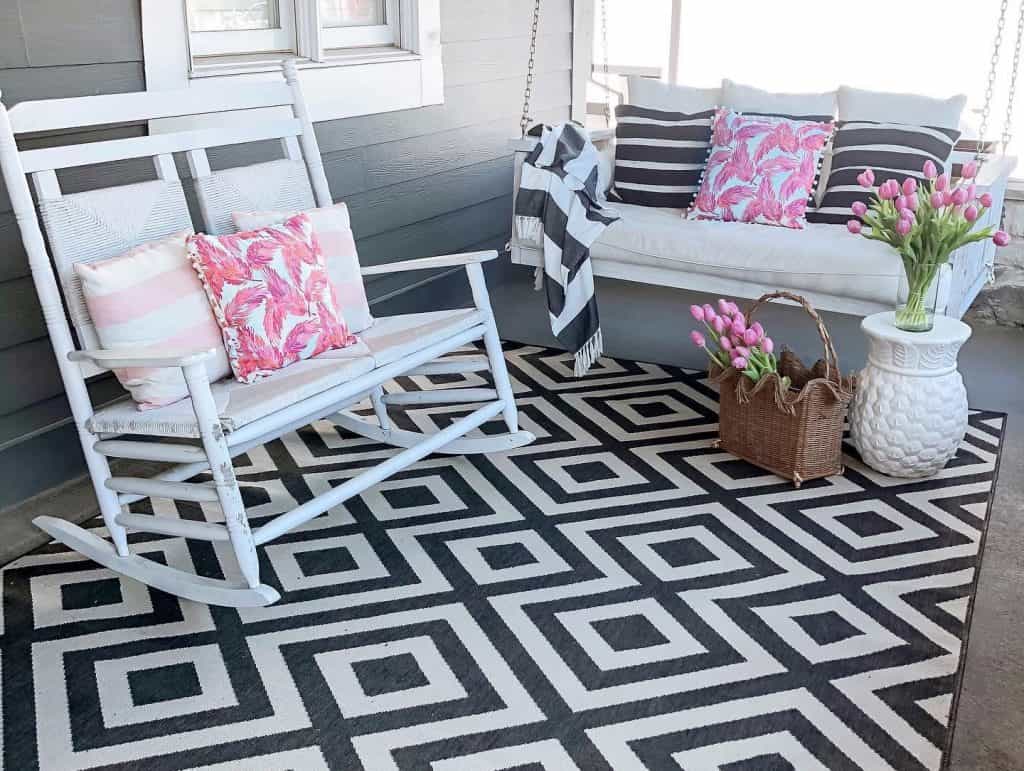 The Spilsby rug is olefin, which, as mentioned, is one of the best rug materials. The geometric pattern and colors suit it to boho and black and white themes.
The rug has no pile, so is very resistant to wear. It doesn't have a backing, so you'll want to buy a rug pad to go under it.
Pros
Resistant to outdoor conditions.
Will suit plenty of styles.
Comes in a range of sizes.
Cons
Might be a bit slippy on some surfaces.
4. Sitangkai Outdoor Rug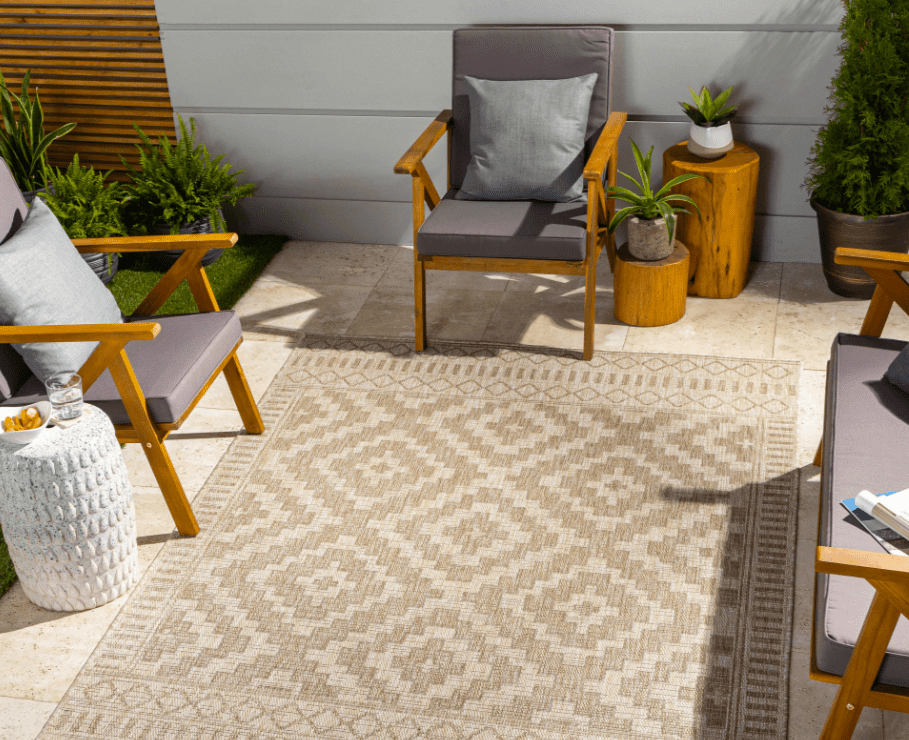 This rug has a pretty classic diamond design that'll suit plenty of spaces. It doesn't go as small as some of the other rugs, but this isn't a bad thing. Its pattern could be a bit overwhelming in small spaces.
It's another polypropylene option with 0 pile height. The weave means it'll be slightly harder to clean than some other rugs, but a strong vacuum cleaner should have little problem with it.
Pros
Resistant weave.
Several color options.
Classic design.
Cons
Pattern will be a bit busy in small spaces.
5. Waseca Outdoor Rug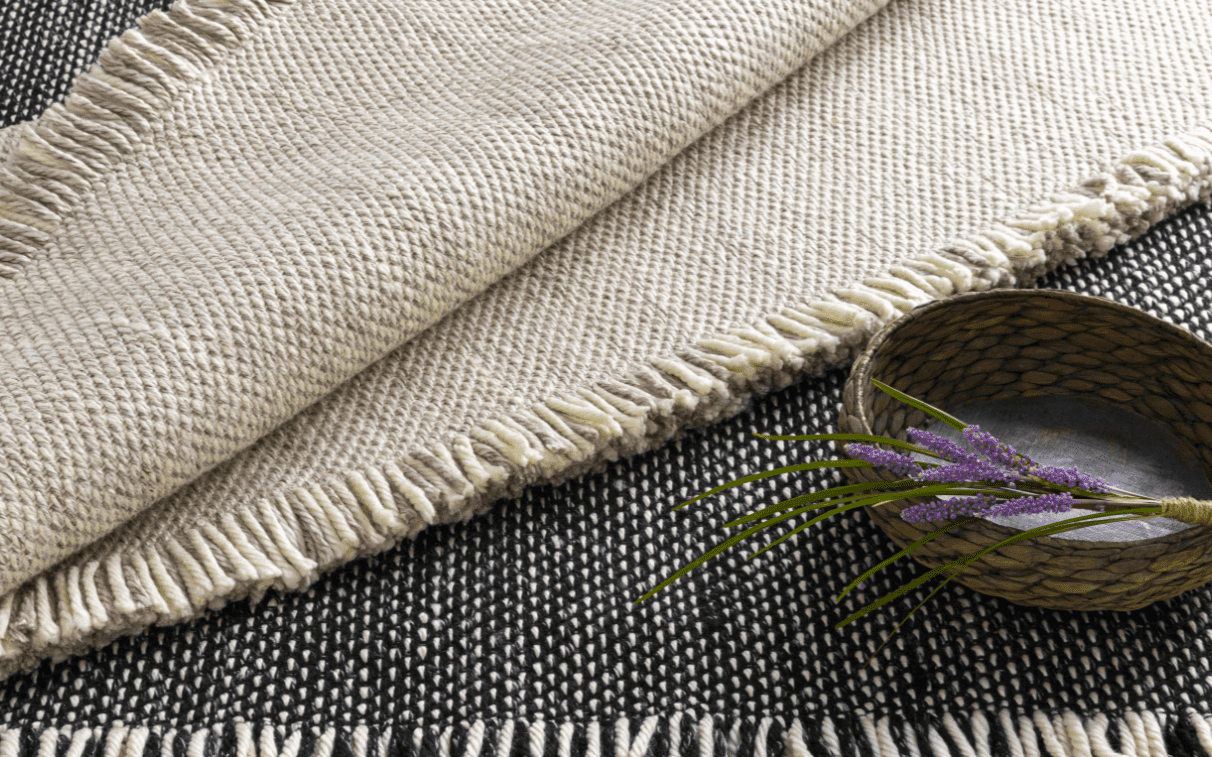 The Waseca rug is made from recycled PET yarn. As mentioned, this is a good choice, but does come with the downsides of normal polyester. Even so, it'll be fine in lower-traffic areas.
Unlike other rugs, it has tassels on each side. These could look worn quite quickly, but putting the rug in the washing machine should sort it out. Its style and color mean it'll go with everything from scandi to contemporary themes.
Pros
Recycled material.
Looks like a traditional runner rug.
Difficult to tell it's synthetic fibers.
Cons
Will look worn more quickly.
Final Thoughts on Plastic Outdoor Rugs
You should be able to now go out and choose the perfect plastic outdoor rugs for your space. The most important factors are material and weave, as these will affect how long your rug will last.
Don't worry if the options above don't appeal to you. There are thousands of styles to choose from now you have the right information.