Balcony Boss is reader-supported. When you buy through our links, we may earn a small commission at no cost to you. For additional information, please view our policies.
Choosing a balcony umbrella requires a bit more thought than a standard patio umbrella. Often, you're more limited with space and so need to be creative with how you install your umbrella of choice.
Luckily, there are plenty of apartment balcony umbrella options, which we cover in this article. First, let's go over the most important considerations when choosing an umbrella for your balcony.
Why Use a Balcony Umbrella?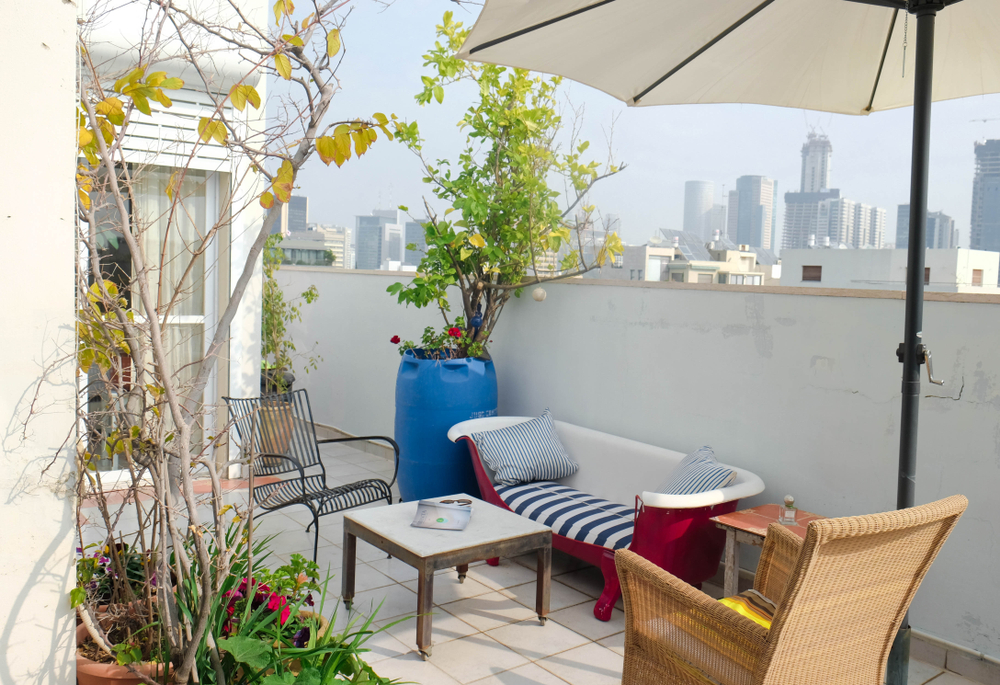 Umbrellas have two obvious uses: shade and protection from rain. Granted, a shade umbrella is technically a parasol, but that's not a distinction many sellers make.
Buying a balcony umbrella is beneficial for anyone with a very sunny balcony or anyone who wants to sit outdoors during the rain. Some sun can be nice, but shading your balcony can help keep your apartment cool. In turn, it can help you save a bit of money on the AC bill in the summer.
Considerations When Choosing an Apartment Balcony Umbrella
As with any apartment-related purchase, it's important to check building regulations before making your selection.
There shouldn't be many strict regulations for balcony umbrellas, but it never hurts to find out. For example, renters probably can't fix an umbrella pole to the wall.
Also, some HOAs might have restrictions about size, color, material and more. Read through your HOA regulations carefully before making your pick just to be sure you're not breaking any rules.
How to Choose the Right Balcony Umbrella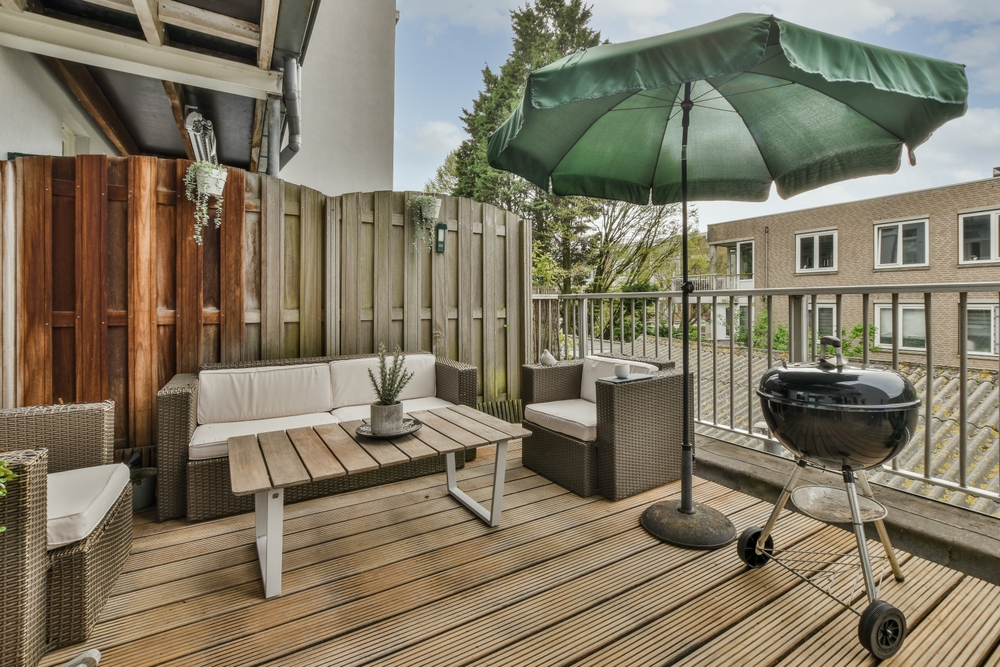 Buying an umbrella isn't exactly difficult, but there are some things to consider before making your purchase. These include:
Function
Do you need protection from rain, shade, or both? You're less restricted with an umbrella for shade, as they all provide this.
But, if you're choosing one for rain protection, make sure the material is treated so it's completely waterproof. Many umbrellas are shower-proof but this doesn't mean they'll keep you dry during a heavy downpour.
Size
Size is perhaps the most important consideration when picking a balcony umbrella. If you don't have much space, opt for a small balcony umbrella that provides enough shade.
If you've got plenty of space on your balcony, you could look for standard patio umbrellas. These are pretty big and should allow you to fit tables and chairs under them.
Floor Space
Floor space crosses over into size slightly but deserves its own point. A balcony umbrella with base takes up quite a bit of room, as the base must be heavy enough to counterbalance the umbrella when it's windy.
You can also get umbrellas that fix to railings and tables or ones that attach to a wall. These are ideal if you don't want to lose floor space but won't be as big. An umbrella that fixes onto a balcony railing also isn't as sturdy as a balcony umbrella with base.
Storage
It's easy to overlook the issue of storage, but it's a big deciding factor. Will you store the umbrella over the winter or leave it out on your balcony?
At best, an umbrella will break down to about half its assembled size. You can expect it to be between 3ft. and 5ft., so bear this in mind if you plan on storing it when not in use.
Budget
Finally, budget is an important thing to think about. If you'll be using the umbrella a lot, consider spending a bit more to get a quality product. After all, bigger spends are easily justified if you use something every day.
Spending a bit more money should also get you better functionality. Surprisingly, some umbrellas do more than just open and close. You can find ones with winches or electric opening mechanisms, and even ones with built-in lights!
However, if you're on a tight budget, try and spend as much as you can justify. Better build quality usually means a longer-lasting product, and you'll want something that can withstand winds without buckling or turning inside out.
Different Types of Balcony Umbrellas
While we include links to specific models of each type listed below, this article is more designed to give you an overview of what's available. Using the buying factors mentioned above to see which type of balcony umbrella would be best for your needs.
Patio Umbrella
The most obvious place to start is with patio umbrellas, as these give you plenty of flexibility in design and functionality.
They're pretty much all freestanding, so are the best option for people with plenty of space. If you're happy with a balcony umbrella with a base, you have loads of styles to choose from.
You can opt for the standard straight umbrella with stand or a cantilever balcony umbrella with base. The latter does take up more space but looks nicer too.
A standard straight umbrella should be compatible with a patio table, allowing you to stand it through the hole in the middle.
You'll also find options with built-in LEDs, which is ideal for use at night (the most obvious time for an umbrella, of course).
Almost all patio umbrellas are showerproof, and many are waterproof. Make sure you look for the distinction when making your purchase.
Pros
Suitable for owners and renters
Perfect if space isn't a problem
Hundreds of options for style and functionality
Cons
Takes up lots of space when stored
Balcony Railing Umbrella
A balcony railing umbrella hardly takes much explanation: it's an umbrella that fixes onto your balcony's railing. It usually does this using a clamp, which you fix on and then insert the umbrella pole into.
Some models come with both the umbrella and the clamp. But, the most common thing you'll find is the clamp for sale on its own, meaning you have to source an umbrella elsewhere.
The clamps are very easy to install: they screw into place on the balcony's top railing. Alternatively, there are umbrella clamps that fix onto vertical railings if that's a better option for you.
Choose a balcony umbrella with a straight pole and make sure the clamp is wide enough. Most clamps are hollow tubes, meaning the umbrella sits on the ground and is held in place. This gives you more freedom with the type of umbrella you choose.
Pros
Suitable for owners and renters
Clamp is easy to install
Flexibility over the type of umbrella you use
Cons
Might not be suitable in windy locations
Half Umbrella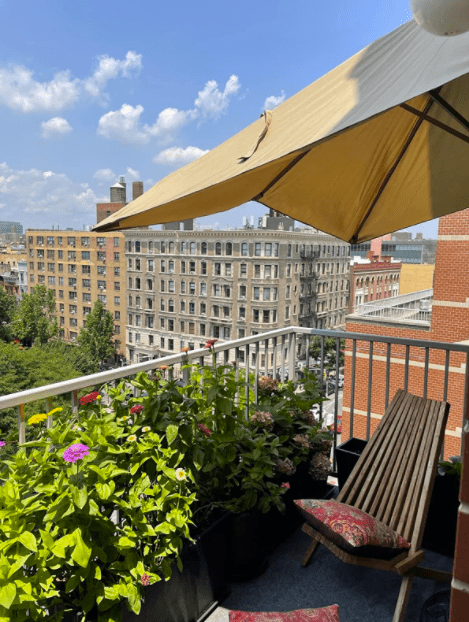 A half umbrella for a balcony is a good option if you're short on space. As the name implies, it's an umbrella with only half its canopy. It means you can position it against a wall, which is ideal for small balconies.
There should be plenty of options for a suitable half umbrella for a balcony. But, you'll need to use a base, which does take up some room. Another option is to fit an umbrella clamp to the wall, but this might not be secure enough.
Installation is hardly worth mentioning here: you fit it into the base and you're done. Storage will be less of an issue than with a full-size balcony umbrella. While the pole might be the same length, the canopy is less bulky.
Pros
A half umbrella for balcony is a good space-saver
Takes up less room when stored
Plenty of options available
Cons
Wall-Mounted Balcony Umbrella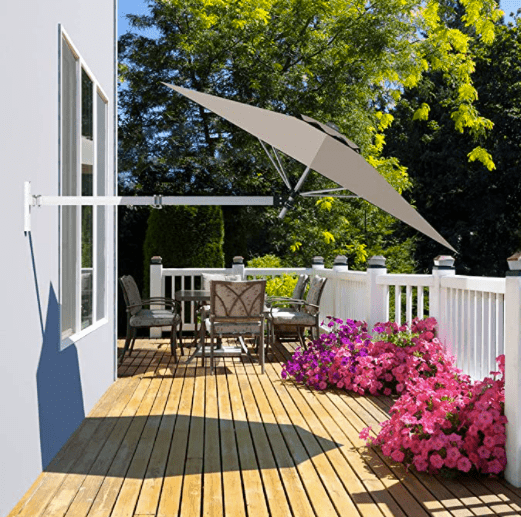 Your choices might be more limited with a wall-mounted apartment balcony umbrella, but it's one of the better options for saving space. It fixes to the wall using bolts and then folds away, taking up very little space.
As is standard, most will be suitable rain protection, but always check this first. However, they won't be suitable for very windy balconies, as the umbrella might rip out of the wall.
The major downside is that they're not suitable for renters, as you'll need to screw holes in a wall. If this is an issue, choose a table or railing balcony umbrella instead.
Pros
Ideal space-saving option
Folds away easily
Easy to install
Cons
Table Umbrella
A table umbrella is either one that fixes to a table or fits through the hole in the middle of a patio table. You'll have plenty of options for the latter, as these are standard umbrellas.
If you want a balcony umbrella that fixes to your table, consider using the railing clamp mentioned above. It works perfectly on a table but your umbrella options are more limited.
Unlike a balcony railing, which is sturdy, a table might not be the best counterweight for an umbrella. Choose a small balcony umbrella with a diameter of 6ft. maximum or go smaller if your table isn't very big.
Pros
Flexibility in what a table umbrella means
Options that go through the table or fix to it
Good space-saving option
Cons
Only use a small balcony umbrella if fixing it to your table
Conclusion
Hopefully, this guide will help narrow down your choices for the best balcony umbrella.
As you can imagine, there are loads of options, so make sure to use the buying factors to help you make the right selection.