Balcony Boss is reader-supported. When you buy through our links, we may earn a small commission at no cost to you. For additional information, please view our policies.
While a balcony is often a great space for enjoying the outdoors, it sometimes needs upgrading, especially in terms of shade. This is where a balcony shade comes in.
Balcony shades come in many forms, and whether you have a covered or uncovered balcony, there are several options to choose from
In this article, we'll go over the main types of balcony shades and how to pick the right one for your needs.
Balcony Shade Benefits
Sun shade
Let's start with the most obvious – a balcony shade can help to block out the sun, particularly if you have a balcony that's completely exposed or has minimal structural coverage.
While you don't want to block all the sun out, it helps to create some shade and you're your space cooler when you're sitting out on your balcony.
Privacy
Balcony shades are often used to improve privacy in outdoor areas. For example, if you have a first-floor apartment, you might not want all of your neighbors looking down at you as you enjoy your outdoor space.
Weather
A balcony shade can also help to protect your outdoor space from bad weather. After all, there's no reason a bit of rain should stop you from sitting outdoors.
If this is one of your needs, ensure that the shade is waterproof. Some will help block out wind, too, but it depends on the solution that you choose.
If a rain cover is your primary goal, check out our article on balcony rain covers for more ideas.
Security
Some methods of shade can also provide security. A balcony railing cover, for example, can be helpful if you have kids or pets that you don't want launching themselves through the railings.
As you'd expect, a balcony cover for security needs to be heavy-duty, durable, and able to withstand potential abuse.
Luckily, there are plenty of products you can use for this. Some even help to improve privacy on your balcony too.
Decoration
A stylish balcony shade can completely overhaul the aesthetics of your space and turn it into a space you actually want to spend more time in. Perhaps you're looking to block a horrible view or you just want to create an "outdoor room" type of feel.
Either way, a balcony shade can help.
Types of Balcony Shades for Apartments
1. Retractable Balcony Awning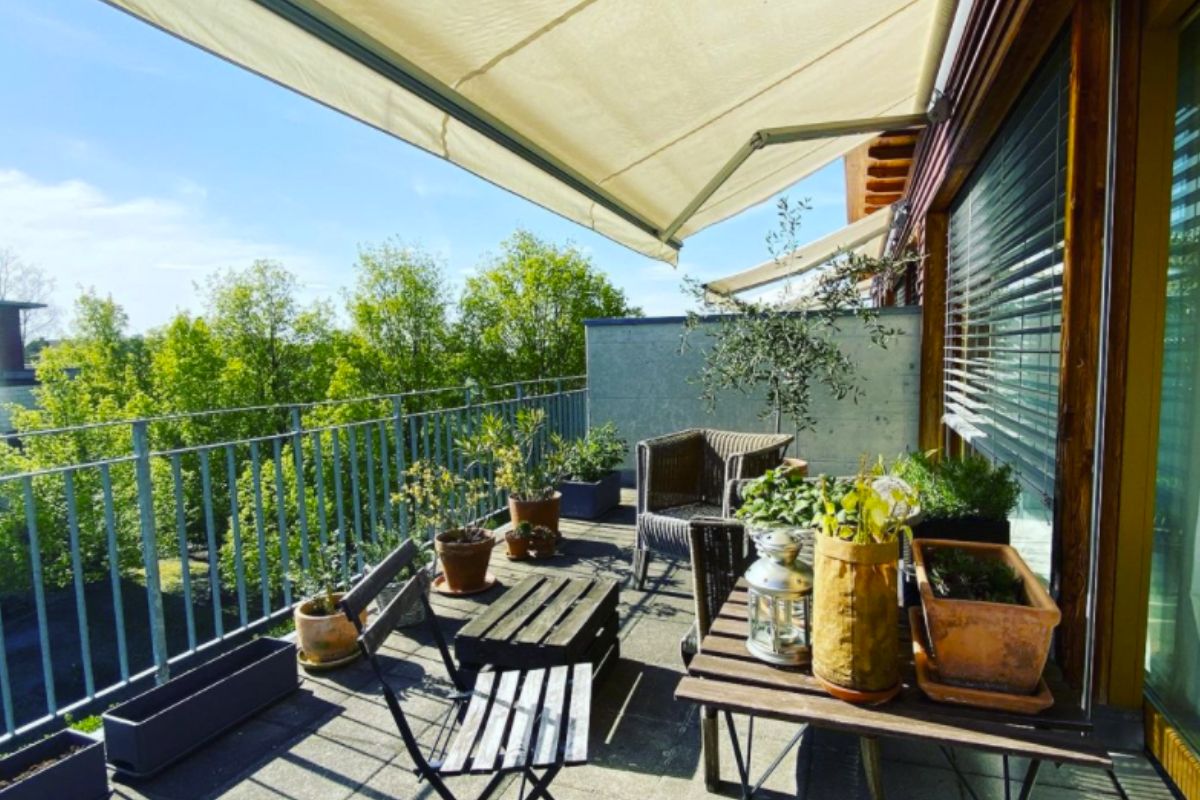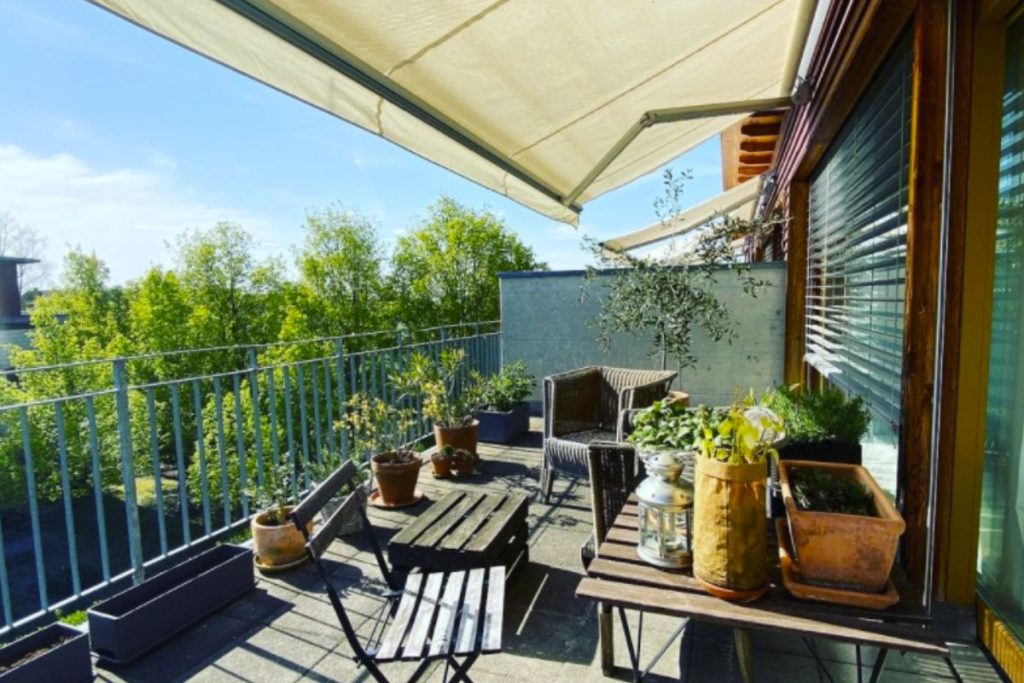 A retractable balcony awning is one of the most obvious choices for balcony shade, and it gives you a ton of flexibility for how and when you want to enjoy your outdoor space. It's ideal for shading your area from the sun and many retractable awnings are made of weatherproof material. This makes them suitable for keeping the area dry, too.
Suitable for: Exposed balconies, porches
Benefits: Protects the balcony from weather but also allows you to get some sun.
The main disadvantage of a retractable awning is that it's one of the most expensive options, which means it might not be the most practical option for renters or those who move frequently. You can find some inexpensive options if you're just looking for a temporary solution, but in the long run you'll want to go for a high quality product. Importantly, you need to make sure the motor will work for a long time.
Another potential disadvantage is that the fabric can look old very quickly. While it's weatherproof, it can develop algae patches if not cared for properly.
You'll have plenty of options when it comes to color and style, meaning it won't be difficult to match your balcony's overall look.
2. Balcony Curtains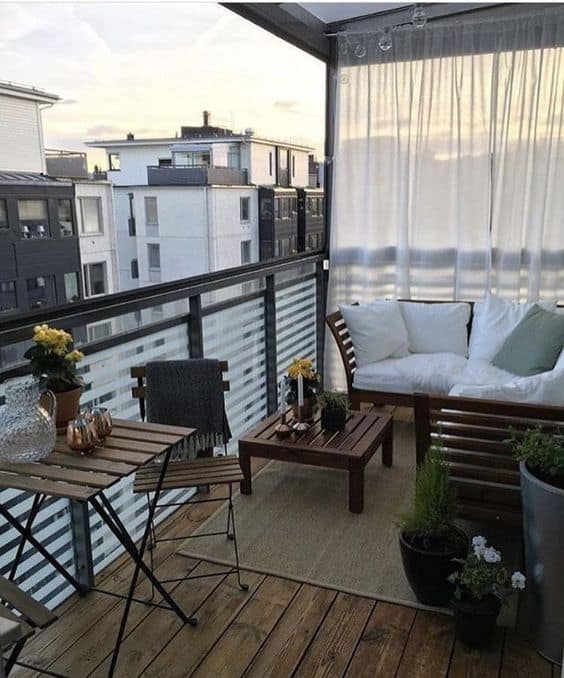 Outdoor weatherproof curtains are ideal for shade and privacy. They're inexpensive, easy to install, and fulfill more than one need as they also provide a great deal of privacy.
Suitable for: Apartment balconies, covered balconies.
Benefits: Offers a great level of privacy. Curtains are cheap and easy to install.
It's not a major issue, but you'll obviously need to install a curtain rail if you want to use curtains. Compared to the assembly of some other types of balcony cover, this really isn't a big deal.
One disadvantage is that they might block out too much light. After all, they're curtains. Even so, it's one of the easiest ways to guarantee privacy in your outdoor space.
Of course, you need to have a covered balcony because you need somewhere to install the rail. And, curtains won't offer any protection from the top.
3. Canvas Sail Shade Awning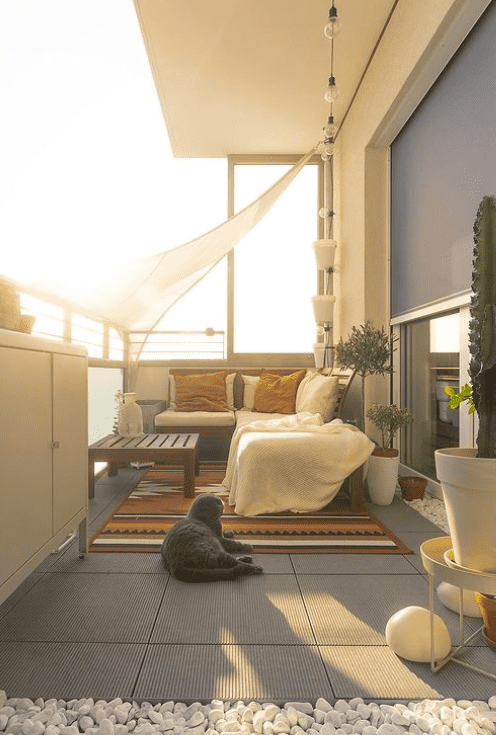 If your main objective is to get some shade, a canvas sail shade might be a good solution for you. It's not usually an expensive option, but it will require a bit more support than a retractable awning.
Suitable for: Porch canopy, balcony shade, exposed balconies
Benefits: Provide great sun protection and look quite attractive.
The major downside of a sail shade is that it needs somewhere to hook on to when open. This means you'll need a pole or support, which may or may not be possible on an upper-story balcony.
If your balcony is in a narrow street, it might even be possible to string the shades between two buildings.
Many sunshades aren't waterproof so be sure to look out for this if you want rain protection.
4. DIY Balcony Canopy
A balcony canopy is a covering – typically a cloth – that is hung up or held up over something. While you might think of a canopy as a pop-up structure that you'd typically see on a beach or in a park, a balcony canopy is a bit different because it can be freestanding or secured to a building / structure on one side and then anchored by a couple of poles attached to a balcony railing.
Suitable for: Exposed balconies or porches, covered balconies
Benefits: Looks great while providing shade and some privacy. Affordable.
A DIY balcony canopy, when done right, can be one of the most aesthetically pleasing additions to any space. It's also one of the most affordable AND renter-friendly options.
5. Woven Balcony Railing Cover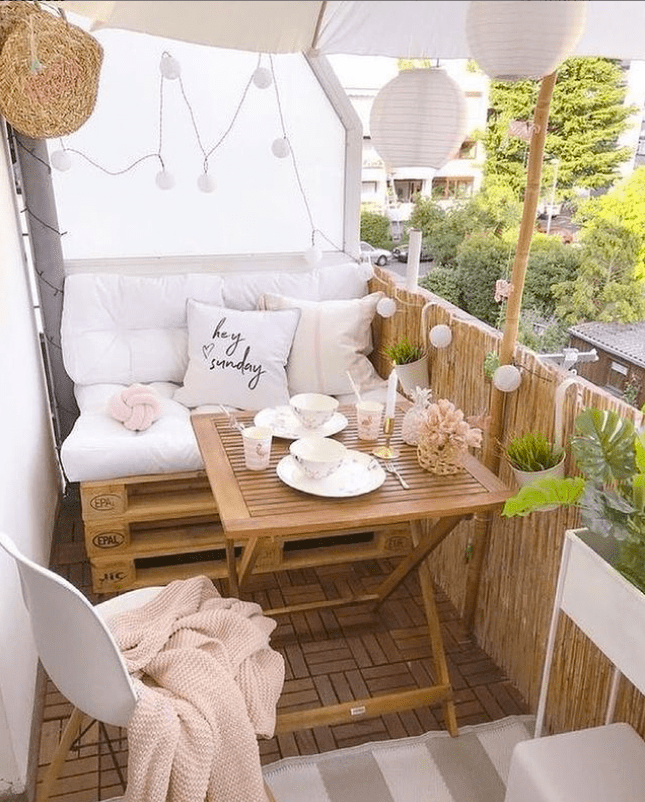 If all you want to do is cover the railings of your balcony, whether for security or privacy, a woven railing cover will be ideal. What's more, there are plenty of options depending on your overall style.
For example, you could buy some jute rugs and tie them to your balcony railings. Alternatively, you could buy some willow canes and weave them into a privacy screen. If you don't want to weave them yourself, pick up some willow or reed fence.
Suitable for: Exposed balconies, covered balconies
Benefits: Provide security and privacy.
Of course, the biggest drawback is that a balcony railing cover won't offer any protection from rain. It'll offer wind protection, though.
It's not a very expensive option depending on which product you buy. The most expensive is a reed fence, but even that's cheaper than some of the awning options listed above.
6. Bermuda Shutters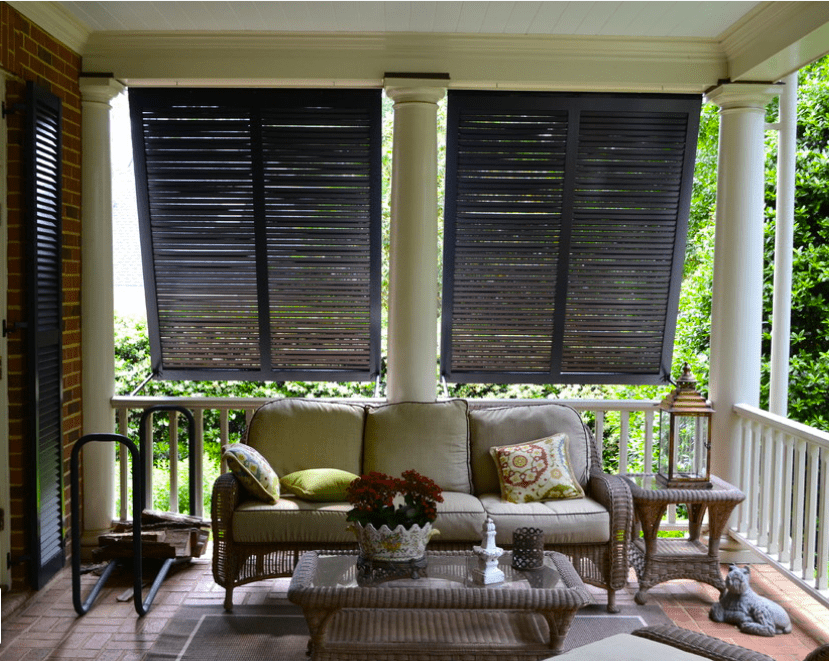 Also known as Bahamas shutters, their original purpose was to protect homes against hurricanes. However, they're now popular as stylish additions to balconies that offer great sun protection.
Of course, they help to block out rain and wind, too. After all, they were designed for use in hurricanes.
Suitable for: Enclosed/covered balconies, covered porch
Benefits: Stylish way to protect your outdoor space from the elements.
The main disadvantage of using any kind of shutter is that you'll need a support structure for them. If your balcony is covered then this shouldn't be too difficult.
While you'll still need a frame, you can easily install it onto the existing building.
These are a pricier option, particularly if you're paying for installation too. Some shutters are retractable, allowing you to let in sun when you want it.
Of course, this option isn't great for an exposed balcony because it doesn't offer any protection from the top.
7. Outdoor Umbrella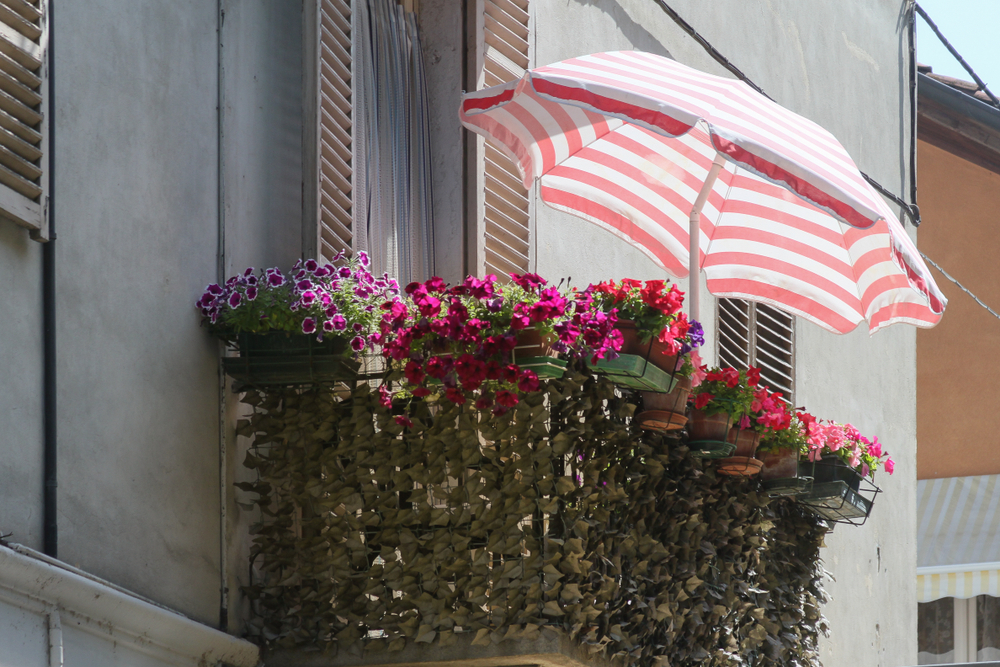 When it comes to shading a balcony, you can't go wrong with an outdoor umbrella. They're simple, affordable, and easy to put up and take down.
Suitable for: All balconies
Benefits: Inexpensive, portable, easy to use.
The main drawback is that you need somewhere to put the base. However, it's easy to fit this under a deckchair, meaning it doesn't need to take up unnecessary space.
You can use an outdoor umbrella to provide a degree of privacy too.
8. Balcony Pergola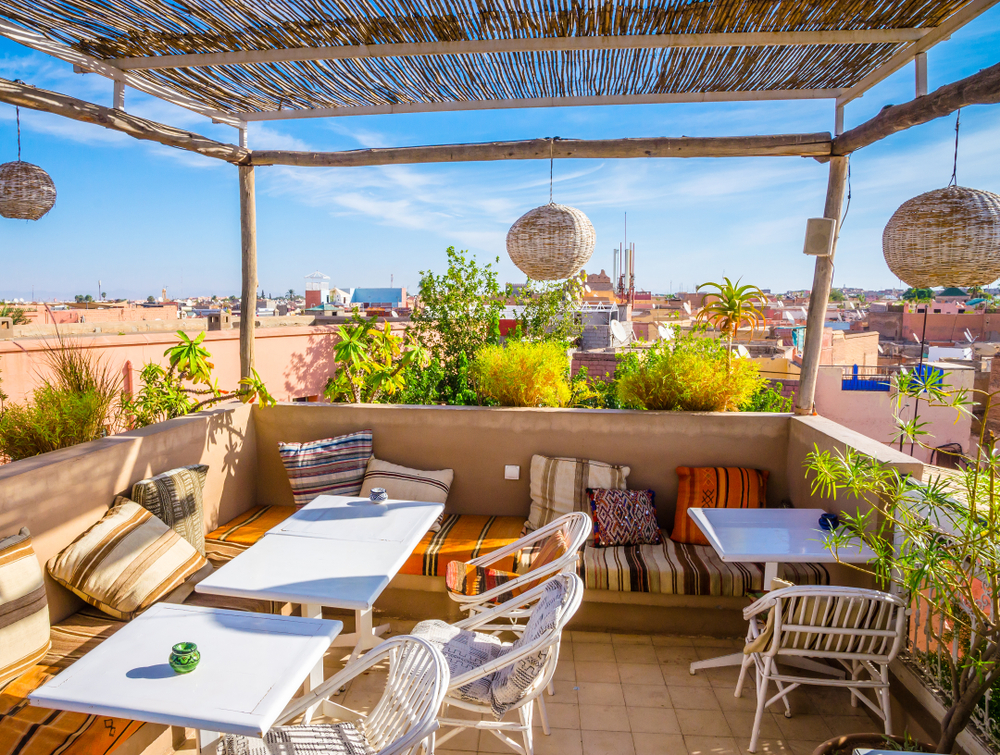 A pergola is a structure that has four open sides. It can be used for decorative purposes, and a canopy cloth can easily be added to the top to provide shelter from the sun or rain. It differs slightly from an awning because it's typically free-standing and not fixed to a wall like an awning is.
Suitable for: Exposed patios, exposed porch
Benefits: Stylish, provides shelter from the sun or rain. Weatherproof.
There are several options for a balcony pergola. You can buy a stylish bamboo pergola and add a canopy for shade or you DIY your own pergola if you're looking for an interesting project to take on.
Pergolas can look amazing when done right, but they are best suited to larger, ground floor patio areas or backyards versus apartment balconies. In the condo world, you'd probably only find these on large terraces. If you like the idea of a pergola, but have an apartment balcony, a DIY canopy is a much better option.
Conclusion
There are a ton of balcony shade options out there, but the best one for you depends on your balcony structure and your needs. Hopefully, these ideas have provided plenty of inspiration as you plan out your space!