Balcony Boss is reader-supported. When you buy through our links, we may earn a small commission at no cost to you. For additional information, please view our policies.
Balcony storage can be tricky. If you have a small balcony, finding multifunctional pieces is a must, as is making use of walls and other spaces.
To give you some inspiration, here are 9 clever apartment balcony storage ideas. We'll look at the pros and cons of each, along with when you might want to avoid certain options.
Getting Started with Balcony Storage
The reason why you'd want balcony storage is obvious: it's somewhere to store things. Specifically, you're probably looking for somewhere to store things outside of your apartment, such as outdoor cushions, gardening equipment, and so on.
Although choosing balcony storage options is easy, there are some things worth considering first. These include:
Renter/HOA Rules
Some HOA regulations ban everything but outdoor seating on a balcony. If this is the case, opt for storage that looks like furniture but has a box built in. You might also have restrictions on the type of furniture you can put outside, so always check your renter agreement or HOA rules first.
Weatherproofing
When it comes to a balcony, waterproof storage is almost always a must. It's less important on covered balconies, but you should always opt for weather resistant options when you can.
While your balcony might not get rained on a lot, a non-waterproof storage box could get wet inside. This could damage whatever you're storing in it, particularly something like outdoor cushions.
Of course, this isn't always practical. Be sure to consider your local climate and the type of weather you deal with on your balcony before making a selection.
Functionality
When is storage not just storage? When it's built into something else, of course! For apartment balcony storage ideas, it's worth considering multifunctional pieces to make the best use of space.
For example, you could install crates under a bench or buy a bench with a storage box already included.
It's not always necessary, but it makes sense on smaller apartment balconies. A storage box can be quite big, so it's worth getting it to do something else.
9 Apartment Balcony Storage Ideas
Below are some of the best balcony storage ideas ranging from readymade to DIY options. Hopefully, there'll be something to suit your tastes and needs.
1. Outdoor Storage Box
Let's start with the obvious: an outdoor storage box. There are almost unlimited options, meaning it shouldn't be difficult for you to find one that's suitable for your balcony.
Almost all of them are waterproof, and you can choose from numerous materials. That said, most are plastic or resin. Also, you can get ones that lock, which is ideal for ground-floor balconies.
Providing the box is sturdy enough, you could throw some cushions on top and use it as a bench, too.
The main downsides are cost and size. A good outdoor storage box can be very pricey, which is a bigger issue if you can't use it for anything else. Plus, a large storage box can take up lots of room, and this isn't ideal on a compact balcony.
Pros
Readymade storage solution.
Almost always waterproof.
Plenty of style and material options.
Cons
Often quite expensive.
Not particularly multifunctional.
2. DIY Storage seating
In a different article, we go through the steps of building a pallet couch. You could adapt this design slightly by putting the bottom pallet on legs and using the space for storage.
Alternatively, you could follow this video for how to build a DIY storage bench.
The benefit of building your own is that you can tailor it to the correct size for your balcony. But, it can become expensive depending on the materials you use (and whether you own the right tools).
Granted, it can be a fun project, but it might be a bit over the top for balcony storage.
Pros
Can be a good DIY project.
Easy to adjust to your size requirements.
Provides seating and storage.
Cons
Can be an expensive option.
3. Ladder Storage Unit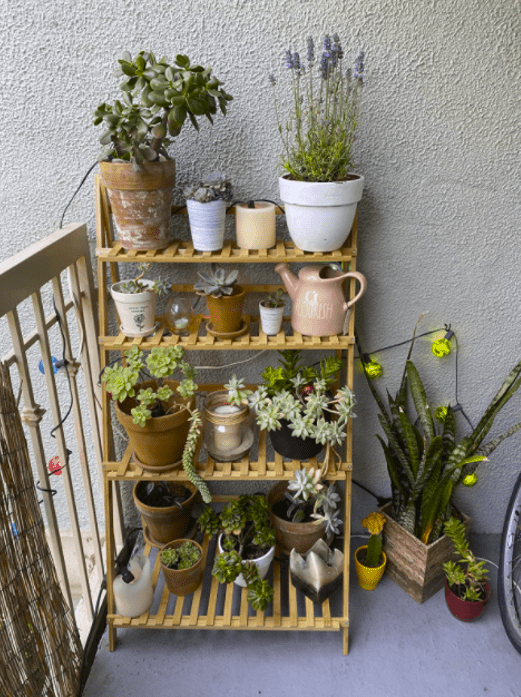 Ladder shelves are a quick and easy way to add balcony storage options. Of course, you won't necessarily use them for storing cushions, but they're a good way of storing plants.
Having vertical plant storage is extra useful for something like a balcony herb garden, as you'll be working with multiple small pots. While you could buy a shelving unit, you could also buy an old stepladder and upcycle it.
The main downside is that these shelves aren't practical for much else. If you need to store cushions, blankets, or other furnishings, you'll want a different option.
Pros
Great for storing lots of small pots.
Inexpensive.
Waterproof balcony storage.
Cons
Not practical for much more than plants.
4. Milk Crates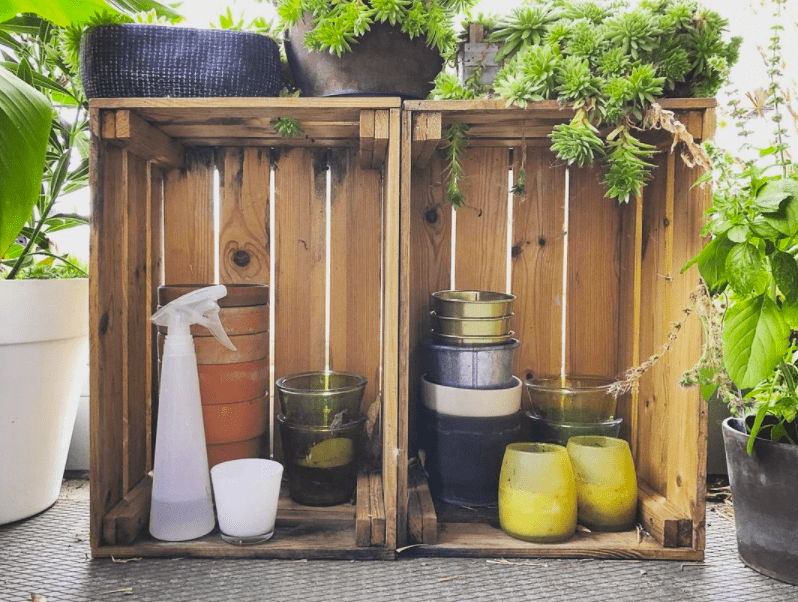 Wood milk crates are a surprisingly useful balcony storage option. You could slide them under a bench, stack them in the corner, or mount them on the wall as shelves.
Although not necessarily suitable as balcony waterproof storage, they'd be ideal for storing kids' toys or gardening equipment.
You can buy wood milk crates online, but a cheaper option would be to visit a flea market and buy used ones. It'll add rustic appeal, and they're super easy to restore with some sandpaper and wood stain.
Pros
Milk crates are inexpensive and easy to find.
Different balcony storage options.
Useful for toys or gardening equipment.
Cons
5. Readymade Storage Bench
If you like the idea of a storage bench but don't want to build one, just buy one instead. They're great as apartment balcony storage ideas because they're multifunctional.
Better yet, a storage bench should meet most HOA rules because they're outdoor furniture. Resin benches come in numerous colors, meaning you can match them to your overall style.
Also, most work as waterproof balcony storage, meaning you can keep cushions and other fabric things inside them. Failing that, they're ideal for kids' toys, too.
Pros
Easy to set up.
Multifunctional.
Suitable as a balcony waterproof storage option.
Cons
6. Upcycling Old Furniture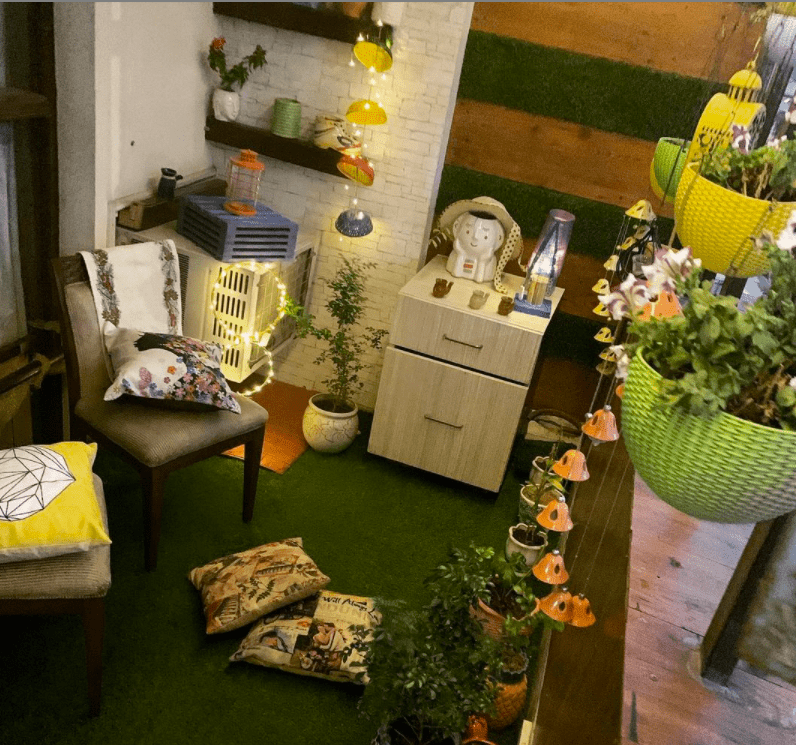 If you prefer an old-school twist to your balcony storage, why not upcycle some old indoor furniture? Something like a bedroom dresser or cabinet can look great outside.
Obviously, it gives you complete flexibility over what you store in there. The benefit of having several draws is it gives you lots of room. But, you must balance this against the unit having no other function.
As part of your upcycling project, you'll need to waterproof the unit using either outdoor paint or varnish. Also, some HOAs specifically ban anything but outdoor furniture on balconies, so check that before you head off to the thrift store.
Pros
Great way of adding interest to your balcony.
Plenty of storage space.
Fun (and easy) DIY project.
Cons
Some HOAs ban indoor furniture outdoors.
Won't be completely waterproof.
7. Railing Shelf
While a railing shelf isn't on the same level of balcony storage as a storage box, it's ideal for making use of empty space.
We've previously written extensive DIY guides on static and folding railing shelves, so check that out for more information.
Pros
Great for making use of empty space.
Saves you from having a coffee table.
Inexpensive to build.
Cons
Not massively practical as balcony storage.
8. Wall Storage
Shelves are the most obvious kind of wall storage, but you can get a bit more creative. Walls are ideal for apartment balcony storage ideas, as it saves on valuable floor space.
Some options include:
Hanging milk crates
Clothes rail (for hanging plants)
Hanging old wood pallets as shelves
Essentially, the options are endless. You can be as creative as you want and match your storage units to your overall balcony style.
This kind of storage is mostly suited to plants, as you'll hardly be storing cushions and blankets on a shelf (although you could). While the shelves themselves are waterproof balcony storage, the things you put on them could get wet.
Pros
Endless options.
Wall storage saves floor space.
Great for creative projects.
Cons
Not as practical as some other storage options.
9. Storage Table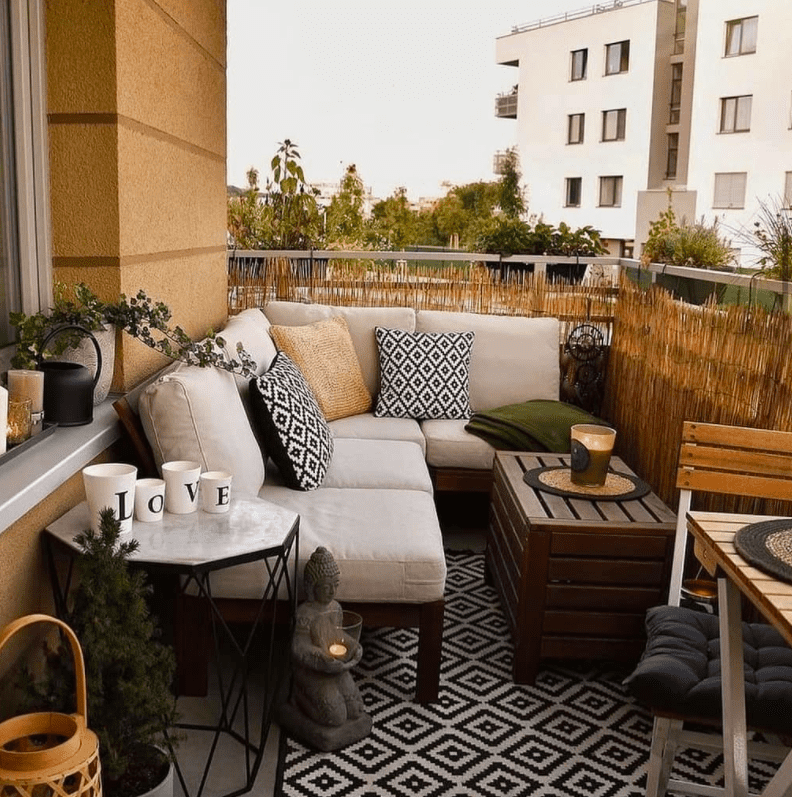 If you want a coffee table for your balcony, why not double it up as storage, too? You could look for something like the storage benches above but a table option. Alternatively, you could buy something like a potting cabinet, or simply a table with a shelf underneath.
Much like the storage bench, tables are ideal for a balcony because they're multifunctional. Storage tables are good as balcony waterproof storage, too, although a table with a shelf won't be.
Pros
Plenty of options.
Multifunctional.
Waterproof.
Cons
Final Thoughts on Balcony Storage
Hopefully, you've now got some inspiration for apartment balcony storage ideas. Remember, if you're short on space, multifunctional pieces are the most logical options.
That said, DIY projects can be fun and are often a cheaper way to solve a problem. Whatever you choose, make sure your balcony storage meets any rules and, more importantly, actually solves your storage needs.