Balcony Boss is reader-supported. When you buy through our links, we may earn a small commission at no cost to you. For additional information, please view our policies.
Coming up with affordable balcony decorating ideas isn't too difficult if you're willing to be crafty. With a bit of planning (and maybe some haggling), you should be able to decorate a balcony for less than $100.
To get you inspired, here are some tips and ideas on how to decorate a balcony on a budget. Where possible, we've included rough price guidelines, so you should have a good idea of how much each will cost before you jump into it.
Balcony Decorating Ideas on a Budget
1. Painting Walls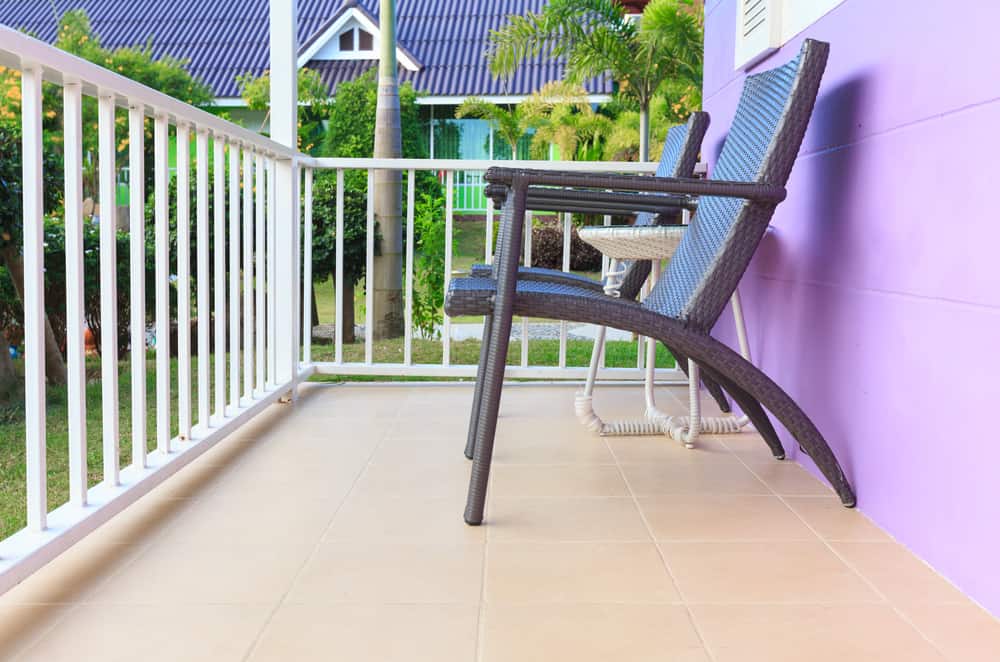 Painting (or repainting) the walls of your balcony is one of the easiest ways to brighten up your outdoor space. Of course, painting can get pricey depending on what you use, but there are ways around this.
First, choose white because it's the least expensive color usually. For example, this 1-gallon tube of limewash from Home Depot is $53. You could add your own color if you want something more interesting.
Alternatively, gather free paint samples and create a mural of some kind. If you're patient, this could cost you nothing.
Price estimate: Anywhere up to $100 depending on the paint you use.
2. String Lights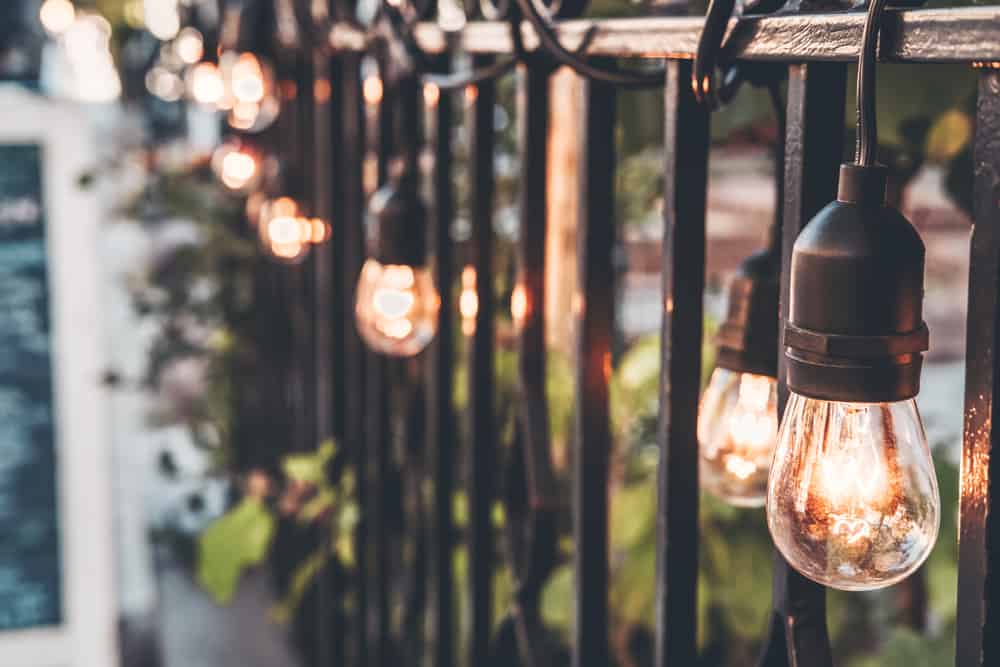 Lighting might not be your first thought for how to decorate a balcony on a budget. However, careful placement can create dynamic light and shade, which can drastically change how you see a space.
String lights don't have to be expensive. It'll be worth spending a bit more on them to ensure they're durable and waterproof, though. A mid-range set (such as these) should last a good while.
You can check out our article for some inspiration on how to use lighting on a balcony.
Price estimate: $50-60 for up to 150ft of string lights.
3. Low Budget Apartment Balcony Privacy Screen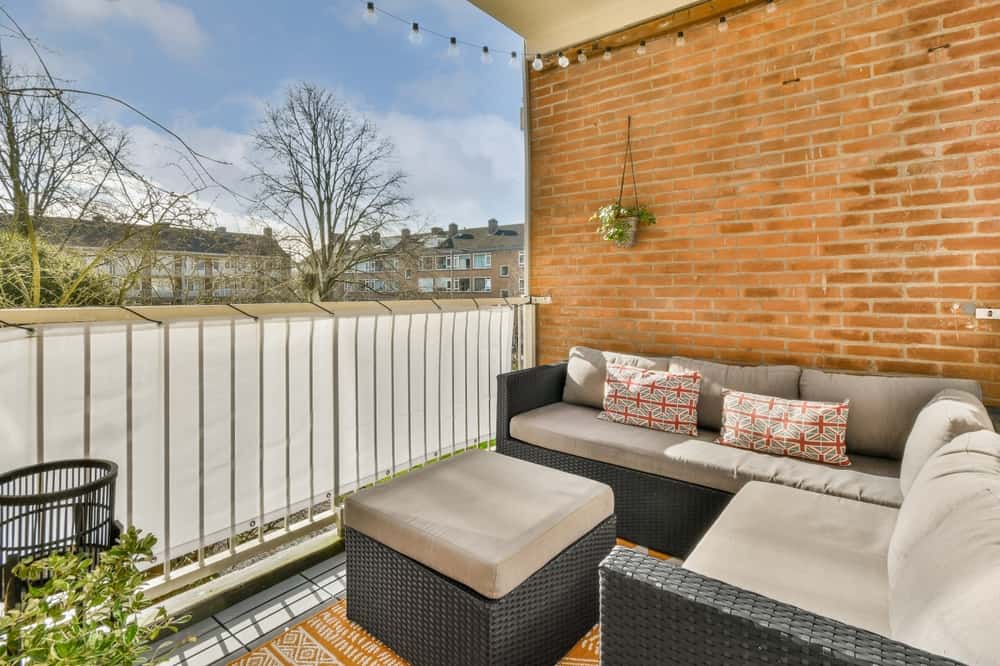 A privacy screen isn't a decorating idea per se, but it can certainly change the look of a space. A low budget apartment balcony privacy screen can divide shared areas, block a neighbor's view, or act as a trellis for plants.
Check out our articles on low-cost privacy screens and how to make a balcony private for plenty of ideas.
Price estimate: Less than $100 depending on what materials you use.
4. Soft Furnishings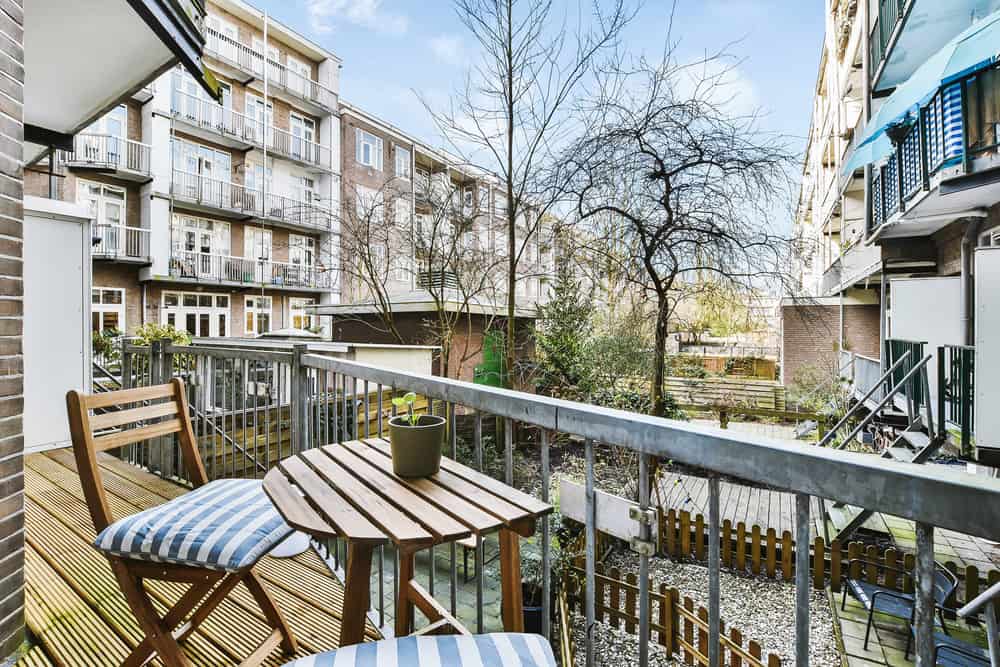 This is quite a broad category, but it's an easy option for how to decorate a balcony on a budget. Adding or changing soft furnishings, such as throws and cushions, can make a big impact on your balcony's appearance.
For example, adding bright throws to a sofa and then using contrasting colors in cushions immediately makes a space seem completely different. You can also throw in patterns and textures for more interest.
Waterproof outdoor cushions (such as these) are more expensive than indoor cushions, but you can save money but sewing your own. Alternatively, buy them in end-of-summer sales, as they'll often be pretty cheap.
Price estimate: $40-100 depending on pattern, quality, and size.
5. Spray Paint Furniture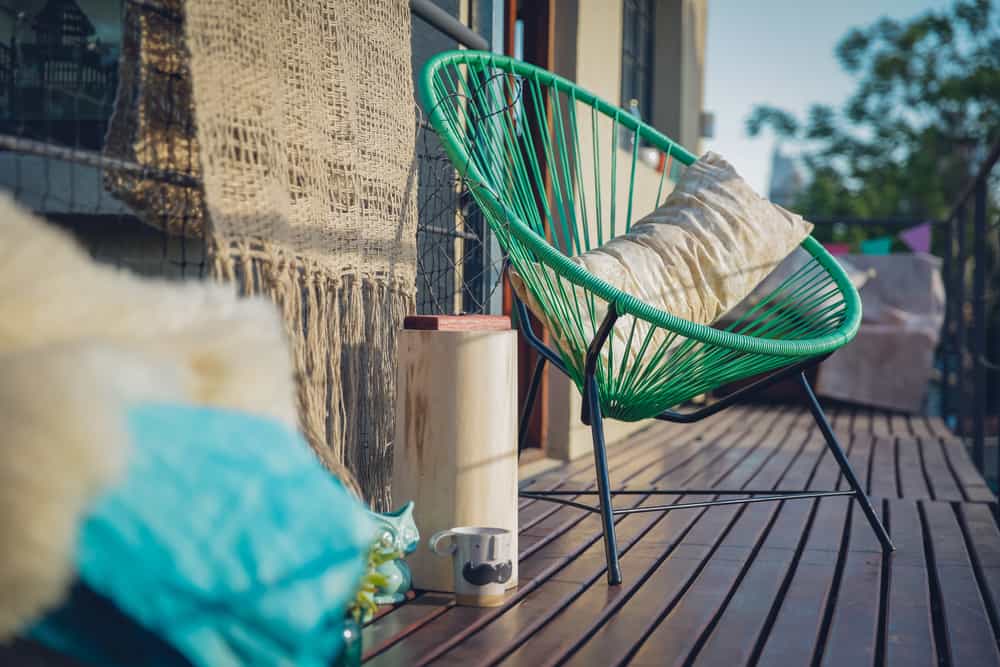 Another of the best balcony decorating ideas on a budget is to paint your existing furniture. Of course, don't try to paint fabric, but metal, wood and plastic are all fair game.
Pretty much any spray paint should do, but you might need to prime plastic so the paint adheres properly. However, primer (such as this) costs about the same as spray paint. For wood, you'll be best using proper exterior wood paint, which is a bit more expensive.
Price estimate: As little as $5 a can of spray paint, or $25 for a tin of wood paint.
6. Macrame Hanging Chair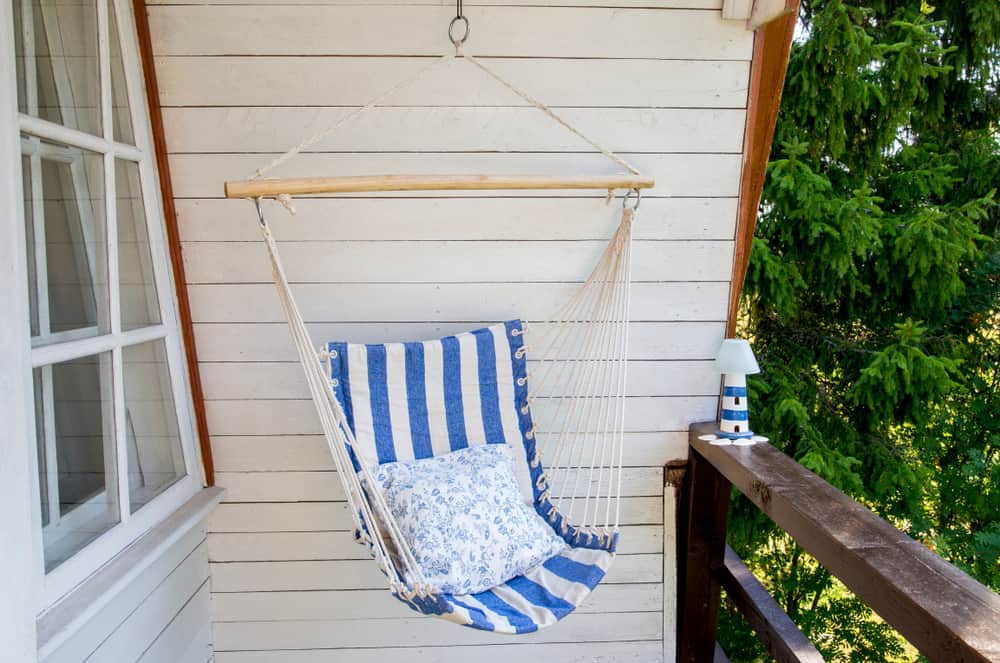 Whether you have seating on your balcony or not, a macrame hanging chair can be a good way of decorating on a budget. They can cost as little as $50, and will usually come with the installation equipment.
Of course, this might not be possible for renters because you'll need to drill a hole. For a bit more money, you can buy a stand so it's freestanding.
Price estimate: $50-100 depending on the style and whether you need a stand.
7. DIY Furniture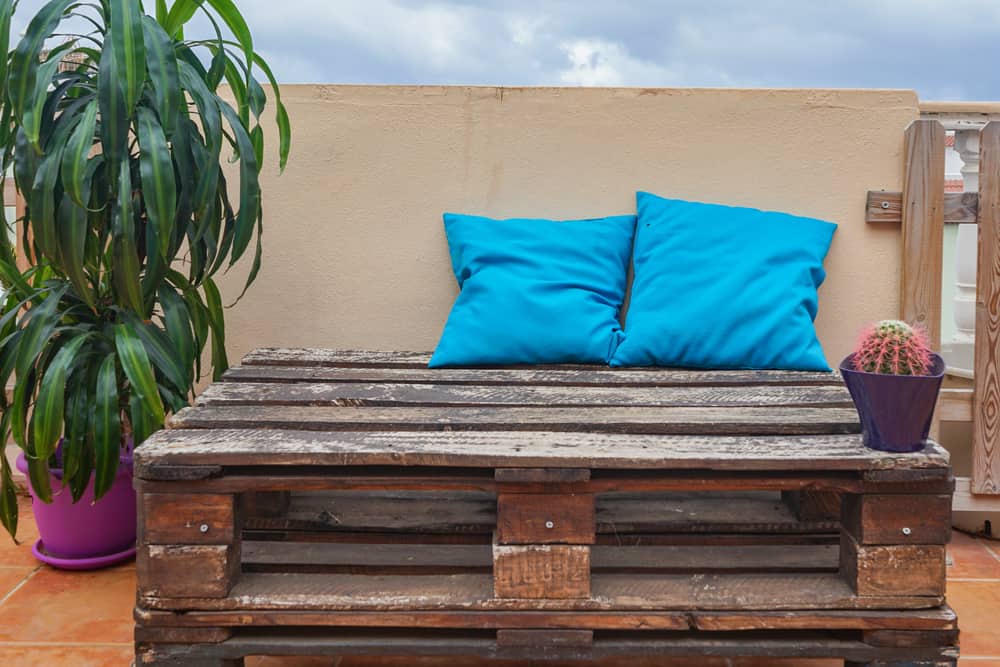 If you're looking for how to decorate a balcony on a budget and you're starting from scratch, DIY furniture is a good option. Rather than spending a few hundred dollars on an outdoor seating set, you could make your own for almost nothing.
One of the best materials to use is shipping pallets. They're a great source of lumber, and you could get them for free if you look in the right places.
Another option is to upcycle old furniture from flea markets or scrap yards. With a fresh coat of paint, even the scrappiest piece can look brand new. Check out our article on DIY furniture ideas for more inspiration.
Price estimate: Depends on what you're building, but it could be free.
8. Floor Tiles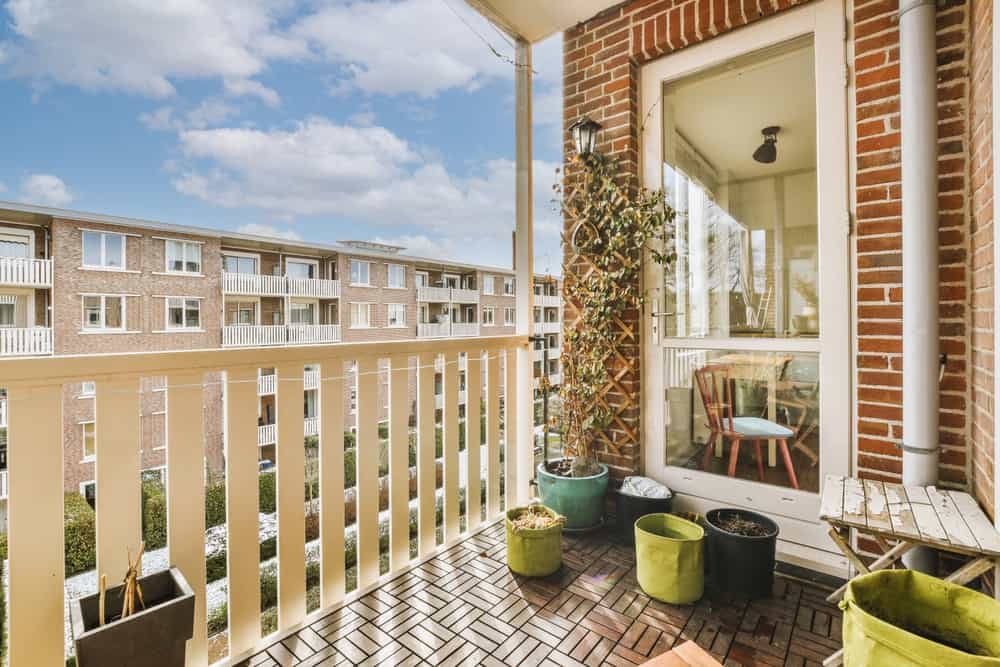 Floor tiles might not be the cheapest of our balcony decorating ideas on a budget, but they can make a massive difference. For example, if your balcony floor is concrete, you can lay some interlocking tiles on top to change its look.
A good option is wood tiles, which can cover an area of up to 120" depending on how many are in the pack. Better yet, they require minimal installation, so should be fine for renters.
Price estimate: Less than $100, depending on total area.
9. Rugs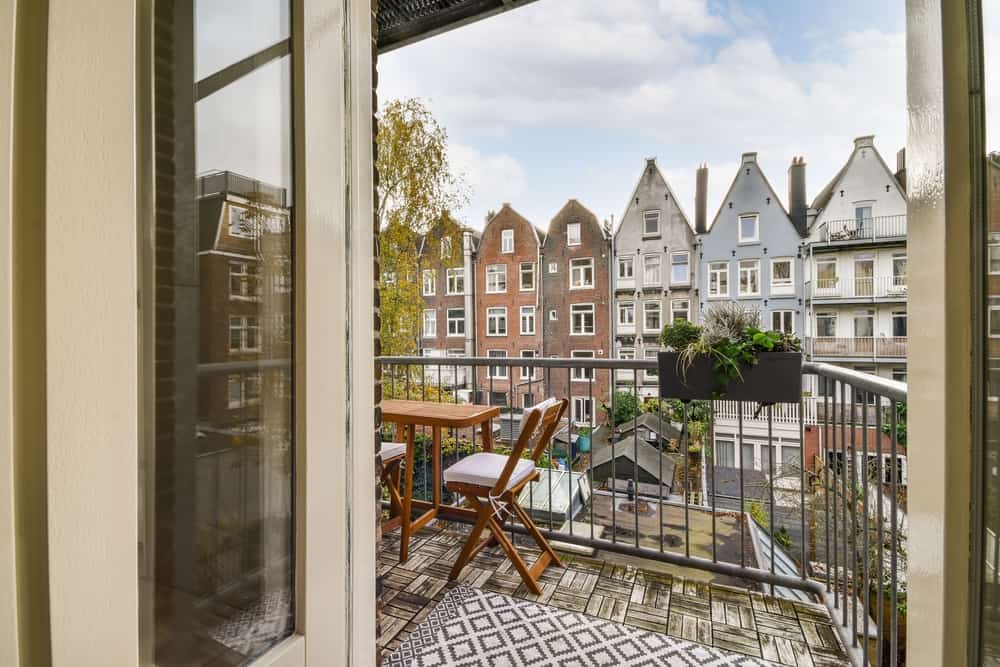 Alternatively, if you don't want to completely cover the floor, a rug can be a good option. Be aware, though, that a high-quality outdoor rug can be pretty pricey. If you have a covered balcony, you could use an interior rug, which should give you more flexibility on price.
For example, this outdoor rug that's 4'3" x 5'3" is $119. However, you could buy a larger indoor rug for around $70. An alternative is to buy small jute rugs (such as this), which you can move around your balcony depending on your needs.
Price estimate: Depends on the style, size, and material you choose.
10. DIY Planters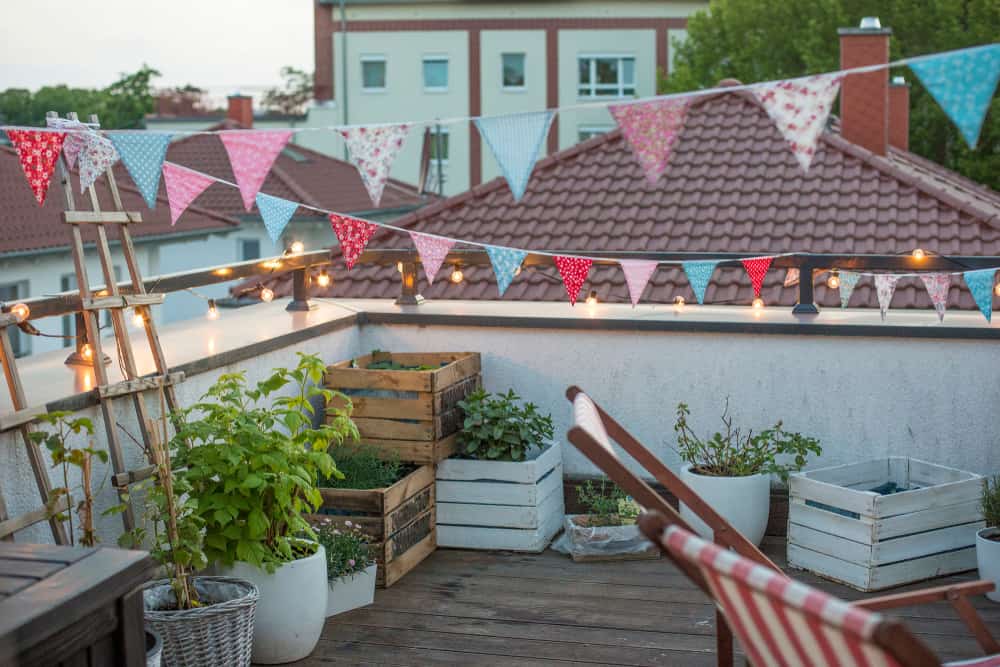 Planters are ideal for decorating a balcony on a budget. You can use them to add color, interest and texture, and that's before you even put any plants in them!
Pretty much anything can be a planter, but some good budget-friendly options include:
A stack of tires
Old buckets
Kitchen equipment
Old crates
Shoes
Breeze blocks
You could even go one step further and find a step ladder for stacking smaller planters. The most you'll really have to do for DIY planters is paint them and perhaps drill some drainage holes in the bottom.
Price estimate: Free if you're open to using pretty much anything.
11. Wall Hangings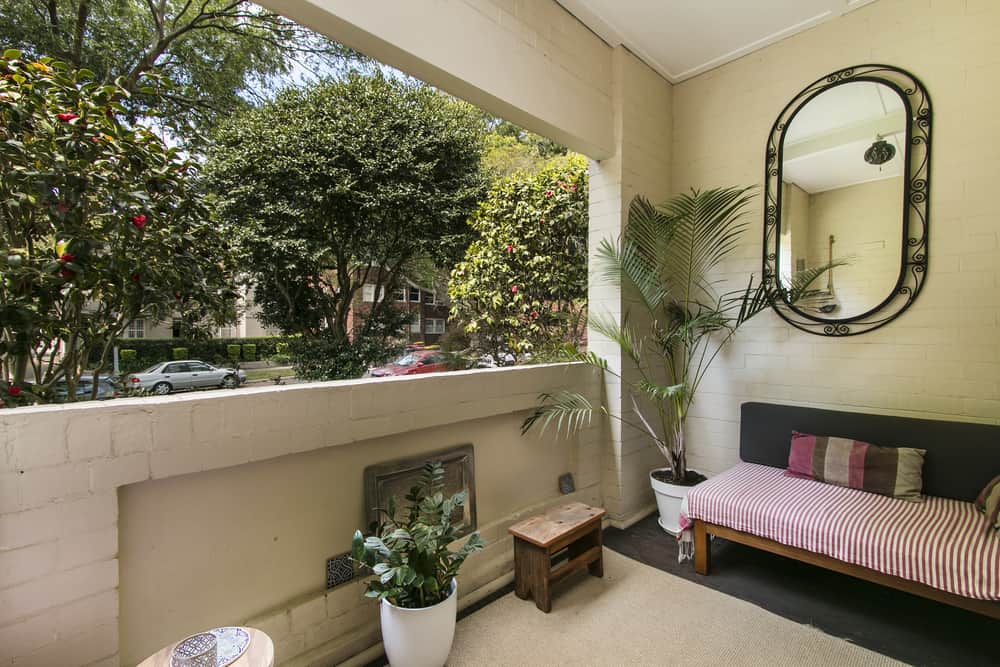 Another option for how to decorate a balcony on a budget is to cover the walls with hangings. This is suitable if you're not allowed to paint them. Again, you could use anything you want, but old blankets work well, as would thrifted curtains or a repurposed indoor mirror. Depending on the materials you use, hangings are ideal for adding texture and color to an otherwise boring wall.
To hang them, use adhesive hooks, nails, or an adhesive shower curtain rail holder. All these are easy to install and should hold pretty much anything you want to hang on the wall.
Price estimate: Less than $50 depending on where you get your materials.
Final Thoughts on Budget Balcony Décor
Hopefully, these options for how to decorate a balcony on a budget have gotten you inspired. As you can see, there's no need to spend loads of money to make your balcony look great, so have fun and get crafty!