Balcony Boss is reader-supported. When you buy through our links, we may earn a small commission at no cost to you. For additional information, please view our policies.
Many apartments these days – particularly ones in large complexes – come with balconies, which is great! After all, who doesn't want a bit of outdoor space?
The downside with these apartments, however, is that the balconies tend to be very small and skew toward the tiny side and are often long and narrow. This makes furnishing and decorating these spaces a challenge.
The good news is that there are some very clever and stylish ways to decorate a tiny balcony. Here are 8 different tips for decorating and furnishing these types of spaces.
1. (DO) Look Up
One of the best ways to effectively and efficiently design a tiny balcony is to think vertically versus horizontally.
When planning out your décor, don't focus so much on filling up your floor space and pay more attention to walls and railings – basically anything that will lift your eyes up and elongate your room. Vertical thinking doesn't need to be limited to thoughts on décor, either – you can also use this approach when it comes to storing bulky items such as bicycles.  
2. Keep the floor clear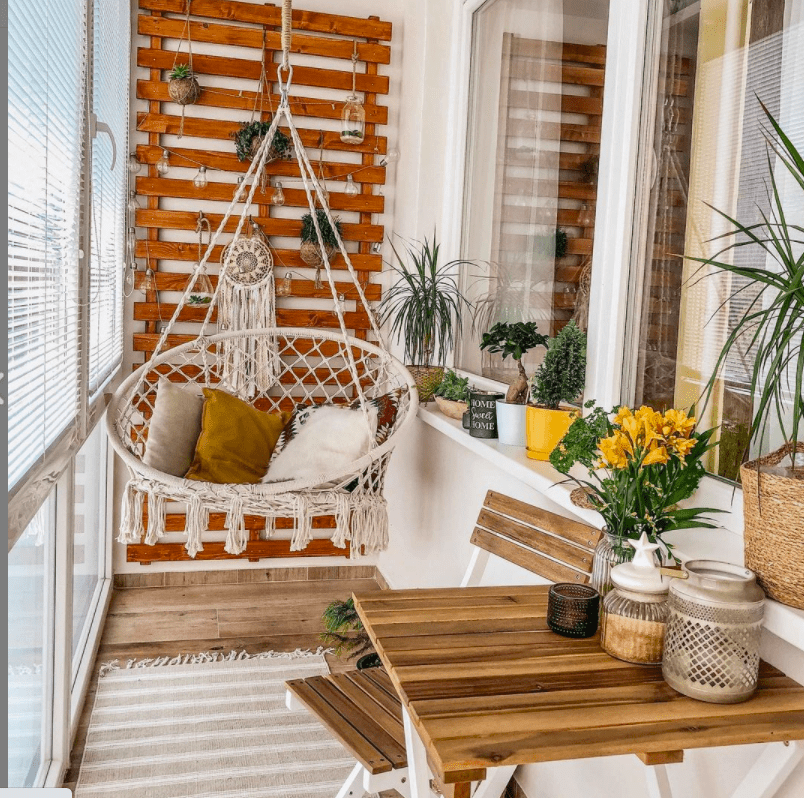 Have you ever picked up clothes off a bedroom floor and thought about how much bigger your room looks afterward? Well, the same type of impact can be felt in an outdoor space. Floor space is at a premium on a tiny balcony, and clear floors will make your space look and feel bigger.
Think about clearing the floor via your seating space. Utilize a hanging chair from the ceiling or from a stand, freeing up even more space (and even allowing for storage space underneath, if needed).
3. Use Folding furniture
Portable and folding furniture items are perfect for those who want the flexibility to quickly change up how they use their balcony. It's probably a safe bet to assume that you aren't going to be using your outdoor table and chairs 24/7, so having a table and chairs that can be stored away easily allows you to quickly convert your space as needed.
4. Don't be afraid to seat for one
We sometimes get stuck on the idea that every space needs permanent seating for at least two people, but there's nothing wrong with creating a super comfy space for one. After all, how often do you plan on entertaining or having more than one person on your tiny balcony?
Furniture items like egg chairs are increasingly popular these days and are a great way to create a super cozy outdoor space to chill out in. When you do have people over, it's easy to then grab a floor cushion or ottoman to make the space work for multiple people.
5. Don't over clutter
Less is always more when it comes to decorating a tiny balcony. Avoid crowding your space with too much furniture or unnecessary decorative items.
6. Use a Mirror
Whether you're inside or outside, mirrors tend to make spaces feel bigger than they are and add the illusion of more square footage. The same can be true with a balcony. Think about using a cute mirror as a décor piece and a way to make your balcony feel more spacious.
7. Think multi-functional
Who doesn't love a multi-purpose furniture item? A seating bench can also serve as storage. So can a shelf. A bar table can also serve as a desk. There are lots of ways that you can double up the functionality of your furniture and décor and when space is already limited, this can be a godsend.
8. Custom or DIY furniture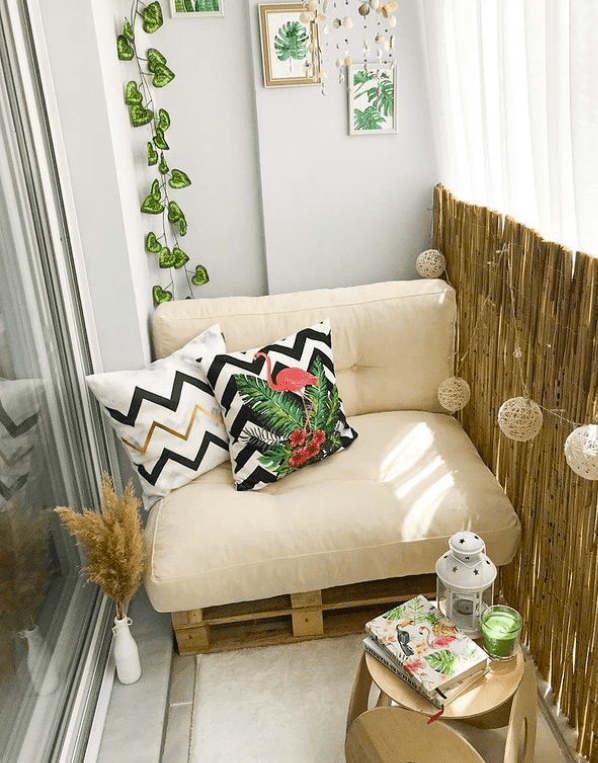 When you're working with a tiny balcony space, you want to make the most out of every square inch and not be left with any awkward gaps, particularly when it comes to your seating area. You also want your furniture to look like it belongs there. This is where pallet sofas and other DIY furniture items make for excellent tiny balcony furniture because they can be customized exactly for your space, from the look to the size to the functionality.
Conclusion
While we'd all like as big of an outdoor space as possible, having a tiny narrow balcony isn't the end of the world. As long as you follow the narrow balcony design tips and are open minded on your balcony's possibilities, there are a ton of ways to create a comfortable, cozy and functional space.