Balcony Boss is reader-supported. When you buy through our links, we may earn a small commission at no cost to you. For additional information, please view our policies.
Using a balcony in winter often means stocking up on blankets, cushions, and anything else cozy. While it's easy to grab whatever you have to hand, why not curate a specific look for your winter balcony?
In this article, we'll go over some winter balcony décor ideas to get you inspired. After all, colder weather doesn't mean you must stop using your outdoor space entirely.
Winter Balcony Décor
1. Faux fur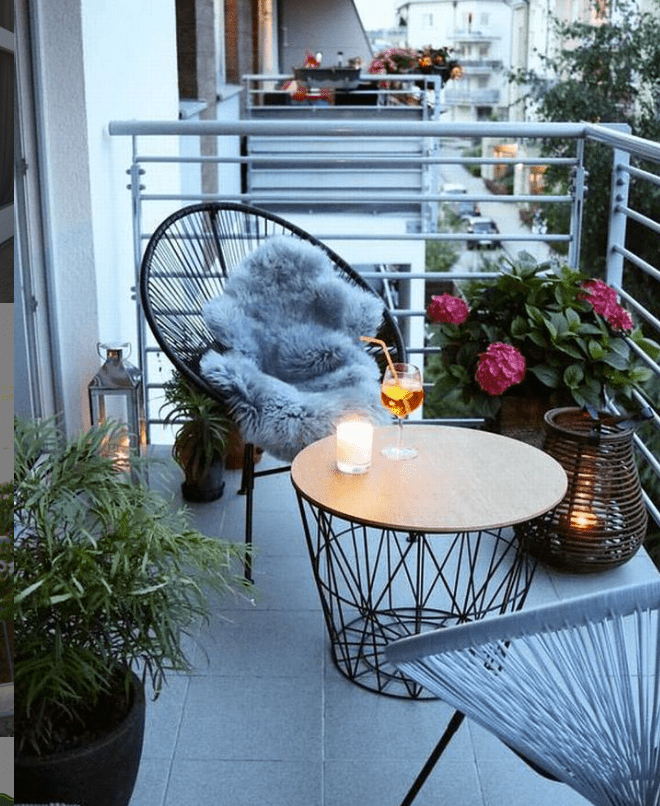 Nothing says winter and cold weather quite like faux fur. Whether it's a rug, seat cover, or blanket, faux fur is perfect for creating the kind of coziness you need outdoors in the winter.
Aside from the benefits to animals, faux fur is much better for use outside on a balcony. Real fur products can mark and stain and are more difficult to clean. Faux fur, however, can usually be machine washed with very little impact on its quality.
2. Christmas colors
With the holiday season fast approaching, why not theme your winter balcony décor around Christmas colors? This doesn't specifically mean using Christmas decorations but rather buying things in greens, reds and gold.
Using dark and rich colors creates a feeling of warmth that contrasts against the stark grayness of winter. While it can be tempting to create a Scandi-style winter balcony in neutral colors, Christmas colors are much better for making your outdoor space feel more inviting.
3. Hanging wreaths and garlands
Similarly, wreaths don't just need to be for the holidays. They're quite common winter decorations and are useful for adding greenery when your plants might be dormant.
Plus, synthetic holly wreaths are easy to store year-round without any issue. Of course, if you're feeling creative, you can make your own with some gardener's wire and greenery. Just make sure you're allowed to pick it!
You can get a similar effect by hanging winter garlands around the ceiling. Some have LEDs built in, so also provide lighting.
4. Stock up on blankets
If you plan to sit outside on your balcony during the winter, you'll need to keep warm. Blankets are ideal for adding seasonal themes to your winter balcony décor, particularly if you're clever about your color and pattern choices.
Sherpa fleece blankets are always a good choice because they're super cozy. Of course, you could buy more faux fur, either as blankets or sheepskins. Both are great at keeping you warm while you enjoy a hot chocolate!
5. Choosing the right lighting
Longer nights mean more lighting if you want to continue using your balcony in winter. While you can just set up any old lighting, you might as well continue the winter theme for your balcony décor.
So, what do you choose? Well, string lights are an obvious suggestion. They provide soft, warm lighting that's ideal for making a balcony feel more inviting. Any set of outdoor string lights will work fine, but you should choose a set based on your overall style.
Candles and lanterns are perfect for cozy winter vibes, too. You can get battery-powered versions of each, meaning you don't need to worry about having open flames next to all those blankets you'll have sat around.
LED candles might seem a bit rubbish, but high-quality ones can almost perfectly replicate the flicker of a real candle.
6. Getting the right plants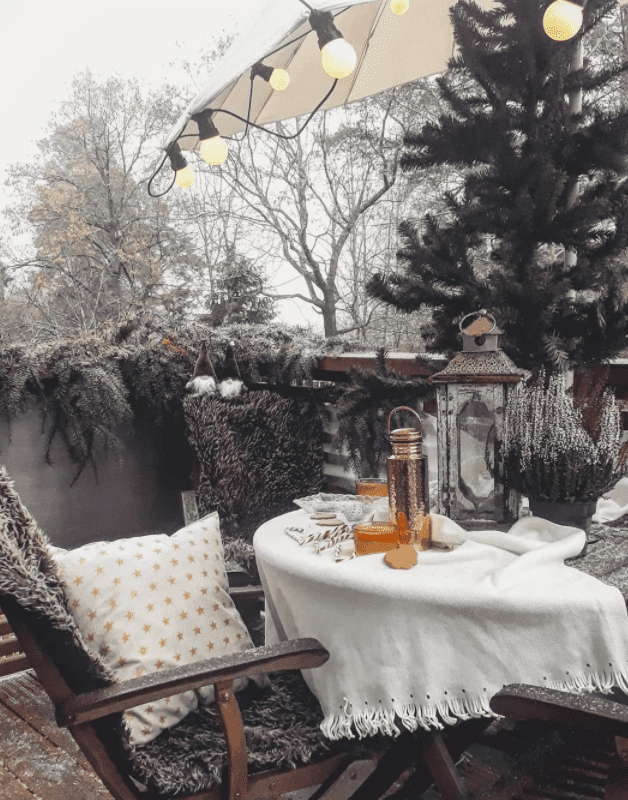 Outdoor balcony winter plants should ideally be evergreen, although you might have some options for winter flowering plants, too.
Fir trees are a good start, as you could buy a small potted one and use it as an outdoor Christmas tree. If you don't want to own one all year round, some companies rent them for the holiday season.
Heather is a good choice for a winter garden on your balcony, as it's suited to Alpine conditions. Ivy is another good option, although you can just as easily buy fake ivy and achieve the same results.
Adding outdoor balcony winter plants is about providing color and contrast along with texture. A lot of potted plants die off in the fall, making it an ideal time to switch over to some winter plants.
But you can make some types stretch into the winter. For example, pansies and violas, if cared for properly, can last much longer than they're meant to. When potted in railing planters, they can add a welcome pop of color to an otherwise drab season.
7. Bring out the neutrals
In direct contrast to using Christmas colors, why not embrace the starkness of winter and choose neutrals for your accessories? Neutrals are a much easier palette to work with because you don't have to worry about clashing or an area feeling too busy.
Plus, it gives you more chances to play with texture. For example, along with a sheepskin rug, you could include woven cushions, rattan furniture, and bamboo decorations. It all works within the same color palette and will give your winter balcony décor a coherent theme.
Of course, neutrals work all year round, but in winter they work well alongside gray skies and snow. After all, there's a reason why Scandinavian design loves them so much!
8. Hang curtains for warmth
If you don't already have them, curtains are one of the best winter balcony décor ideas. Hanging them around your balcony entrance will help trap heat and make things feel much cozier.
Granted, you won't have much of a view, but you might not be losing much if it's dark anyway.
For winter curtains, you'll want to choose something thick and insulated. However, these will be heavier, so be careful about how you hang them.
We've previously written a full guide on balcony curtains, so check that out for more information.
Conclusion
Hopefully, this article has given you some winter balcony décor ideas. If you plan to continue using your balcony in winter, you might as well decorate it to suit the season.
After all, is there anything better than being under a warm blanket with a hot drink on a cold day? No, didn't think so.