Balcony Boss is reader-supported. When you buy through our links, we may earn a small commission at no cost to you. For additional information, please view our policies.
A cinder block bench is a perfect seating option if you want something quick and easy. Most designs don't require tools to build, and the inexpensive materials make them ideal for people on a budget.
Of course, the most important thing is to find a design that matches your needs. So, here are 8 cinder block bench ideas to suit all spaces.
Why Choose a Cinder Block Bench?
Simply put, a cinder block bench is a bench made from cinder blocks. To make a bench, you use the cinder blocks for the supports and then add lumber for the actual seat.
Their main benefit is that they're easy to make. Some designs involve stacking cinder blocks and adding wood – that's it. As such, they're good DIY projects for people who might not have tools, such as those living in apartments.
Considerations Before Getting Started
There's not much to go over before you jump into this project. Make sure you think about:
Weight restrictions. Cinder blocks can be fairly heavy, so ensure you can use them (such as on a balcony).
Buying the right cinder blocks. You'll want cinder blocks with holes in the middle, so look out for these.
Where to buy cinder blocks. You can get cinder blocks at builder's yards or some DIY stores. Alternatively, you could contact a building company to see if they have spares.
8 DIY Cinder Block Plans
Rather than go over the steps for each cinder block bench design, we'll instead direct you to other resources. After all, if someone has already explained it well, why bother repeating them?
Instead, we'll summarize which design is best for certain needs. So, here are 8 DIY cinder block bench ideas.
Best for Balconies: Backless Bench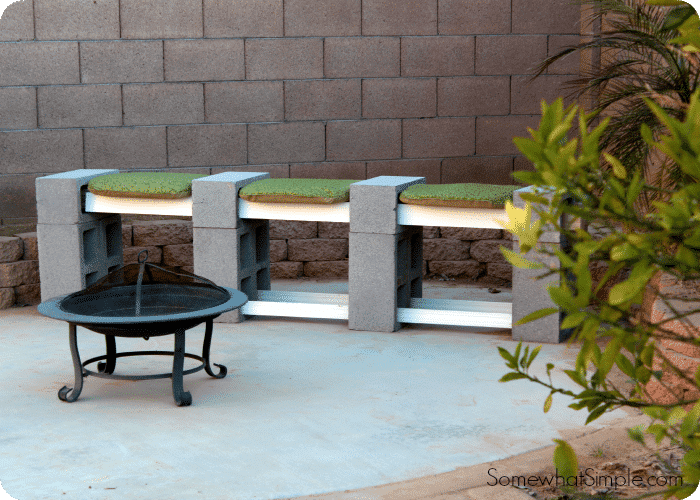 This cinder block bench would work well on balconies because it doesn't have a back. As such, it's a bit lighter than other designs. If you wanted something to lean against, you could always build it next to a wall!
Best for Patios: Standard Cinder Block Bench
A design like this is the most standard cinder block bench. It looks like a park bench with a back. You'll still find it easy to make because it doesn't involve any tools, although you'll want to glue the bricks together for stability.
Best for Groups: Long Bench with Armrests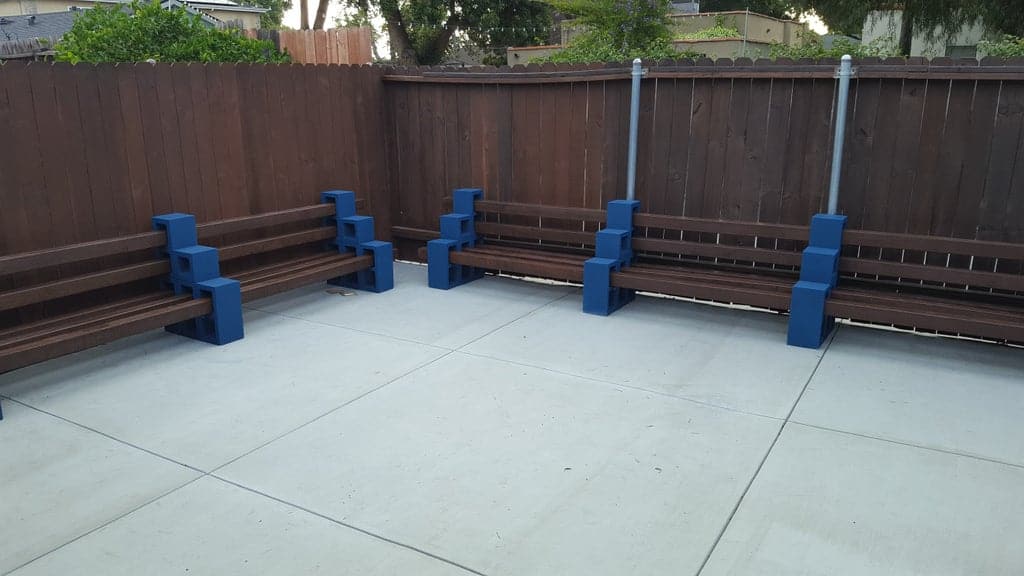 These plans are much like the ones above, except the benches have armrests. The plans require tools, but these are to fix the wood posts together for longer benches. If you want to make them smaller, you won't need any tools.
Best for No Effort: Stacked Cinder Block Bench
While most cinder block bench ideas use hollow blocks, this design uses solid ones. You simply stack blocks together to your desired height and length and then top with a seat cushion.
Use some construction adhesive, and you've got a bench with almost no effort. Of course, it will be heavier than other designs, so perhaps keep it away from balconies.
Best for a Lack of Materials: Cinder Block Garden Benches
If you don't have many cinder blocks, this bench design will be right for you. Each bench needs 2 blocks stood on end. Top with a plank of wood, and you've got a small garden bench.
Best for Gardeners: DIY Succulent Cinder Block Bench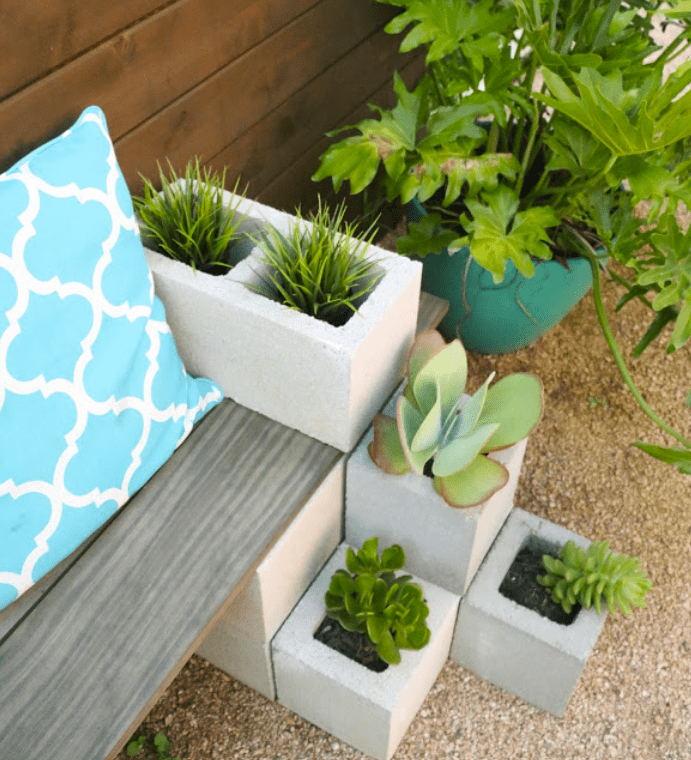 Looking for extra planting space on your balcony or patio? Why not use your bench? This DIY cinder block bench plan stacks blocks facing up and uses the holes for succulents. Of course, you could use whatever plants you want (herbs would work well, as would strawberries).
For additional ideas, check out our article on plants that work well in cinder blocks.
Best for Loungers: Cinder Block Sofa Bench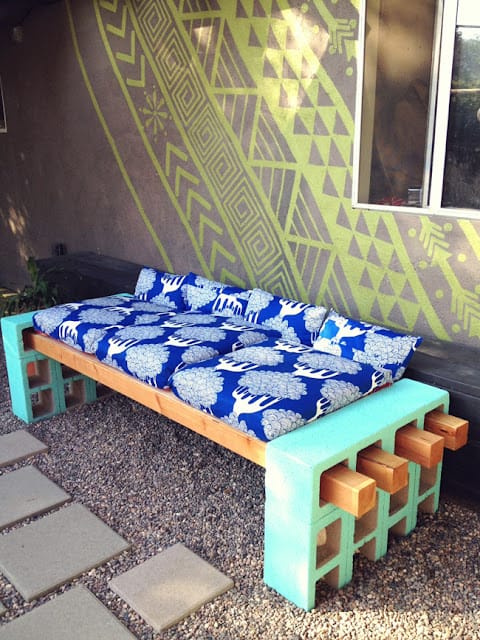 This design is much like the first one, except it's double wide. As such, it's a good choice if you want a large bench for relaxing outdoors. You could always put a back on it, but this plan would work well as a daybed too.
Best for Corners: L-Shaped Bench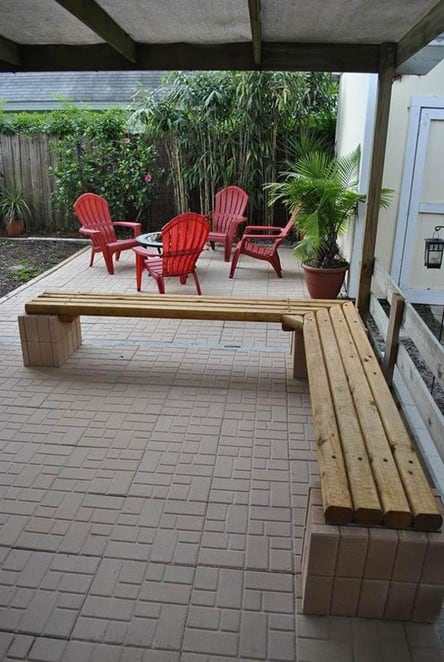 An l-shaped bench follows the same plans as a normal bench but with a minor adjustment. You simply make a double-wide stack of blocks in the corner to fit all the wood posts. If you're feeling really fancy, you could cut the post ends at a 45-degree angle and fit them together, but this isn't necessary.
How to Decorate Your DIY Cinder Block Bench
One of the best things about a DIY project like this is the free reign you have over decoration. But seeing as we've listed some plans, here are some tips about taking your cinder block bench ideas to the next level.
Painting the Blocks
Cinder blocks are quite porous, but you can still paint them. Spray paint is the best option, as it'll sit on the surface rather than soak in.
Of course, you can use a paint sprayer if you have one, although cans of spray paint will be more accessible.
If you want to use liquid paint, prime the blocks with a coat of watered-down PVA glue to seal them.
Staining the Wood
Staining or painting the lumber seats is a no-brainer if you're keeping the bench outdoors. Make sure you use a waterproof outdoor wood paint or premium wood stain.
Stain arguably looks nicer but you'll need to reapply it every few years.
Cushions
Your options for seat cushions largely depend on the bench's design. If the bench has wood slats for seats, most types of outdoor seat cushion will be fine. For longer benches, consider using a bench cushion instead.
However, for the stacked block design that doesn't use wood planks, you could instead cut a foam pad to size. Stick it to the bench using spray adhesive, and then stick some fabric on top.
Final Thoughts on Cinder Block Bench Ideas
Hopefully, these DIY cinder block bench plans have inspired you to make your own. As you can see, they're all super easy and can be customized to your space. What's more, with the right decoration, you won't even be able to tell they're cinder blocks!