Balcony Boss is reader-supported. When you buy through our links, we may earn a small commission at no cost to you. For additional information, please view our policies.
With warmer weather just around the corner, now is the time to dust off your balcony and get it ready for summer. One of the most important aspects of an outdoor summer space is, of course, seating.
So with that in mind, let's look at some balcony seating ideas. These are relevant for balconies of all sizes and shapes, and all project budgets.
Balcony Seating Ideas
1. Folding Chairs
We'll start with an obvious option: folding chairs. The main advantage is that they're easy to store away when not in use, which is especially helpful if you have a small balcony.
Of course, they're not the most comfortable option. While they address the practicalities of limited space and storage, you won't necessarily be able to spend all evening sat on them.
Pros
Easy to store
Inexpensive
Plenty of style options
Cons
2. Pallet Chairs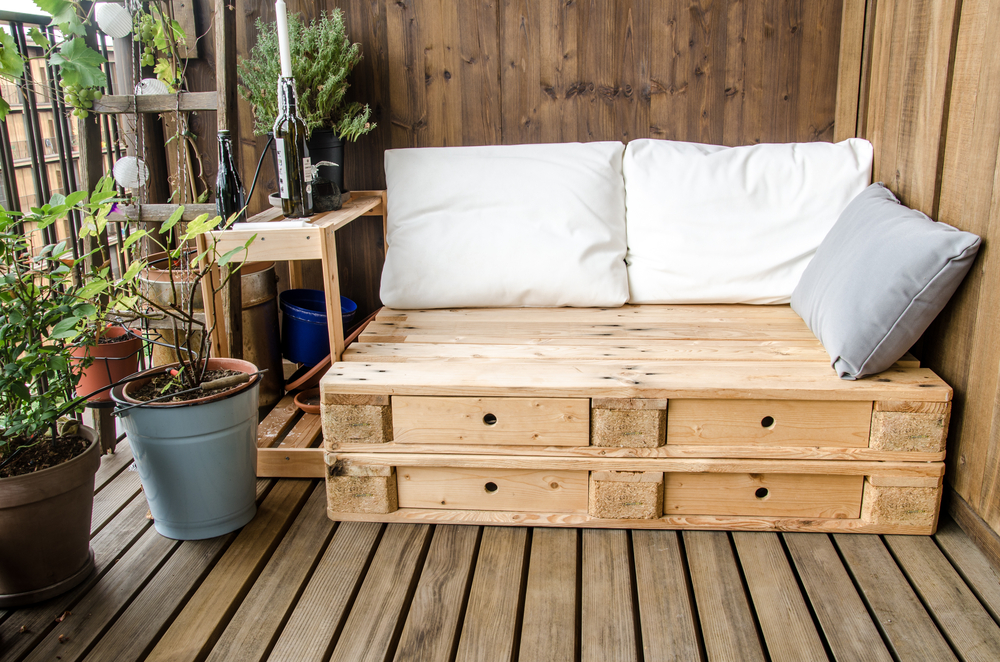 Pallet chairs are made from wood pallets, making them a budget-friendly option. You can also tailor them to your space, meaning they're useful for awkward-shaped balconies.
We've got a full article on DIY pallet couches. Check it out for more information and building instructions.
Pros
Adjustable to different spaces
Can be a fun DIY project
Doesn't need to be expensive
Cons
Won't suit all décor styles
3. Floor Seating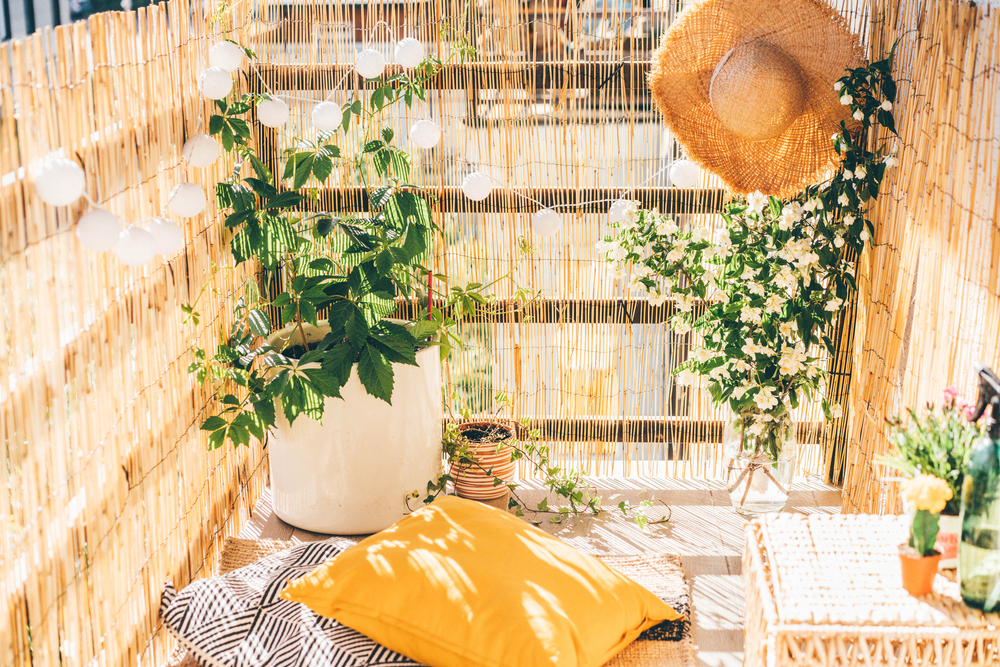 This is a seating option in the sense that it's somewhere to sit. But floor seating is nothing more than throwing some cushions on the floor and sitting on them! It's easy to make a super cozy area, especially if your balcony has walls and if you add a balcony rug.
Make sure you invest in some comfy outdoor cushions if you're putting them on the floor.
Pros
Space-saving option
Easy to make a cozy space
Saves you from having to set up a full seating area
Cons
Not ideal if you find it difficult to get up and down from the floor
4. Bar Chairs
Bar chairs (or bar stools) look great when combined with a railing bar. This can be a very chic option for those wanting a breakfast or working space with a good view. If space is a concern, you could even invest in folding bar chairs (such as this).
Like folding chairs, the main downside here is that they're not super comfy. While bar chairs are fine for a coffee or work meeting, you might not want to spend all evening on them.
Pros
Useful for higher-up seating areas
Looks best paired with a railing bar
Folding options available
Cons
5. Patio Furniture
This is a bit of a vague option but it's worth mentioning. Larger balconies should consider patio furniture sets, as they're best suited for comfy all-day seating. Plus, if you've got a larger space, you're more likely to be hosting larger groups.
Pros
Plenty of options available
Good choice for larger balconies
One of the comfiest seating choices
Cons
6. Hammock Chair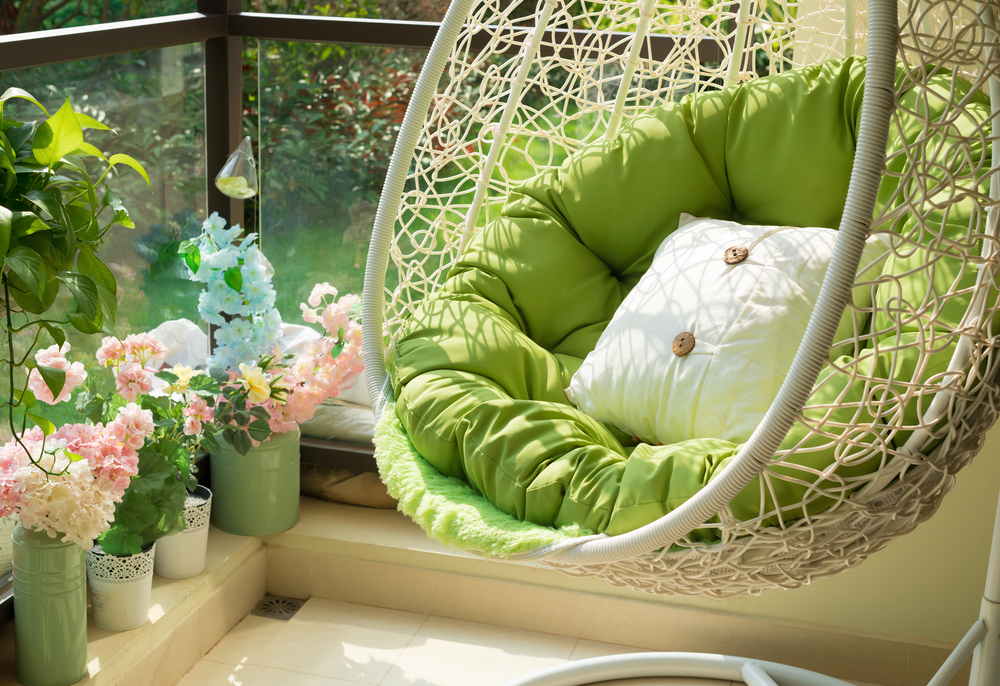 A hammock chair (also known as a swinging chair) is a great choice if you want an outdoor reading nook. Generally, you'll need a covered balcony for a swinging chair, but some egg chairs (such as this) come with stands.
While they're great for one person to sit in, they're not the most space-saving seating choice. If you have a small balcony, or more than one person to seat at once, it'll be worth going with a different option.
Pros
Cons
Not ideal for seating more than one person
7. Stackable Chairs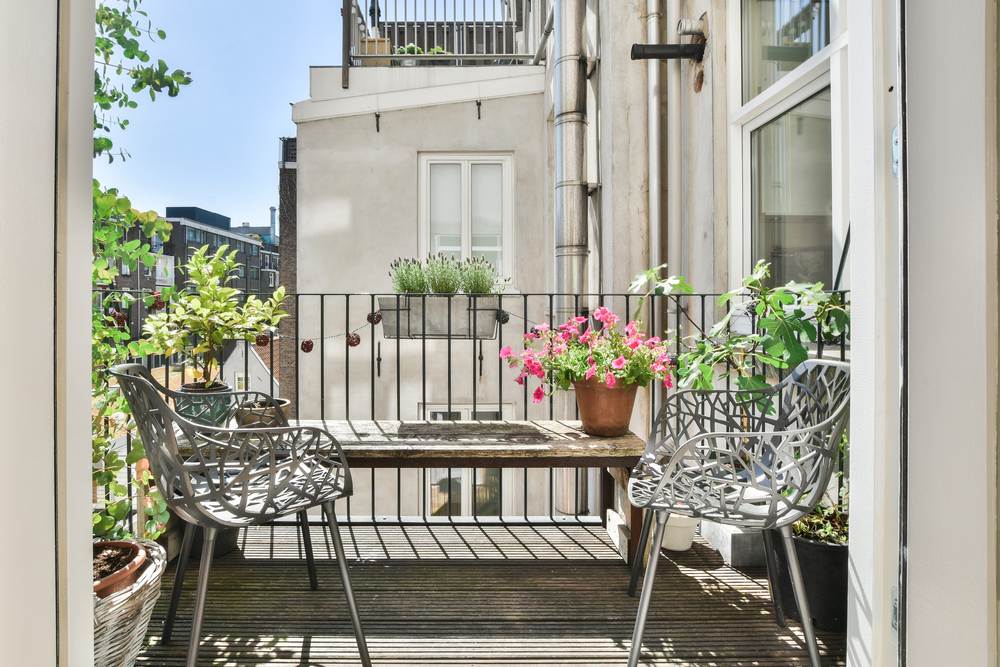 Stacking chairs might not be the most attractive option, but they're a good compromise between comfort and storage space. Unlike folding chairs, stackable chairs often have better angles that are more comfortable. While they might not be the most comfortable balcony seating option, they'll be fine with a few cushions.
Pros
Good compromise between comfort and storage space
Plenty of budget-friendly options
Ideal for dining and relaxing
Cons
Not the most comfortable option
8. Lounge Chairs
Lounge chairs (such as this) can be surprisingly comfortable and suit everything from sunbathing or reading a book to having a drink in the evening. Perhaps the only thing you won't be able to use them for is eating!
You'll need a bit more space for lounge chairs, as one of their main selling points is that you can recline on them. So, while they won't be suitable for small balconies, they'll be a great option if you have room for them.
Pros
Comfortable
Versatile seating option
Easy to store
Cons
Needs more space than other options
Final Thoughts
Choosing the right seating for your balcony requires a balance of space and desired comfort levels. Hopefully, the list of balcony seating ideas above will give you some inspiration for the perfect seating for your outdoor space.