Balcony Boss is reader-supported. When you buy through our links, we may earn a small commission at no cost to you. For additional information, please view our policies.
Although patios are great for enjoying nice weather, they can often lack privacy. Whether your neighbors are spying on you or not, it can be difficult to relax on your patio if you know you're in someone's eyeline.
In this article, we'll look at all the different patio privacy ideas that can make your space feel cozier and less open.
Unique Factors of Patio Privacy
We've spoken extensively about balcony privacy before. To an extent, patios aren't massively different in terms of why you might want to make them private, but they can be more restrictive in what you can do.
This could be because:
Where Your Privacy Problems Come From
On a balcony, for example, your privacy problems will generally come from below or on the same level as your balcony. On the other hand, a patio's privacy problems could come from second-story windows that look down on your backyard.
If your patio has a fence separating your garden from your neighbor's, then you might only be dealing with privacy problems from above. This presents unique problems depending on how your patio is arranged.
Lack of Structures
Although your patio is probably attached to your home, it lacks useful structures that you might find on a balcony. For example, a balcony could be covered and it'll have railings. Despite being a smaller space, these features are helpful when it comes to hanging things or tying things down.
Of course, there's still plenty you can do to make a patio more private. You just might need to be a bit more creative with how you set up your patio privacy ideas.
Owning and Renting
Apartments and balconies will generally be more restrictive in terms of changes you can make. This is often because either you rent or there's an HOA covering the entire building.
While you might still have an HOA in place on your street, you should have more freedom over what you can do in your backyard.
We'll also work under the assumption that you own the home, meaning you can make changes. However, a number of these options are also suitable for renters because there's minimal (or no) structural work needed.
9 Patio Privacy Ideas
1. Sail Shade
One of the easiest patio privacy ideas to set up is a sail shade. Obviously, it'll provide protection from the sun but will also block the view from upper-story windows. Sail shades come in all shapes and sizes, so it should be easy to find one that suits your needs.
The only real consideration is that you'll need somewhere to fix it to. Ideally, you'll be able to fix one side to your house and the other to a fence. Failing that, a good quality pole kit is another option.
Pros
Blocks views from upper-story windows
Offers sun and rain protection
Easy to set up
Cons
Requires sturdy fixture points
2. Large Planters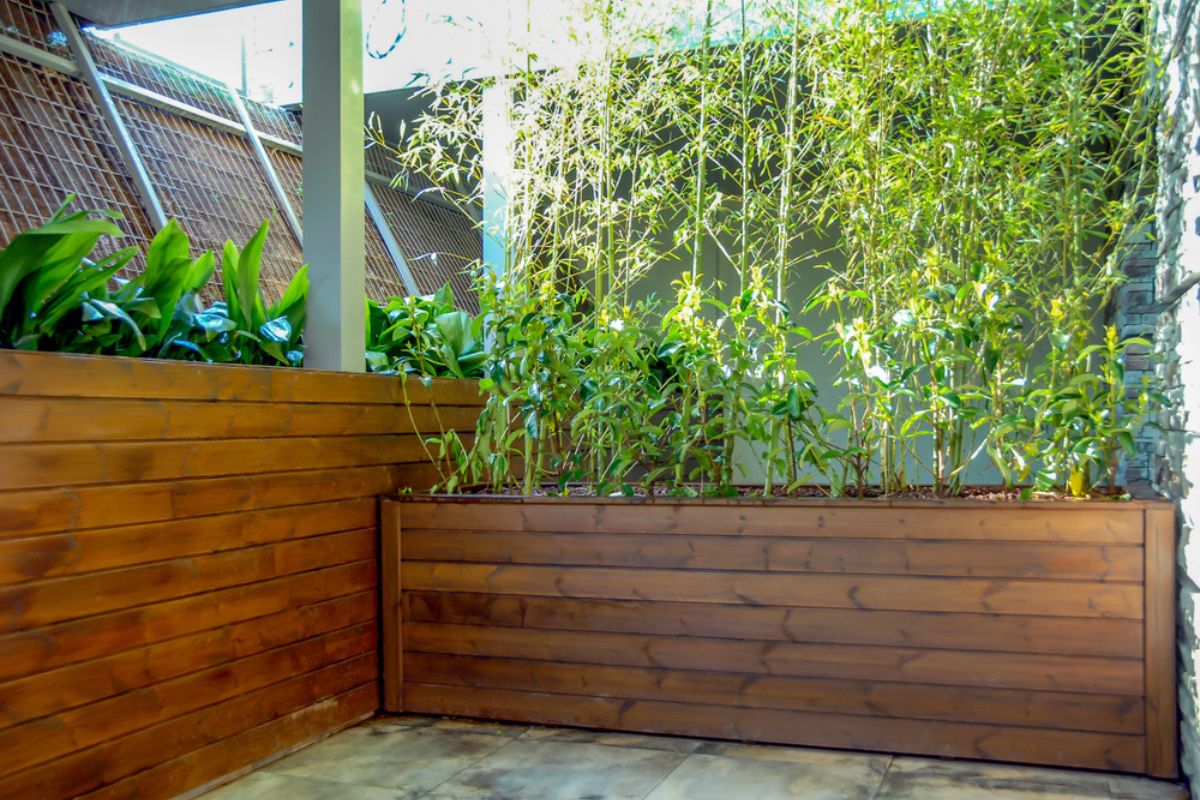 There are plenty of plant options on this list of patio privacy ideas, but this idea focuses more on what you put them in. Large planters (such as this) are great for creating a boundary around a patio.
The benefit of using large planters is that you can move them around as needed, so they're less restrictive than planting directly in the ground. You can grow whatever bushy plants you want in them, but something like bamboo is ideal. Other good options include small conifers, such as dwarf cypress and juniper.
Pros
Flexible placement around your patio
Easy way to create a border
You can plant whatever you want in them
Cons
Large planters can be expensive
3. DIY Pergola
A pergola might not be the quickest DIY project, but provided you know how to handle a drill and saw, it's not a difficult job. At the most basic level, it's 4 posts with some kind of roof on it. You can check out this video for a clear and concise guide to building a pergola.
However, this pergola won't offer loads of privacy on its own. To block the view from upper-story windows, you'll either want to add an opaque roof (such as corrugated plastic or wood) or grow climbing plants up it.
Pros
Fairly easy to build
Inexpensive if you can source free lumber
Customizable to your patio
Cons
A pergola on its own won't offer loads of privacy
4. Plant Evergreens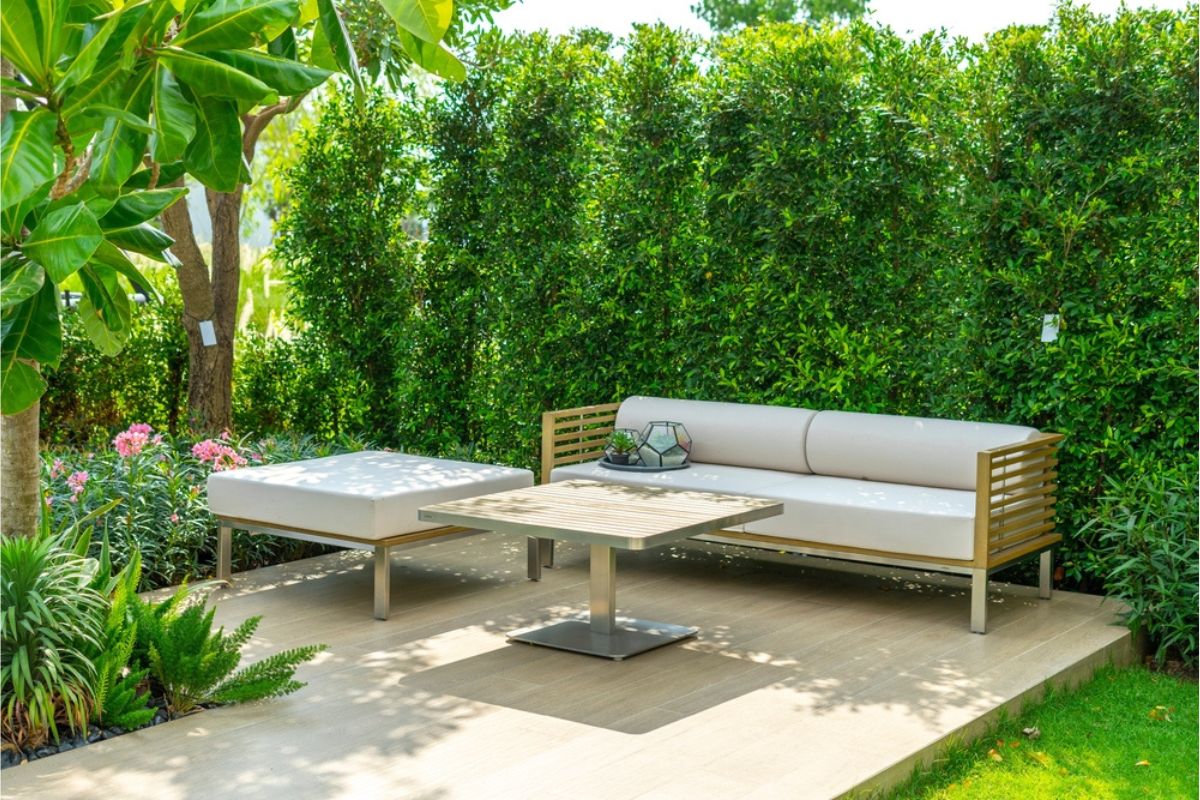 You could use any bushy plant for patio privacy. The benefit of using evergreens is that they never lose their foliage, meaning you get year-round privacy. Some good options include:
Cypress
Yew
Laurel
Griselinia
Magnolia
You'll want to plant the most mature plants you can find, as a lot of evergreens grow fairly slowly. Regardless, you'll need to wait a year or two for the plants to mature, meaning you won't have immediate privacy.
Pros
Plants look more natural than other patio privacy options
Plenty of choice for what plants to use
Easy to maintain once they're planted
Cons
Mature plants can be very expensive
It'll take at least a year for your privacy screen to establish
5. Freestanding Privacy Panels
Freestanding privacy panels are useful if you don't need a permanent privacy screen. For example, you might only need something for when your neighbors are outside or when you're using something like a hot tub.
There are plenty of options here. You could use metal privacy screens, room dividers, or make a DIY option. The only real downside of freestanding screens is that they're not ideal for windy areas because they're more likely to blow over.
Pros
Flexible privacy option
Storable when not in use
Plenty of choice over style
Cons
Won't be suitable for windy areas
6. Curtains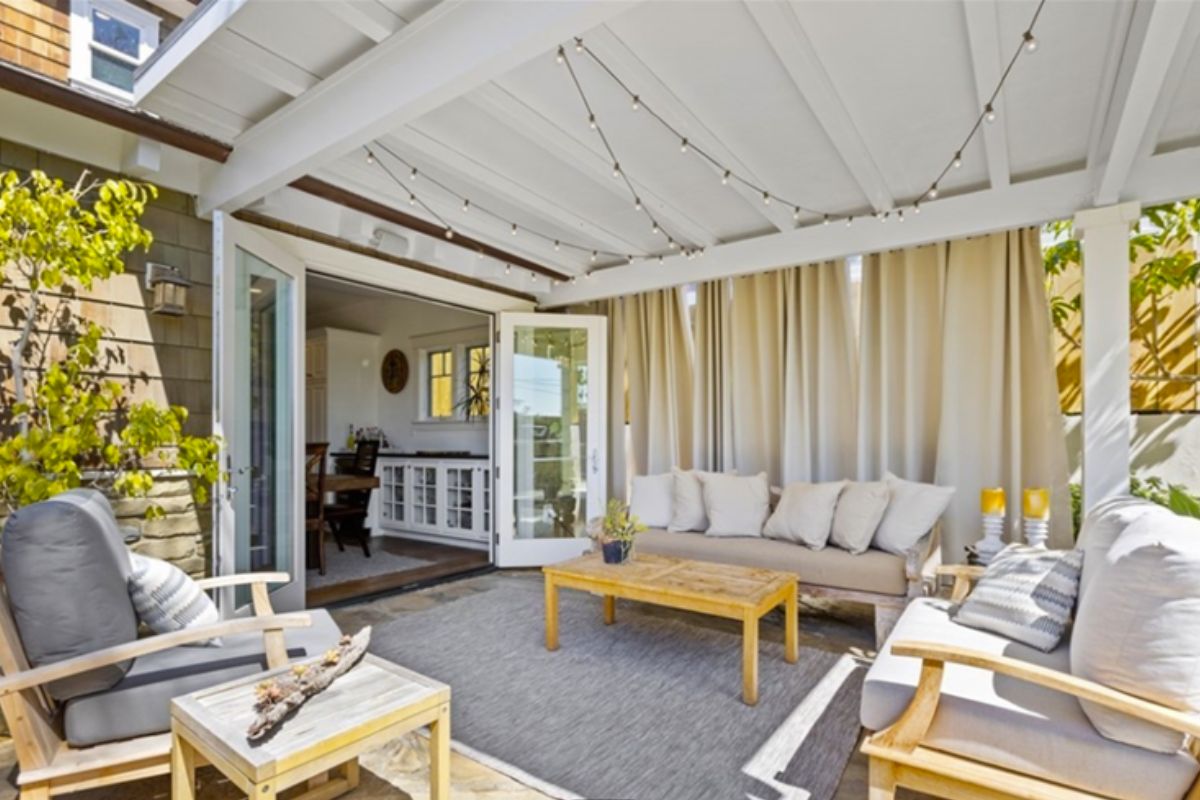 Curtains might not be your first thought for an outdoor space, but they're obviously ideal for adding privacy. Make sure you choose outdoor curtains because they'll be UV- and rain-resistant. Also, it makes sense to go with opaque curtains rather than sheer ones.
Of course, you'll need some kind of rail to hang them from. A pergola or gazebo will be ideal for this, but anything you can hang curtains from will do the job. We've got a full guide on choosing curtains for balconies, and most of the information is relevant to patio curtains too.
Pros
Quick and easy way to add privacy
Curtains will also offer protection from weather
Plenty of style and color options available
Cons
You'll need something to hang them from
7. Artificial Hedge Panels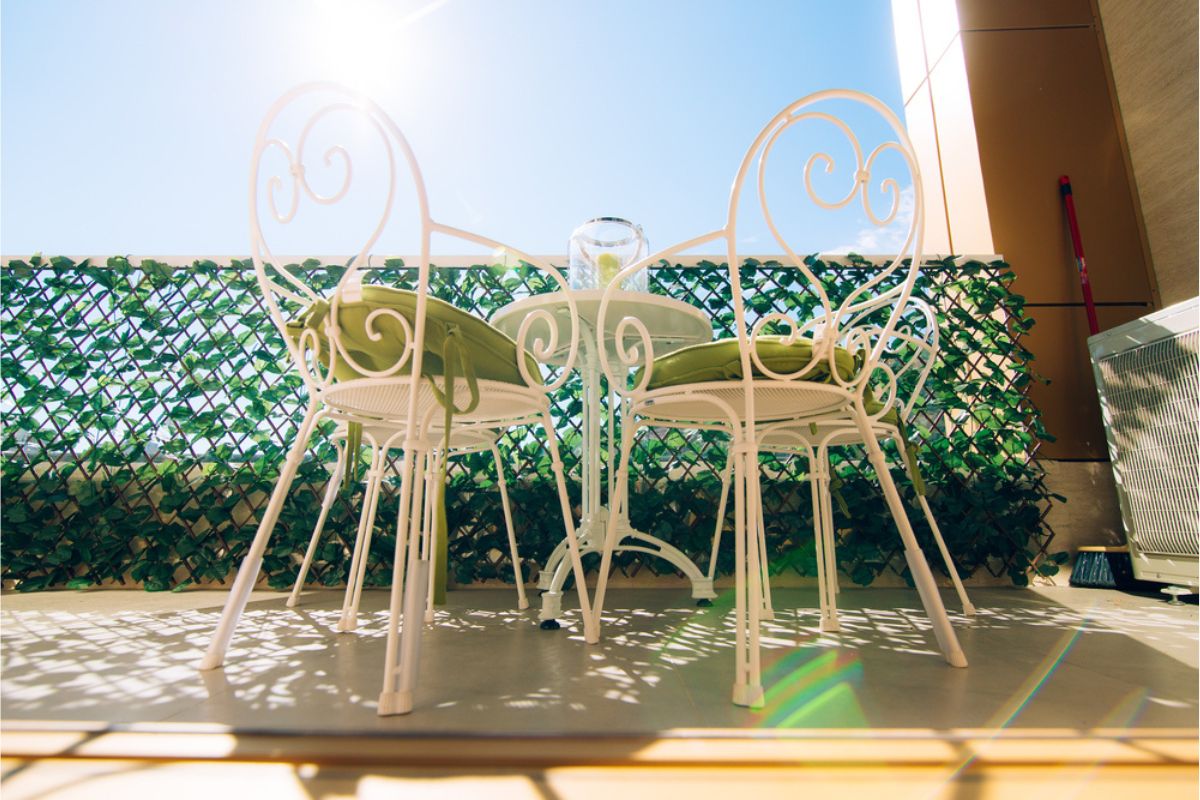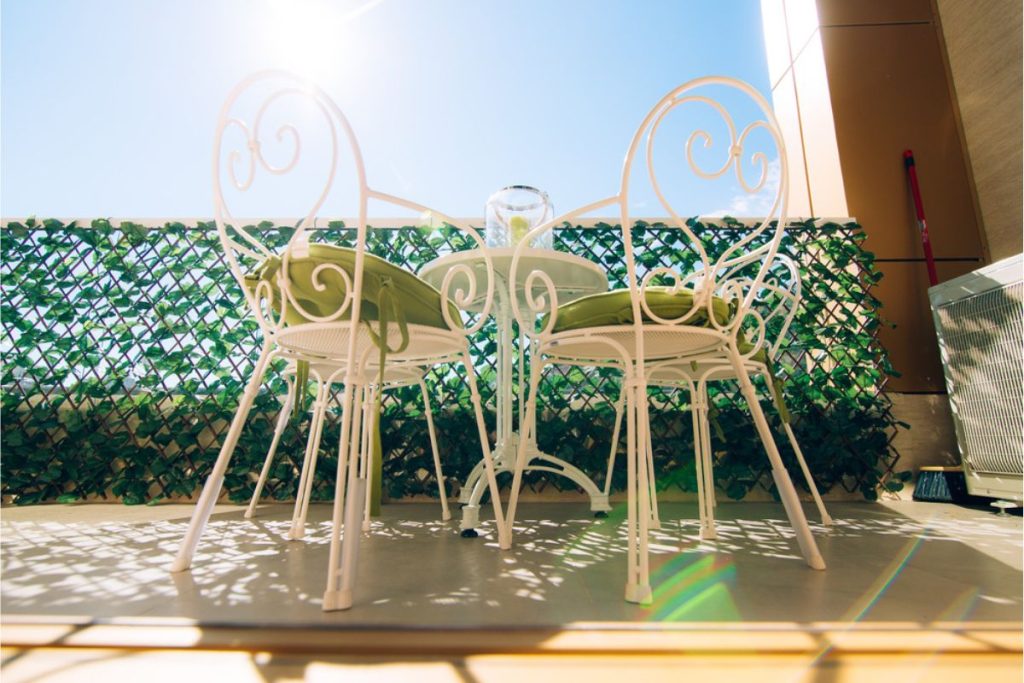 Artificial hedge panels (such as these) are perfect if you want to add greenery but don't want to wait for real plants to grow. The panels are easy to set up and there are loads that look surprisingly realistic.
The only downside is that you'll need to attach them to something. But if you're trying to make a fence around your patio more private, artificial hedge panels are ideal. If you've got a large area to cover, a roll of artificial ivy might be a better option.
Pros
High level of privacy
Quick way to add greenery
Really easy to set up
Cons
You'll need an existing structure to hang them from, such as a fence
8. Trellis or Lattice
If you've got a small patio that you want to feel more contained (and obviously more private), a trellis or lattice is a good basis to work from. You'll either need a structure you can fix them to (such as a pergola or fence) or you'll need to buy freestanding trellises.
A trellis won't do much on its own, but it makes a good basis for growing plants. Combining with a climber like honeysuckle or jasmine will mean your patio smells amazing during the summer when they're in flower. Although they'll take a few years to establish, both plants grow quickly and very thick.
Pros
Ideal basis for plants
Inexpensive
Helps close in a patio
Cons
You'll need to wait a few years for plants to grow
9. Umbrellas or Parasols
An outdoor umbrella (such as this) provides all the same benefits as a shade sail but it's freestanding. Therefore, umbrellas might be a better option if your patio isn't connected to your home or is lacking a second fixing point.
Umbrellas hardly need more explanation – we've probably all owned one at some point. Provided it's got a sturdy base, weather shouldn't be a problem in all but the windiest areas.
Pros
Freestanding option
Provides privacy from upper-story windows
Offers protection from the weather
Cons
You won't be able to leave an umbrella up all year
Final Thoughts on Patio Privacy Ideas
With a bit of time and effort, there are plenty of ways to make a patio more private. Before getting started, it's worth thinking about where your privacy concerns come from, as this'll impact which options you use.
But as you can see, patio privacy ideas don't need to be expensive, and it's easy to customize them to your space. Whatever you choose, hopefully it'll allow you to relax on your patio in peace.