Balcony Boss is reader-supported. When you buy through our links, we may earn a small commission at no cost to you. For additional information, please view our policies.
A Parisian balcony is an almost perfect example of the city's elegance and style. Despite Parisians not having a "how-to" guide for decorating their balconies, most fall into a fairly unified set of design principles.
And that's exactly what we'll discuss here. Below, you'll learn how to add Parisian balcony décor to your space to get that chroic city look.
What Defines Parisian Balcony Décor?
As mentioned, there isn't really a set list of principles for Parisian balcony décor. However, if you look at enough Parisian balconies, you can pick out a few well-followed rules:
Metalwork
Most Paris balconies have metal railings, which can be intricately scrolled or simple straight bars. This is primarily due to metal railings being the dominant style when the buildings went up (the 19th century), but it's endured as a feature.
Minimalist Furniture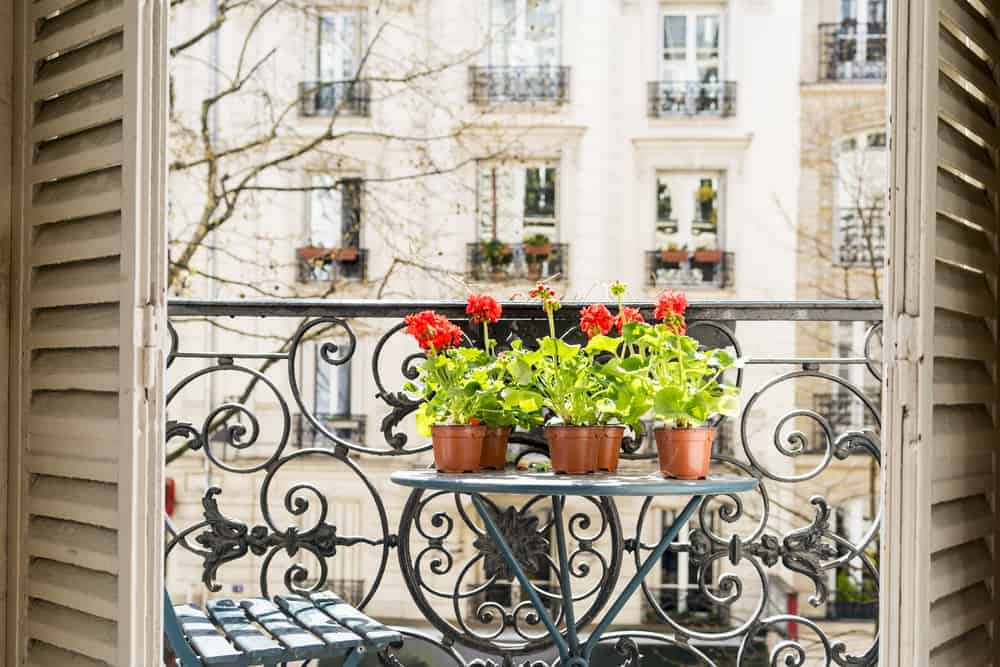 Parisian balconies aren't usually very big, which will come as no surprise to anyone who lives in a city. Space is at a premium, meaning the most you'll usually find on a Parisian balcony is a small table, a pair of chairs, and some plant pots.
This doesn't mean you can't have fun decorating. Rather, it means you need to be selective with what you use and don't overdo the decorations. Aim to keep things fairly modern and minimalist.
Color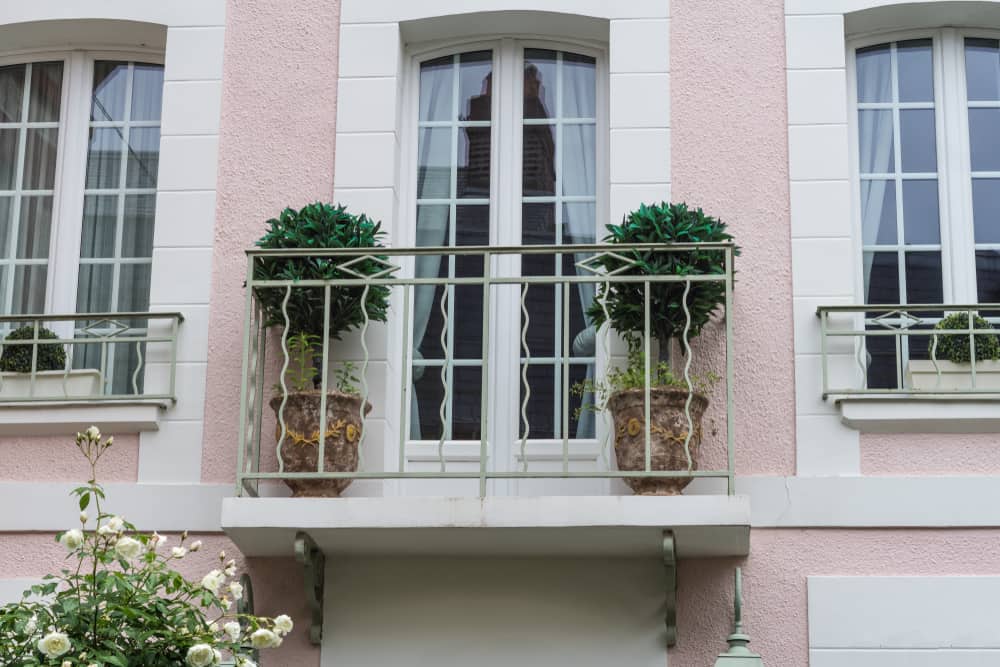 White is a common color for buildings in Paris, both indoors and outdoors. This is because it's modern, but also because it reflects sunlight, keeping homes cool. However, a lot of buildings are unpainted limestone (so they're more of a sandy color). If you plan to paint your balcony as part of your Parisian makeover, these are the colors to go with.
How to Decorate Using Parisian Balcony Décor
1. Bistro Table
Arguably the best table for a Parisian balcony would be a bistro set (such as this). Paris is full of chic bistros, and the style carries over into people's home décor. You'll want to go with a small table and 2 chairs, as this is the standard Parisian style.
2. Flooring
Most Parisian balconies will have stone slab floors. But this isn't massively interesting, so instead we could draw on interior Parisian décor for a flooring overhaul. Paris apartments are known for their herringbone parquet floors, which is a fairly easy look to emulate.
Something like these interlocking floor tiles will do the job. If you're keen on the herringbone look, find ones with a diagonal pattern (such as these). But if you don't want to lay a full floor, a jewel-toned outdoor rug will add an instant pop of color.
3. Planters
Although there isn't a standard Parisian décor planter, you can go one of two ways. First, choose antique-style planters (such as this). Antique styles nod to Paris's classic architecture.
Alternatively, you could go the complete opposite direction and choose ultra-modern styles (such as this). These capture the modern vibes of white paint and clean-lined décor.
4. Plants
As for plants, lavender and boxwood hedges are obvious choices. Roses are another good option, but you'll want fairly compact shrubs rather than massive climbers.
If you don't want living plants, faux lavender (such as this) can look great in a tall vase. Alternatively, some faux pink roses look great arranged in a small vase on your bistro table.
5. Lighting
You won't find much lighting on a Parisian balcony. This is mainly because they're in the middle of a city, so ambient light levels are pretty high. Plus, most apartments have massive windows, so Parisians use interior lights instead.
However, if you want lights that capture the Parisian balcony décor style, a mid-century style works well. If you can't put up lights, some string lights in a simple glass vase will be a good option.
6. Walls
If you can paint your balcony walls, white is the most obvious choice. It's very Parisian and helps your space look chic and modern. However, it can be difficult to keep clean.
For wall décor, there isn't loads to go on. Parisians generally don't have wall décor on their balconies. But if you want something, a scrolled mirror (such as this) is a good option. A trellis with a relatively small climbing plant will be fine, too.
Final Thoughts on Parisian Balcony Décor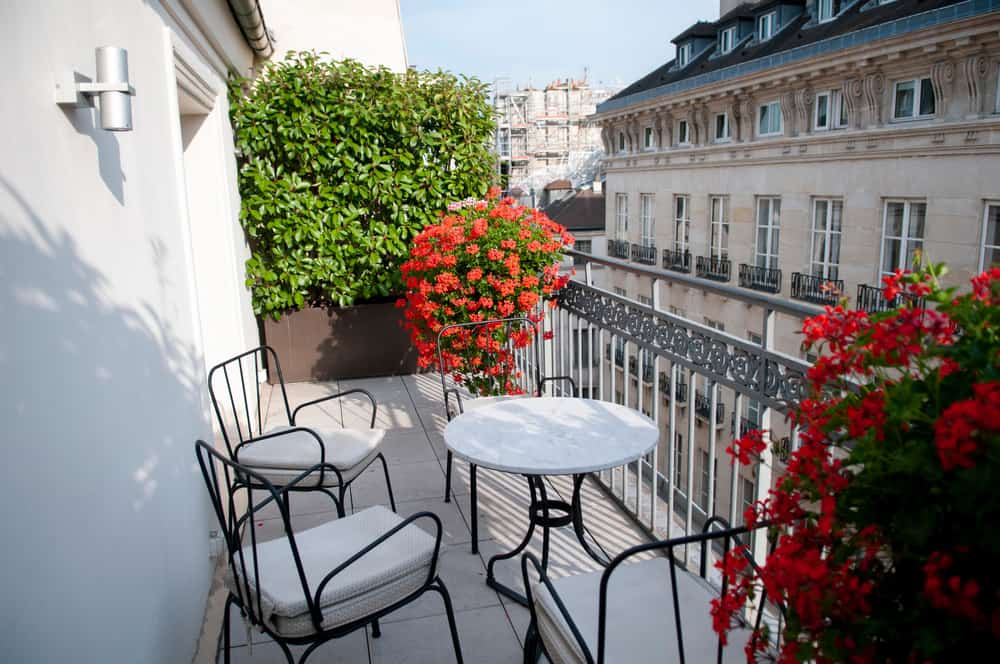 This guide should give you plenty of inspiration for setting up your own Parisian balcony. The most important thing is to keep decorations minimal, as you want a clean and chic space. Provided you use this as your basis, it should be easy to create a perfect Parisian balcony.