Balcony Boss is reader-supported. When you buy through our links, we may earn a small commission at no cost to you. For additional information, please view our policies.
A freestanding privacy fence is a viable solution if, for some reason, you don't have a structure around which you can build a fence. Although installation might be a bit more challenging, there's arguably greater flexibility with ideas.
So, let's look at some of the best freestanding privacy screen ideas for outdoor spaces.
Why Might You Need a Freestanding Privacy Fence?
A freestanding privacy screen would be suitable in various situations, including:
An open patio or deck
A balcony without a railing or wall
A backyard or garden
In short, you'd want a freestanding option in any situation where you don't have something to anchor it to.
Considerations Before Choosing a Freestanding Privacy Fence
This isn't a difficult product to choose. Even so, make sure you consider the following factors before making your selection:
Weather
The only weather condition we really need to consider is wind. A freestanding fence or panel will be more susceptible to wind than one secured to a fence or wall. Of course, you can deal with this using sandbags or similar, but for windy locations, opt for fences that have plenty of gaps. Although it'll compromise your privacy a bit, it'll reduce the chances of it blowing down.
Material
Our options will generally come down to metal, wood, or plastic in some capacity. Metal is durable but expensive and heavy. Plastic is also durable but much lighter, and wood is somewhere in the middle. Consider how these affect your setup.
Price
Some options can be pretty expensive, particularly metal panels. Your budget will ultimately be dictated by the look you want, so use the list below to get an idea of prices before you settle on an option.
Freestanding Privacy Ideas
1. Tall Plants
Plants are great for a freestanding privacy fence because they look natural and are generally pretty durable. They can be artificial or real, and potted or in the ground. Unsurprisingly, there's as much variety as there are plants.
Pros
Loads of options
A less obvious way of making a space private
Plants help brighten up an area
Cons
Artificial plants aren't very wind-resistant
Real plants will take a few years to mature
2. Reed or Bamboo Fence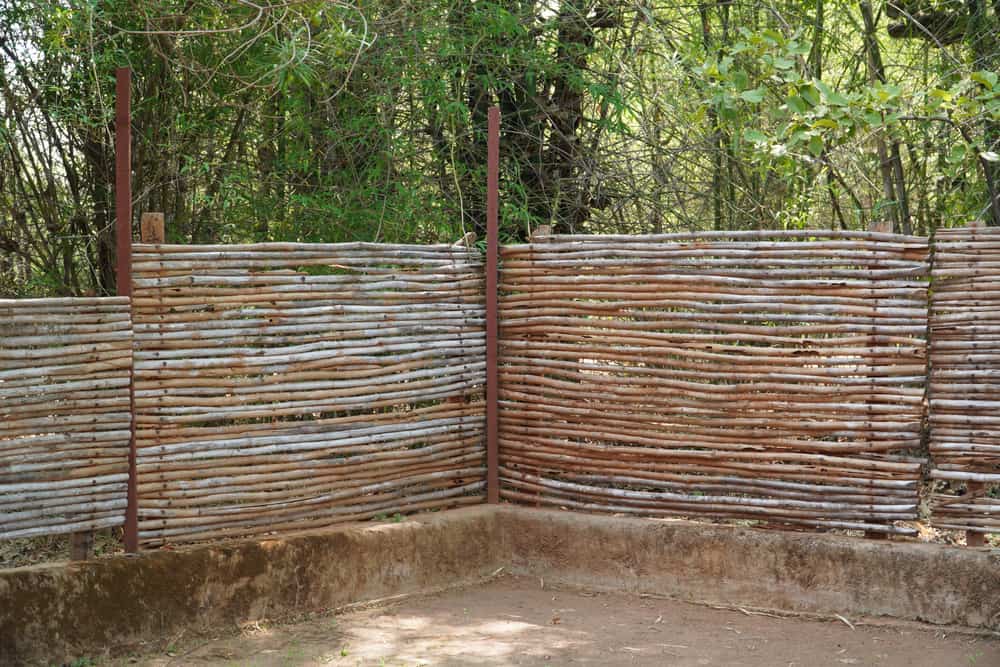 Reed or bamboo panels can make a great freestanding privacy screen. They typically come in rolls of small canes (it's also possible to make your own). They look pretty natural and offer decent privacy, but they will need posts to keep them up. As such, it's debatable whether we could consider them to be freestanding.
The easiest way to convert reed or bamboo fence into freestanding panels will be to use something like string light poles that have spikes on the bottom. Alternatively, you could build some simple squares or rectangles from spare lumber and then nail the reed fencing onto them (using fence staples). You could then sink these into the ground using standard ground spikes.
Pros
Inexpensive
Offers decent privacy
Fairly weather resistant
Cons
3. Metal Screens
Metal screens are designed specifically as freestanding privacy panels. They're ideal for adding a modern look, although you can easily work them into a range of décor styles. Although they're very heavy, most have wide legs to keep them upright in all but the strongest winds.
Pros
You can grow plants up them for more privacy
Ideal for patios, decks, etc.
Very durable
Cons
4. Artificial Hedge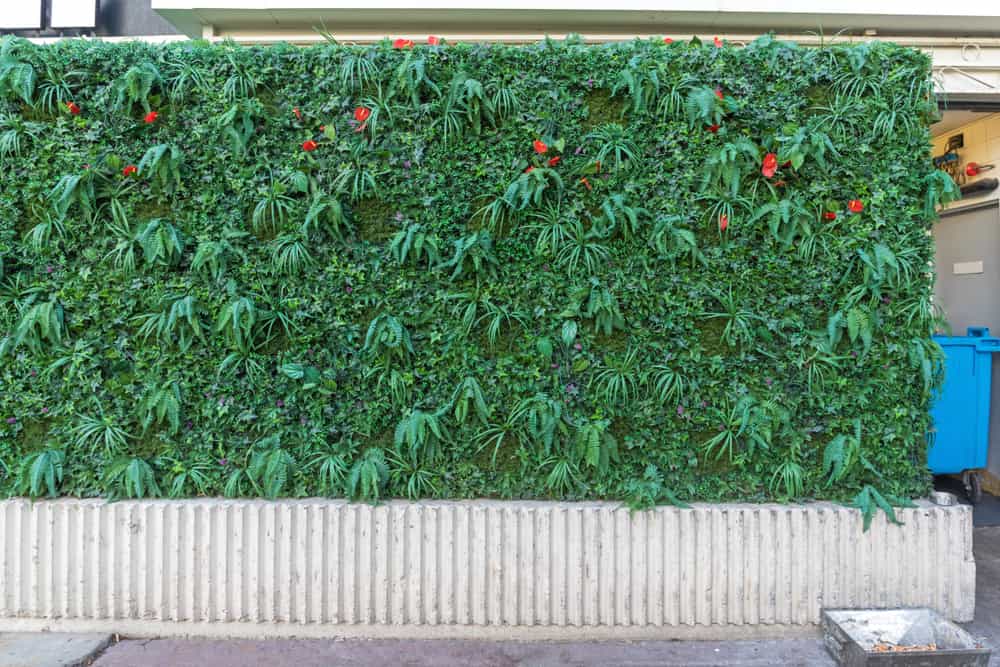 You might struggle to find an artificial hedge that could function as a freestanding privacy screen. Some options (such as this one) come with a planter, so you could set up a few as a tall screen.
Bear in mind, though, that they're difficult to work with because they're much bulkier than other options.
Pros
More convenient than a real hedge
Almost total privacy
Some come on wheels for easier movement
Cons
Quite bulky – they can be difficult to work with
On the expensive side
5. Trellis Planters
A trellis planter (such as this) is simply a freestanding planter with its own trellis. They're good for forming a natural barrier around a patio or deck, but probably won't work on a balcony due to their size. Check out our article on climbing plants for some inspiration about what to grow in them.
Pros
You can move them around for flexible privacy screens
Easy to create a modular freestanding privacy fence
Plenty of plant options available
Cons
It takes a while for plants to mature
6. DIY Pallet Screen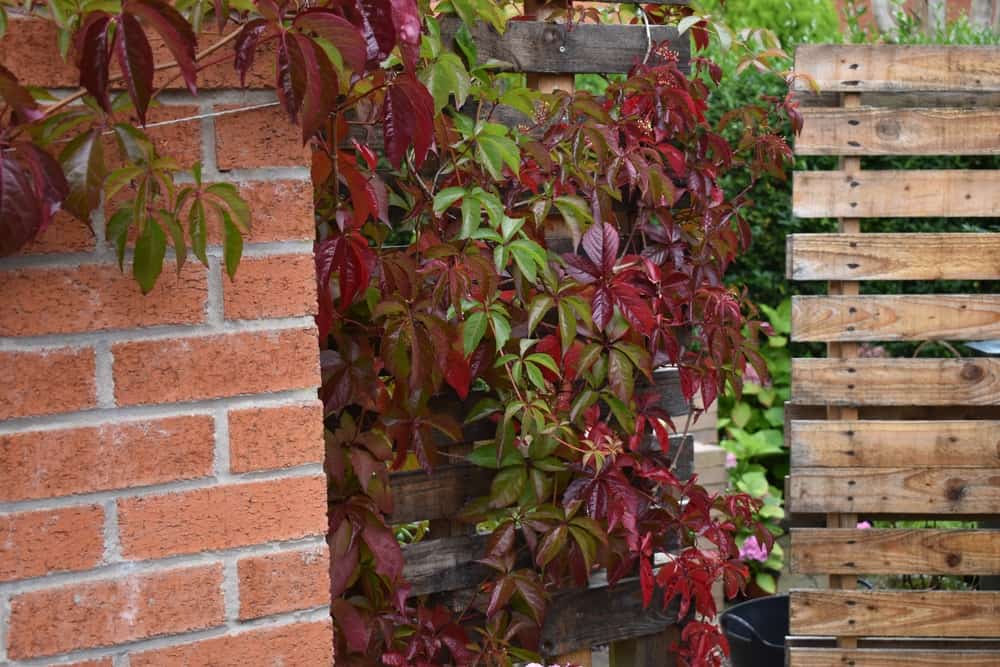 Wood pallets are pretty versatile sources of lumber. You could easily turn one into a freestanding privacy screen simply by adding some feet. Of course, if you want a different size than the standard pallet, take it apart and build your own. Considering you can get pallets for free, this is one of the cheapest methods for privacy fences.
Pros
Complete customization over size and shape
Inexpensive (or free) source of lumber
You can paint or stain it any color
Cons
Will require you to have tools, nails, etc.
7. Room Divider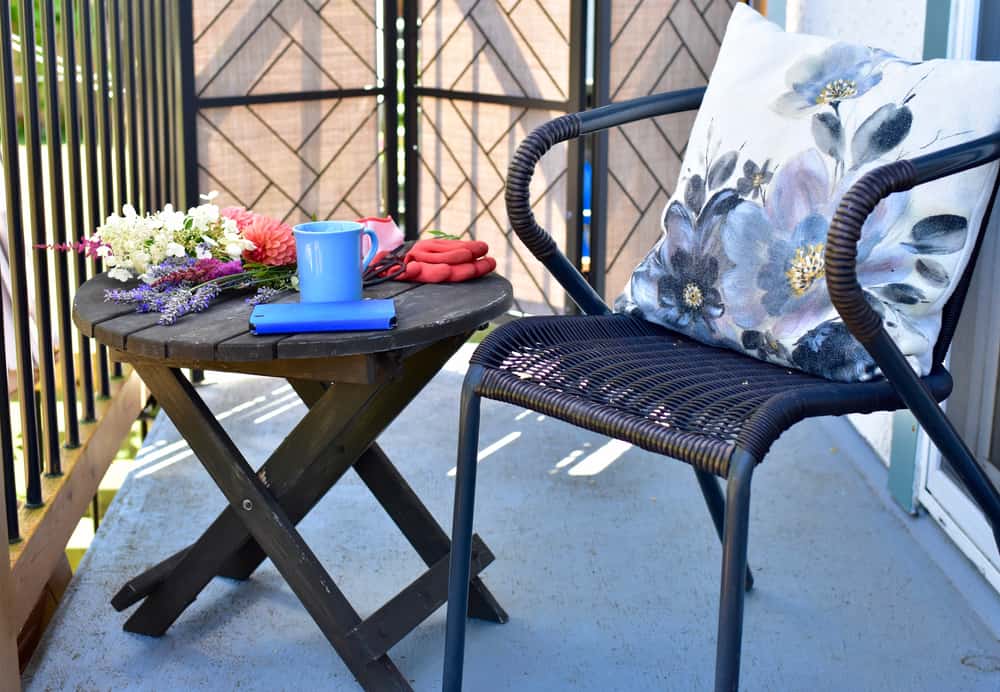 This might be an obvious suggestion for a freestanding privacy screen, but room dividers will do the job well. Consider going with a vintage option (like this) for a bit more interest.
However, these will only work under cover and in areas without much wind because they're not designed for use outside. You could sort this out by putting some wide feet on the divider if you wanted.
Pros
Easy way to add interest to a space
Available in all kinds of colors and finishes
Easy to store when not in use
Cons
Not designed for outdoor use
8. Bamboo Blinds
Although not freestanding in the most accurate sense, you could use bamboo blinds for covered balconies or around pergolas. Provided there's some support above, the blind can hang freely and be rolled down whenever you need it.
Of course, this won't be the best option in windy spaces. While it's unlikely the blind will come down, it'll blow around, which could be a bit much. However, blinds will work well if you want a flexible solution that's easy to store.
Pros
Inexpensive
Suitable for covered spaces
Easy to store
Cons
Blinds will blow around in the wind
9. Flower Pot Wall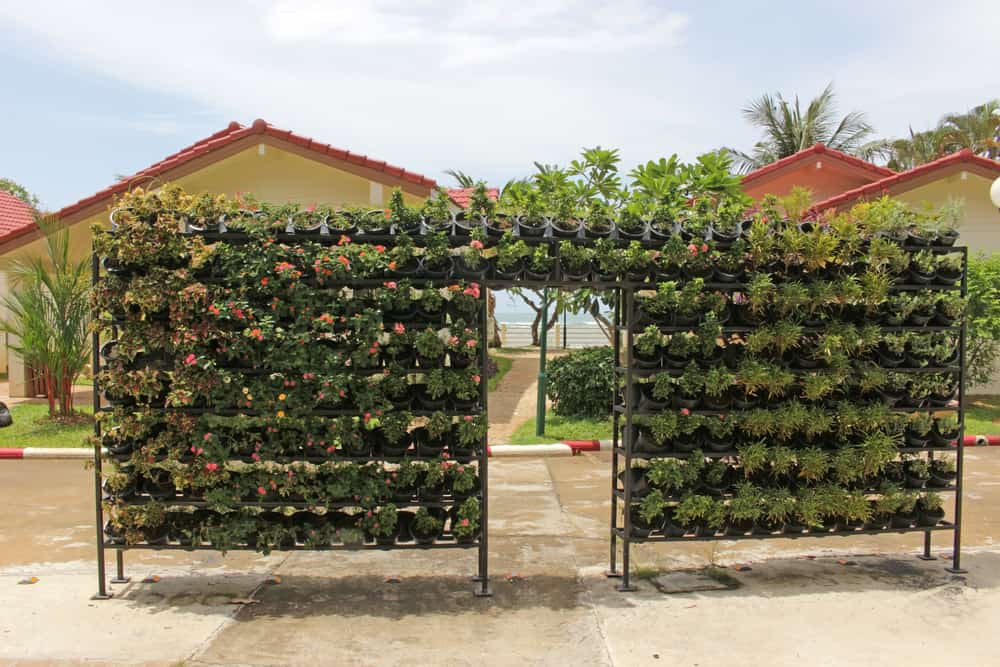 This freestanding privacy screen will take a bit more work but it looks pretty amazing. The easiest way to build this is to buy some metal shelving units (such as these). You'll find plenty of options to suit your size requirements. If you want to create a doorway or open space, you can simply attach a shelf connecting 2 freestanding units.
All you'll need to do then is fill the shelves with plant pots. Of course, you'll want to use fairly bushy plants for more privacy. Alternatively, you could buy hanging planters and fix them to shelves or simply use stackable planters if you don't need anything too tall.
Pros
Great for adding more greenery
Adaptable to different sizes and spaces
You could grow any type of plants (decorative or crops)
Cons
It might not last all year depending on what plants you use
10. Sleeper Privacy Screen
Wood sleepers (such as those used on railway tracks) can work as a freestanding privacy screen if they have enough support. You'll either want to sink them into the ground or add some feet.
Sleepers are a great source of durable lumber that'll last ages outdoors. However, make sure you support them properly because they're very heavy. While this'll make it harder for them to fall over in the wind, you'll want to avoid this at all costs. A falling sleeper can do damage.
Pros
Suitable for use outdoors
You can get hold of old sleepers for very little money
Sleepers will provide a lot of privacy because they're quite large
Cons
Sleepers will need a lot of support to be freestanding
Final Thoughts on Freestanding Privacy Fence
Hopefully, you've got some inspiration for your next freestanding privacy fence. There are plenty of ways you can approach this, but just make sure you choose something that's suitable for your weather conditions.