Balcony Boss is reader-supported. When you buy through our links, we may earn a small commission at no cost to you. For additional information, please view our policies.
Scandinavian style (Scandi) is inspired by countries like Sweden, Finland, and Norway. It compensates for cold environments through warm and cozy design features.
An outdoor Scandinavian style is pretty suitable for balcony spaces for this exact reason. In this article, we'll cover all you need to know to create the perfect Scandi style balcony.
What is Scandi Style?
Scandinavian style is a branch of modernism in interior design, typically associated with Scandinavian countries. It favors minimalism and clean lines combined with texture and organic materials.
Characteristics of Scandinavian Style
If you've ever been to IKEA, you should know some of the key characteristics of the Scandinavian style. They include:
Minimalism – no cluttered accessories here!
Organic wood finishes, particularly beech, birch, and oak.
Natural materials: jute, hemp, leather, cotton, etc.
Functionality and simplicity come first.
Muted colors – neutrals with colored accents.
Plenty of greenery.
Soft furnishings should be cozy and inviting.
How to Create an Outdoor Scandinavian Style Balcony
So, let's look at how we can apply these design principles to a Scandi style balcony. While these are only guidelines, they're pretty fundamental to the overall aesthetic.
1. Choose wood or organic furniture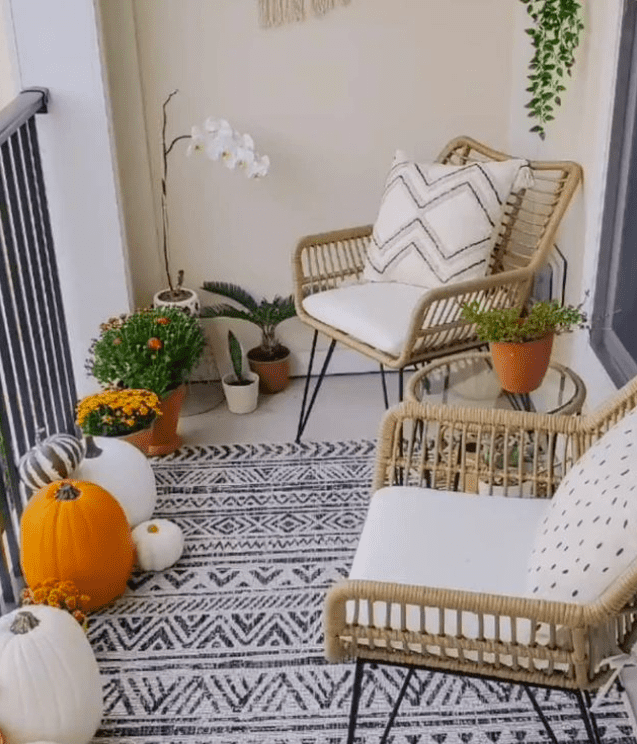 This is an obvious place to start. Where possible, opt for furniture made from wood or other natural materials. It's fine to include some metal, as this showcases functionality.
For example, rope chairs with steel legs work well, as does wicker. Throw in a jute footstool, and you're well on your way to Scandi style.
If you decide to paint your furniture, stick with neutral colors. Beiges and whites are best.
2. Add plants
It's common in Scandi style homes to use plants as an accent color. Choose plants with big foliage to add some interest to your balcony.
Be careful when choosing planters, though. You don't want anything too decorative, although subtle patterns and colors aren't a problem. Check out our guide on balcony planters for some inspiration.
3. Add a rug for warmth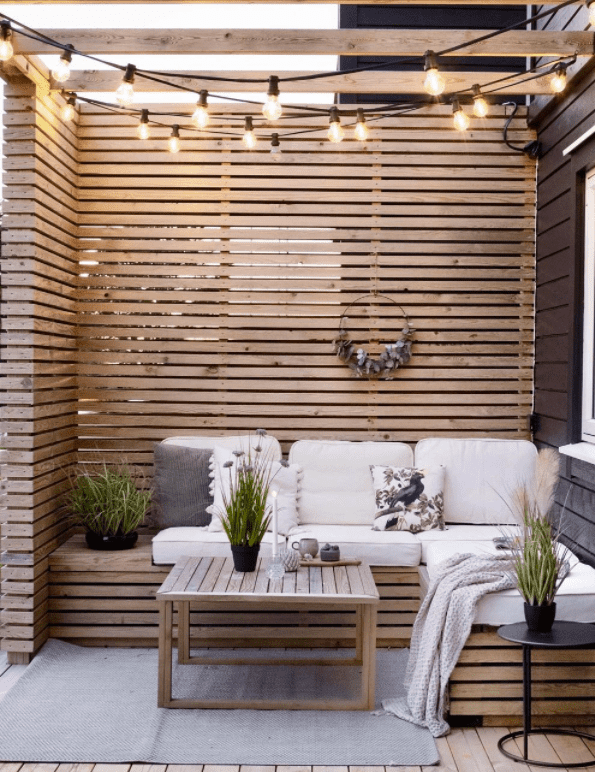 Adding an outdoor rug to your balcony floor helps create the illusion of warmth. Rugs are common in Scandi homes because they mostly have hard floors. Rugs feel cozy without being straying too far from minimalism.
While you can add color and pattern using a rug, don't choose anything too loud. Stick to muted colors and ensure they match the overall theme. Stay away from busy patterns, too.
4. Don't accessorize too heavily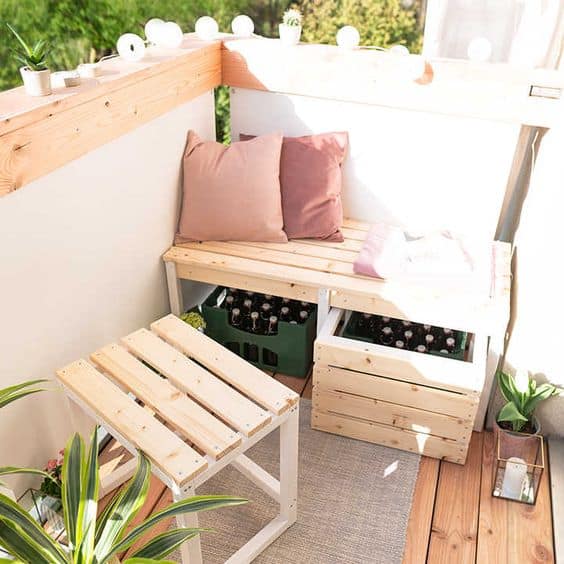 While this won't be a massive issue on a Scandinavian style balcony, you should avoid too much clutter. By all means, have a coffee table, but don't have more than one or two things on it.
Scandi style favors intelligent storage, and you should carry this principle outdoors. Normal outdoor storage boxes are fine, although you should consider painting/covering them so they match your other furniture.
5. Use soft lighting
Soft or diffused lighting is a big thing in Scandinavian interior design. Think lamps and fabric shades over harsh strip lighting. There's no reason why you can't apply this to your outdoor Scandinavian style.
Vintage style lanterns will work fine, as will candles. The most important thing is to have your lighting on different levels and at different focus points. Scandi style favors natural lighting but acknowledges the importance of artificial lighting, too.
Modern and industrial light fittings work well, but make sure they're suitably minimalist. Wall sconces are useful for adding more lighting options.
6. Paint the walls
As mentioned, the Scandi style favors neutrals and muted colors. If your balcony walls need redecorating, apply these design principles when you go to paint them.
Gray and white are good choices, as is beige. While you can go with sages or light blues, you'd typically add these colors as accents instead. Gray gives you an easy background color that makes a space feel lighter and more natural.
7. Use cozy soft furnishings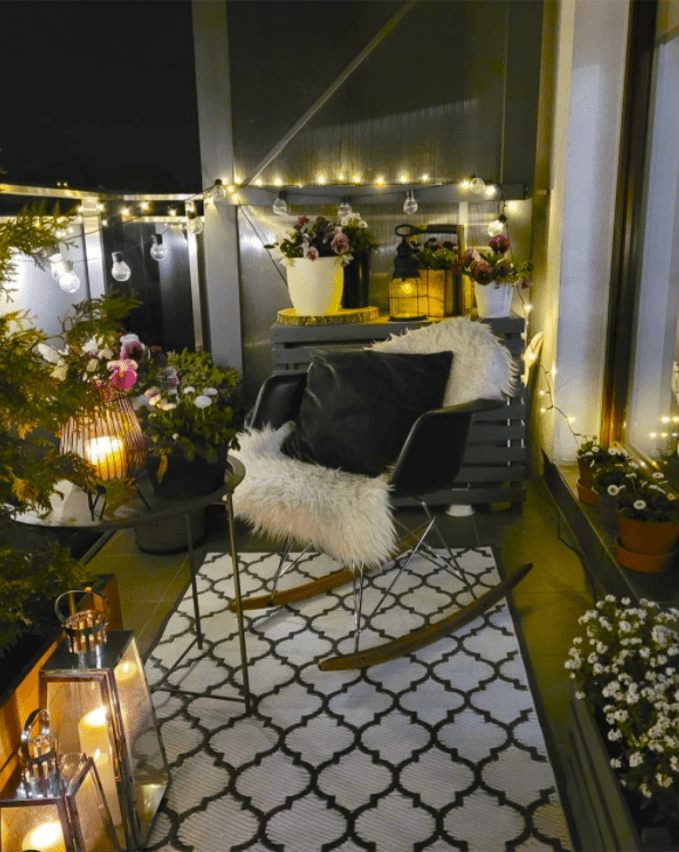 Although soft furnishings are perfect for adding color and pattern, you shouldn't go too over the top. For example, keep seat cushions bright and neutral but add a patterned or colored blanket.
White or beige patio chair cushions are a great place to start. But, if you're smart about your other color choices, you could be bold and add blue chair cushions instead. If you have bright wooden furniture, a blue cushion will add the perfect pop of color.
A faux fur blanket is ideal for adding texture and the right level of coziness. After all, it gets pretty cold in Scandinavia, so there's nothing wrong with a warm and inviting blanket!
8. Contrast colors
Scandinavian style is anything but clinical. Although neutrals are easily the dominant color, you should bring in some contrast. When done properly, it adds an incredibly modern and sleek finish.
The trick is to stay monochrome wherever possible. While this typically means black and white, we're using it here to simply mean one color.
That said, black is a good choice when used sparingly. Dark blue/indigo is another option, but bold colors like orange also work well. The trick is to choose something that'll stand out well from your base color pallet.
9. Choosing the right accessories
Accessorizing your Scandi style space is fine, but you should be careful with your choices. Rely on the principles of natural materials and colors to keep things in line.
For example, decorative branches and rushes work well, as do pottery vases in neutral and earthy tones.
Your eyes shouldn't feel too busy, and there should be clear focal points in the room that aren't accessories. That said, you should use them to add some height and interest to corners and empty spaces.
Final Thoughts on an Outdoor Scandinavian Style Balcony
Creating a Scandi style balcony requires a bit more planning than maximalist styles because everything you do needs justification. Functionality and simplicity are the most important principles in this design trend.
But, with a bit of planning, you should be able to create a warm and inviting Scandinavian style balcony that's perfect for enjoying colder weather.