Balcony Boss is reader-supported. When you buy through our links, we may earn a small commission at no cost to you. For additional information, please view our policies.
If you have a balcony, then you've no doubt already considered putting plants outside to give your balcony a wonderful green look! Balconies are the perfect place for outdoor plants, but there are a few things to consider if you have a balcony that receives lots of sunlight. Namely, you'll want to pick plants which are well-suited to sunny areas rather than plants which will wilt under so much sun.
5 Plants that are Ideal for a Sunny Balcony
If your balcony gets plenty of sunlight, you should consider the following best plants for sunny balconies.
1. Jade Plants
If you're looking for a succulent with some beautiful flowers that doesn't require tons of maintenance, then the jade plant is an ideal option. The jade plant has beautiful shiny leaves in addition to its delicate-looking white and pink flowers. Best of all, this plant thrives in full sun even without tons of maintenance!
2. Christmas Cactus
Cactus plants are perfect for sunny balconies! If you're looking for a cactus plant with some striking blossoms, then the Christmas cactus is a great option. This cactus features bright pink blossoms that bloom in–you guessed it–December!
3. Geraniums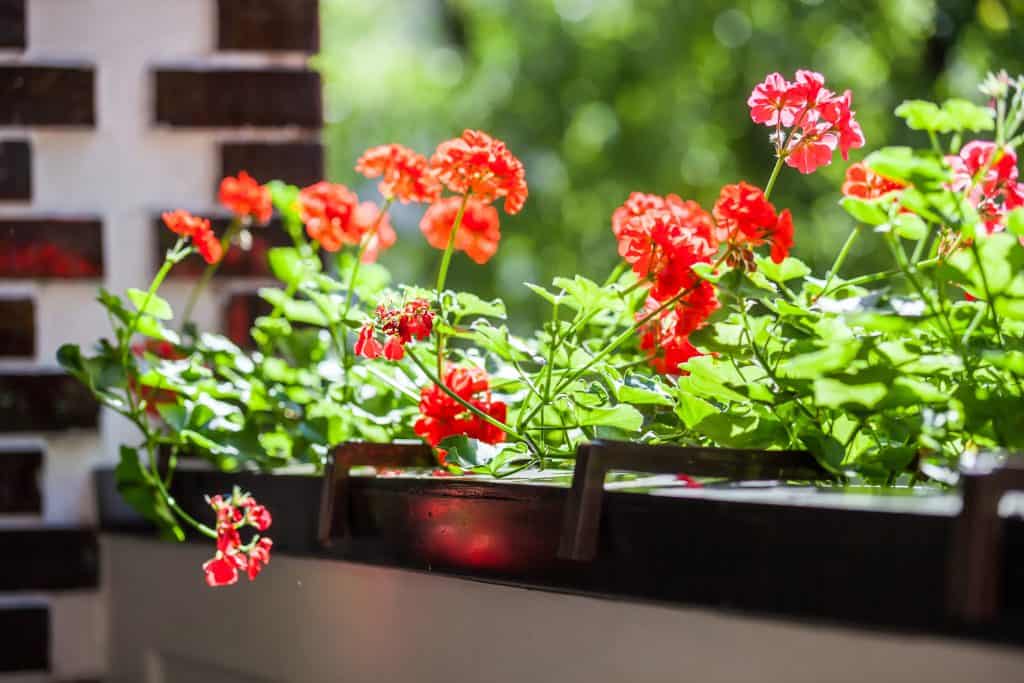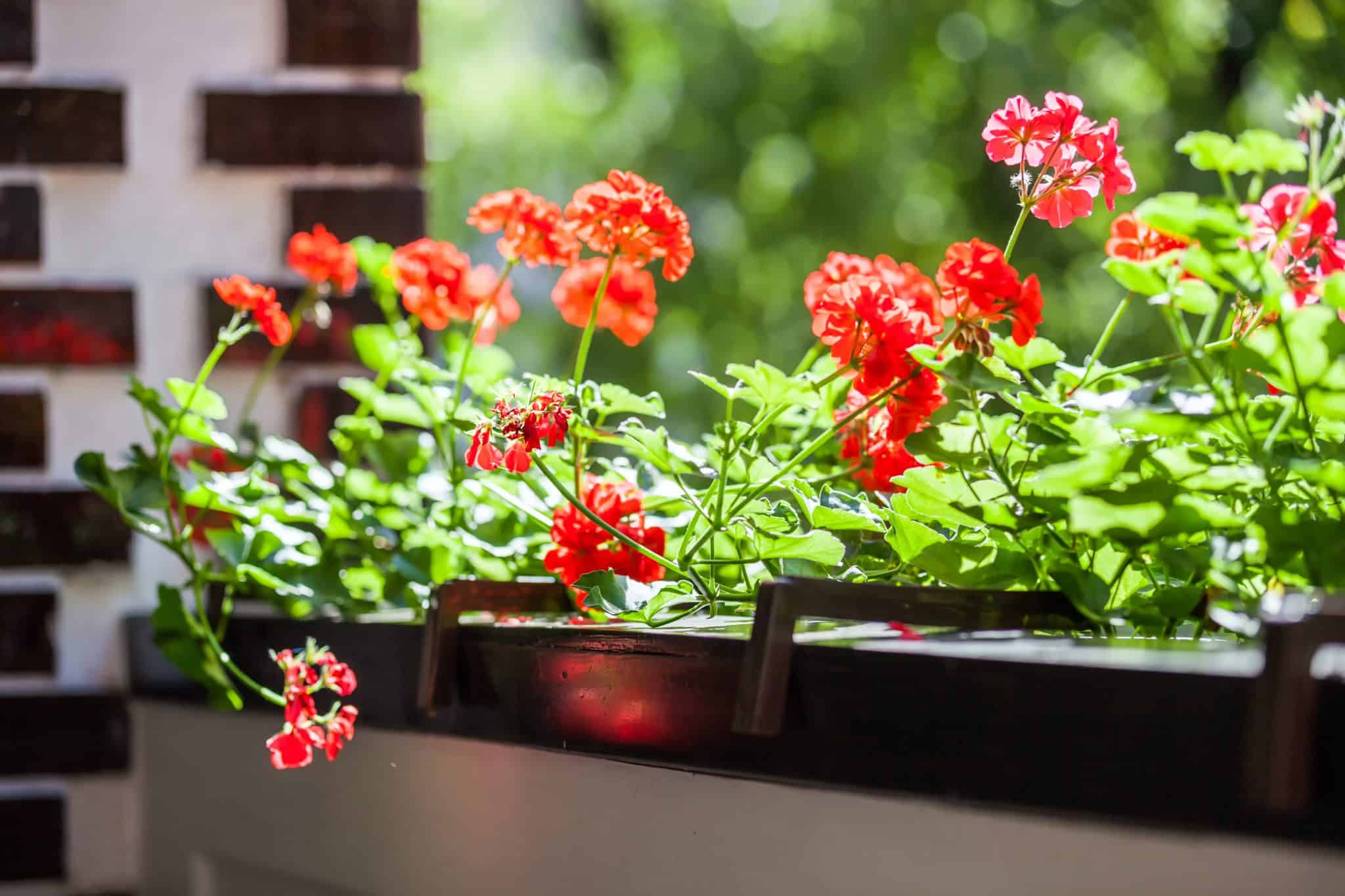 If you love beautiful flowers, you will definitely want Geraniums on your sunny balcony. Best of all, geraniums have a beautiful flower smell that will have your balcony smelling amazing! They're fairly easy to care for, but you will need to dead-head your Geraniums on a regular basis if you want it to keep flowering.
4. Firestick Plant
If you love truly unique looking plants, then the Firestick plant is definitely one to consider for your sunny balcony. This plants unique stick-like leaves look like twigs or branches, which gives the plant its name. The plants come in a few color ranges, including green and even orange. They thrive in sunlight but they do require more water during the hotter months of the year. This particular plant looks unique on its own or you can combine it with other plants, including flowering plants, to make for a striking contrast on your balcony.
5. Heather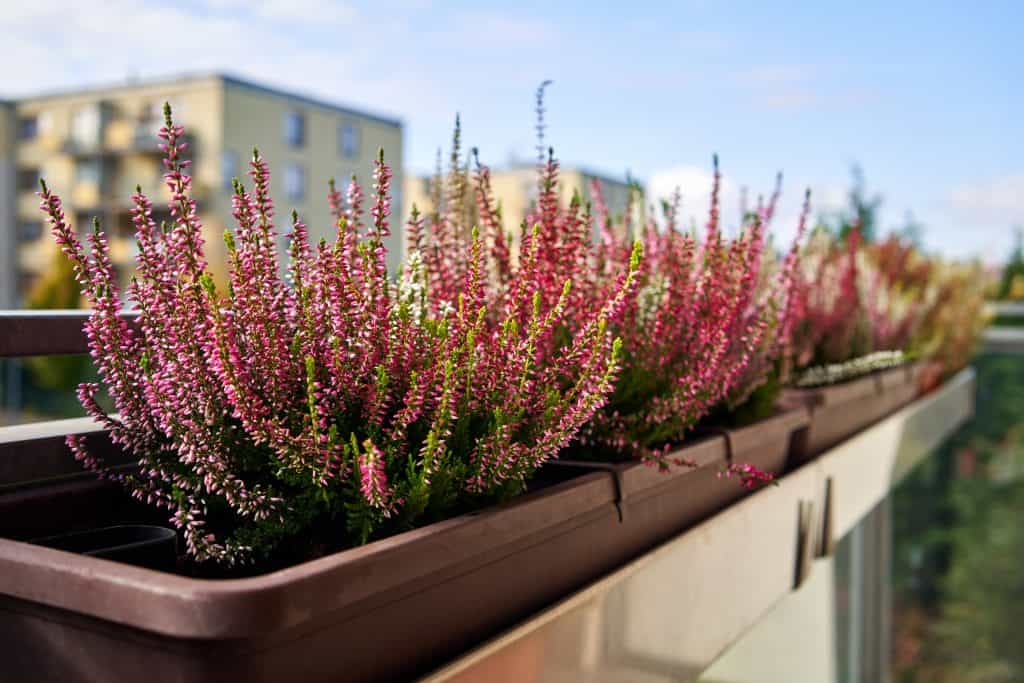 The Heather plant is best known for its unique blossoms that resemble lavender, but with a more intense and bright color compared to the softer pastels of lavender blooms. The heather plant can be grown in hanging plants or in containers, but keep in mind that high-winds can damage the blossoms, so you may want to move them in during high-wind storms. Heathers require some work, including regular watering and pruning, but it is well worth it for the end results: beautiful, fragrant blossoms!
Choosing a Plant for Your Sunny Balcony
If you are having difficulty picking a plant–or plants–for your sunny balcony, you should consider the following important questions:
Would I rather have hanging plants, plants in non-hanging containers, or both?
Should I get a plant that needs a lot of care or only a little care?
Will I be growing more than one plant in the same container?
The answers to the above questions will help you narrow down which sunny balcony plants are best for your needs.