Balcony Boss is reader-supported. When you buy through our links, we may earn a small commission at no cost to you. For additional information, please view our policies.
Having a balcony hot tub can be a great way to relax. However, there are numerous factors you must consider before buying one, far more than most other balcony additions.
So, to help you out, here's a guide on everything you need to know before buying a balcony hot tub. We'll look at key points and FAQs before discussing a few different types.
Why Get a Hot Tub for Your Balcony?
The most obvious reason why you'd want a balcony hot tub is that they're relaxing. Hot tubs are great spaces for enjoying with friends, too, and can be useful additions all year round.
Plus, according to WebMD, there are some apparent health benefits to using a hot tub. These include:
Easing joint pain
Loosening tight muscles
Improve circulation
Of course, you shouldn't just invest in a hot tub for its perceived health benefits, as you can get these by simply having a bath.
Considerations Before Buying a Balcony Hot Tub
Buying a hot tub for your balcony requires more thought than, say, outdoor seating or a balcony garden. So, make sure you consider the points below before heading off to Home Depot to buy yourself a hot tub.
HOA/Renter Restrictions
Your HOA regulations might specifically ban hot tubs outright. There are plenty of reasons for this, but it mostly comes down to weight limits, potential for accidents, restricting outdoor parties, and more.
Similarly, landlords likely won't allow a hot tub on a balcony. For the same reason that some landlords don't allow you to have a washing machine in your apartment, older buildings are much more vulnerable to water damage. It's because they're mostly made of wood, and a hot tub can cause damp and rot.
Before going any further, check your rental agreement or HOA rules. If you can't see anything, it'd be best to check specifically.
Can a Balcony Support a Hot Tub?
Next, consider whether your balcony can actually support a hot tub. It'll ultimately depend on what the balcony is made from and how much weight it can hold.
Without getting too deep into engineering, it'll depend on when your apartment was built. The International Building Code of 2009 states that balcony load must be the same as the occupancy served. If your apartment is 1-2 person, this typically means 40lbs. per square foot.
The IBC 2006, however, states that balcony loading is generally equal to the size of the residence. So, a 100sq. ft. apartment would have a 100lbs. per square foot balcony. But, neither of these regulations are binding.
How Much Does a Hot Tub Weigh?
A 2-3 person hot tub can weigh up to 3,000lbs., while a 4-5 person hot tub can weigh more than 4,400lbs. These figures include water and people. Regardless, though, this is well over the 40lbs. per square foot figure given above.
As such, you'll probably only be able to put a hot tub on a first-floor balcony. If the balcony sits directly on the ground, you'll be fine. Any floors above, and you'll want to check.
Consider speaking to a building manager or a structural engineer. Without knowing the specific loading requirements of your balcony, you won't know for certain whether it'll hold a hot tub.
Can You Put a Hot Tub on a Condo Balcony?
Typically, a condo balcony is fine for a hot tub. Again, you'll have to consider things like HOA codes and balcony loading weights, so the answer will depend on your building.
Also, you should consider the material your balcony is made from. Any type of stone, concrete or tile will be a suitable base for a balcony hot tub. If it has metal support beams, you should be fine.
The main type of material to avoid is wood. Not only does it have a lower loading weight, but it's also prone to rot and water damage. And the last thing you want is to fall through a rotten balcony when enjoying your hot tub!
Power and Filling
Hot tubs happily run on normal mains electricity. But, you might need a new external wall outlet if you don't already have one. Some hot tubs can be plugged in and turned on, whereas others will need wiring up. It all depends on the size, price, and quality of the product.
In terms of cost, it depends on the size of your hot tub. Smaller models can cost anywhere from 20-30 cents a day while bigger models will cost a lot more. They'll always give you a watt rating, which you can convert into kilowatt hours using a calculator.
Filling and draining are fairly easy. To fill, you can use an outdoor hose. To drain it, you'll run a hose from the plughole to a drain, sink or bath. This can be a bit more complicated, so check what's easiest.
Installation
Inflatable small hot tubs for a balcony are easy to install. You unpack them and blow them up.
A full-size rigid hot tub is another thing entirely. They're delivered as one piece, often using a crane. So, if you're on the 20th floor of a high-rise, this might not be possible.
If you're thinking about getting a full hot tub, a company rep will come round to your home to check how it can be installed. They'll let you know what machines they'll need to use.
Types of Hot Tubs Suitable for a Balcony
Now that we've gone through the main considerations, let's look at some different types of balcony hot tub. These are only examples of each category, but the pros and cons should help you know which is right for you.
1. Inflatable
When it comes to small hot tubs for a balcony, an inflatable one is perhaps your best choice. Granted, they're basically kiddy pools with a heater, but they're convenient.
They're easy to set up – you just plug them into a normal wall outlet. Most come with a pump to inflate the hot tub and you should get the right products to clean and maintain the water.
But, they come with obvious downsides. They can pop and rip fairly easily. Have a quick search on Craigslist and you'll see dozens for sale for just this reason.
Also, you have to sit on the ground rather than a seat, which isn't super comfortable. So, while they're better than nothing, they're not really comparable to a full hot tub.
Pros
Inexpensive
Easy to maintain
Can be stored when not in use
Cons
Easily damaged
Not super comfy
2. Rotomolded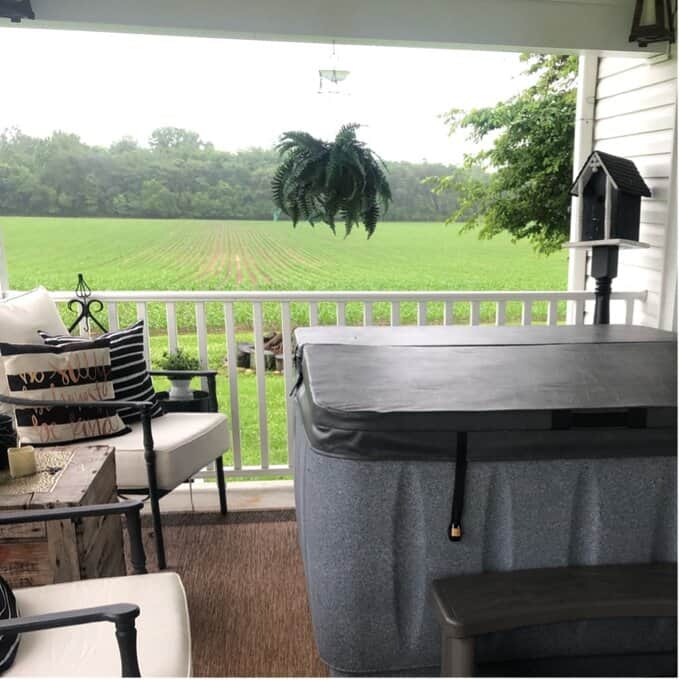 Rotationally molded (rotomolded) are also good options to consider when looking for small hot tubs for a balcony. They're a single piece of molded plastic that's more budget-friendly than full-size hot tubs.
At 300lbs., they're lighter than normal hot tubs but still quite heavy. They come with jets and a heater but need an outside wall outlet.
Although not the most attractive, they're very sturdy and won't damage easily. That said, you can't easily store them when not in use.
Overall, they're functional but less efficient than a full hot tub. They're a step up from an inflatable, though, so are good if you're on a budget.
Pros
Resistant to damage
Portable
Better than an inflatable model
Cons
Not attractive
Not super efficient
3. Jet Spa
This is probably the type of hot tub you're most familiar with. They're massive but have great functionality. However, jet spas come with a hefty price tag.
You'll need full power and drainage setups along with all the accessories. At this size, it's more efficient to always leave them on, so bear that in mind when it comes to operational costs.
But, there's plenty of flexibility in design, size and function with jet spas. If you have the budget, these are the models worth spending on.
Pros
Great functionality
Range of size options
Designed for relaxation
Cons
4. In-Ground
In-ground hot tubs are only suitable for first-floor balconies. But, if you have the space, they're ideal as a permanent outdoor accessory. They're built in the same manner as a pool, so you'll need to hire a local designer to do it for you.
As such, this is not an option for owners.
While they're more expensive, you have full flexibility over design, size and functionality. As such, they're great for a customized outdoor space. Plus, adding an in-ground hot tub will add good value to your property.
The main downside (other than price) is placement. Even with full-size above-ground hot tubs, you have some flexibility over where to put them. You're more limited with in-ground hot tubs due to things like drainage.
Pros
Fully customizable
Add value to your home
Great for outdoor parties
Cons
Expensive
Placement can be a problem
Final Thoughts on Choosing a Balcony Hot Tub
Hopefully, you've got a clearer picture about choosing a balcony hot tub. Generally, it's best to look at small hot tubs for a balcony, particularly if you don't want it all year round. Even so, shop around to get a better feel for the available products, and you should find the perfect choice.