Balcony Boss is reader-supported. When you buy through our links, we may earn a small commission at no cost to you. For additional information, please view our policies.
An outdoor awning is a great way of extending your living space. More than anything, it protects you from the weather, but can also add decoration and even something to grow plants up.
But choosing outdoor awnings can be harder than you might think. In this article, we'll cover everything you need to make an informed decision about the best kind of outdoor awning for your space.
What is an Awning?
Simply put, an awning is a piece of material attached to the side of something. Their purpose is to offer shade from the sun and potentially protection from the rain. They can be permanent or removable, depending on the design.
The most similar product is a canopy, but this is typically a freestanding structure that provides the same benefits.
Where Can You Use an Outdoor Awning?
An outdoor awning can be used almost anywhere outdoors. Typically, you'd find one over a patio or balcony, as these are outdoor spaces that don't have roofs. You could also fix one to the outside of a porch or veranda, although there'd be no benefit of having one inside the structure.
Similarly, you'll often find awnings attached to caravans and RVs. Obviously, they serve the same purpose here but are arguably more useful for turning anywhere outdoors into a covered and usable space.
Why Get an Awning?
The reason for getting an outdoor awning should be fairly obvious. Their main purpose is to protect you from the weather, both good and bad. But, depending on the construction and purpose, outdoor awnings could also be decorative.
Outdoor awnings can also help cool your home. For example, if you install one on the south-facing side of your property, it could help to shade the windows, keeping it cool inside without needing to have the curtains closed.
Considerations Before Buying an Awning
There's not a ton you need to think about before buying an outdoor awning. Run over these points before going any further and you should be able to make a pretty easy decision about what'll meet your needs.
Stationary or retractable?
We'll cover this in more detail below, but outdoor awnings can be stationary or retractable. A retractable awning will likely cost more but has the benefit of being folded away when you don't need it.
Material choice
The material you choose will impact everything from cost and durability to level of protection. For example, a metal awning will last longer but could be super hot in direct sun. A fabric awning, on the other hand, won't last as long but will provide better sun protection.
Size
Finding an outdoor awning that's the right size is harder than you might think. If you're getting it primarily for shade, for example, it'll need to be big enough to protect you from the sun all day. This means working out the sun's position as it travels across your outdoor space.
If buying a pre-made outdoor awning, you'll want to spend a few days tracking the sun to see how it hits your home. Of course, do this in the summer when it's highest. If you decide to buy a custom awning, the company will do all this for you.
Extra features
Depending on the awning you buy, it might come with extra features. The most obvious are lighting and heating. While these aren't super necessary, they at least save you from having to buy these elsewhere and mean you can extend the amount of time you spend outdoors.
Types of Outdoor Awnings
Now that we've got an idea of what to consider, let's look at the types of outdoor awning. These are just brief overviews but should be enough to help you narrow down your choices.
1. Retractable awnings
More than anything, retractable awnings give you flexibility. They mean you can enjoy the sun when you want to or get some shade. Better yet, you don't need to take them down because they fix permanently to your building.
A retractable awning will either be motorized or operated manually via a hand crank. A hand crank is the cheapest and most reliable option for obvious reasons.
However, a motorized awning can be controlled by a remote or even sensors. These can trigger the awning when it's windy, sunny, or raining. Of course, the more features you add, the more expensive your outdoor awning will be.
Pros
Gives you the most flexibility
Plenty of options over fabric type and finish
Suitable for any outdoor space (including RVs)
Cons
2. Fixed awnings
The opposite of a retractable awning is, obviously, a fixed awning. This doesn't need much explanation other than it's set up all the time, meaning you're permanently shaded from the sun.
For convenience's sake, we'll discuss canvas (fabric) awnings here. Canvas is a durable and (usually) waterproof outdoor material. Most modern fabrics are mold-resistant and come in a wide range of colors and designs.
Generally speaking, a fixed canvas awning will be the least expensive option. But it comes with some downsides, such as not being able to take it down.
Pros
Least expensive option
Easiest to buy pre-made
Plenty of color and style options
Cons
Won't always be suitable for windy conditions
3. Metal awnings
A metal outdoor awning might not be your first thought, but it has many benefits over a fabric one. First, it's more durable, and second, it's got better wind and rain resistance. In fact, a metal awning would be preferable in areas that experience snow and, for some materials, hurricane winds.
However, there are some drawbacks. First is cost, as metal awnings are some of the most expensive on the market. Then there's the issue that metal awnings can get pretty hot. This won't necessarily impact you under the awning, but could be an issue for people above, as the awning could reflect light into windows.
Pros
Can resist strong winds
Fixed and retractable options
High durability
Cons
Expensive
Could cause issues for people above the awning
4. Window and door awnings
A window or door awning is another fairly obvious one. Rather than covering a patio or balcony, they sit above windows or doors. The goal is to reduce sun exposure indoors to keep the temperature down. So, if this is what you want from an outdoor awning, they're a good way of keeping the cost down.
The disadvantage, of course, is that they won't shade your outdoor space.
Pros
Cost-effective compared to full-size awnings
Good for reducing temperatures indoors
Available for windows and doors
Cons
Don't shade an outdoor space
5. DIY awning
Realistically, you could make an outdoor awning out of almost anything. Providing you have some fabric and a frame, they're pretty easy to put together. Something like a canvas tarp works well for the fabric, and PVC pipe works well for the frame.
The main advantage is that you can tailor it to fit your outdoor space. This could be helpful for unusual-shaped balconies, RVs, or even for attaching to patios.
Here's a fairly comprehensive set of instructions for how to build a DIY awning.
Pros
Can be made to any shape or size
Possibly much cheaper than a pre-made one
Cons
6. RV/camper awning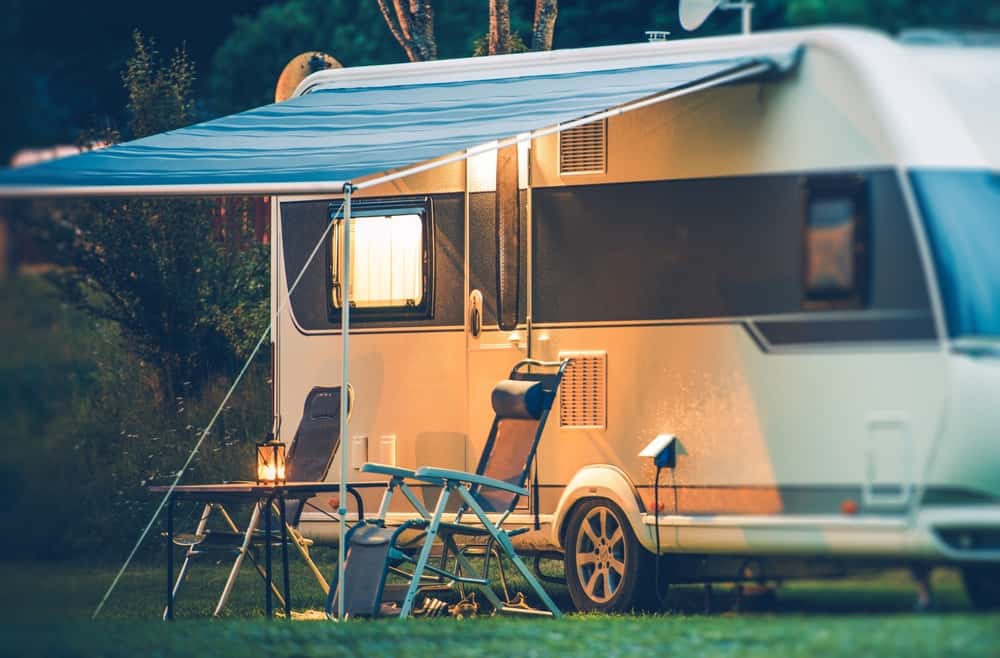 An RV awning will almost always be retractable. More than anything, this makes them easier to store when not in use, as space is at a premium in an RV. The variety of RV outdoor awnings styles is massive, too.
Some are mesh while others are fabric. You can even find ones that turn into whole rooms with a fabric top and mesh sides. Of course, you could adapt the DIY instructions above to make an awning for an RV, which would probably be easier than making one for a building.
Pros
Plenty of styles available
Should be available direct from RV manufacturer
Gives you usable outdoor space when camping
Cons
Can get expensive for what they are
7. Portable awning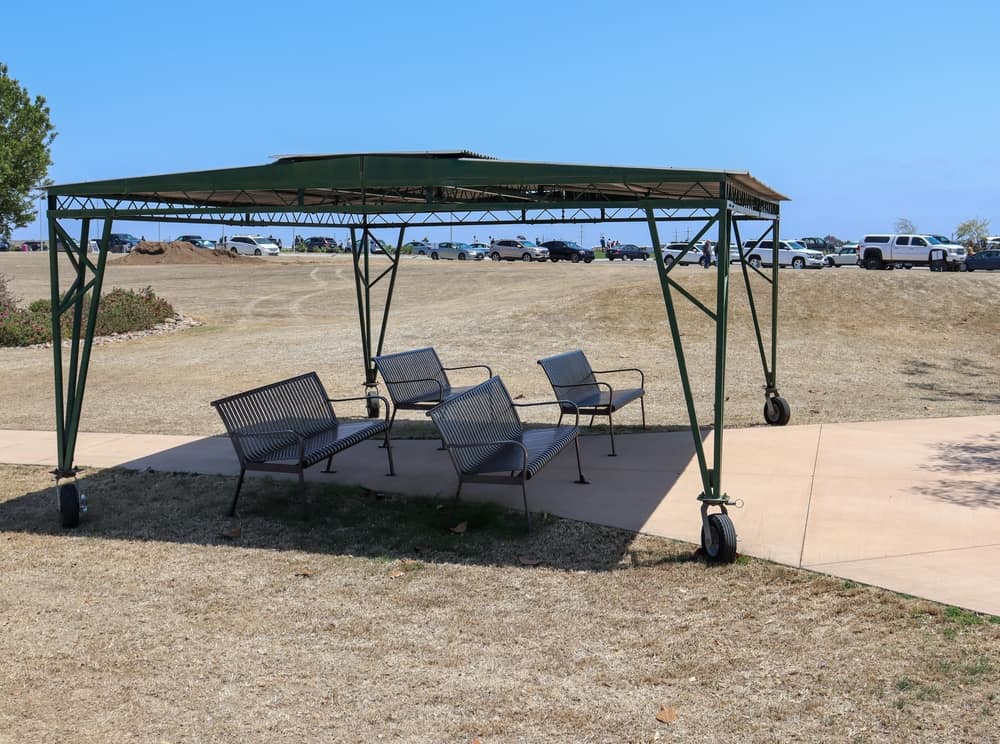 While a portable awning might cross into the definition of a canopy, we're focusing on collapsible, freestanding awnings here. A freestanding awning allows you to move it around outdoors, so you can shade anywhere you want.
Of course, this means sacrificing wind resistance, as it's not attached to anything. But for backyards that are sheltered, a portable awning can be a great addition.
Pros
Can be smaller because you can move it as the sun moves
Will typically be canvas
Often cheaper than a fixed awning
Cons
Portability means sacrificing some weather resistance
Final Thoughts on Outdoor Awnings
Outdoor awnings offer so much choice that it can be difficult to narrow down your selection. Hopefully, this article should point you in the right direction.
When choosing an outdoor awning, make sure you consider the weather conditions more than anything. This'll impact the style you choose along with your material options.
However, if your budget can stretch to it, your best option might be to find a local awning installation company, as it can give you specific advice and will often supply you with a better product than you can buy online.