Balcony Boss is reader-supported. When you buy through our links, we may earn a small commission at no cost to you. For additional information, please view our policies.
You'd think that balcony planters are a pretty simple thing to buy, right? But when you start to factor in materials, the size and shape of your balcony, and even the plants you're using, it begins to get a bit complicated.
To help you out, here's a guide on everything you need to know about planters for a balcony. We'll cover the broad types of balcony planters along with when to use them and with what plants.
Things to Consider When Buying Balcony Planters
Before looking at the main types of planters, let's go over the factors you must consider when making your selection. You won't need to think about all of these every time, but having a rough idea of your main needs will help you narrow down your choices.
Your Balcony
A good place to start is with the balcony itself. First, think about the size: do you have room for big planters? If so, how many and what shape? As a general rule, your planter should be 2-4 inches bigger than the pot your plant comes in. Also, a planter needs to be about half an inch bigger than the plant's growing pot.
This isn't always necessary, but it often helps to keep the plant in a pot in a planter. It makes transplanting easier and means you can swap planters around with minimal effort. But ignore this if you plan to put the plant directly in the planter.
You should also factor in whether your balcony is covered or not. This matters with balcony planters because it determines whether they need drainage holes. If your balcony is uncovered, always buy planters with drainage holes. But if it's covered, and plants will only be watered by you, you don't have to be as careful.
Weather
Rain is obviously a big factor when choosing balcony planters, as mentioned above. Drainage holes will prevent your plants from drowning or getting root rot.
But temperature is another big factor to consider. If you live in a warm area, terracotta and stone are the best materials of choice. Plastic will get too hot in the sun, which could damage a plant's roots.
On the flip side, planters made from natural materials help in cold climates because they insulate the roots. Something like coconut coir is popular for lining planters, but you could also wrap it around pots in the winter like a plant blanket.
Finally, think about wind. A small, lightweight planter is more likely to blow over, particularly if it holds a tall and light plant. If your balcony is sheltered, you don't have to worry about it.
But if it's exposed, opt for heavier planters. You should balance this against materials, though, as a terracotta pot will likely break if blown over. Concrete or stone planters are heavy and resilient, whereas plastic is lightweight and resilient.
Use
This might sound obvious, but think about what you're using the plants for. A privacy screen made from bamboo would work best in long rectangular floor planters. They'd also need to be heavy to prevent the bamboo from blowing over.
But for decoration, railing planters or hanging pots would be best. It mainly depends on the type of plant and how they grow, but also whether you need access to the plant. For example, growing an herb garden in hanging pots isn't super practical.
The Main Types of Planters for a Balcony
1. Wall Planter
Wall planters are ideal for balconies because they make use of space without taking up room on the floor. They're ideal balcony planters for small decorative plants or herbs.
They should be fine in all weather conditions, providing they're properly fixed to the wall. Renters might not be able to add screws for wall planters, but you could try using adhesive hooks instead.
As for materials, plastic planters work well, as do metal (for an industrial look). Felt vertical pot bags (like this) are perfect for herbs or crops like strawberries.
Pros
Don't take up floor space.
Loads of designs and materials available.
Suitable for all balconies.
Cons
2. Railing Planters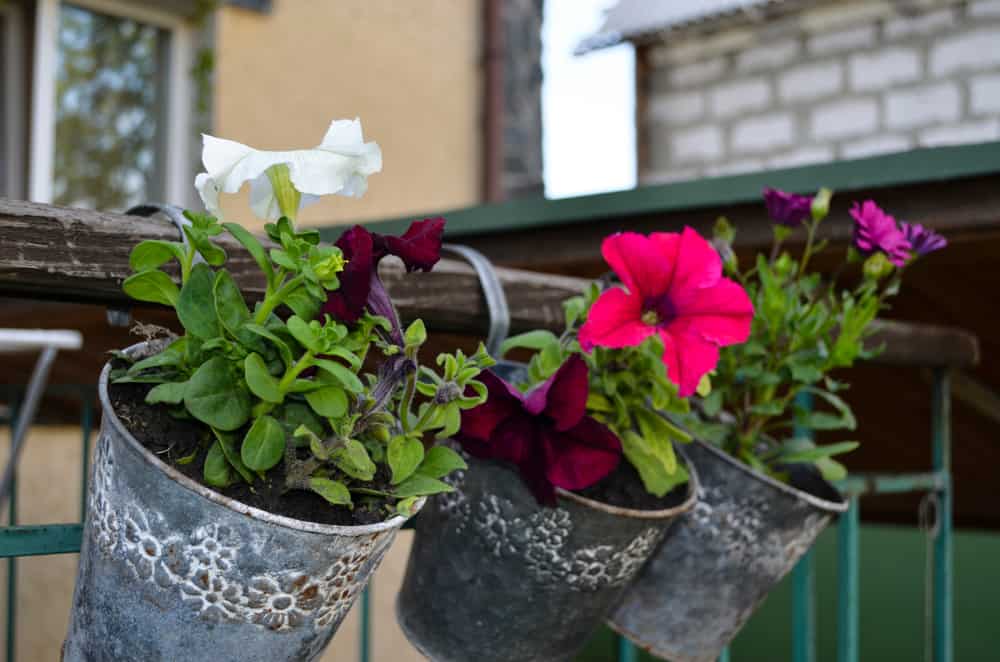 Much like wall planters, railing planters don't take up floor space. Better still, they generally don't need hardware because they fix directly to the railing.
We've got a full article on railing planters, so check that out for everything you need to know.
Pros
Options exist for all railing types.
Ideal for renters – no hardware needed.
Great for decorative plants and crops such as herbs.
Cons
3. Planter Stands
While not technically balcony planters, stands deserve their own category. A planter stand is perfect for giving height to a pot you don't want directly on the ground. It adds interest and depth to your balcony's décor.
Planter stands are generally meant for indoor plants, so be careful with the materials you choose for uncovered balconies. Wood is common but metal ones should be fine outdoors. Bear in mind that the included pots don't usually have drainage.
These are exclusively a decorative option and look great with plants like snake plants or ferns. Of course, you can add any plant you want, but ones with width or drape (and not too much height) look best.
Pros
Plenty of style options available.
Ideal for decorating your space.
Work with any plants you choose.
Cons
Not all stand materials are suitable for uncovered balconies.
4. Troughs
Troughs are suitable planters for a balcony if you want tall plants. They're essentially rectangular planters, which you might use for privacy bamboo or decorative border plants. However, they'd be ideal for herb gardens and crop plants, too.
Material shouldn't matter too much here. Plastic is the cheapest and easiest to find. But if you have a specific look in mind, you can also get wood or concrete. If planting something like bamboo or tall grasses, go for the heaviest, deepest troughs you can find.
Pros
Suitable for loads of different plants.
Can be as decorative as you need.
Plenty of size options.
Cons
Can take up a lot of floor space.
5. Floor Planters
Another broad category of balcony planters is floor planters. You can find ones of all sizes, but we'll discuss ones for large plants here. By this, we mean trees or shrubs that grow a few feet tall.
The most important factor is shape. Ideally, go for shorter, wider planters for a balcony, as it'll reduce the chance of it blowing over. Even plants that need a lot of root space should be fine in a wide pot, as they'll still have room to grow. The best material is probably plastic, as it's durable. Failing that, concrete is resilient but is a lot more expensive.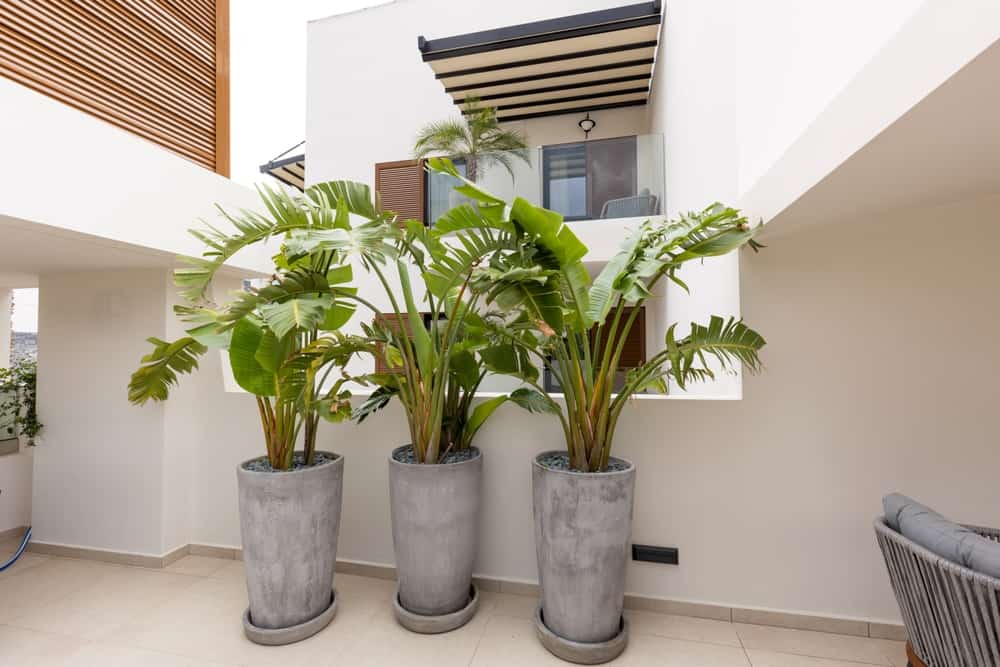 Pros
More options than you could need.
Suitable for trees, climbing plants, and shrubs.
Decent range of materials available.
Cons
Large floor planters are very expensive.
6. Hanging Planters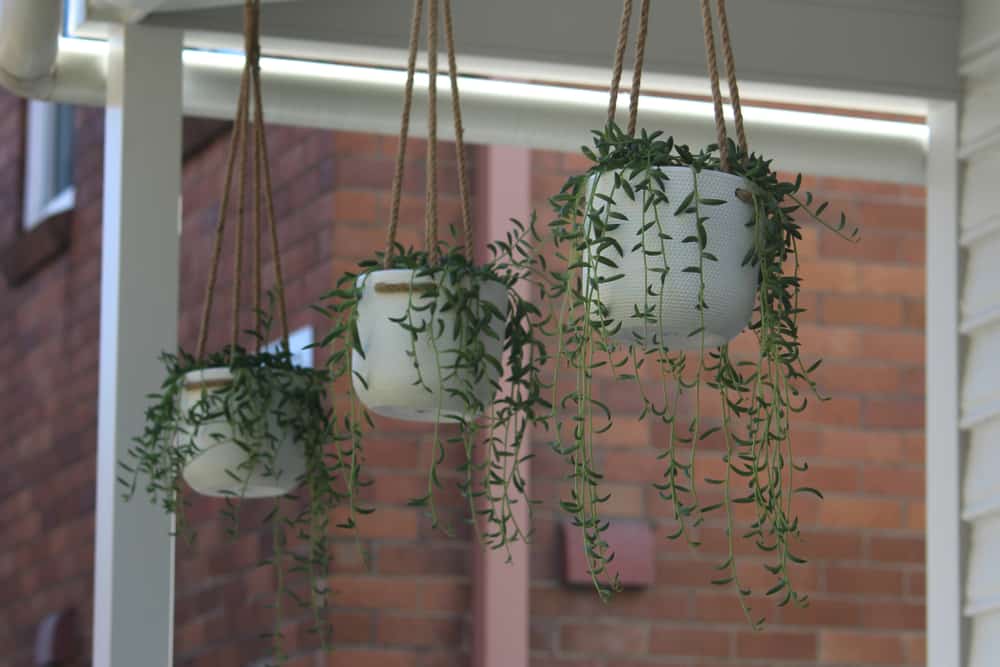 Hanging planters are best suited to decorative plants, particularly creeping or draping ones. For example, hanging pots work well with spider plants, pothos, and even ferns. That said, you could easily grow strawberries in a hanging pot.
Again, there are plenty of materials available. Ceramic is the most common, but plastic or coco coir are perhaps best for windy or uncovered balconies. The only drawback is that you might need to screw in hooks, but adhesive hooks are a good alternative.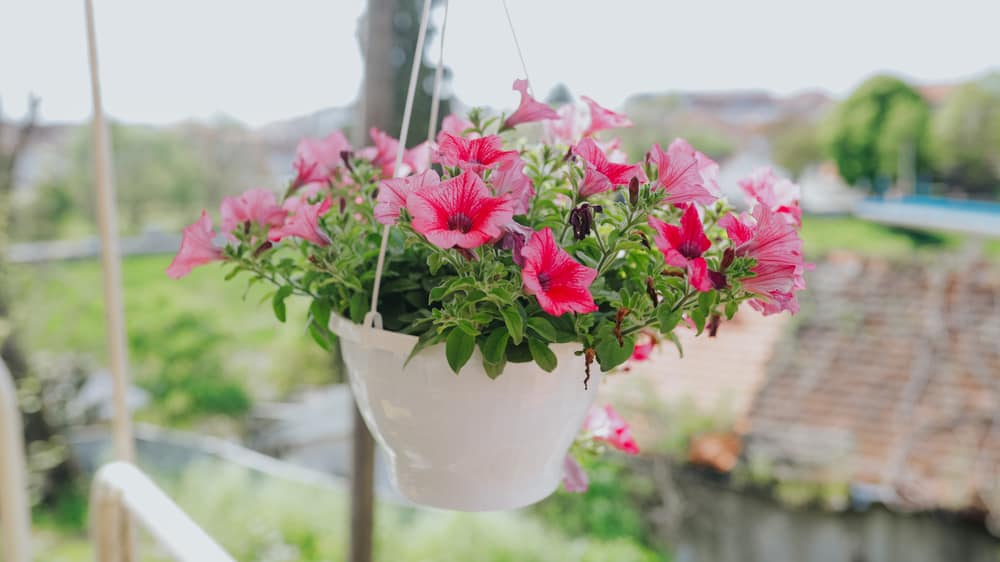 Pros
Suitable for decorative plants and crops.
Lots of sizes available.
Can be hung from walls, ceilings, or furniture.
Cons
7. DIY Balcony Planters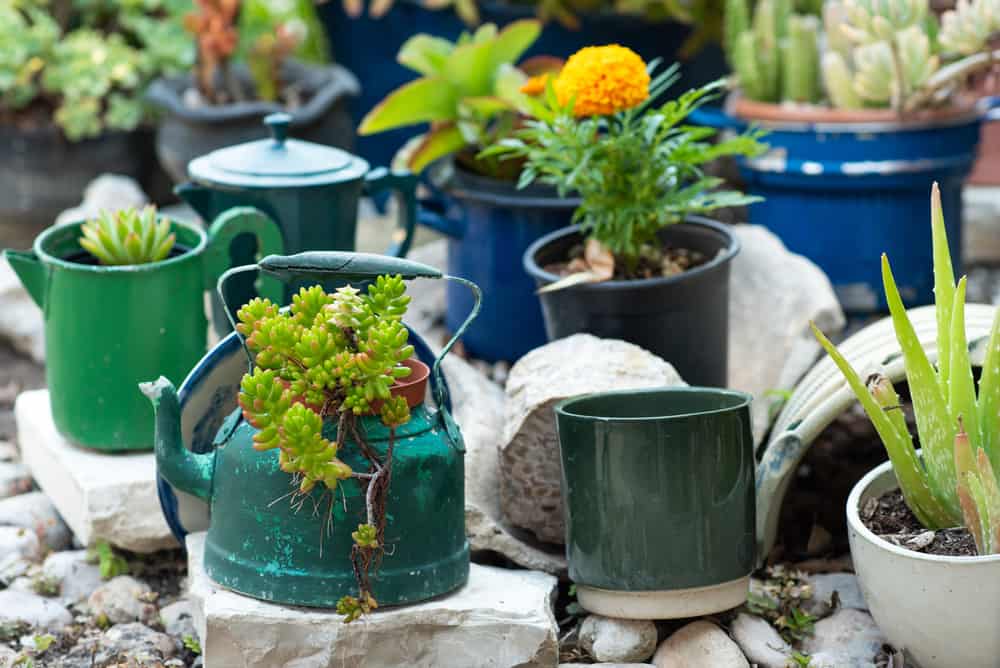 Anything is a planter if you're brave enough! If you're decorating your balcony, see what things you've got lying around that could be used as planters. Some good options include metal buckets, old jars or mugs, or just about anything else that could hold a plant.
DIY deserves a mention because it gives you plenty of freedom to design your own planters for your balcony. This is ideal if you're going for a boho vibe, as it adds to the eclectic nature.
Of course, you should make sure your DIY planters have drainage if they're outside. This is easy enough to add to something like a bucket – you just drill a hole. But if you're using cups or ceramic, just add lots of stones to the bottom instead and be careful with how much you water.
DIY balcony planters look particularly good with flowering plants (especially lavender), herbs, or small crop plants that you can place on tables or around furniture. But if you have some 5-gallon buckets, you could easily grow tomatoes or other decent-sized crops in them.
Pros
Can be tailored to your balcony décor.
Fun DIY project with kids.
Ideal for saving money.
Cons
Can be difficult to add drainage.
Final Thoughts on Balcony Planters
Hopefully, you now know everything you need about planters for a balcony. Start by thinking about your plants and your space to narrow down your options, and go from there.