Balcony Boss is reader-supported. When you buy through our links, we may earn a small commission at no cost to you. For additional information, please view our policies.
Decorating a balcony corner can be challenging because of how restrictive the space can be. On the one hand, it seems like a bit of a nothing space, but, with some planning, you can make it as useful as any other area.
So, let's go over some balcony corner decorating ideas to give you inspiration on how to get the most from that awkward corner.
Decorating Balcony Corner Spaces
Perhaps the biggest challenge with decorating any corner is making use of the space's dimensions. Making it look good without overwhelming the rest of the balcony requires the right balance of items and space.
But, the advantage of a corner is that you can make it incredibly cozy because it can feel very contained.
The main principle for decorating a corner is, therefore, balance. You don't want to go so overboard that it draws the eye, but you'll want to include something that essentially "hides" the fact that it's a corner.
10 Balcony Corner Decorating Ideas
1. Balcony Corner Bench + storage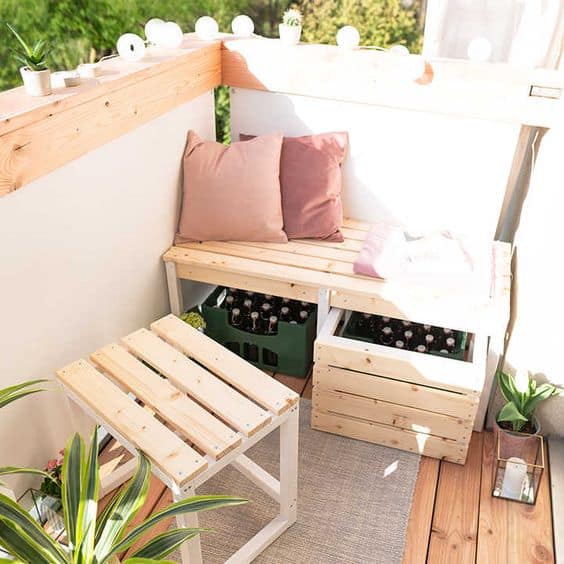 A balcony corner bench is ideal as a little reading nook or for enjoying a morning coffee. Of course, finding a bench that's the correct size will be difficult. There are plenty of outdoor storage boxes that you could use as seats, though. However, if you're building your own balcony corner bench, you could always add a storage drawer to that.
If you're interested in a DIY challenge, a DIY pallet couch would be perfect for a corner, so check out our article on how to make one.
2. Floor seating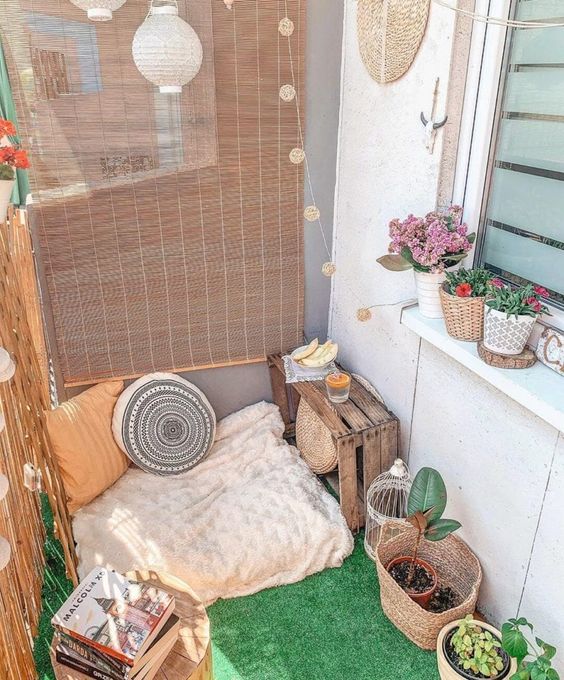 Creating your own floor seating is a great way to utilize the corner space of a small balcony. You could use some outdoor sofa cushions to create a corner seating area on anything from an old table to a storage box. You could even get fancy and make stacking or nesting seats.
3. Planters
A corner is the perfect place for some plants, as it provides focus and will probably give you the chance to include some taller plants. For example, if the corner is against a wall or your neighbor's balcony, some palm trees or similar would be perfect.
There are different ways to set this up. You could use a normal plant stand that's not too wide, or buy a specific corner plant stand. Alternatively, you can buy corner planters that are quarter-circles.
Finally, you could hang some railing planters on the inside of the railing.
4. Corner table or stand
A balcony corner table can be a great place to put plants or lighting rather than as a side table for seating. In theory, any square or rectangular table will do the job, providing your corner is an exact right angle or you buy a specific corner railing stand.
If not, consider making one yourself out of pallets or lumber. The benefit of a DIY option is that you can get it to the exact dimensions you need. However, a circular DIY table made from something like tires could be a good attention-grabber.
5. Zen garden
A Zen garden might not be your first thought when it comes to decorating a corner, but it can be a great way of using an otherwise unusable space. After all, putting some rocks on the ground with a fountain and statue gives it a clear purpose.
Check out our article on how to create a Zen garden for a balcony for all the information you could need.
6. Corner Lounge Set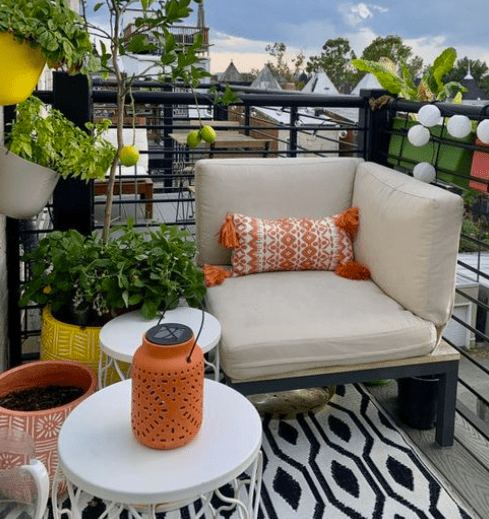 You might be wondering how a balcony corner lounge set is different from a balcony corner bench. Well, the major difference is the included parts. A lounge set, for example, will typically include a table and possibly more than one seat.
The best lounge sets for corner balconies (like this one) can be freely rearranged to accommodate various uses and – more importantly – different balcony shapes and sizes.  
7. Bar
Does this suggestion really need justifying? A balcony corner is a perfect place to set up an outdoor bar or drinks mixing station. Although it's not super imaginative, it's an easy way to make use of "dead" space while also giving you an excuse to have a drink (or 3) on your balcony.
In the DIY table article linked above, you'll find suggestions for a DIY outdoor bar. Alternatively, a vintage serving cart would be ideal for a corner because you could move it around.
8. Mini cinema screen
This option is a bit out-of-the-box and is probably one of the more expensive suggestions on this list. If you've got a bit of a nothing corner space, why not make use of it by turning it into a cinema screen?
You can buy mini projectors for not that much money, which are much easier to use and store than full-size models. If you've got a difficult-sized corner, you can buy folding screens or rolls of material so you can make your own.
9. Reading nook
Setting up a reading nook with a comfy balcony corner chair is perhaps one of the more obvious suggestions, but it certainly works. Of course, the point here is to make it as cozy as possible with blankets and cushions, so you can enjoy your book in peace.
You could also consider hanging some curtains around the corner to make it as private as possible.
10. Privacy screen
It'll only be worth doing this as a background to other corner decorations, or for blocking off a bad view or wall. For example, if your balcony corner is hemmed in by a jutting wall, consider putting up some kind of screen to make it look nicer.
We've got so many ideas for balcony privacy, but you could go a bit more interesting and use something like bamboo or hanging plants. This'll help make what's otherwise a boring space a bit more inviting.
Final Thoughts on Balcony Corner Decorating
However you choose to decorate your balcony corner, these ideas should at least get you started. As you can see, your options generally revolve around turning it into seating or simply filling it with beautiful things. Whichever way you go, it'll certainly make your balcony's corner more interesting.