Balcony Boss is reader-supported. When you buy through our links, we may earn a small commission at no cost to you. For additional information, please view our policies.
A hammock bed is a symbol of summer: relaxation, leisure, and easy living. They can be great additions to indoor and outdoor spaces, and can even be a suitable temporary replacement for a bed.
So, if you're looking for a relaxing addition to your home, here's everything you need to know about hammock beds.
What is a Hammock Bed?
A hammock bed is a large panel of either cloth or netting suspended from at least two points. Typically, a hammock bed will have wood or metal supports at either end to keep the fabric open and flat. As the name implies, a hammock bed is a good place to sleep, whether overnight or for a nap.
Hammock Bed vs. Traditional Hammock
There's little if any difference between a hammock bed and a traditional hammock. After all, the original purpose of a hammock was to serve as a foldaway bed for sailors or nomadic people.
But if we were to suggest any difference between the two, it would be that a hammock bed is flatter, whereas a traditional hammock hangs lower in the middle and doesn't have the long supporting bars at either end.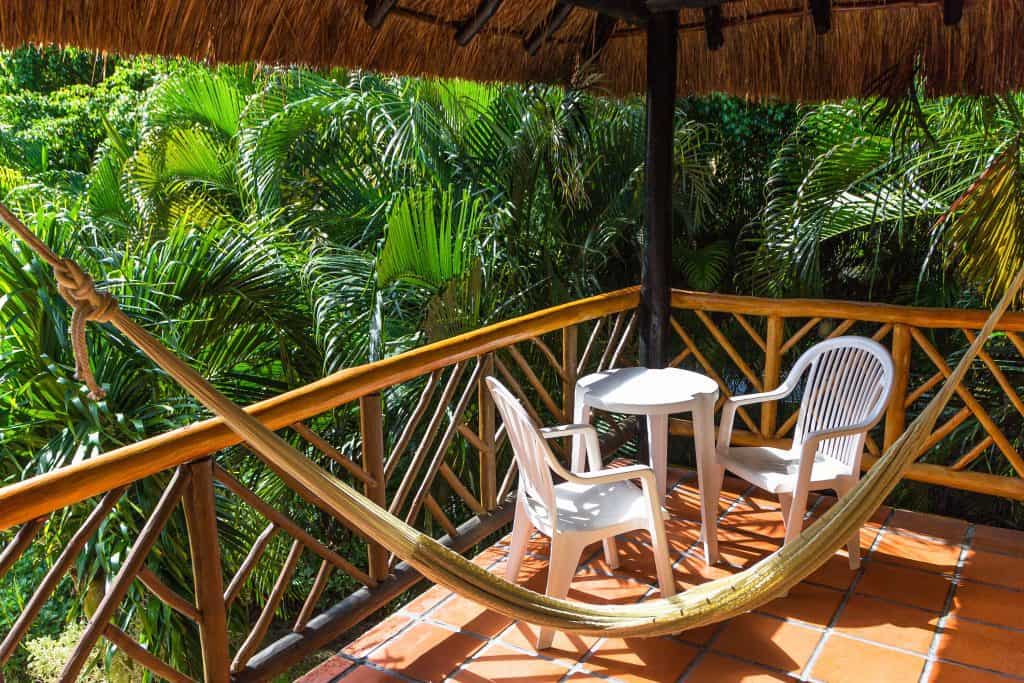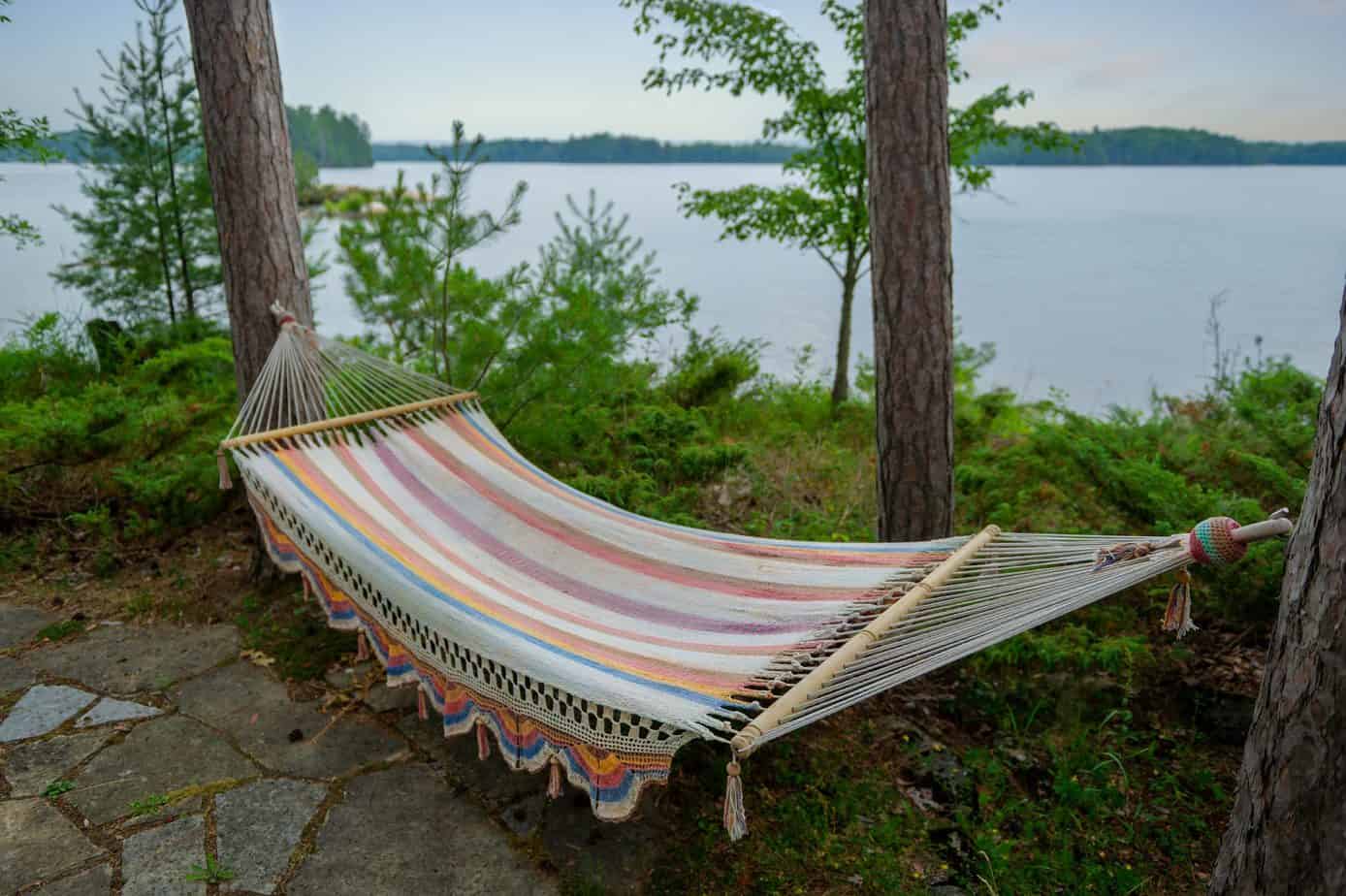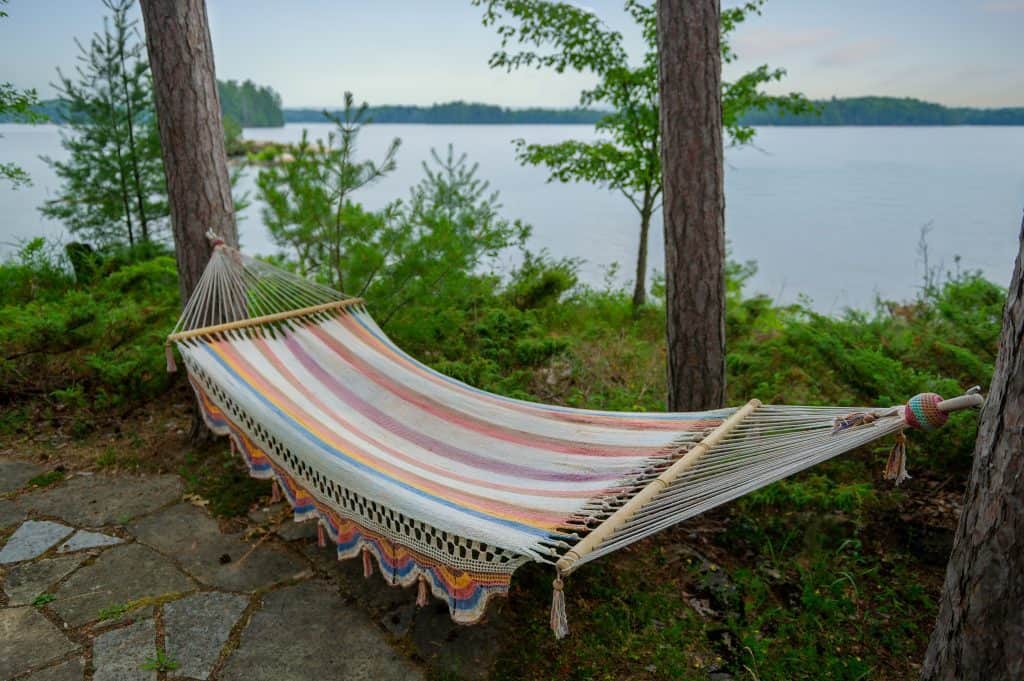 Why Use a Hammock Bed?
Using a hammock bed can be a great idea for the following reasons:
They're very comfortable
A hanging hammock bed is great for tight spaces because you can store it when not in use
Lying (or sleeping) in a hammock can help with back pain
They work well with plenty of design styles, such as boho, tropical, and more
Indoor Hammock Bed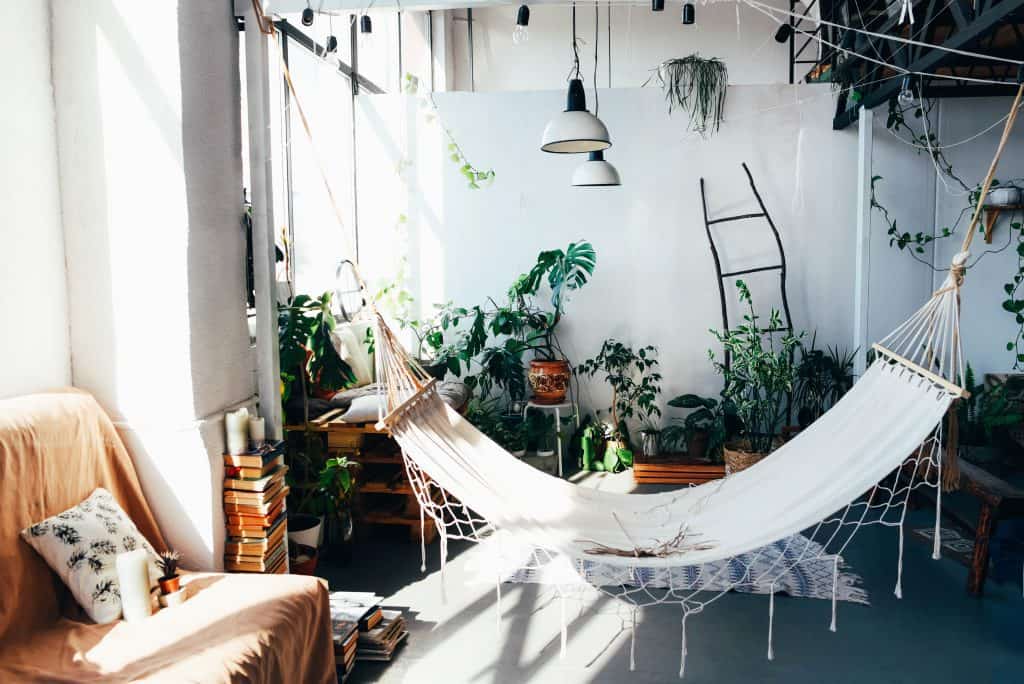 There's no real limit to where in a house you can put a hammock, but indoor hammocks are most common in:
Conservatories
Bedrooms
Sunrooms
Outdoor Hammock Bed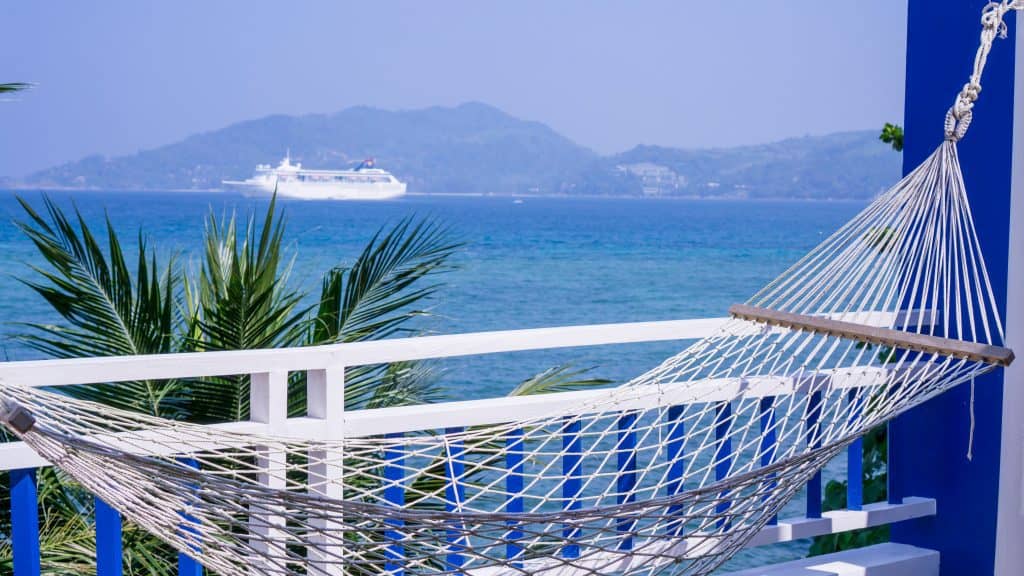 Outdoors, you can put them basically anywhere. If using a hanging hammock bed, you'll obviously need 2 support posts to hang it from. But if you've got a hammock bed with stand, you can set it up anywhere there's flat land.
Hammocks are a great addition to spaces such as decks and balconies or hung next to pools, too. Basically, a hammock bed will work well anywhere in your house or yard.
5 Most Important Things to Know Before Buying a Hammock Bed
For the most part, buying a hammock bed is pretty easy. It's worth knowing a few things before you set out to buy one, though, so consider these tips first.
1. Know what type of hammock bed you want
If we're working on the basis that a hammock bed is one with a large spreader bar at each end, we're already narrowing down the market. However, you'll find plenty of different materials, so decide which works best for you.
Canvas or cotton: great for indoor hammock beds but can also be used outdoors if you take the hammock down or buy treated fabric
Nylon: doesn't look the best but is more weather-resistant than natural materials.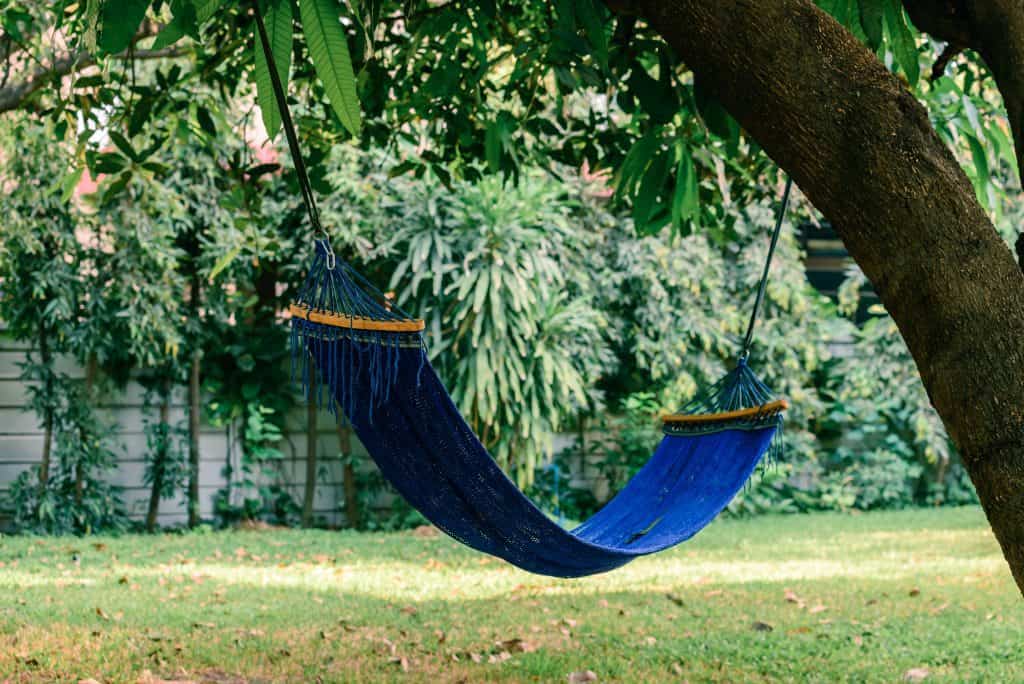 Rope: durable, but less comfortable for long-term hammock sessions.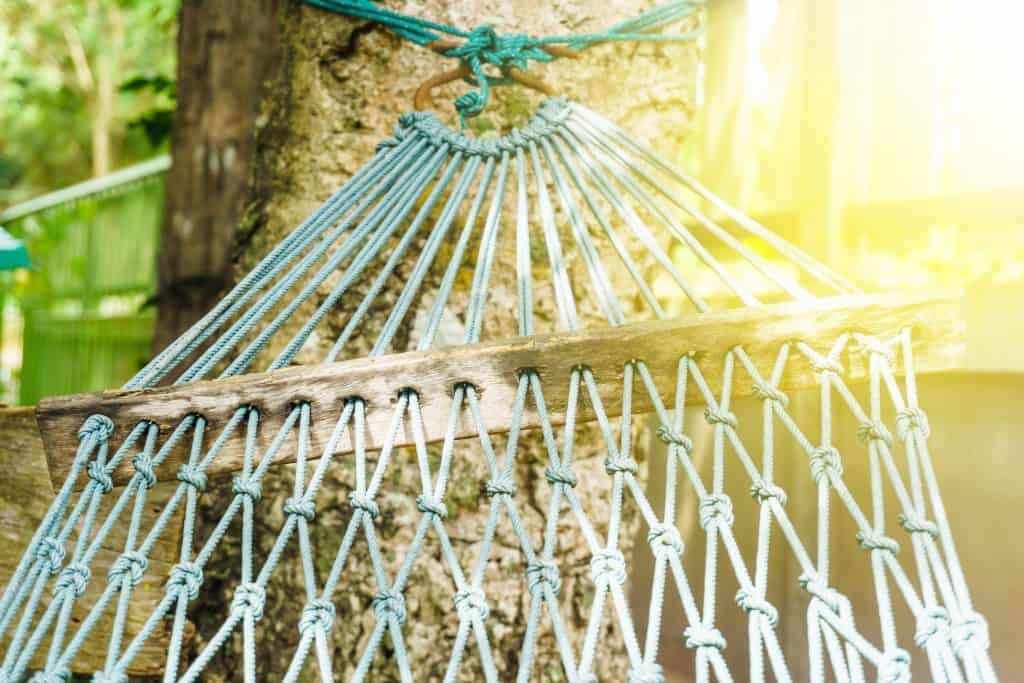 Crochet, woven, or netting: can be comfortable depending on the material used. Natural materials won't last as long outdoors unless treated.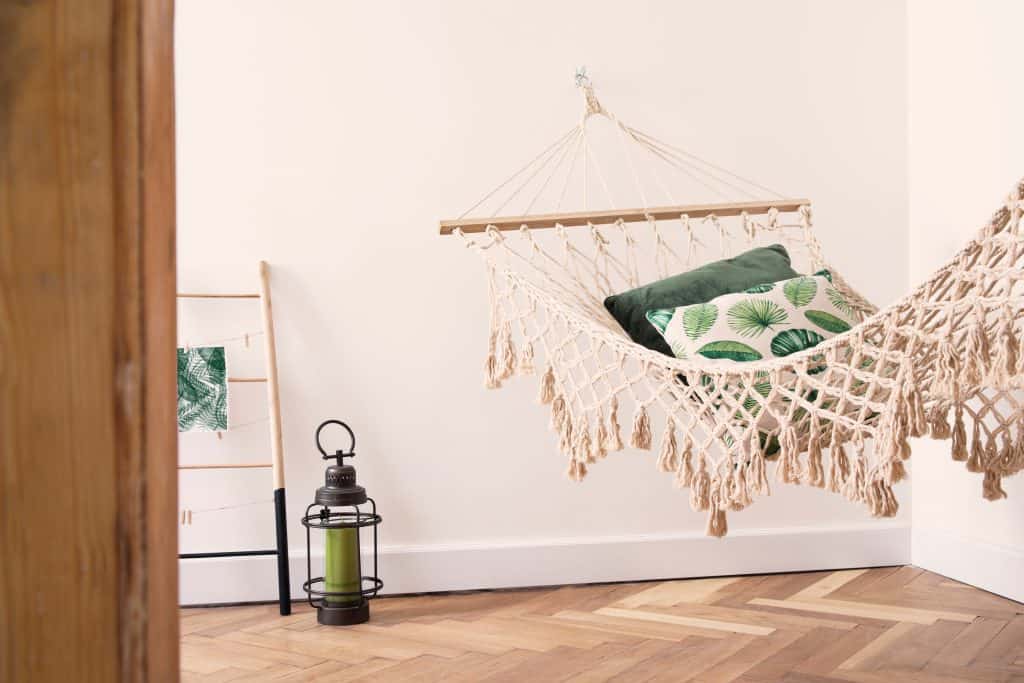 Buying an indoor hammock bed gives you much more freedom over which material you choose. Of course, if you're buying an outdoor hammock for a covered balcony or enclosed area, you don't need to be as careful about what you choose.
2. Ensure the supports are load-bearing
This might seem like an obvious point, but if you're choosing a hanging hammock bed, you must make sure the supports can take your weight. Something like balcony walls or decking supports will likely be fine, but be careful if you plan to hang it from something like a pergola or gazebo.
Stringing a hanging hammock bed from two trees should be fine, as this is the traditional method. Just make sure they're pretty sturdy trees!
If in doubt, just go for a hammock bed with stand (like this one). As you can imagine, the stand is specifically designed to bear the weight of someone sitting in the hammock.
3. There are different sizes
Along with choosing the right material for your hammock bed, make sure you get the right size. Luckily, the sizes are pretty self-explanatory:
Single – for one person
Double – for two people
Family – up to 4 adults
Child – for children
There are also travel hammocks, which fold up small and are incredibly lightweight, but we won't say any more about them.
The main thing to look at is the maximum weight the hammock can take. Of course, make sure your supporting structure can take it too!
4. Hang it properly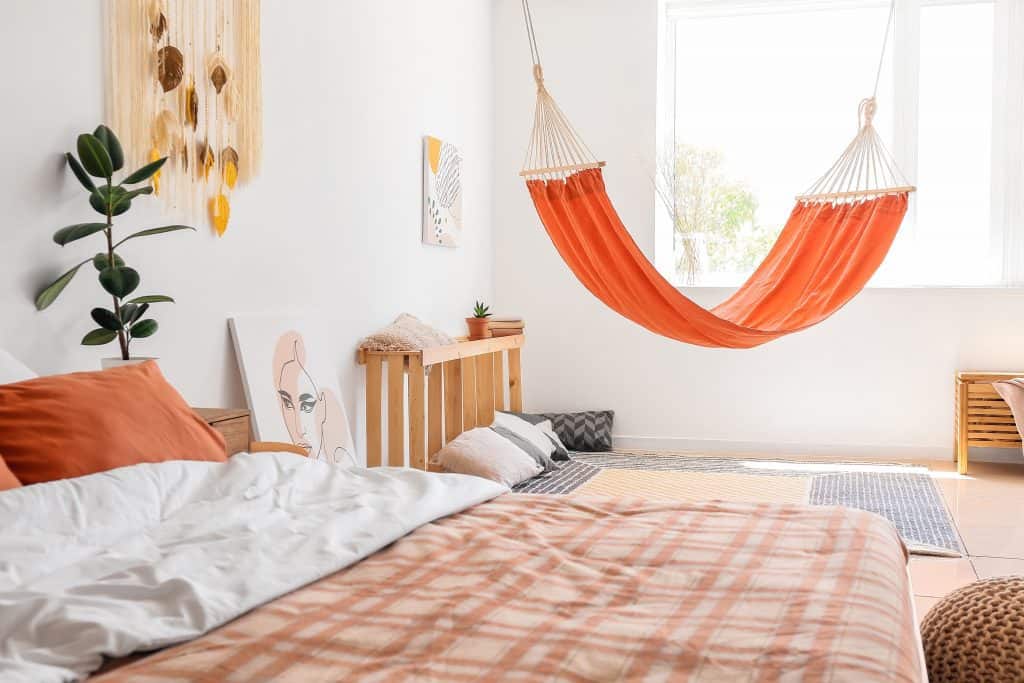 Hanging your hammock bed properly is vital for both safety and comfort. The support points should be level, as you don't want to tilt one way or another. What installation method you use depends on where you're installing it, but neither is difficult.
For indoor and outdoor hanging hammock beds, you should use a carabiner hanging set. These can support a lot of weight, but make sure you choose the right set based on the hammock size. All you do then is drill some holes in the wall, fix in the screws, and you're basically done.
If hanging from a tree, simply use tree straps. Again, these can take a lot of weight, and you install them by winding them around a tree.
5. Do you rent or own?
If you own your home or apartment, there shouldn't be anything stopping you from installing a hammock swing bed from hooks. Your HOA might grumble about drilling holes in the walls, but it's hardly the most invasive job.
But if you rent, your best option is a hammock bed with stand. While these are more difficult to store when not in use, they're far less invasive.
Final Thoughts on Hammock Beds
When it comes time to buy a hammock bed, check it against the points listed above. The market is massive, though, so you should have no problem finding the perfect hammock bed for your needs.