Balcony Boss is reader-supported. When you buy through our links, we may earn a small commission at no cost to you. For additional information, please view our policies.
For many, balcony Christmas decorations can be the only way to create a festive outdoor space. Whether you're doing this for the benefit of yourself or others, there are some differences between decorating a front yard and a balcony.
So, let's go over some apartment balcony Christmas decorating ideas. Generally, these won't be specific decorations but rather ideas for how to decorate a balcony for Christmas.
Choosing Balcony Christmas Decorations
Decorating for Christmas is pretty easy, right? Throw up some red and green, add a fir tree, and you're done. While this can be true for a balcony, there are some principles to consider. The following are true for any balcony Christmas decorations, but are particularly relevant to apartments:
Space
An obvious place to start is with space. It might be tempting to go all out with a massive tree and loads of lights, but you don't want to overwhelm your balcony. If you plan to still use your balcony over winter, tone down the size and number of decorations so they're not too busy.
Storage
Similarly, think about storing your balcony Christmas decorations throughout the rest of the year. Some ways you can get around this issue include:
Focus on collapsible or inflatable decorations if you want something large
Choose real foliage (if possible) because you can then throw it out after Christmas
Consider buying "evergreen" decorations that you could use all year round without them looking too festive
DIY or Readymade?
Even if you're not super crafty, making Christmas decorations isn't too difficult. For example, a garland or wreath consists of foliage tied into shapes. With a bit of practice, you can make some interesting designs.
Also, DIY apartment balcony Christmas decorating ideas can often be cheaper. If you live near woodland, you could get most of your decorations for free with a bit of foraging.
The benefit of going readymade is convenience, of course. You should balance this against cost, particularly for real foliage decorations. If you were to buy them from a local florist, you should expect to spend a surprising amount of money.
How to Decorate a Balcony for Christmas
To make things easier, the following apartment balcony Christmas decorating ideas are broken up by section. There should be more than enough inspiration for each, so let's get into it.
Lighting
Lighting is almost a necessity in winter, particularly around Christmas. Not only does it help create ambiance but it's also useful for actually seeing while you're outside! How you light your balcony will depend on whether you plan to be out there, as you won't need as many lights if it's just for decoration.
String lights are a great place to start because they're easy to store and there are loads of designs available. Star-shaped lights add a Christmassy vibe and some interest, rather than just standard fairy lights. Look for lights with varying length strings (such as these) to add variation, especially if you're hanging them from a covered balcony.
Other good options include curtain lights (such as these) hung along walls or even over your balcony railing. Adding different sized star lights, along with globes can create some great looks.
And don't forget candles. Candles are almost perfect balcony Christmas decorations because they're festive and can help light up tables. If you can't have real candles, LED ones (such as these) are the next best thing.
You can ramp up the Christmas vibe by using tea lights in colored glass jars. Either buy some or paint mason jars in Christmas colors. Mason jars also look great with string lights in them.
Plants
Choosing plants for balcony Christmas decorations should be pretty easy. The most obvious choice is a fir tree, although fitting a full-size one on a balcony can be impractical. If a Christmas tree is a must, consider buying a mini artificial one (such as this), as it'll look great on a side table.
However, there are plenty of other plants to use for your apartment balcony Christmas decorating ideas. Some include:
Poinsettia – they make great table centerpieces and aren't difficult to keep alive during the Christmas season.
Christmas cactus – so called because they bloom around Christmas. You'll only be able to keep it outside in warm areas (it's a succulents, after all).
Mistletoe – another stereotypical Christmas plant that's great for decorating with. Use artificial mistletoe, though, because the berries are poisonous.
Holly – holly is another great option for garlands and wall decorations. If you decide to plant a real one, don't expect the berries to stay for long. They're a favorite of birds.
If you want some live potted plants as balcony Christmas decorations, you can get quite a few flowering plants:
Winter rose
Cyclamen
Christmas rose
Dogwood (technically doesn't flower, but looks great anyway)
You could also try making a festive hanging basket if you're short on space. Take a standard metal hanging basket (such as this) and add some foliage, which could be real or artificial. If you're going for the latter, use some florists foam. Add some battery-operated fairy lights and you'll have a festive arrangement.
Finally, you could drape string lights through your existing plants. Box hedges are ideal for this, as are mini trees and even creeping or climbing plants.
Garlands
Although garlands count as décor, they deserve their own section. The most obvious place to use them as balcony Christmas decorations is along your railing, either inside or outside.
It's pretty easy to make a Christmas garland from fir tree branches, pinecones, and other foliage. Essentially, you'll need gardening wire (such as this) and some patience. You just need to twist the wire around the branches to form a garland. This video is the perfect illustration of how to do this.
Once you've got the basic idea down, you can throw in anything you want. Consider using lights, berries, pinecones, bells, or anything else that suits your Christmas décor vibe.
The benefit of making your own is that you can make it the exact size you need. It's particularly helpful for balconies, where you could be short of space but also have an awkward railing to decorate.
Alternatively, you could buy a plain artificial garland (such as this) and liven it up yourself. Simply adding a set of string lights and some holly or mistletoe would make it much more interesting.
Ornaments and Décor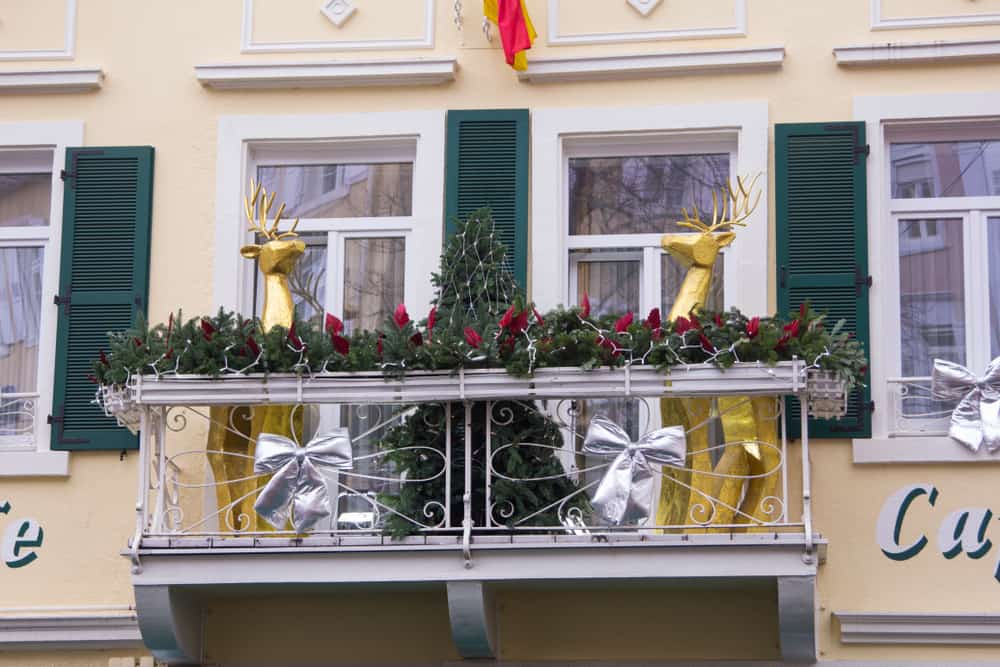 Finally, we arrive at the best part: Christmas décor. There's probably not loads to say about how to decorate a balcony for Christmas, as it'll depend on your overall style and goals. Even so, here are some general tips for balcony Christmas decorations.
A good place to start is by making your balcony cozy. Pile up textiles of different textures, such as fleecy blankets and fluffy cushions. Faux sheepskin is perfect for Christmas because it has a super cozy vibe. Balance it against other patterns and textures to create a "wow" moment in a smaller space.
Wreaths, much like garlands, are a great way of getting foliage and greenery onto your balcony. They're also easy to make: you basically make a garland in a circle. Add a few baubles and some lights and you've got a perfect Christmas wall hanging.
Table setups can take a bit of work to get right, but they can look impressive once you do. Using any old table, follow these tips for an interesting setup:
A table runner is ideal for adding color and drawing the eye to the decorations
Have a single focus color (such as white or gold) that runs through all decorative elements
Add varying height for interest. This can be easy using candles, pinecones, and foliage
On that note, use some fir branches and pinecones for a natural element, which can also offset the artificial colors of decorations
How you choose to use ornaments and décor on your balcony will depend on your tastes, but some general principles to follow include:
In small spaces (such as apartment balconies), don't go overboard with small decorations. Instead, focus on lighting and textiles because these don't take up table and floor space but add plenty of interest.
Ideally, have a main theme color. The most obvious options are red and gold, but white can be a great modern option if you don't want anything too bright.
Work with what you already have on your balcony. For example, if you've got lots of shelves or hanging elements, base your balcony Christmas decorations around these.
Similarly, think about how you can continue your balcony's current décor theme into Christmas. For example, a Scandi Christmas arrangement would include lots of wood and neutral colors, whereas a boho Christmas would include lots of texture and ornamental elements. You can translate pretty much any décor style into a Christmas theme.
Final Thoughts on Apartment Balcony Christmas Decorating Ideas
Decorating your home for Christmas is a fairly personal project, as we all have different tastes and ideas. However, these apartment balcony Christmas decorating ideas should provide some guidance for how to effectively use your space.