Balcony Boss is reader-supported. When you buy through our links, we may earn a small commission at no cost to you. For additional information, please view our policies.
Balcony lights are the difference between a livable space and an enjoyable one. Of course, they have practical benefits, but they're a great way to add style and interest to your outdoor space.
If you need some inspiration, here are 10 balcony lighting ideas. Where possible, these are renter-friendly and weather-resistant, so you shouldn't have to worry too much about running cables indoors to a wall socket!
Balcony Lighting Ideas
1. Ladder Lanterns
This is a super easy DIY lighting idea for your balcony. The best option for this is a wooden ladder, as metal ladders look a bit strange. Try and find an old ladder at a flea market if you want to give it a vintage twist.
For the lights, the easiest thing to use is LED tea lights. You can put them in jam jars, which you then hang from the ladder using wire. Alternatively, just buy Mason jar lights that include everything you need.
It's best to actually drill some holes for hanging the ladder, as it might be a bit heavy to hang from stick-on hooks.
Pros
Customizable depending on your choice of lighting.
Vintage look.
Cons
Not suitable for renters if hanging ladder horizontally on the wall.
2. Fairy Lights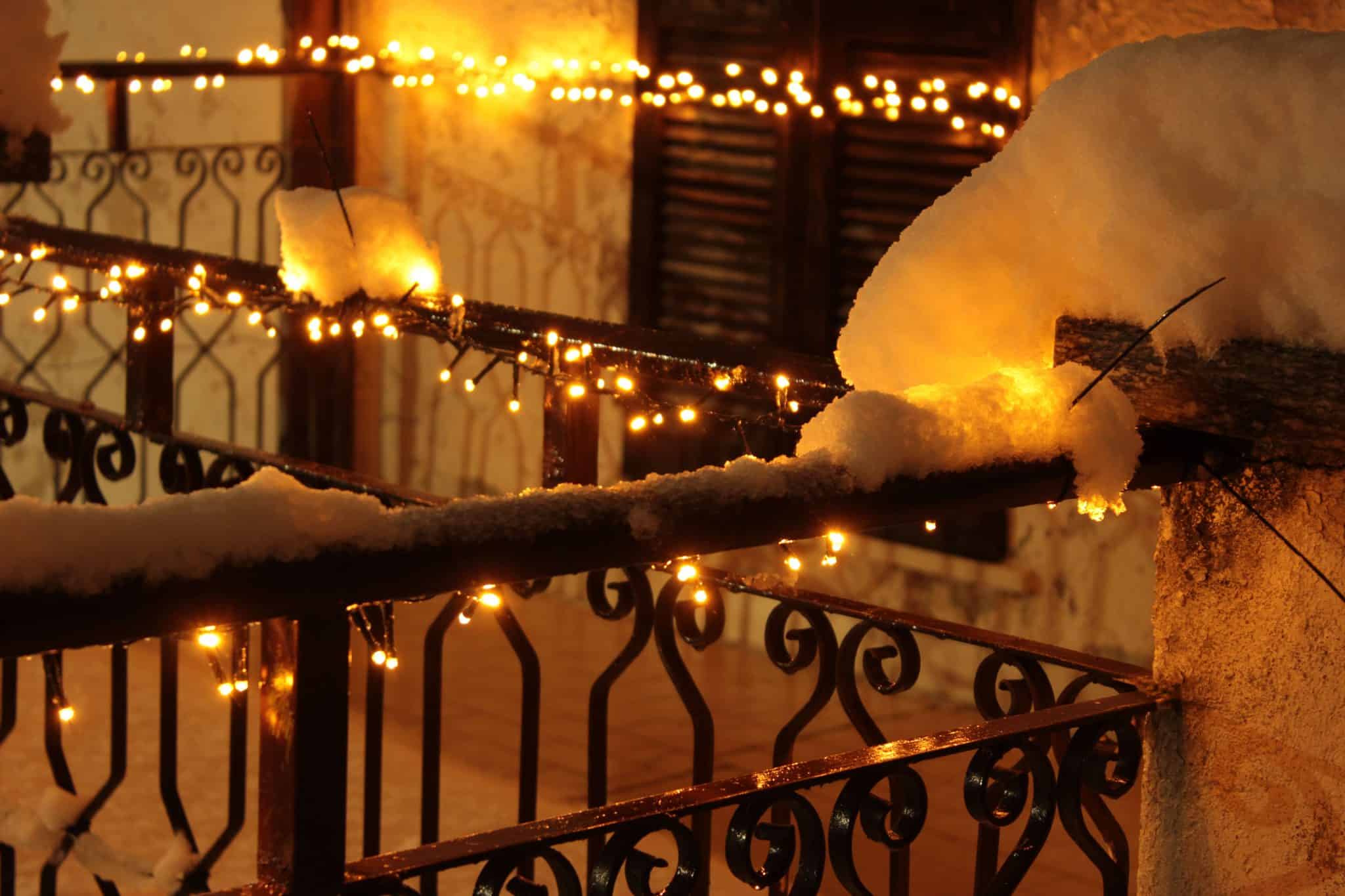 Fairy lights are one of the broadest categories of outdoor lighting. Which you choose for your balcony lights ultimately depends on your style, color choices, and the type of lighting you want.
There are solar-powered lights or plug-in lights. Balcony fairy lights also come in strings of bulbs and color-changing varieties. When buying, make sure they're rated for outdoor use otherwise rain will break them.
When it comes to how to hang lights on a balcony, you can wrap them around the railing or hang them from hooks. Balcony fairy lights are a good choice for renters because they require no DIY to install.
Pros
Versatile and inexpensive.
Plenty of color and style options.
Cons
Plugging into a wall socket can be inconvenient.
3. Paper Lanterns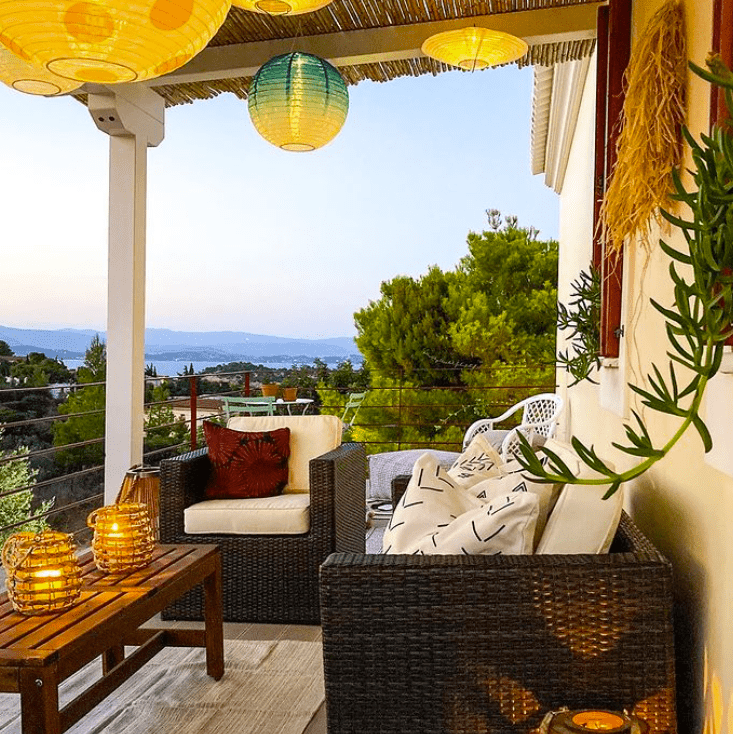 Paper lanterns give off a soft glow, making them ideal for creating ambience at night. You can use any kind of light inside – apart from flames, of course!
There are plenty of colored options too, and you can find different shapes and patterns. Paper lanterns are one of the best balcony lighting ideas if you want a warm, inviting space.
What's more, they're easy to hang wherever you want. Just use some adhesive hooks, as the lanterns don't weigh much.
Pros
Plenty of color and size options.
Easy to hang.
Cons
4. LED candles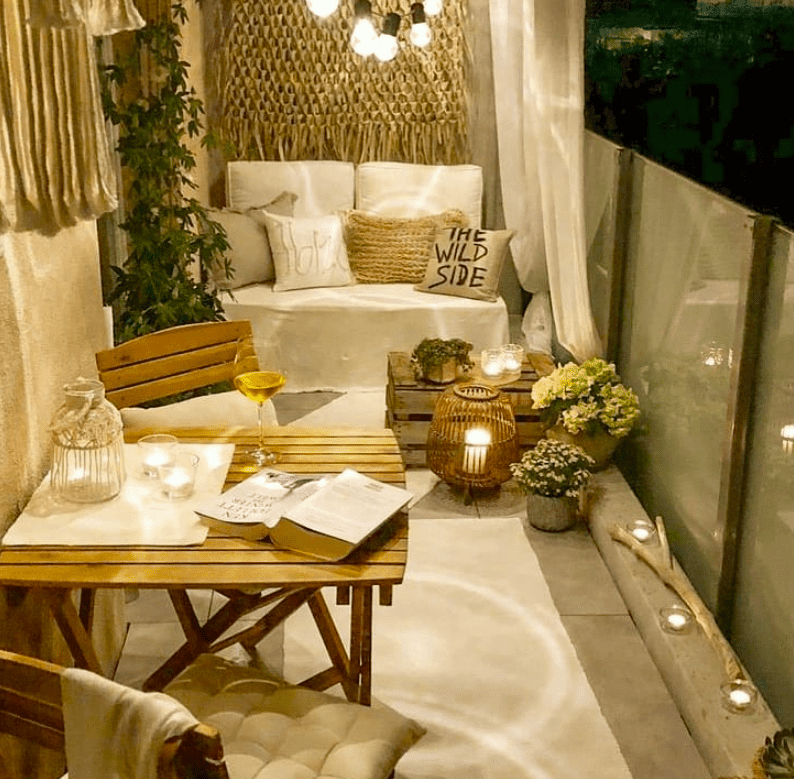 LED candles are ideal for lighting a balcony because you can do pretty much anything with them. Place them in groups on tables, hide them in jars, or use them in lanterns.
Whatever you choose, balcony LED lights are versatile and interesting. Most are designed to give the same flicker as a real candle. While this is great for some late-night ambience, it means they're not the best for reading lights.
There's not much installation involved – you just put them where you want them. It does mean they'll take up valuable table space, but you could always put them on the floor instead.
Pros
Designed to look like real candles.
Great for creating ambience.
Cons
Not the best choice as reading lights.
5. Wall Lights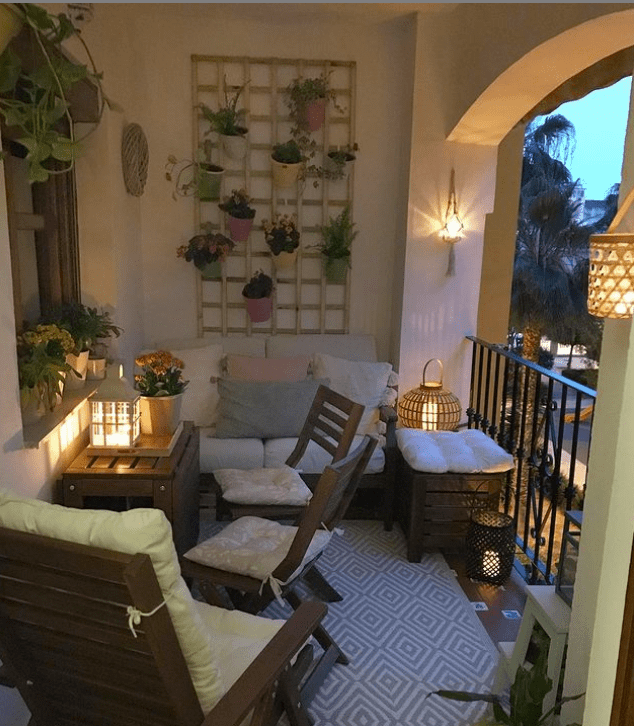 Wall lights are a great choice if you're short on floor space. You can install them on the wall into your home and run the power cable indoors. Most require connecting to the mains rather than plugging into a socket, so bear this in mind.
Also, you might need to check your building regulations to see whether you can install these.
Of course, it'll involve drilling holes in the wall, so isn't a good choice for renters. You can probably find stick-on options but probably won't have as much of a selection.
Pros
Don't take up floor space.
Great range of styles to choose from.
Cons
Not suitable for renters.
6. LED Curtain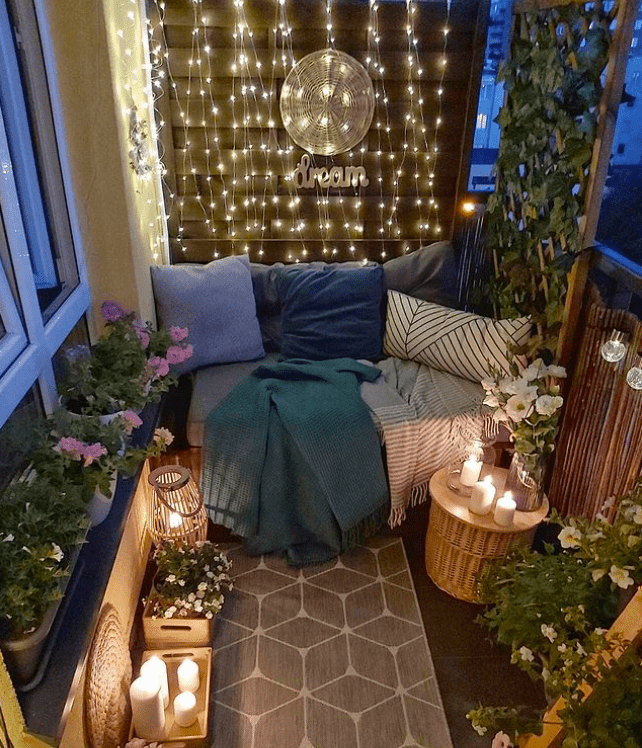 An LED curtain potentially solves the installation problem associated with wall lights. As with string lights, you just hang them up. They're one of the better balcony lighting ideas for renters because they don't require any drilling.
What's more, these balcony LED lights come in a range of sizes and colors, giving you plenty of options. Most plug into a wall outlet, but there are some battery-powered options too.
To install these balcony lights, you could either wrap around the railing or hang from adhesive hooks. Of course, nothing is stopping you from installing normal hooks, but there's no real need.
Pros
Versatile balcony lights.
Ideal for renters.
Cons
7. Floor Lighting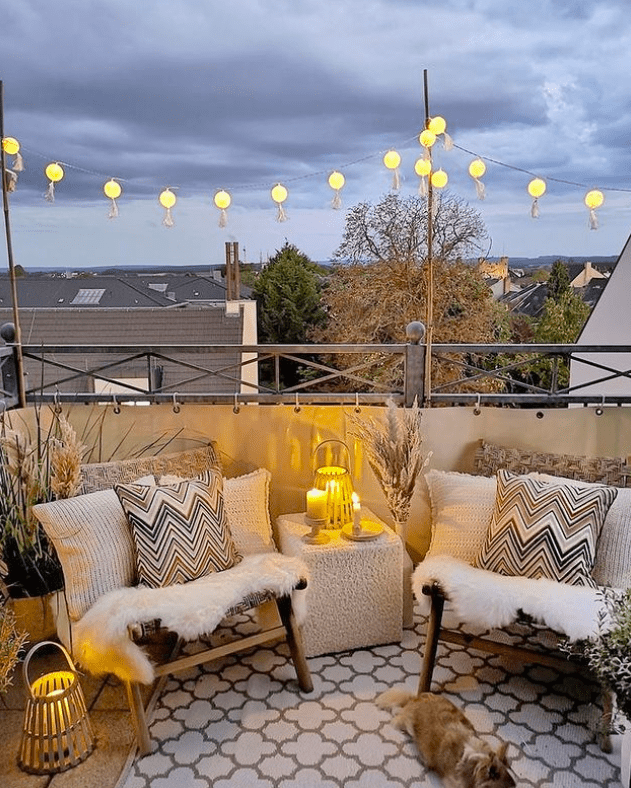 This is one of the broadest categories of balcony lighting ideas, as you can basically use anything you want. If your balcony is covered and you don't mind moving the lamp, you could just use an interior floor lamp.
If you want an exterior floor lamp, your options might be more limited. Many will be too tall or bulky to use on a balcony. But, if you shop around, you'll find a suitable option.
Installation isn't an issue here, as you just plug them in.
Pros
One of the broadest categories of lighting.
Interior lamps are an option.
Cons
Must be plugged into a wall outlet.
8. Solar Lights
Again, solar lights are a broad category because they can include almost anything. Many balcony fairy lights will probably be solar-powered, as it's just a sensible option.
But, you can also find solar table lanterns and many other designs. It could also include floor lamps, wall lamps, and other options.
Solar power is a good choice for balcony lights because they're outdoors and it saves you running a power cable inside. Not only is this safer, it also means less energy consumption.
Most won't require any more installation than hanging or wrapping them around the railing. As a result, most solar-powered balcony lights are suitable for renters.
Pros
Plenty of options available.
Saves you having to use a wall outlet.
Cons
Many aren't as weatherproof as they claim to be.
9. Outdoor Chandelier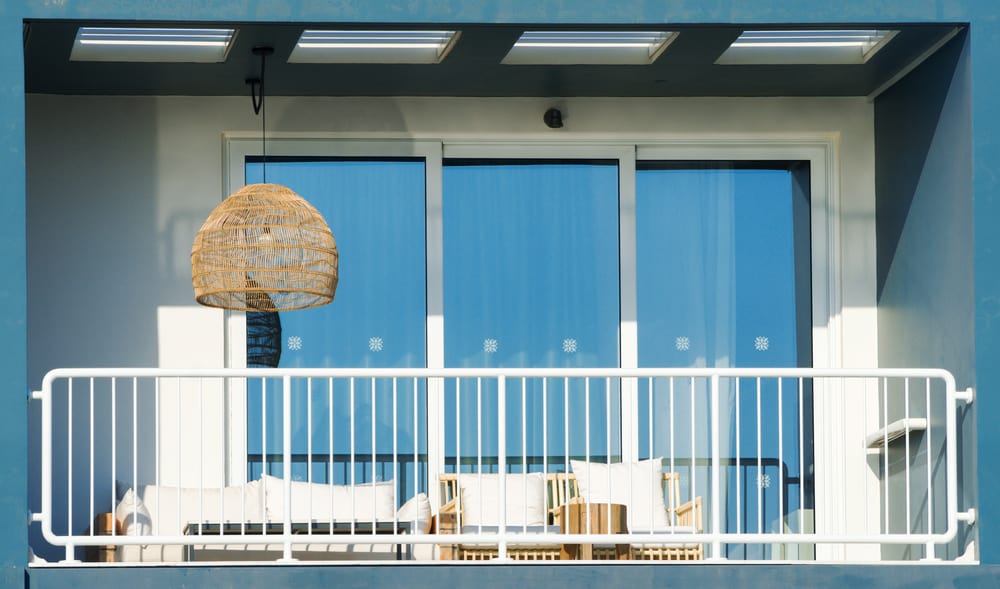 Outdoor chandeliers are only a good option if you have the space for them. Your balcony roof will need to be fairly high or you'll need to hang it somewhere out of the way.
Your options are fairly open for these balcony lights. You can find plug-in chandeliers, solar-powered chandeliers, or battery-powered ones. Also, there are options for easy installation.
When it comes to hanging the lights on a balcony, it depends on the option you choose. Some will hang from a hook while others must be screwed in place. Look out for the one that works best for you.
Pros
Classy look and great ambience.
Plenty of style options.
Cons
10. Railing Lanterns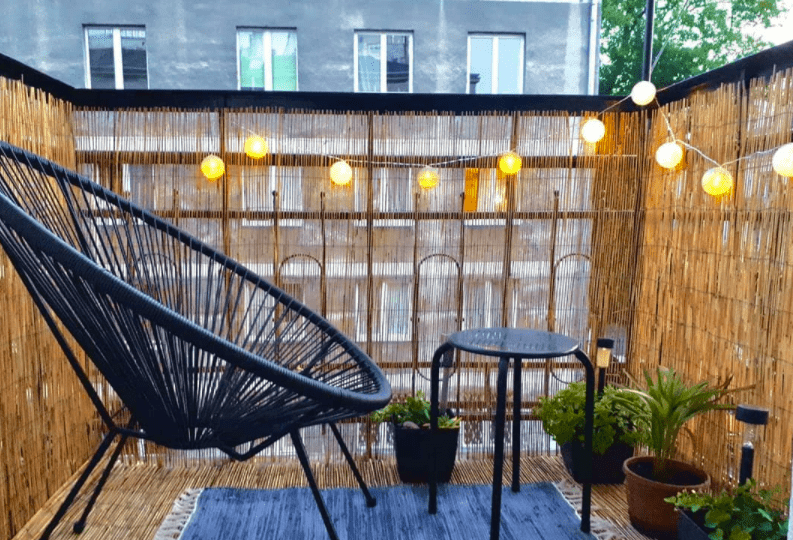 Realistically, you could use almost any of the balcony lighting ideas above to decorate the railing. However, the most sensible option would be either balcony fairy lights or lanterns.
If buying lanterns, choose solar-powered, weatherproof lanterns. Even if your balcony is covered, railing lights will be more exposed to the elements. It's a good idea to opt for high-quality ones for this reason.
Alternatively, you could make your own lanterns with a few supplies. Check out this video for a guide on how to make Mason jar lanterns.
When making your own, your options for lighting are almost endless. Real candles are fine, as they'll be shut inside a jar. Of course, make sure this is allowed under your building regulations.
Pros
Ideal for space saving on a balcony.
Easy to make your own.
Cons
More exposed to the elements than other balcony lights.
Final Thoughts – Balcony Lighting Ideas
The best balcony lighting ideas are ones that combine convenience and style. There's no reason why your balcony lights have to be boring, and it should be easy to match them to your overall balcony design.
Of course, make sure they match your needs too. For example, choose lights with a high lumens rating if you plan to read, but go for a lower rating if you just want soft ambient lighting.
Something like balcony fairy lights can cover all bases, particularly if they have a dimmer switch. Whatever you choose, hopefully this article has given you some inspiration for balcony lighting ideas.