Balcony Boss is reader-supported. When you buy through our links, we may earn a small commission at no cost to you. For additional information, please view our policies.
An outdoor privacy screen is a pretty self-explanatory concept. However, the most suitable option will depend on your outdoor space and what you're trying to make private.
To help you narrow down your options, here are 12 outdoor privacy screen ideas for all kinds of spaces. First, let's look at what works best for privacy, and where.
What is a Privacy Screen?
In the broadest sense, a privacy screen is simply something that makes an area more private. Most results you'll see online will be fabric or wood panels that you install, but technically you could use anything that'll block a view.
However, we could turn this concept around and use an outdoor privacy screen to block something unsightly from the rest of a space. For example, you might install a privacy screen in front of trash cans or around a carport.
We can also use an outdoor privacy screen in the following places:
Hot tub
Balcony, deck, porch or patio
Pool
Garage
Backyard
As a space divider
Advantages of Outdoor Privacy Screens
Alternatives to privacy screens would be things like fences or walls. As such, the main advantage of an outdoor privacy screen is that it's a more flexible concept. For example, if you don't want a full fence, you could use a trellis covered in plants.
Also, you can install a privacy screen where a fence or wall might not be practical. Again, this could be around your trash bins or attached to an existing fence (such as a balcony railing).
Because the idea of an outdoor privacy screen is very broad, the specific advantages really depend on the option you're using. Even so, the overall benefits are flexibility and choice of materials.
12 Outdoor Privacy Screen Ideas
As mentioned, these ideas are suitable for all kinds of outdoor spaces. We have a different article on balcony-specific privacy screens, so check that out if you're working specifically with a balcony. Some options on this list work with balconies, though.
1. Growing trees – Best for large spaces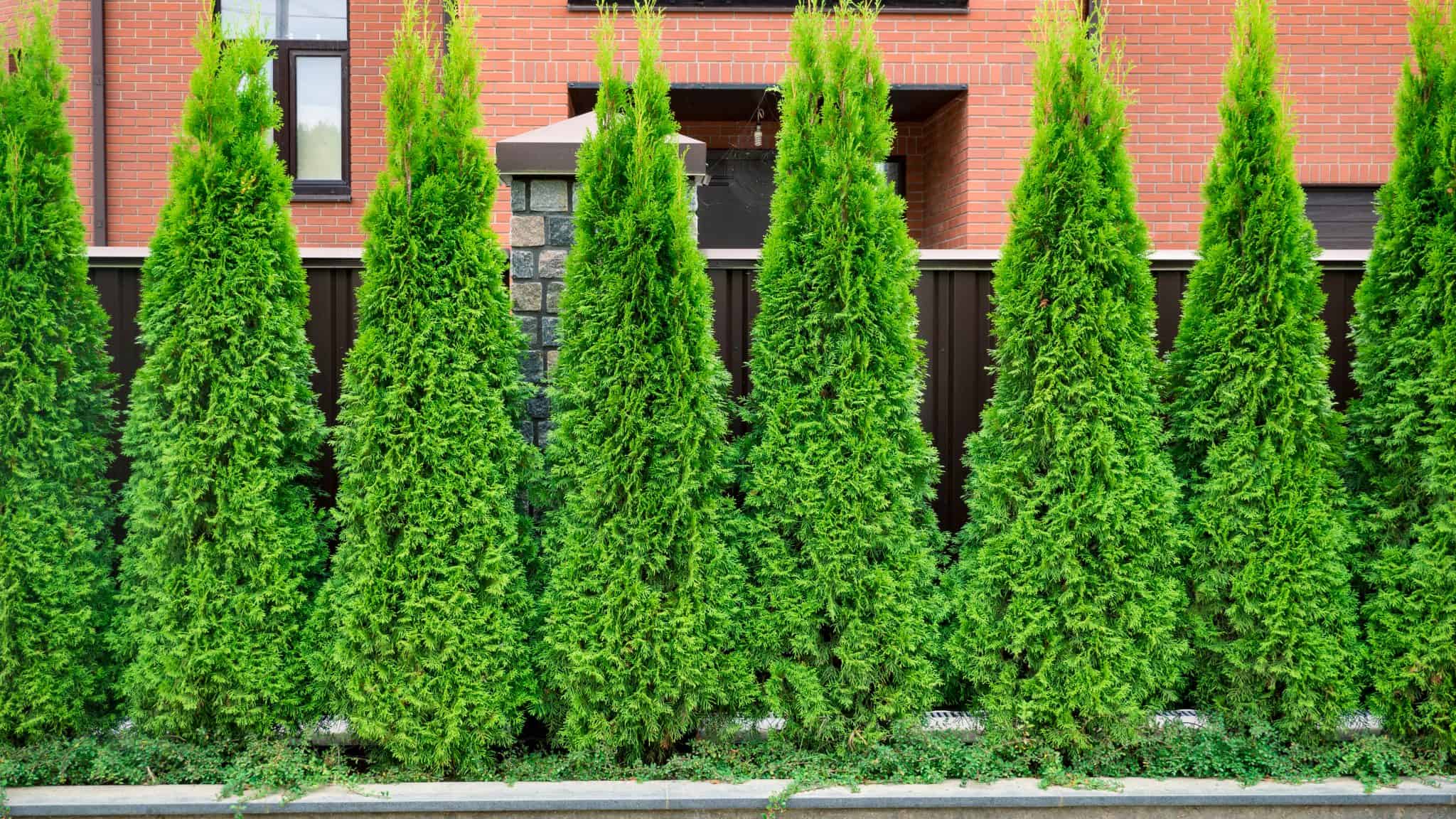 If you're not in a rush, trees are a great privacy screen. Of course, this depends on the type of tree you use, but something like a conifer or Cyprus tree stays bushy (and is evergreen).
Most trees get pretty big, so they're most suitable for large backyards. You might use trees to divide sections of your yard, or to block your neighbor's view.
Pros
A great natural option
Could give you 30ft. or more of privacy screen
Cons
Trees are slow growing
Not ideal for smaller areas
2. Room Divider – Best for dividing areas
A room divider is exactly what it sounds like. They're ideal outdoors for hiding bins or splitting up a patio. For example, you might use a room divider to separate two seating areas, or a BBQ area.
The main benefit is that they're freestanding, meaning you can put them anywhere. But this also means they're not secure, so you might need to remove them during bad weather.
Pros
Flexible privacy option
Good for hiding small areas (such as bins)
Cons
Not very secure
Limited in what they can hide
3. Bamboo Privacy Fence – Best for hot tubs
Bamboo fencing is a great option for hot tubs because it's naturally water-resistant. Plus, if you build your own, you can make it to the exact size of the area. You can follow this guide to make a secure bamboo privacy fence.
Of course, you could use a bamboo fence anywhere, and could buy it instead. Depending on the design you use, a bamboo fence can be flimsy. Just make sure you choose a suitable design for your needs.
Pros
Flexible design
Ideal for use in humid areas
Cons
4. Potted Plants – Best for flexibility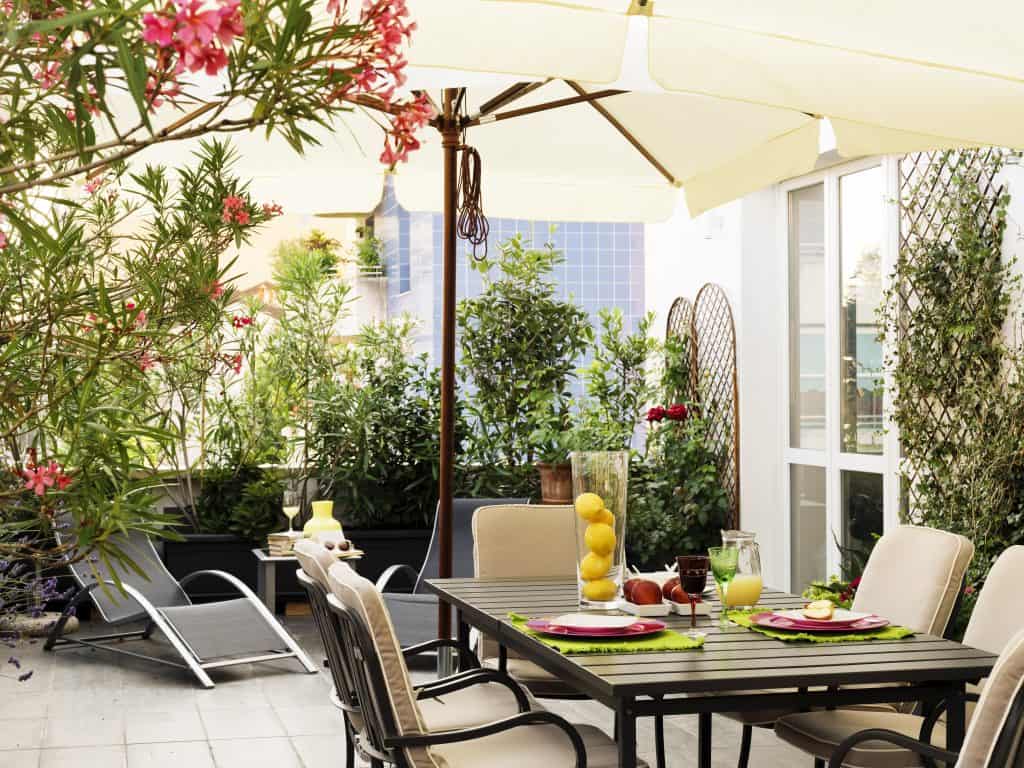 Tall potted plants are an ideal outdoor privacy screen. You could use anything from small potted trees to bushes or flowering shrubs. As such, you have almost unlimited options for style and design.
Plus, you can move them around your space. Potted plants work best in places where you don't have soil, such as on a balcony or patio, or around a carport.
Pros
Flexible placement
Unlimited options
Cons
Potted plants require more care
Pots will limit the size of the plants
5. Expandable Fence – Best for improving existing structures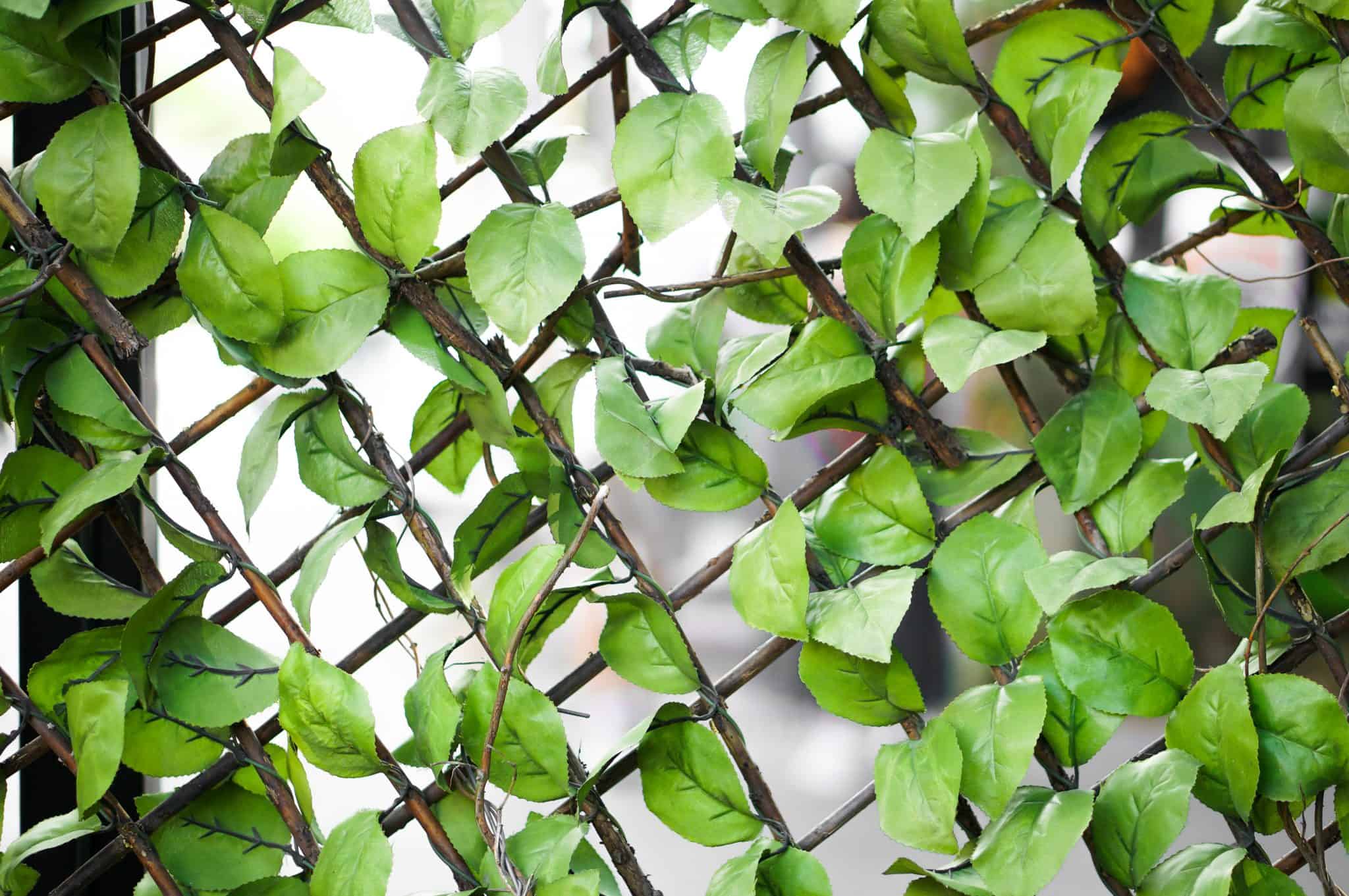 Expandable lattices are perfect for supporting plants, which would become the real privacy screen. Most lattices need an existing structure, although you can also get freestanding ones.
As with all plant-based options, your main limitation is how fast the plants grow. You could use the lattices on their own, but they don't offer much privacy.
Pros
Ideal for expanding existing structures
Suitable for hot tubs, carports, etc.
Good basis for growing plants
Cons
Don't offer much privacy on their own
6. Hedges – Best for backyards
A hedge is an obvious choice for an outdoor privacy screen. You can grow them as tall as you need and block off whatever you want. Hedges typically divide neighbors' yards or offer privacy from a home's street.
If you want to put a hedge elsewhere, you could pot the plants. Alternatively, use artificial hedges, some of which are freestanding.
Pros
Widely available
Good for blocking off large areas
Adds greenery
Cons
Real hedges take years to grow
7. Metal Privacy Screens – Best for patios and balconies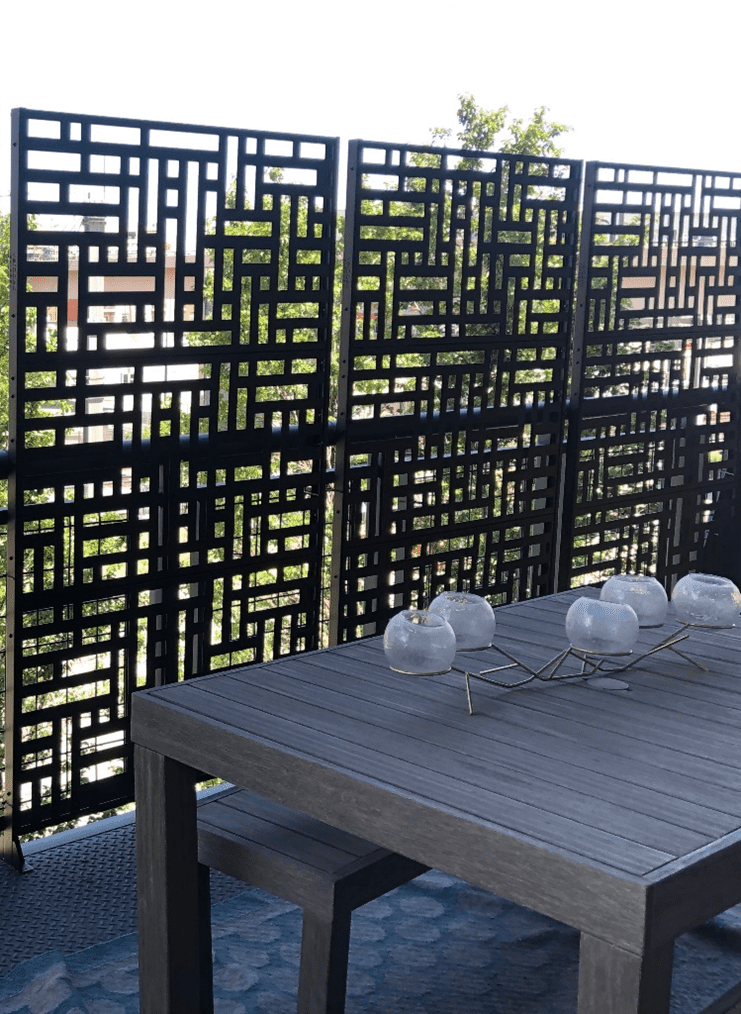 Metal privacy screens are a great option for adding style to your privacy screen. Most have designs cut into them, but this obviously compromises a level of privacy. That said, some still offer up to 95% privacy.
You can either buy freestanding screens or ones that you fix into the ground. Freestanding is best for balconies, but you could install the other type almost anywhere.
Pros
Ideal for adding style to your privacy screen
Suitable for hiding bins and hot tubs
Plenty of options available
Cons
Expensive
Designs compromise some privacy
8. Living Wall – Best for a big project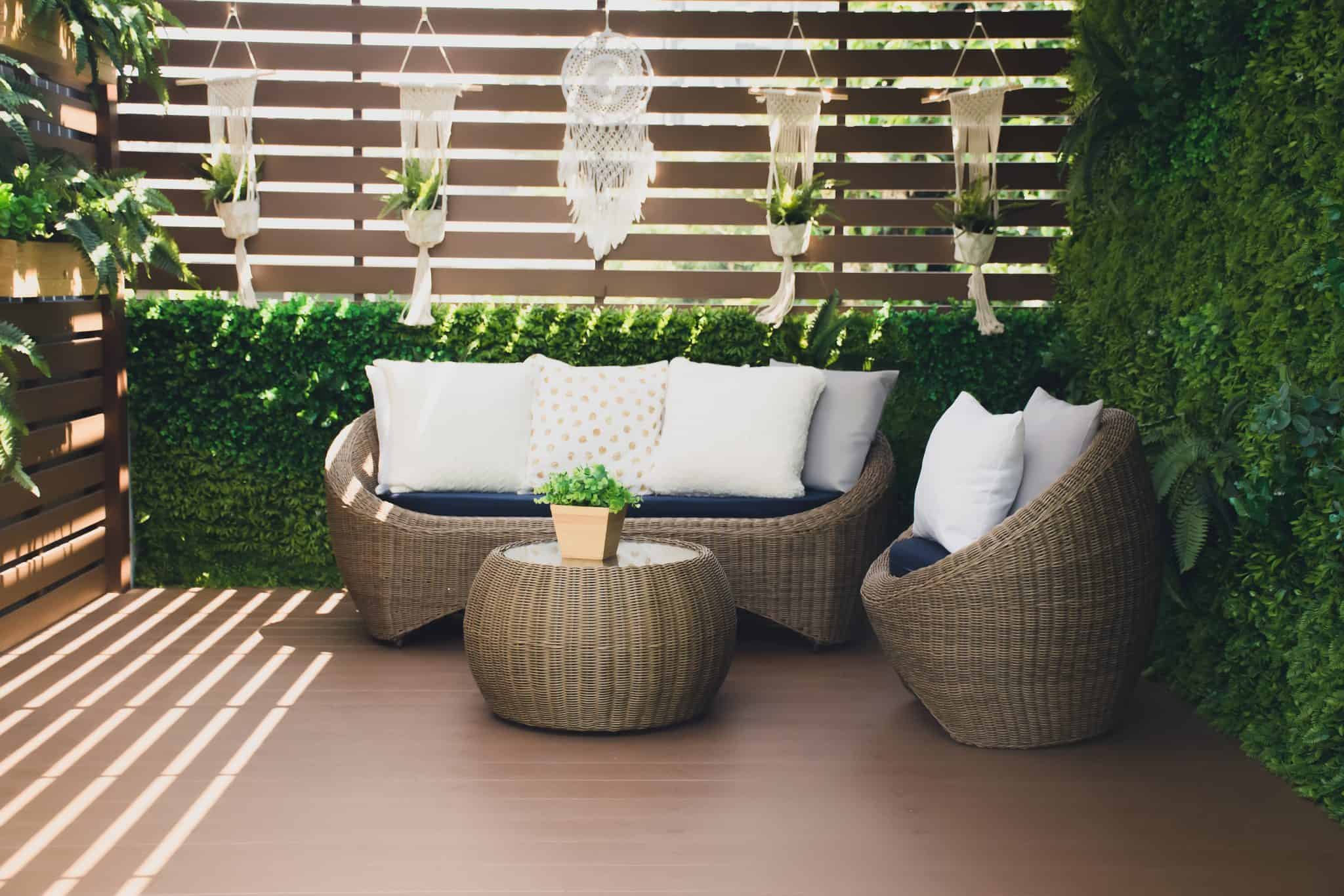 If you have an enclosed patio or want complete privacy, a living wall could be a good option. In fact, it could work great around a pool or hot tub, as most plants will appreciate the humidity.
A living wall is a big project. Unlike other plant-based options, you don't have to wait for the plants to grow for privacy. The wall provides that; the plants are just decoration for your benefit.
Pros
Ideal for humid areas
Can be customized to any size
Provides immediate privacy
Cons
Can be very expensive to set up
9. Wood privacy fence – Best for no-nonsense approach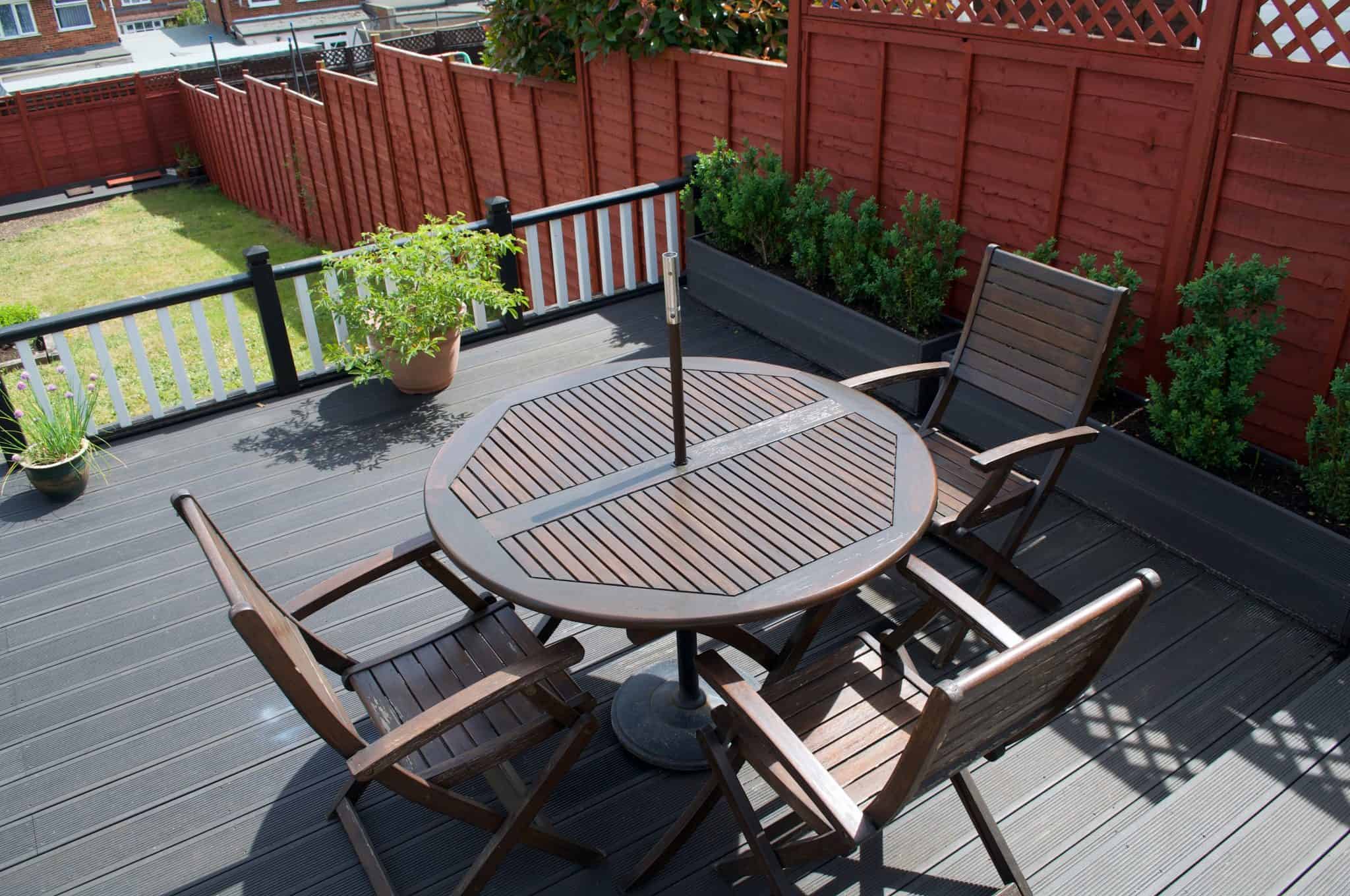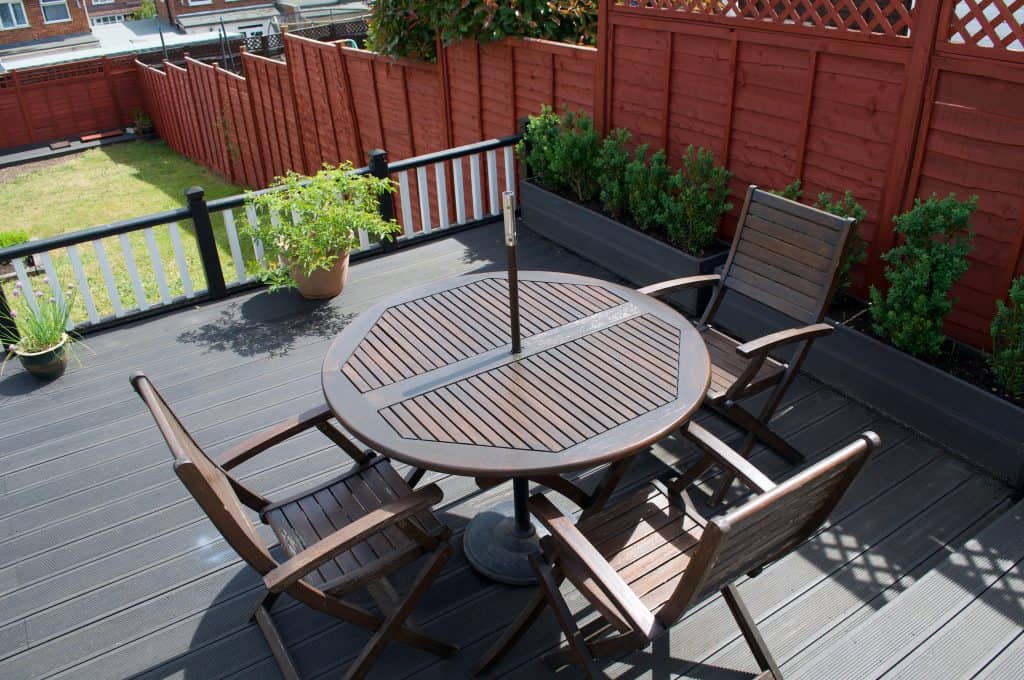 Let's be fair, a wood fence is the go-to option for most people. It's quick and easy to build and offers immediate privacy. However, they look very boring.
There's not much else to say about wood fences; we all know what they are. Even so, they deserve a mention here.
Pros
Readily available option
Can be inexpensive to set up
Suitable for backyards, carports, etc.
Cons
Requires annual maintenance
10. Tall grass – Best for flower beds
Tall grasses, such as fountain grass, are great for breaking up outdoor spaces or hiding smaller areas. That said, fountain grass can spread more than 12ft! They're tall, too, meaning you get quite a lot of privacy from them.
You can grow grasses in pots, but they won't get as tall. Either way, grasses grow fast, giving you plenty of privacy in a year or two.
Pros
Fast growing
Plenty of height and width
Suitable for pots or planting in the ground
Cons
Some die back every year – aren't permanent
11. Tree branch fence – Best for interest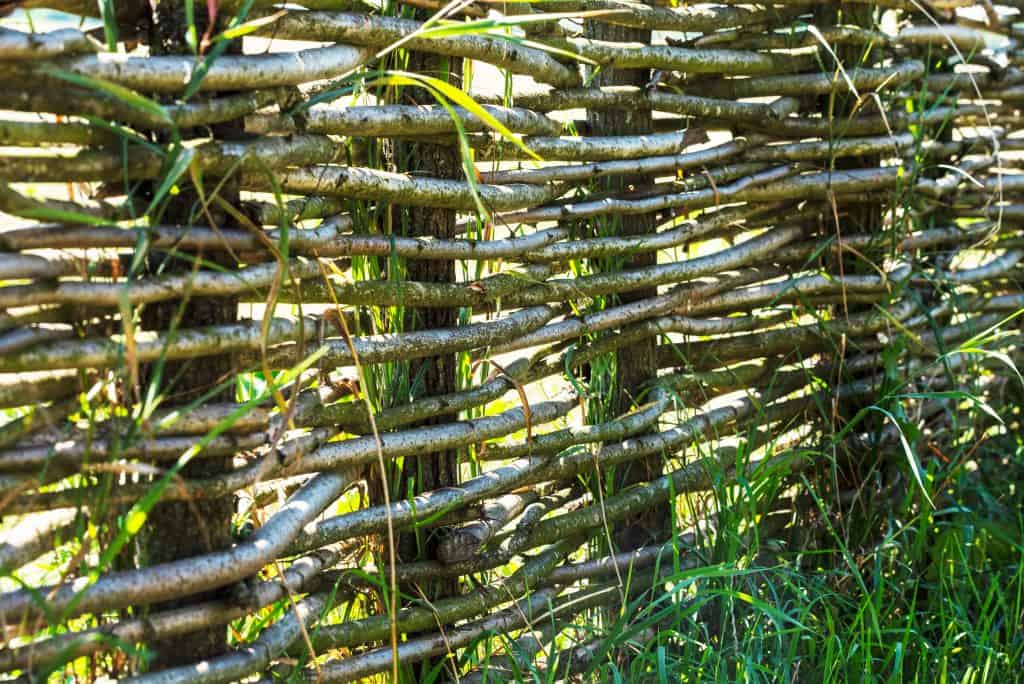 A tree branch fence is a good alternative to a standard wood fence. Plus, you won't need to maintain the wood, as it often looks better with age. If you're building a DIY branch fence, you'll just need to sink some posts into the ground and screw the branches to them. As such, they're suitable for almost any space.
The main disadvantage is sourcing the branches. If you live near a forest, this should be easy. Also, it won't be a great option around pools or hot tubs, as the branches might rot.
Pros
Can be free
Adaptable to any space
Easy to build
Cons
Not suitable in humid or wet areas
12. Hanging vines – Best for covered balconies, porches, etc.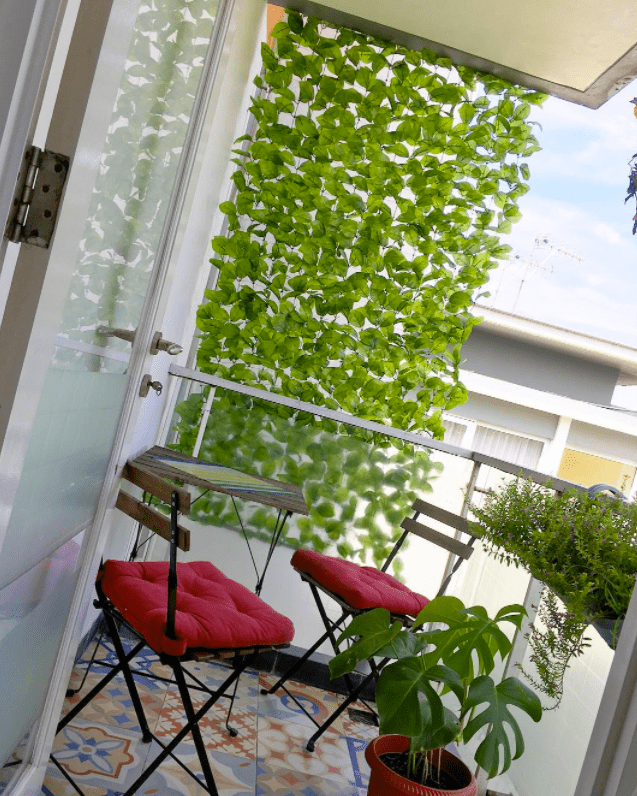 Hanging vines are great for blocking areas such as balcony railings, porches, or doorways. You could either grow the plants up supports or hang them from pots above.
We have a guide on plant curtains that you could adapt into an outdoor privacy screen. The biggest issue, of course, is that you need something to hang the plants from.
Pros
Different way of using plants
Suitable for covered spaces
Natural alternative to curtains, screens, etc.
Cons
Final Thoughts on Outdoor Privacy Screens
Hopefully, this article has given you some inspiration for the best outdoor privacy screen. As mentioned, it depends on your space and needs, but there are some great DIY projects out there. So, work out what you need to cover and get creative!