Balcony Boss is reader-supported. When you buy through our links, we may earn a small commission at no cost to you. For additional information, please view our policies.
A balcony privacy screen is arguably the best way to make your outdoor space feel more secluded and cut off from the outside world.
Considering all the different types available, it's worth researching the market before buying one, as some are more suitable for apartment balconies than others.
Well, that's exactly what we'll cover here. We'll go over the main types of balcony privacy screens and the pros and cons of each. By the end of this article, you should be able to narrow down your choices and feel more confident as you set out to buy the best balcony privacy screen for you.
Balcony Privacy Screen vs. the Alternatives
An apartment balcony privacy screen isn't your only option for blocking your space from prying eyes. You could grow plants up the railings, install curtains, invest in a large umbrella or even paint.
So, why choose privacy screens over these other options?
The answer should be fairly obvious. A privacy screen is specifically designed for outdoor privacy. They're generally more weather-resistant than curtains, can be installed in line with rental agreements, and don't take months (or years) to grow enough to provide full coverage.
If privacy is your goal, and you want it ASAP, a balcony privacy screen is definitely the best option.
What to Consider Before Buying an Apartment Balcony Privacy Screen
The things you must consider before buying a privacy screen are common sense. These include:
Weather
Not all privacy screens will suit all weather conditions. If you experience lots of rain, it'll be worth going for a plastic option. Similarly, if your balcony is windy, you might want to avoid metal privacy screens.
Rental Agreements/HOA Restrictions
Some privacy screens (such as retractable ones) require full installation, including drilling. Most rental agreements will ban you from drilling, so these obviously won't be suitable options.
Others can be installed with cable ties, meaning they're less intrusive and permanent. As such, make sure the option you choose works with any restrictions or agreements about DIY work.
Unique Considerations for Apartments
There aren't many unique factors for apartment balcony privacy screens, other than perhaps high-rise balconies being windier than lower balconies.
The biggest difference with apartments is storage space. If you don't plan to have the privacy screen up permanently, it'll be in your best interest to choose one that's easy to store. Fabric or retractable/expandable options might be best, as something like bamboo fencing takes up room when not in use.
9 Best Balcony Privacy Screens
Now that we have a better idea of what to look for, let's go over the best types of balcony privacy screen for apartments.
1. Bamboo or Reed Fencing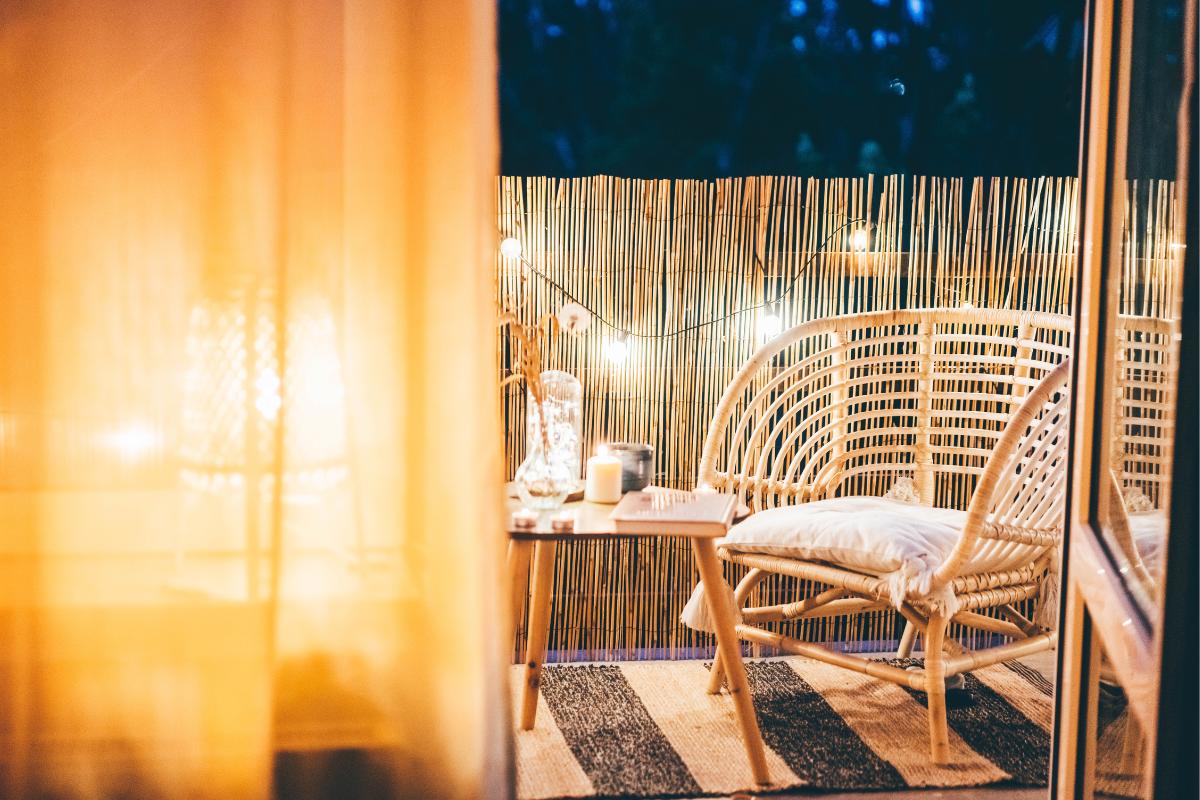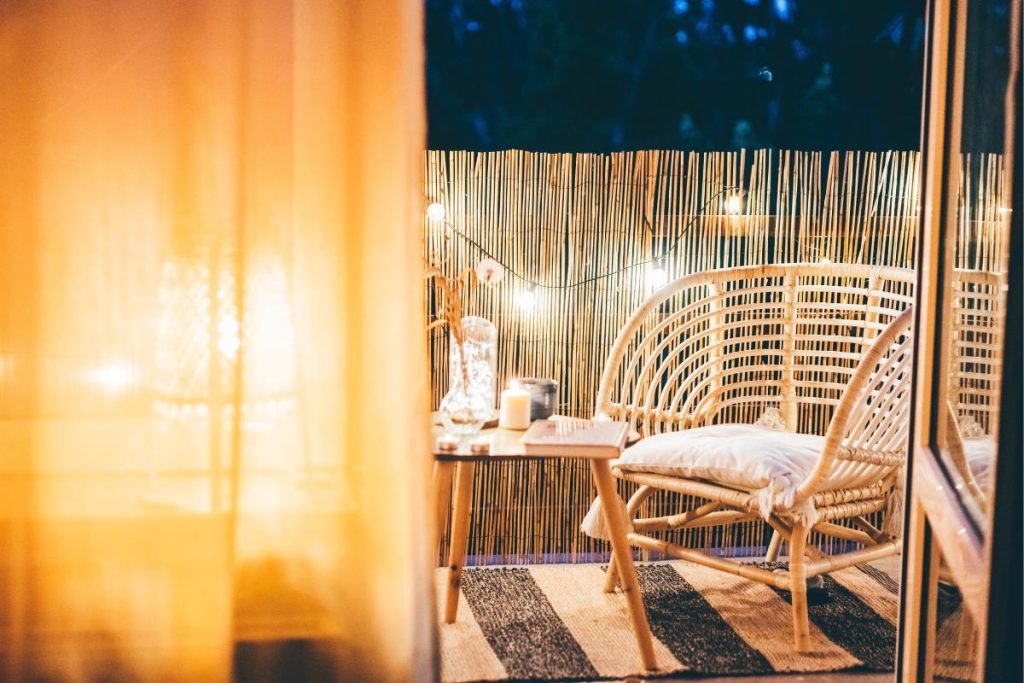 While bamboo fencing and reed fencing are different products that are often confused with each other, they're very similar in look and how they function as balcony privacy screens. Both typically come in pre-sized rolls that you can easily cut with scissors if needed, but if you prefer something more custom, you can also make your own bamboo fencing with canes.
If your balcony has railings, installation is a breeze: simply cable tie the fencing to the railings. However, it'll be a bit more difficult with glass or walled balconies. You could use adhesive hooks or tie it up in corners instead.
The only real downside of a bamboo or reed privacy screen is that it can sometimes look a bit messy. It'd work great with something like a boho style balcony but would look out of place in more modern designs.
In terms of purchasing options, you can easily buy ready-made fencing like this roll of reed fencing or this roll of bamboo fencing.
Pros
Inexpensive (note that bamboo will be slightly more expensive than reed)
Easy to install
High level of privacy
Cons
Won't work for all design styles
2. Retractable Screen
A retractable privacy screen is pretty self-explanatory. It's usually made from polyester fabric or mesh stretched between 2 poles. You pull it open and hook it in place. To close it, you simply unhook it and let it roll up. It works like a window blind but horizontal.
Polyester is weather-resistant and most outdoor privacy screens have UV protection so they don't fade. Opaque fabric is about the most private thing you'll find for a balcony, and it'll serve as a sunshade, too.
Installation could be a problem, particularly for renters. You'll need to screw the support posts to the floor, which could involve drilling. However, the holes won't be too obvious and could easily be patched with caulking. Considering this type of balcony privacy screen gives you more flexibility than others, it could be worth it.
Pros
Folds away when not in use
Good option for apartments because it doesn't take up room
Great privacy level
Cons
Installation might restrict renters
3. Metal Privacy Screens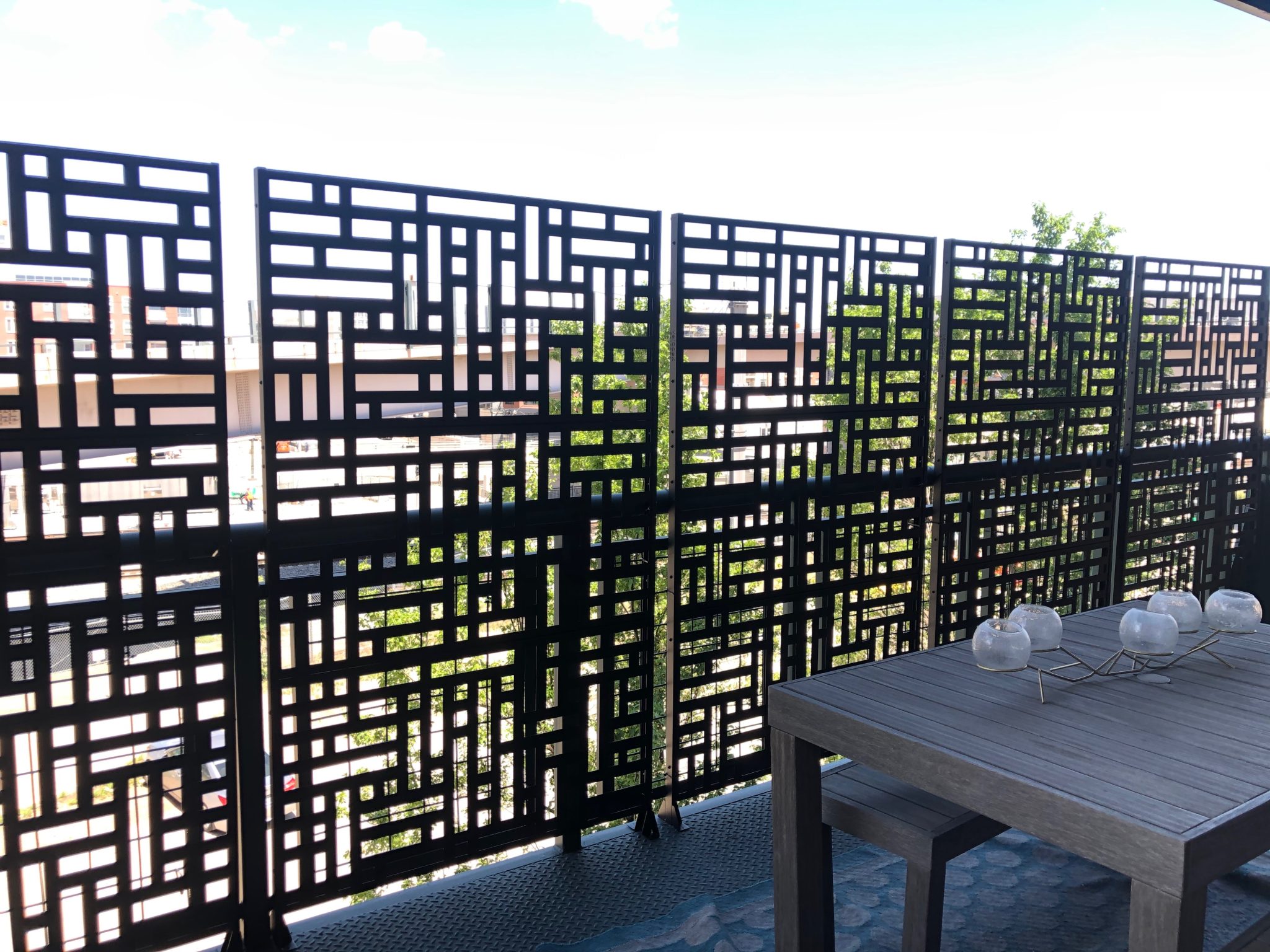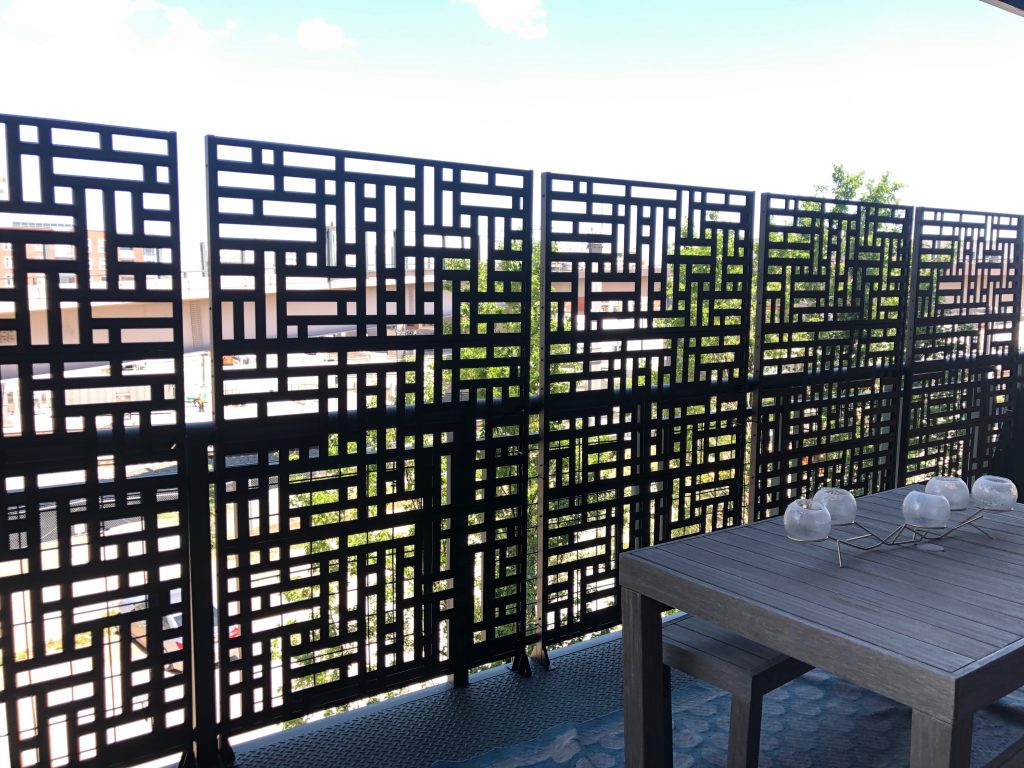 Compared to fabric privacy screens, metal privacy screens offer some of the lowest levels of privacy but are still a fantastic option in the right circumstance. For purchasing options, in our article about metal privacy screens, we review the top choices and give coverage ratings, so check that out for more information.
However, a metal balcony privacy screen is a more decorative option and is ideal for growing plants up. You could use a metal screen to block your balcony from the outside world, but they're better suited to dividing spaces and hiding things like AC vents and trash cans.
You don't need to install metal screens; most are freestanding. As such, they're a good option for renters, but avoid them if you have a windy balcony. Metal screens can blow over in strong winds and will cause more damage than other options.
Pros
Freestanding – ideal for renters
Decorative privacy option
Good for shielding things like AC vents
Cons
Don't offer loads of privacy
Not good for windy balconies
4. Mesh Privacy Screen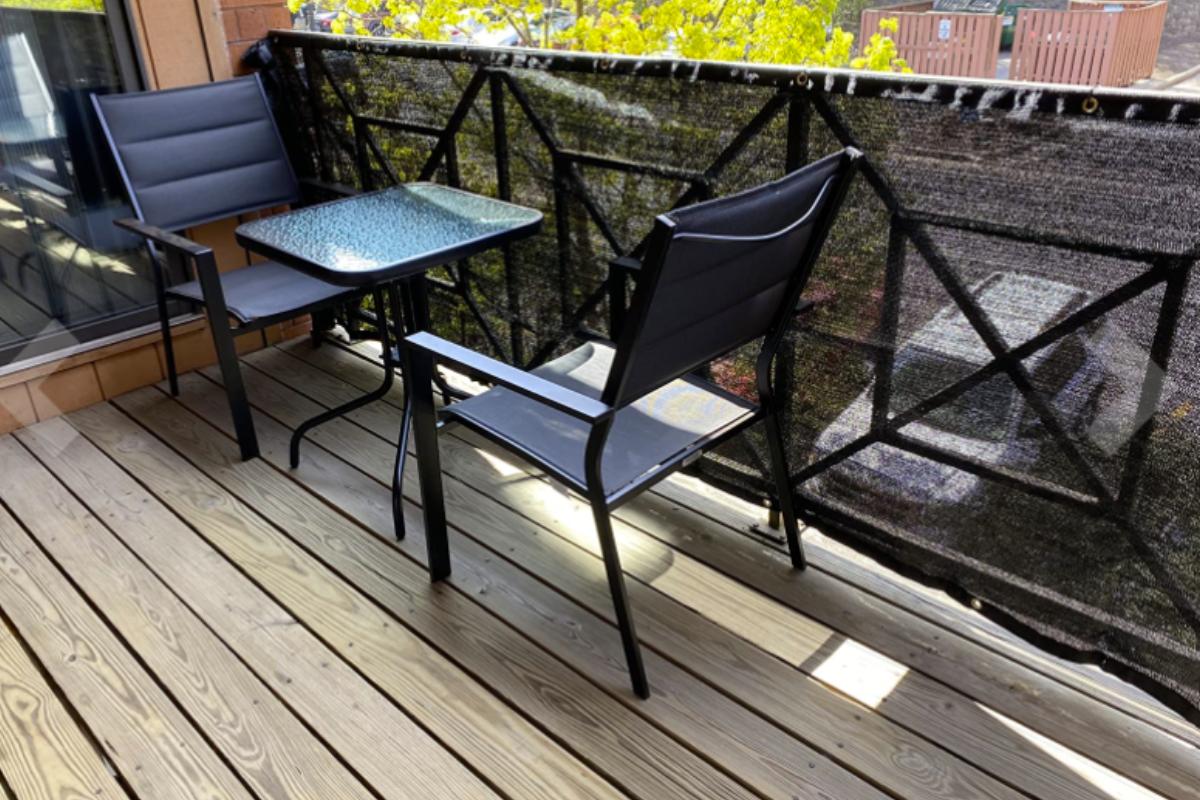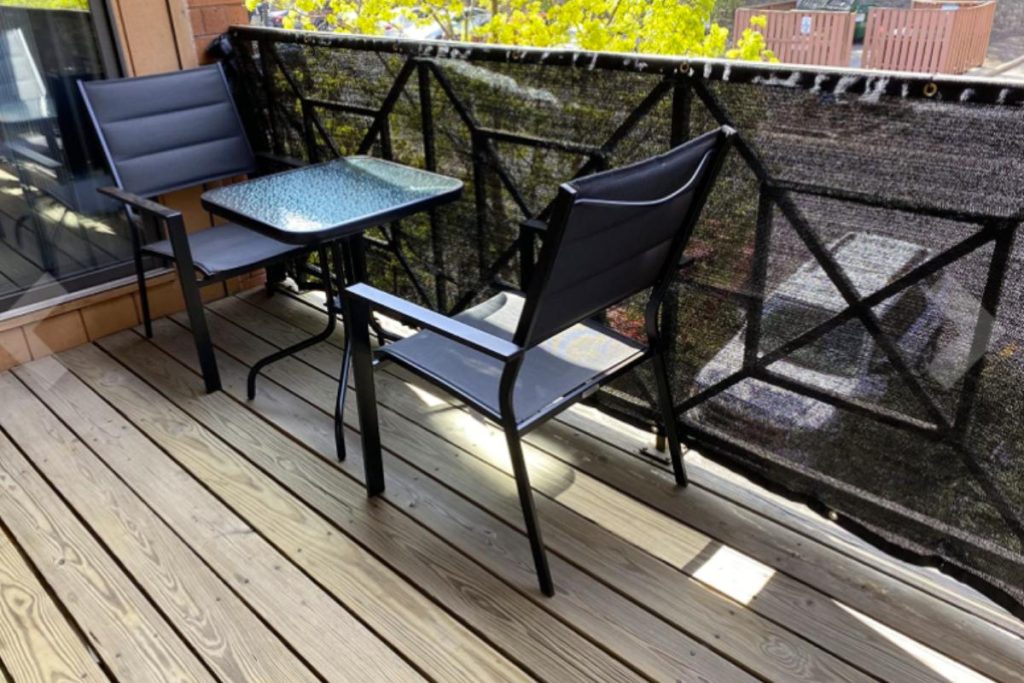 A mesh privacy screen is usually made from polyester fabric and can be installed quite easily. Most screens come with grommets, which you can use to tie it to railings. You might find installation more difficult on walls and glass balconies, though.
Mesh offers a good compromise between visibility and privacy. Coverage can be up to 90% while still letting light in. You'll also have good options for height and length, making them suitable for most balconies.
However, they're not the most attractive option for an apartment balcony privacy screen. Mesh is often used to block off construction sites, which is probably all you need to know.
Pros
Good coverage and visibility
Easy to install – suitable for renters
Range of sizes and colors available
inexpensive
Cons
5. Fake Leaf Screen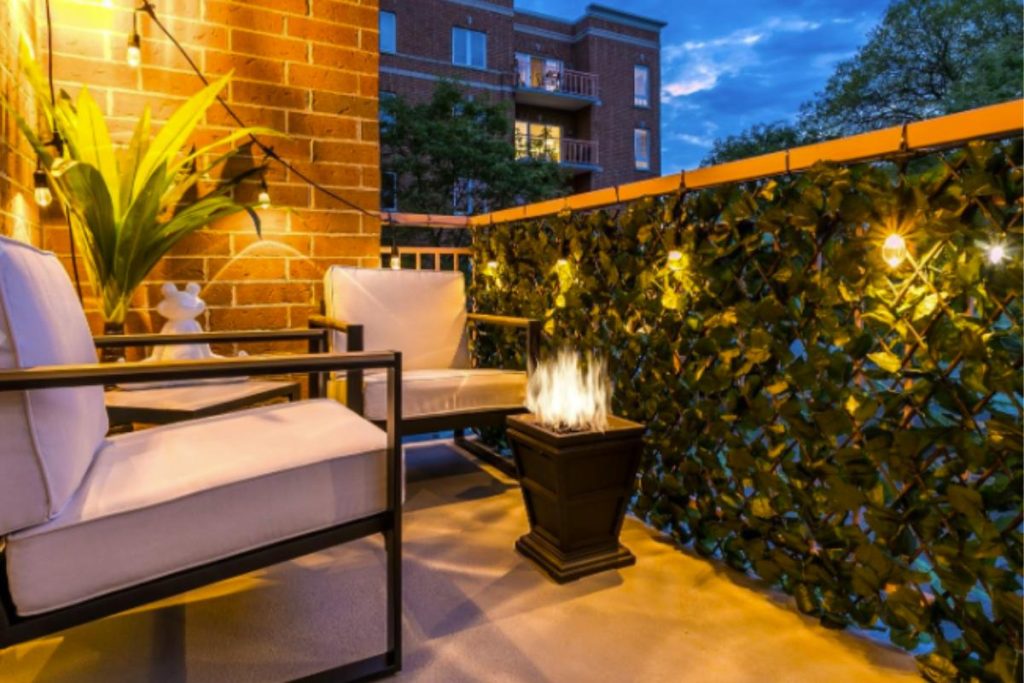 If you want privacy and for your balcony to feel like a jungle, a fake leaf balcony privacy screen might be the option for you.
They're exactly what they sound like: rolls of mesh (or expandable trellis) covered in fake leaves. To install, you usually use zip ties, although this won't work on all balcony types. Alternatively, you could hang the screen from adhesive hooks, providing they support the weight.
Fake leaf screens are usually inexpensive, although it can be worth spending a bit more to have good looking leaves like the option we suggest. The cheaper ones look really fake, and it can look tacky. If you want to make your own, check out our guide on DIY faux ivy curtains.
Pros
Good way to add greenery
High levels of privacy
Suitable for renters
Cons
Cheap fake leaves can look tacky
6. Canvas Privacy Screen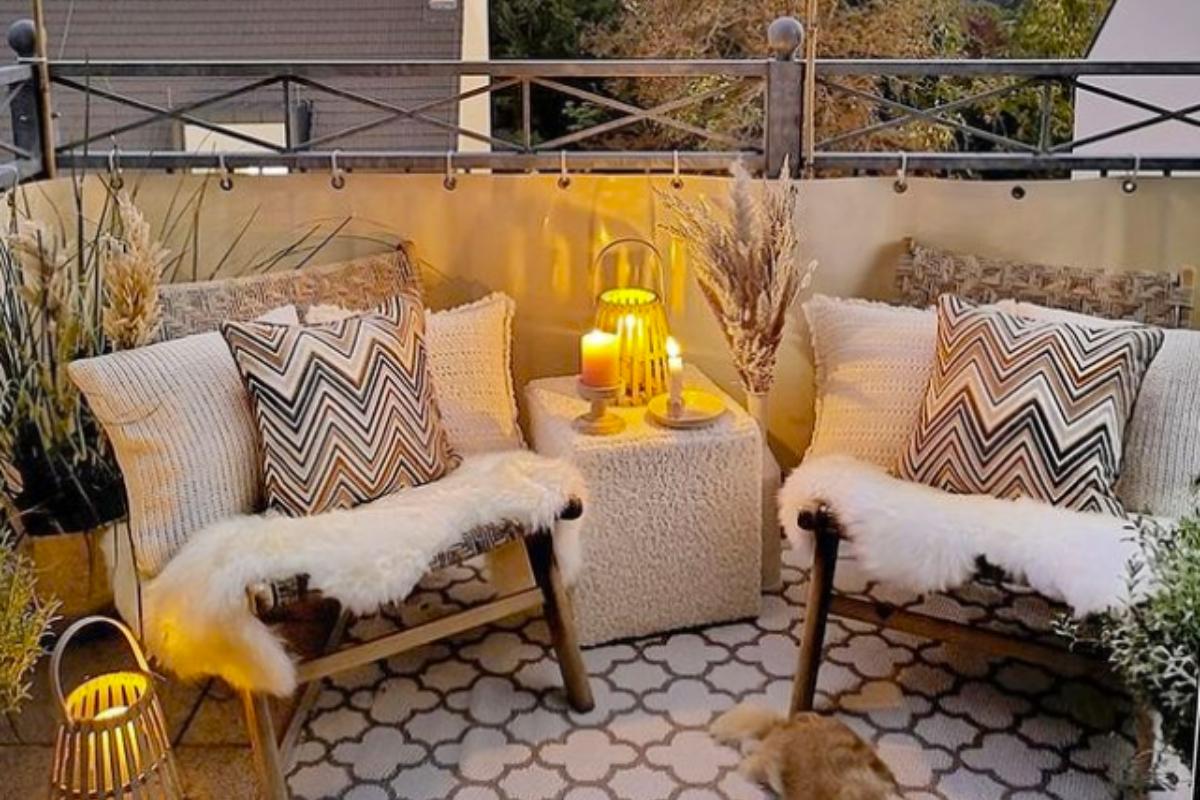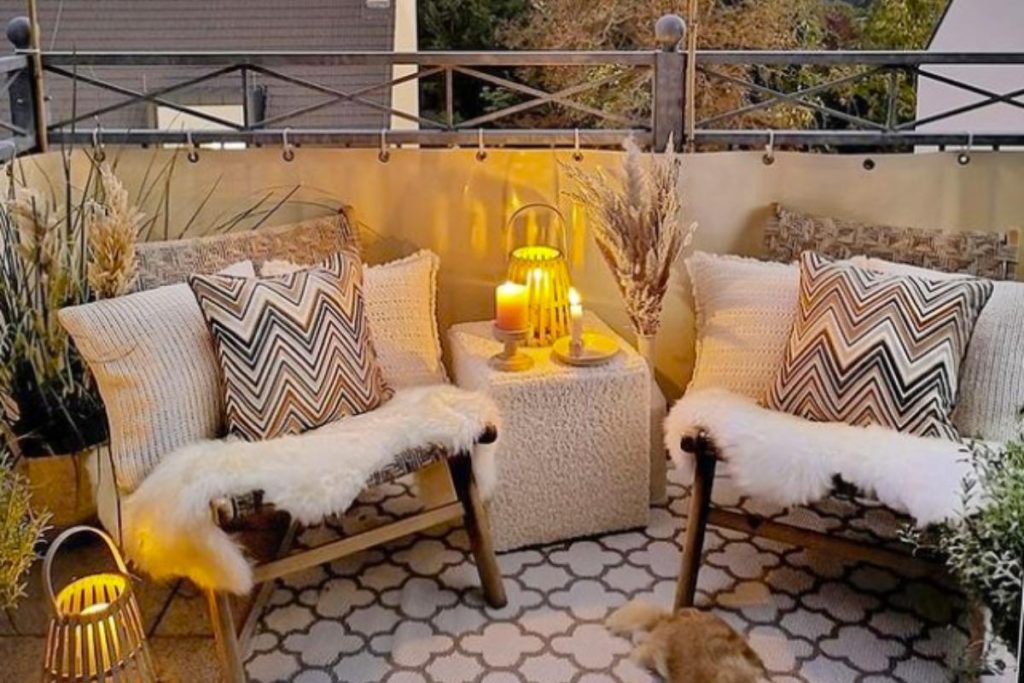 A classic option for an apartment balcony privacy is a canvas screen. However, it's a more expensive choice and not as commercially available as mesh screens, so you'll probably have to end up making your own.
Normal canvas is cotton, which isn't known for its weather resistance. An outdoor canvas should have polyester blended into it for better waterproofing. Make sure you look out for this, as standard canvas will go moldy fairly quickly.
Installation depends on whether you make a screen or buy one. Grommets are the easiest installation method, as you can hang the screen up. Other than that, fashion some curtains instead.
Pros
Heavy duty and high level of privacy
Installation shouldn't be difficult
Weather resistant options available
Cons
7. Wood Privacy Screen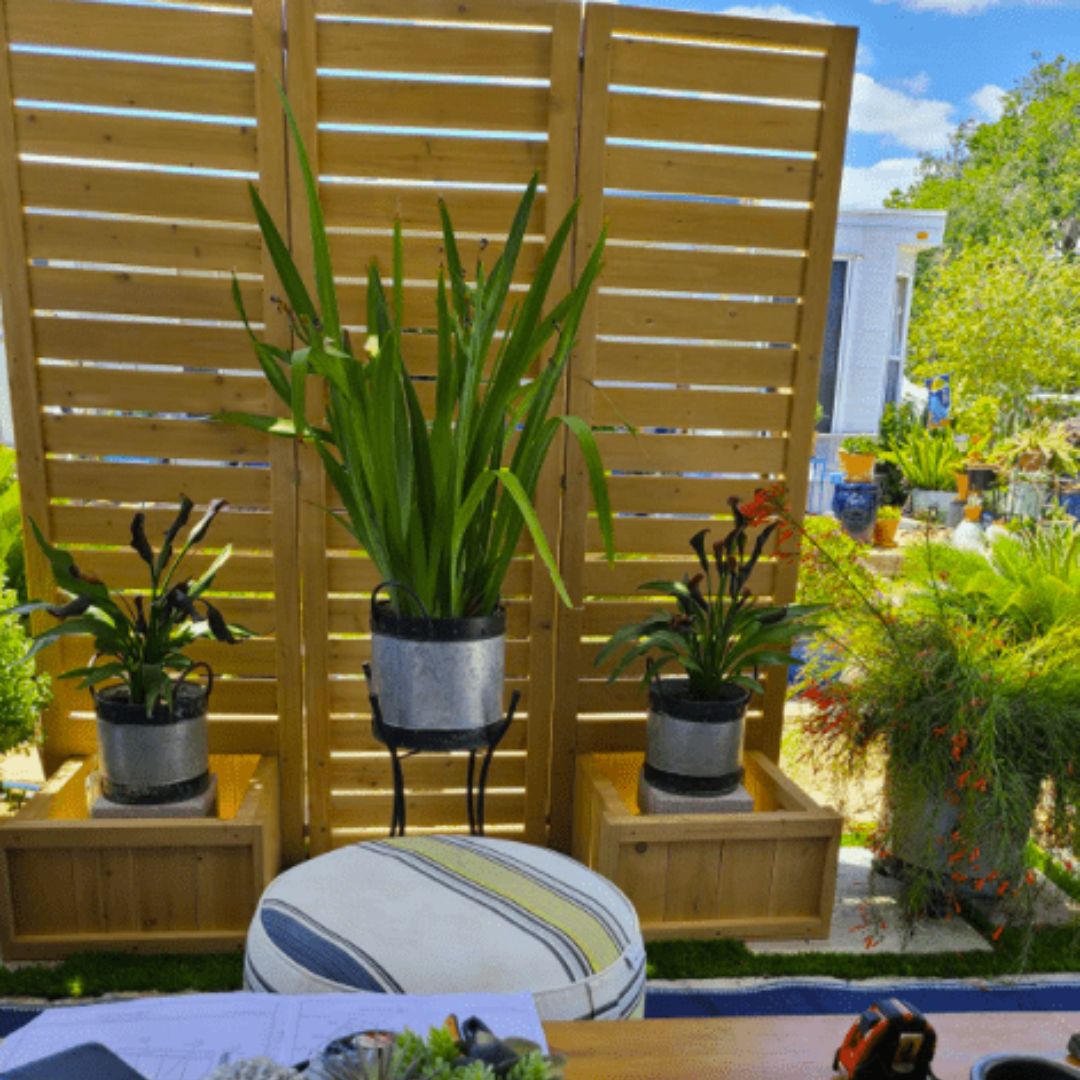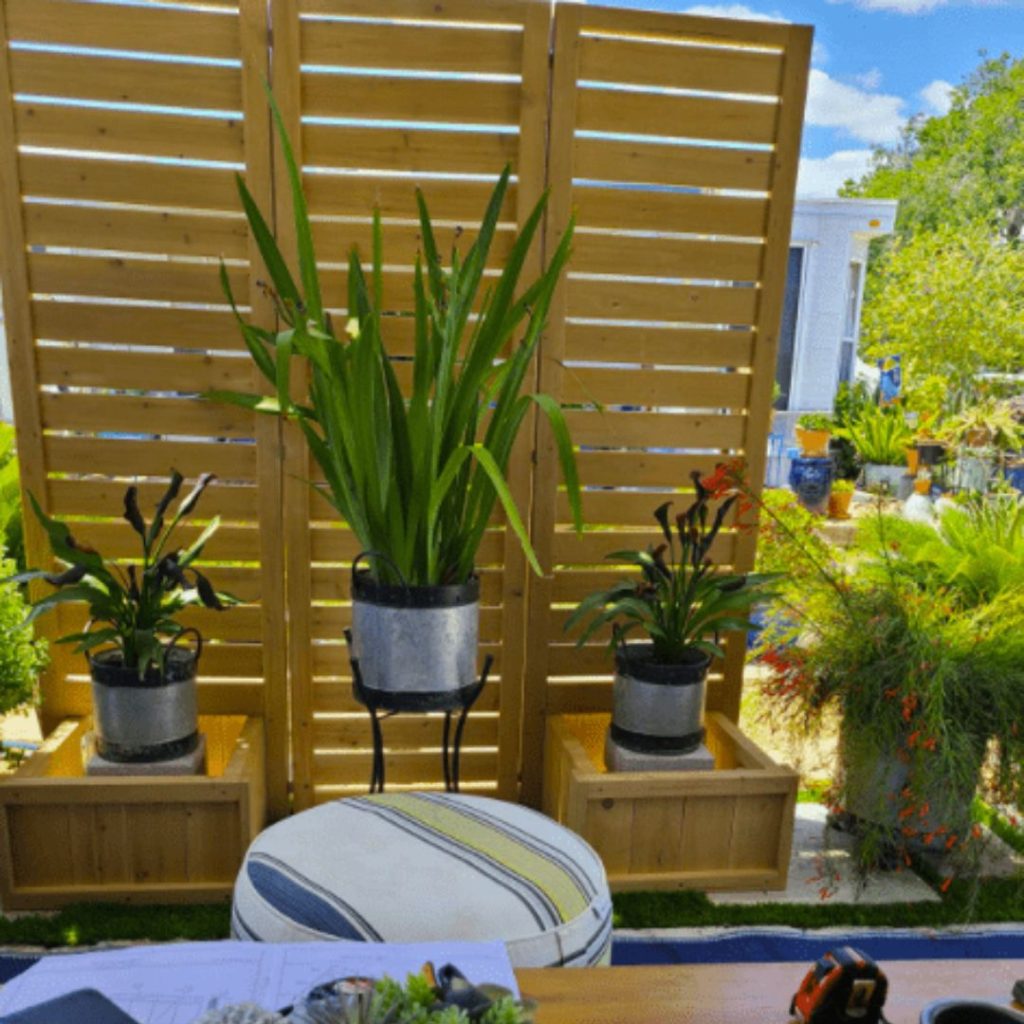 A wood balcony privacy screen is a good way to add natural materials that are weather resistant. Some wood privacy screens are similar to indoor room dividers, meaning they're freestanding. That said, you won't usually find a wood screen that needs installing, as that's just a fence.
Wood almost always requires regular maintenance. It could be varnishing, oiling, or painting, but you'll need to do something to it at least once a year. While this isn't a massive problem, it's less convenient than a polyester screen.
But wood comes with plenty of benefits, too. It suits different design styles, is easy to work with, and comes in different color options. You must balance this against the sky-high cost of real wood, though.
Pros
Easy to blend with different styles
Freestanding – suitable for renters
Ideal for privacy and dividing spaces
Cons
Expensive
Requires maintenance
8. Lattice Privacy Screen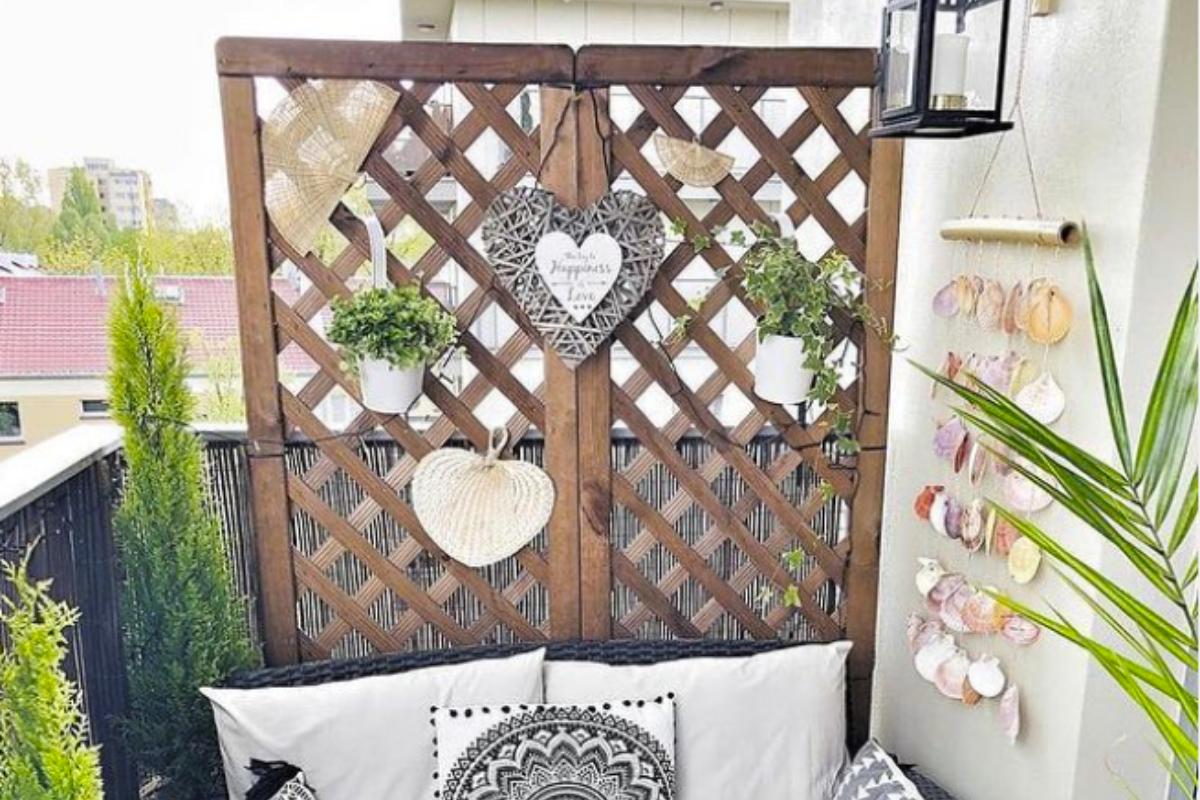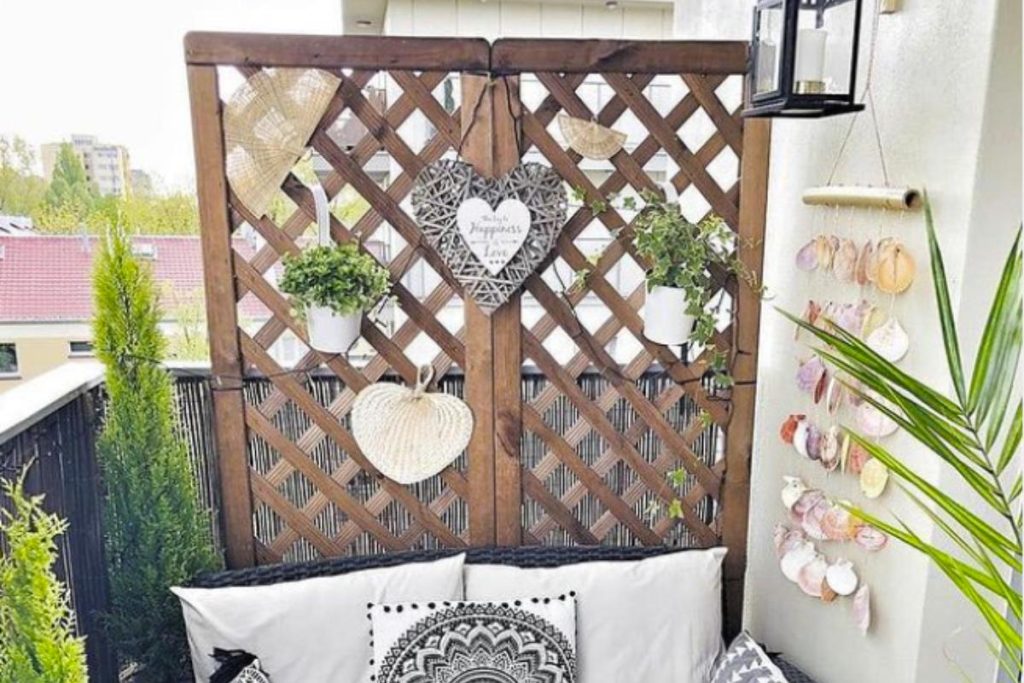 A lattice is often confused with a trellis, but the most important thing to know is that it can make a great privacy screen – with or without plants!
In terms of purchasing options, the most popular types of lattice screens are wall mounted ones (like in the above photo) or expandable screens (as shown below). The option you go with will probably depend on your overall privacy goals and balcony aesthetic.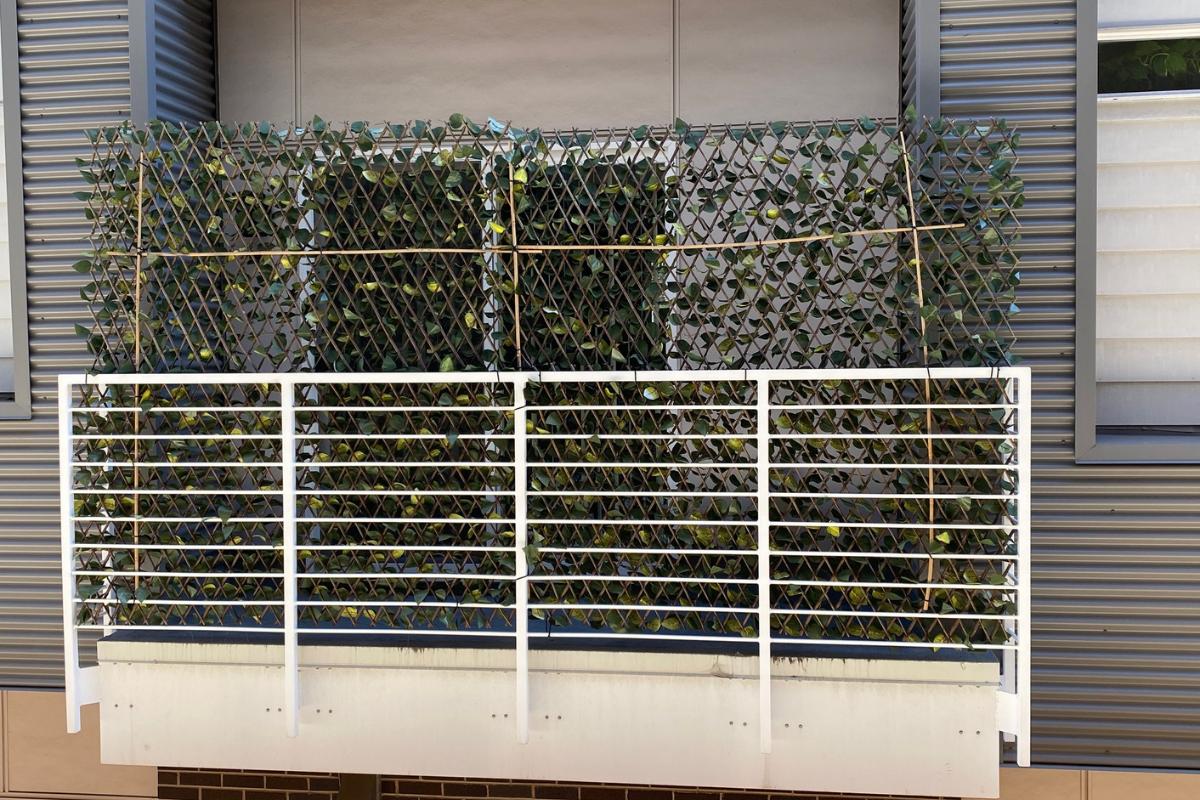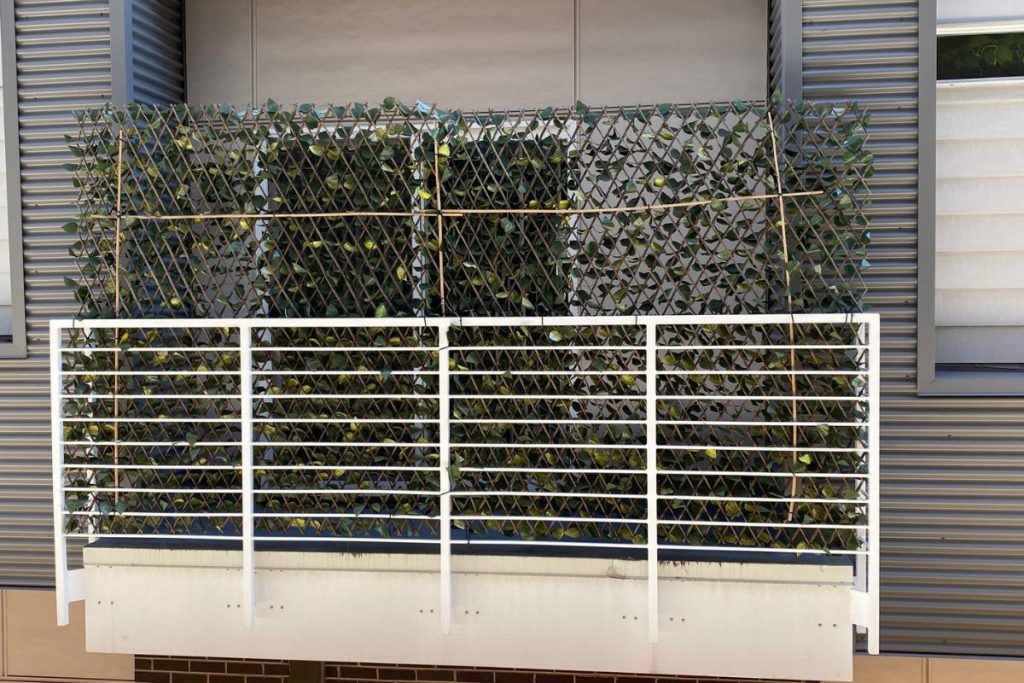 Height and more permanence are big advantages to wall mounted lattices, but overall flexibility makes expandable lattices very popular.
Pros
Easy to install – suitable for renters
Can easily add plants for more privacy
Expandable options offer extra flexibility in terms of size and placement
Cons
Not the best option for windy balconies
Expandable lattices aren't super durable
9. Boxwood Hedge Panels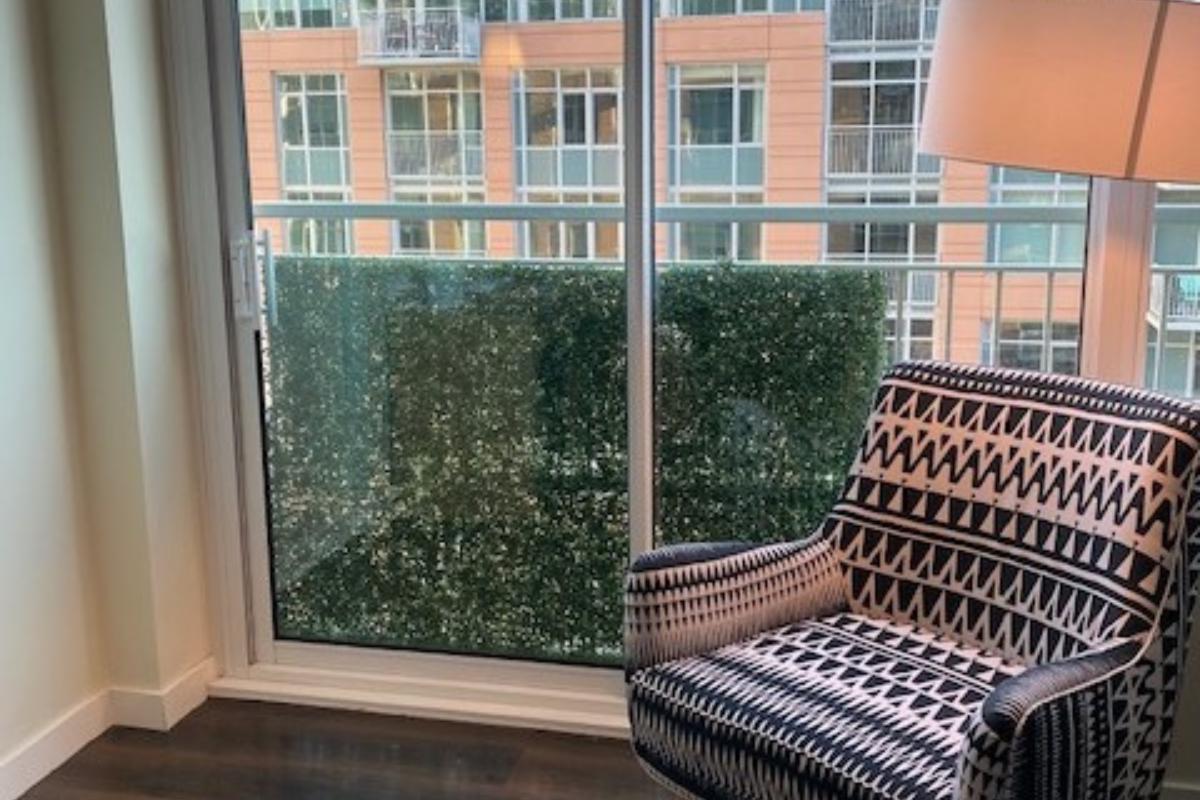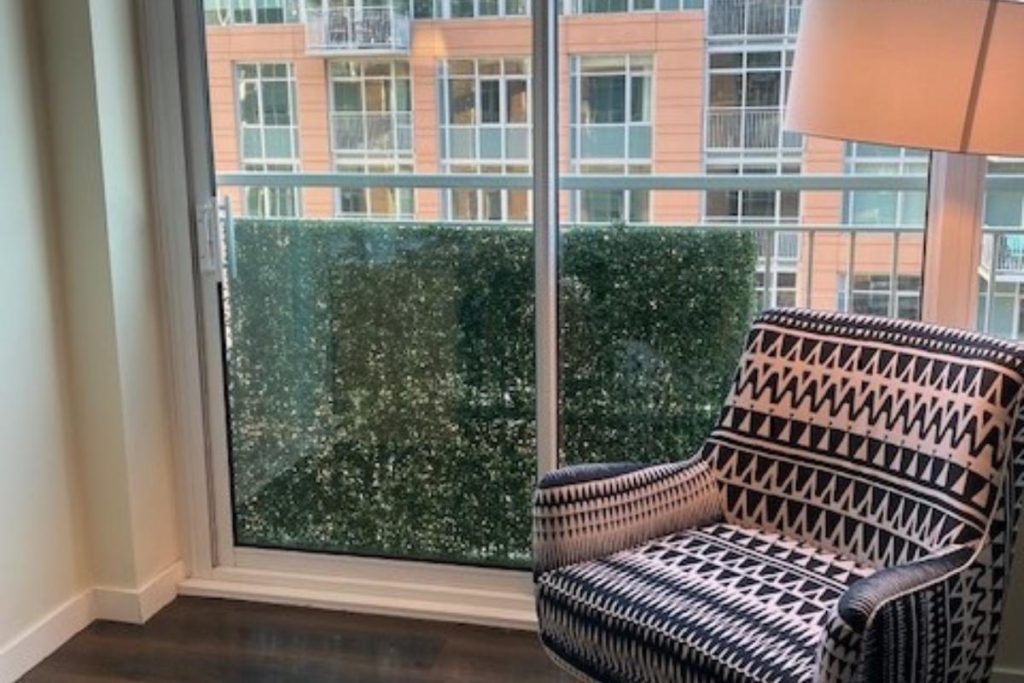 Boxwood hedge panels (such as these – featured in the above photo) are similar to the fake leaf screens above, as they're basically panels of artificial leaves. However, the main difference is that they're far denser because they're designed to look like boxwood hedge foliage.
Generally, they're also more expensive but don't look as artificial. This makes them a good choice for those who don't want real foliage but still want it to look realistic.
Boxwood hedge panels typically come in 20" squares made of plastic mesh. This makes them easy to fix to a railing using zip ties, similar to the fake leaf screens. It's worth shopping around for dense panels if you want greater privacy. For example, this option has 4 layers of leaves rather than 3, meaning the panels are almost 100% opaque.
You can get different colors, but anything other than green will obviously take away some realism. That said, red looks quite good, and you can get options that include pink flowers. Finally, there are orange, blue and yellow versions, but these all look quite artificial (although that may not be a bad thing!).
Pros
Easy to install
Dense foliage offers a lot of privacy
Individual panels give you more flexibility over placement and design
Cons
One of the pricier options
Can only be used on railings
Final Thoughts
Hopefully, this guide has helped you narrow down your choices for the best apartment balcony privacy screen. The two most important factors are budget and installation restrictions. Once you have those sorted, your choices should be obvious.
Of course, the right balcony privacy screen for apartments should blend convenience, privacy, and easy storage, too. But if you're feeling handy, why not try to make your own balcony privacy screen?