Balcony Boss is reader-supported. When you buy through our links, we may earn a small commission at no cost to you. For additional information, please view our policies.
Summer inevitably means spending more time outside. If your only outdoor space is a balcony, it helps to liven it up a bit for the warmer months.
So, here are 10 awesome things to add to your balcony this summer.
1. Mister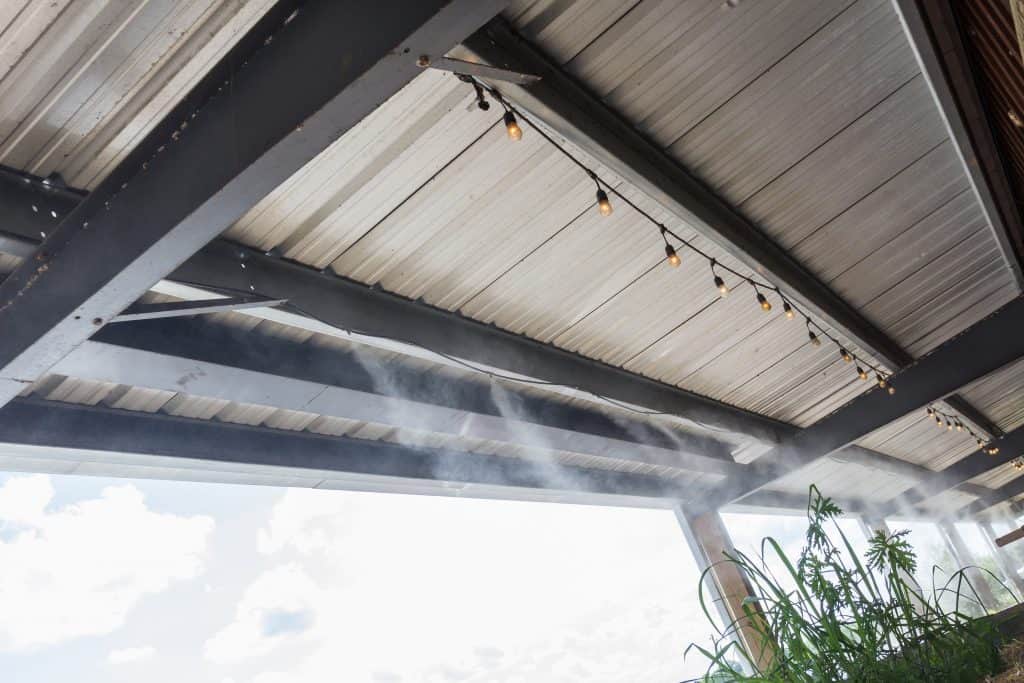 Misters (like this one) are a great way to keep cool on those super hot days, and you can hang them from your balcony's ceiling or railing. What's more, your outdoor plants will probably thank you for the extra humidity!
2. Outdoor Bar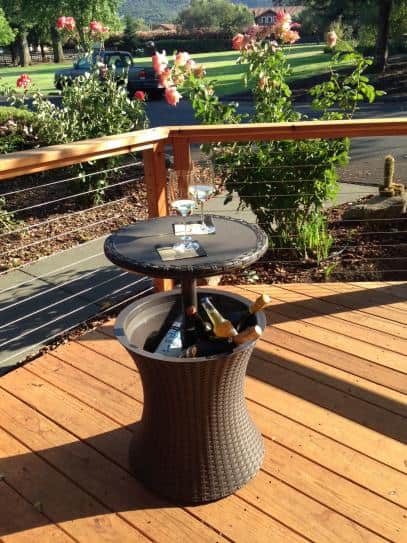 Long summer evenings need cool drinks and an even cooler drinks holder. Why not combine the two by adding a bar to your balcony? Ones like this – with a built in cooler – help save space, too. It can even double up as a hot tub side table.
3. Fan
A fan is a no-brainer in hot weather. While ceiling fans seem sensible, an industrial fan (such as this) has much more power. It might not look amazing, but it'll definitely keep you cool.
4. Speakers
It shouldn't be difficult to find the right speakers for your needs. We have a full guide on the best speakers for balconies, so check that out for more information.
5. Parasol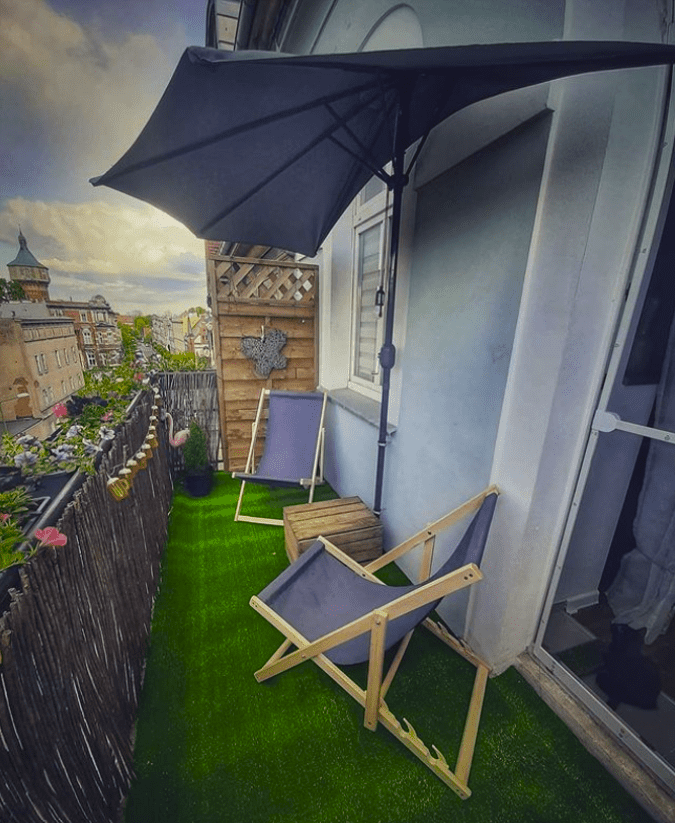 A parasol (or umbrella) is the easiest way to create shade on an uncovered balcony. There are plenty of styles, but a sail shade or a half umbrella works best on smaller balconies.
6. Inflatable Pool
What really needs to be said about an inflatable pool? They're great for kids (and adults… and dogs!) and are perfect for keeping cool in the sun.
7. Balcony Garden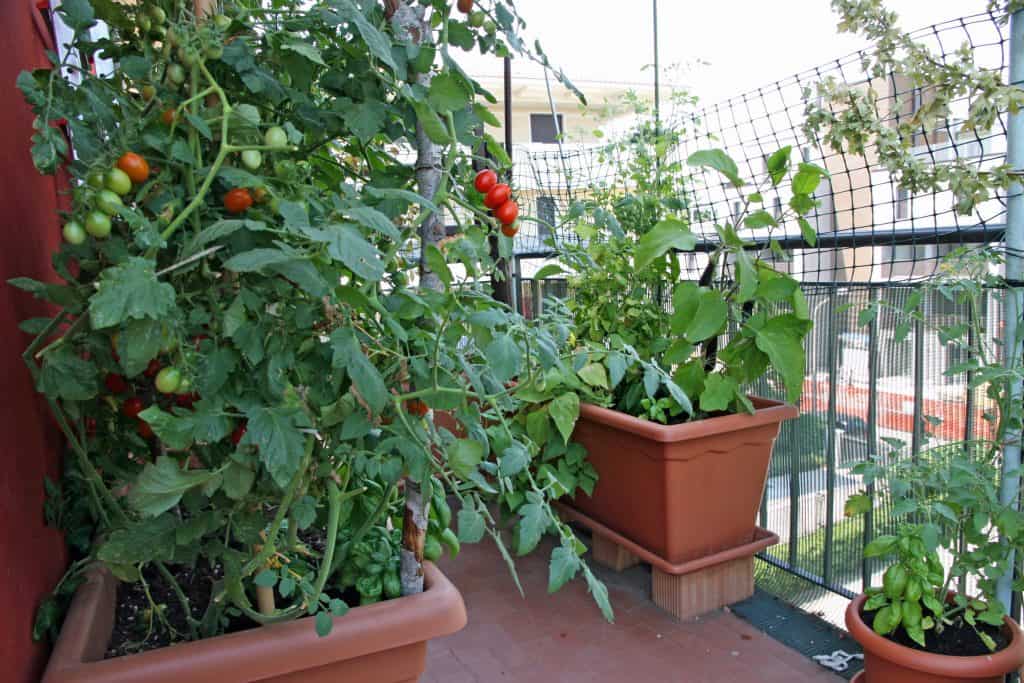 There are few things more fun than growing your own vegetables. Granted, you can't sustain your whole diet with a balcony vegetable garden, but growing lettuce is easy. Check out our guide on balcony vegetable gardens for some tips on what works best.
8. Outdoor TV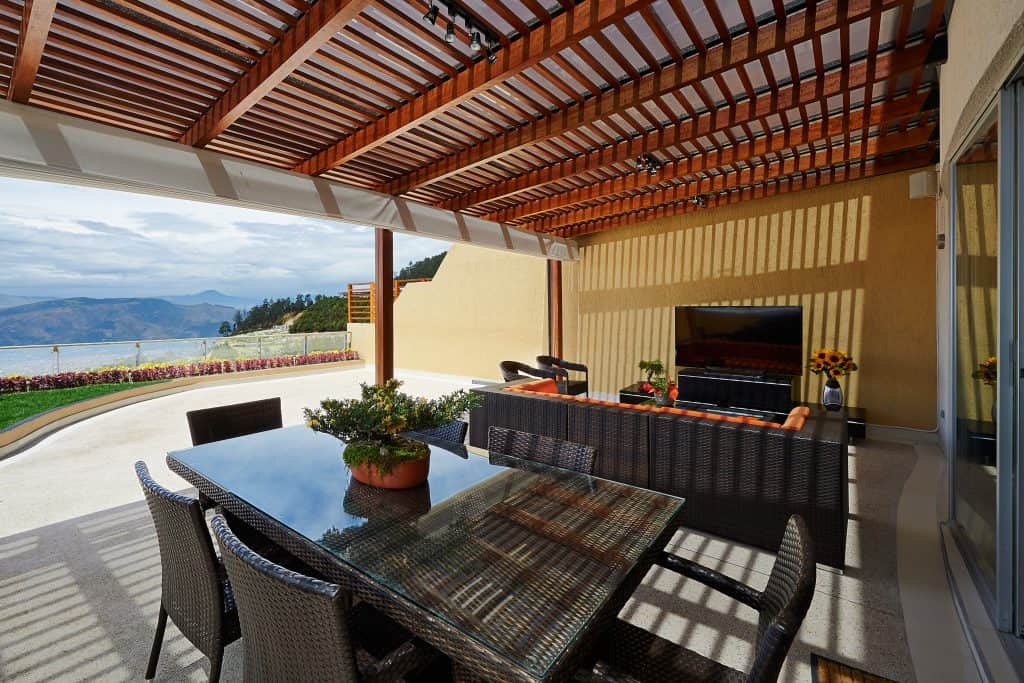 An outdoor TV (such as this one) is quite a big investment, but it is worth it for summer movie nights. If you have a covered balcony, you could probably use an indoor TV. However, an outdoor TV is weatherproof and usually includes auto brightness settings.
9. DIY Furniture
If you're revamping your balcony in time for summer but don't want to spend loads of money, consider making your own furniture. It's easier than it sounds, as some pieces don't need tools. We have a full guide on DIY furniture ideas that'll give you some inspiration for overhauling your balcony.
10. Add some color
This is less of a "thing" and more of an idea: bring in summer by adding loads of color to your balcony. If you have flowering plants, consider matching your new décor to the flowers. Whatever you choose, make sure your outdoor space screams summer balcony vibes.
Final Thoughts
There are plenty of things you can add to a balcony to get it ready for summer. Considering you'll be using it more, your additions should focus on convenience and comfort. Hopefully, this article has given you some inspiration for overhauling your balcony in time for the warm, sunny weather.