Balcony Boss is reader-supported. When you buy through our links, we may earn a small commission at no cost to you. For additional information, please view our policies.
If you've dreamed of installing a balcony in your home but don't really have room, you might have already come across the term Juliet balcony.
You may have also come across the term if you're an apartment dweller trying to figure out what exactly to do with this tiny "balcony" space you have that doesn't really resemble a true balcony.
But what is a Juliet balcony and how does it differ from a normal balcony setup?
In this article, we'll cover what a Juliet balcony is and how to decorate one.
What is a Juliet Balcony?
A Juliet balcony is essentially a small railing over a set of French doors or large window on an upper story. Having railings in front of a large window allows you to enjoy all the benefits without any of the risk. In short, it's a compact balcony option if you're short on space.
Even if you're not a theater buff, you probably know the famous scene in Romeo and Juliet where Juliet is standing on a small balcony. Well, that's where the name comes from.
Of course, they didn't have French doors in the 16th century, but it's a romantic name for a practical home addition.
Juliet balconies are also known as a French balcony, false balcony or faux balcony. The reasons behind these names are pretty obvious, but Juliet balcony remains the most popular name.
While these different names are interchangeable, some people think of "true" Juliet balconies as ones you can (barely) stand on, while faux or false balconies do not have any flooring.
Why Choose a Juliet Balcony?
A Juliet balcony is a good choice for anyone wanting the benefits of a large window in an upper story of their home. You might also find Juliet balconies in apartments, but they're less common outside of Europe.
A Juliet balcony is a good idea if you're short on space or don't have the budget to install a full-size balcony on your property. Considering this can be a significant investment, a Juliet balcony offers a more cost-effective alternative.
Here are the main benefits of choosing a Juliet balcony for your property.
1. Lets more light and air into the room
Sure, a Juliet balcony won't increase the floor space of the room but it'll help it to feel bigger. If you're potentially doubling the size of the window in the room you'll immediately notice how much bigger it feels.
Also, it's a good option for letting more air in. On a warm summer day, opening the French doors in your upper story room will feel amazing, particularly as the cool breeze starts flooding in.
2. Ideal for compact spaces
Perhaps the main benefit of a Juliet balcony is that it's suitable for spaces where a full balcony isn't an option. For this reason, they're a common feature in the narrow, winding streets of many European cities.
The same logic might apply to your home. Regardless of why you can't install a full balcony, a Juliet balcony offers a more compact, easier to fit alternative.
3. Increases protection in the room
French doors or a giant window sounds great, but what if you have kids or pets? You might know to not jump out an upper story window, but the same isn't true for a young child.
This is the main purpose of a Juliet balcony. It provides greater safety and means small people or animals can't jump out the large open window. There are different styles of Juliet balconies that offer different levels of protection.
4. Cost-effective
A Juliet balcony is a more cost-effective option than a full balcony. You also usually don't need planning permission for one, whereas you do for a larger building project.
Additionally, you don't need to hire an architect or other project designers because it's simply a set of French doors and a railing. Usually, this means you can have it installed within a few days.
5. Improves your home's appearance
A Juliet balcony is a great way to improve the appearance of your home, and, by extension, its value. Considering they don't cost much to install, they can add a surprising amount of value to the property.
When you eventually come to sell, something like a Juliet balcony is great for capturing the attention of buyers. Considering the property market is very competitive, you need all the edge you can get.
Styles of Juliet Balcony
The basic premise of a Juliet balcony is simple but there's plenty of variation in style. Whether you favor a more traditional style or a modern Juliet balcony, it shouldn't be difficult to find one that suits your building and tastes.
Here's a brief list of the main types of Juliet balconies.
Traditional Juliet Balcony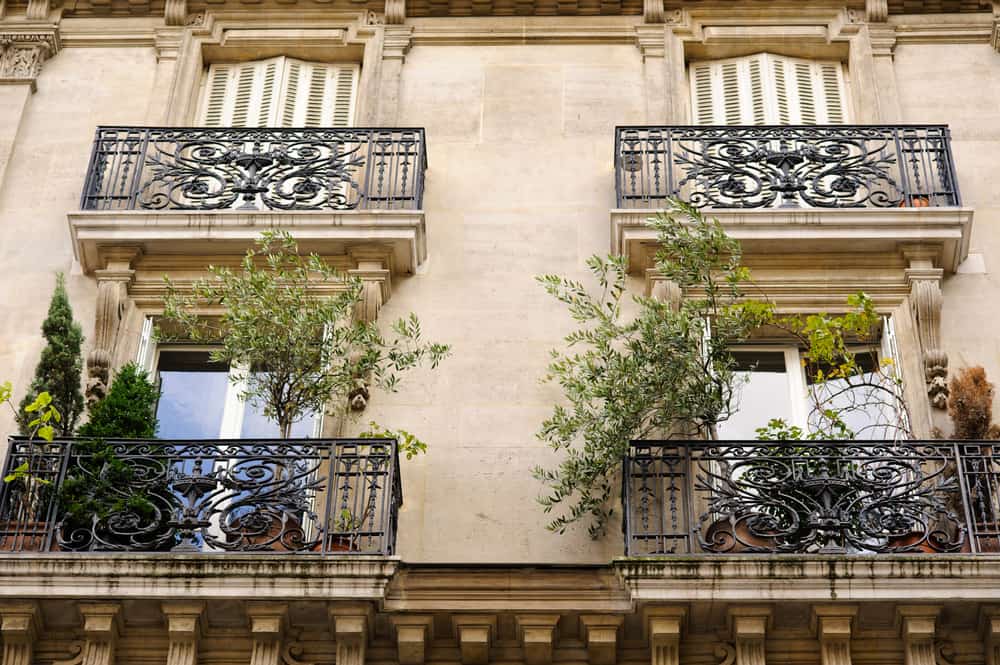 A traditional Juliet balcony uses wrought iron railings welded together into a door guard.
You'll find everything from basic railings to intricate scrollwork depending on how decorative you want to get.
If you opt for wrought iron, it'll either need to be powder coated or painted. This is because iron rusts, whereas more modern materials are resistant.
A Juliet balcony railing isn't the safest option if you have kids or pets because there are still plenty of gaps. But an intricately designed metal balcony does look the best.
Modern Traditional Juliet Balcony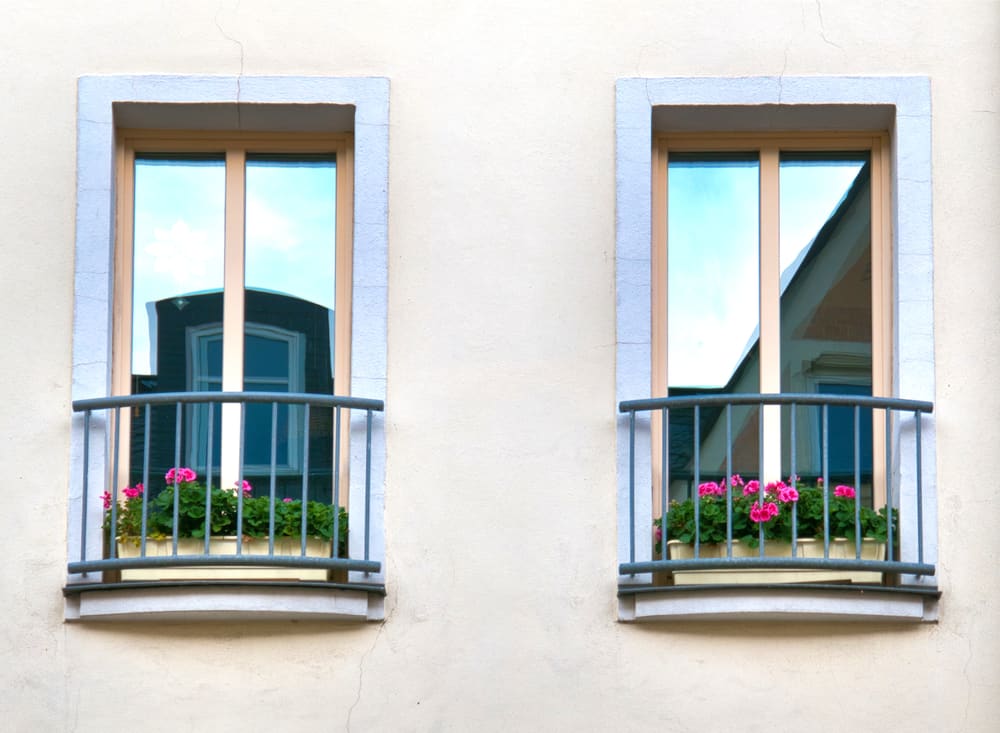 A modern twist on the traditional design might see it made from stainless steel, which is rust resistant. This often gives it a more industrial feel that might not be suitable for older buildings.
Of course, you can fuse old and new styles by mixing scrolled metal with glass. This can be a great way to add a traditional twist to an older building, or vice versa.
Modern Juliet Balcony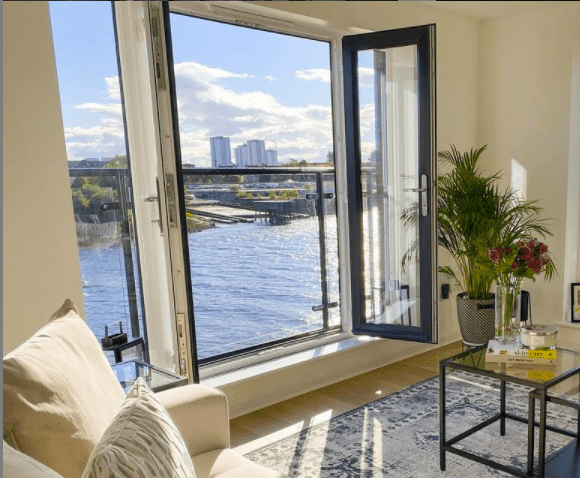 A modern Juliet balcony usually includes glass panels and very little decorative detail. This is because modern styles favor clean aesthetics and straight lines, which glass panels offer.
Generally, you don't have as much opportunity for decorating a glass Juliet balcony, but this isn't always true.
Also, it would look out of place on an older building unless you think very carefully about how you style it.
You might also find modern styles made from wooden railings, but this is less common as a building material for a false balcony.
Wood rots over time and can't guarantee the same level of safety as glass panels or wrought iron.
Choosing a Style for your Home
While you can choose whatever style you like, it's worth considering how it'll fit in with the rest of your home. After all, you'll want something that people see and say, "yes!", rather than "that looks off".
If you're stuck for Juliet balcony ideas, spend some time researching online. Chances are someone has the same idea and has already uploaded a picture to the internet!
While companies installing Juliet balconies will likely have a set of standard designs, there's no reason why they couldn't install a custom balcony on your property. Just be prepared to pay a bit extra.
Decorating a Juliet Balcony
While you might not have the same opportunity for decorating as with a full balcony, there's still plenty you can do with a Juliet balcony.
If you've ever wandered the narrow streets of an Italian or Spanish town, you'll know how creative people can get with their small balconies.
Here are some Juliet balcony ideas related to decorating.
Hanging Plants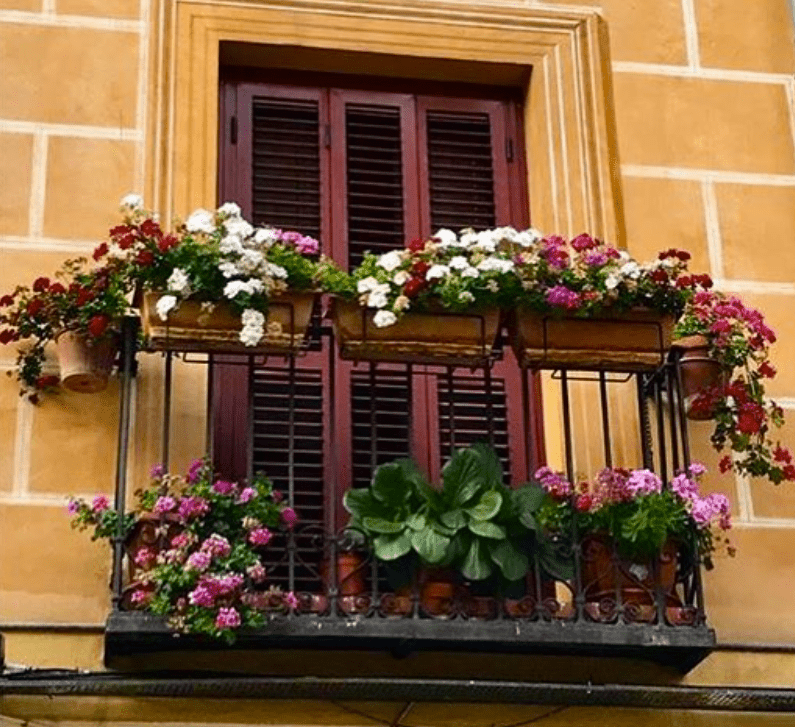 With even a small amount of floor space on your Juliet balcony (which some have), you can fit plenty of plants on the balcony railing.
Hanging or climbing plants are best because they can make use of the surrounding space rather than the lack of space on the balcony itself.
You could even go a step further and try turning the area into a living wall.
Your options may be a bit more limited if you have a faux balcony without any flooring, which might make access to the entire length of the railing challenging. In this case, railing planters will work great, as will hanging faux ivy.
Tiny Vegetable or Herb Garden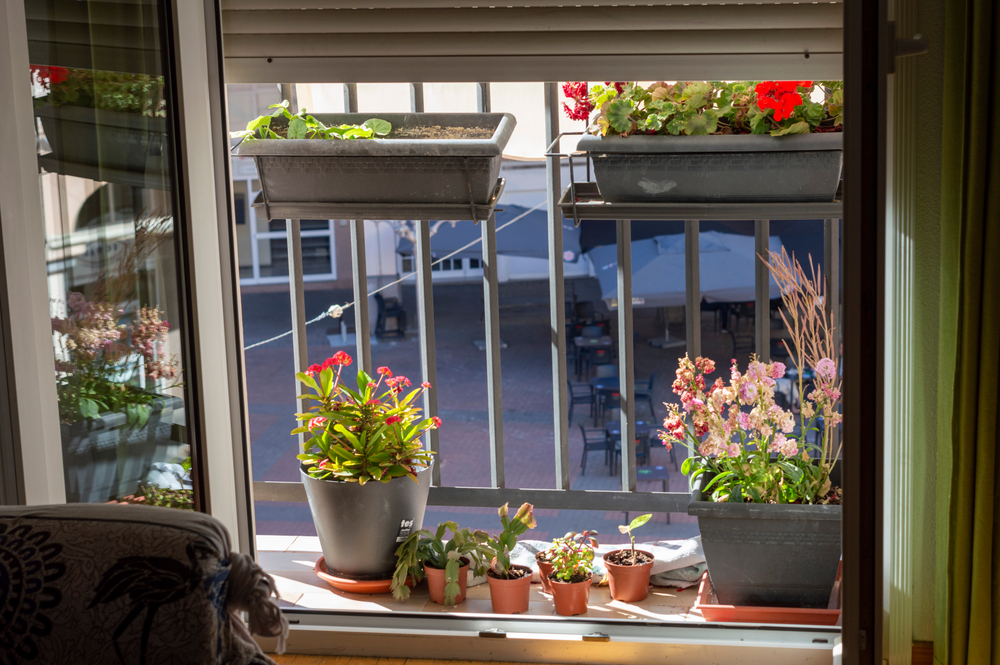 Nothing is stopping you from using a Juliet balcony as a tiny vegetable or herb garden. Find some planters that can hang off the railings and you'll have enough space to grow some things.
Opt for herbs, as you can keep these in small spaces. Lettuce and chili are also great ideas because they can be grown almost anywhere and are renewable.
Bring the Indoors Outdoors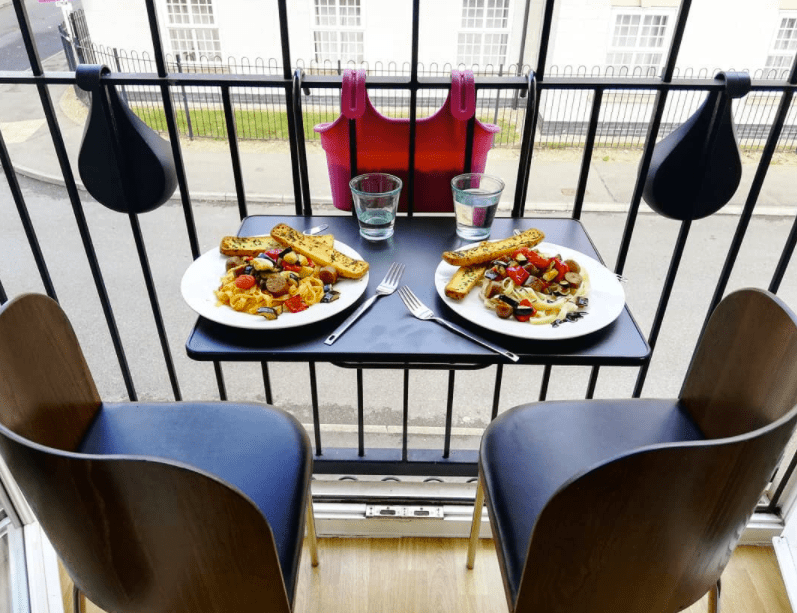 Decorating the balcony is one thing, but what about the indoor space? If you've got a large window in the room, you might as well make the most of it and bring the outdoors indoors.
Set up a reading or relaxation area close to the window so you can enjoy the view and the breeze.
Sheer curtains are perfect for a Juliet balcony because they billow in the breeze and make a room more interesting.
Of course, you can put loads of plants around the window to make use of all that sunlight, too.
The space around your Juliet balcony can be used much as a full balcony would be. Set up a seating area to enjoy a drink or a table and chairs for eating a meal. Just because you're not sat outside doesn't mean you can't enjoy it like any normal balcony.
Hang Curtains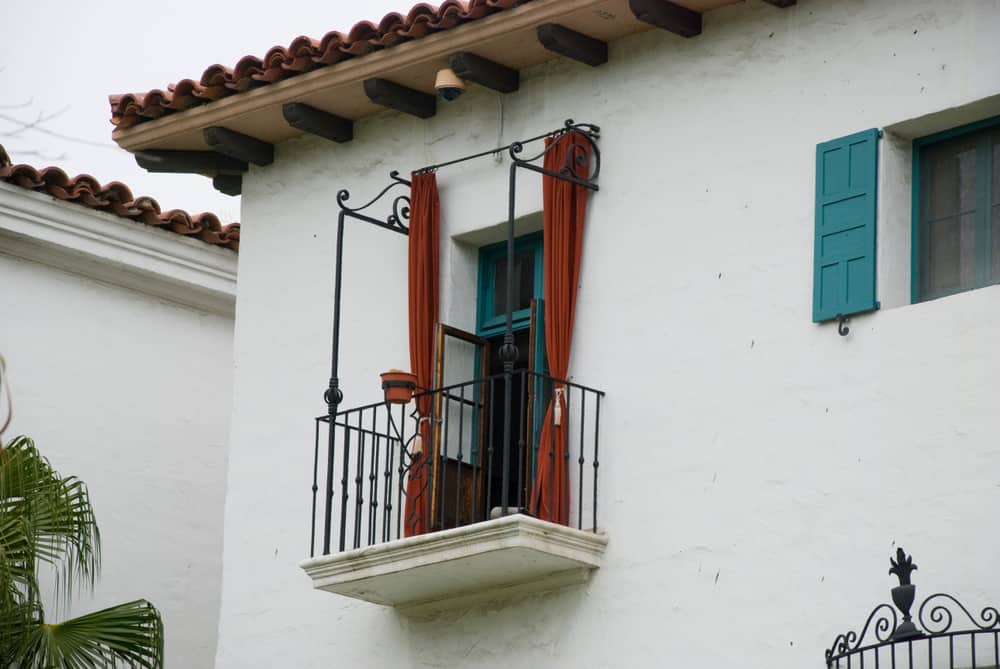 You don't need a covered balcony – or a full-sized balcony for that matter – in order to hang some curtains!
Conclusion
Hopefully, this article has answered the questions, "What is a Juliet balcony?" and "What can I do with a Juliet balcony?" In short, it's a flexible space-saving option that gives you most of the benefits of a full balcony but without the cost.
A Juliet balcony is a great way to add interest to a property and make a room seem much larger. So, if this sounds like a great idea, why not see about getting one fitted on your home?