Balcony Boss is reader-supported. When you buy through our links, we may earn a small commission at no cost to you. For additional information, please view our policies.
Reed fencing is an incredibly versatile product, both indoors and out. It's eco-friendly, easy to use and, generally, inexpensive. Choosing the best reed fence for your needs isn't too difficult, but it's worth learning more about it before making your pick.
So that's exactly what we'll do here. Below is everything you need to know about reed fencing for use around the home.
Before getting into it, though, here's a quick roundup of our favorite products:
Best for Balcony Railings: DearHouse Reed Fencing
This fence is on the shorter side, making it perfect for balcony or patio railings that need a bit more privacy or shade.
Best for Privacy: MGP Natural Reed Fence
Taller fences are ideal for privacy, as is clear with this pick. The tightly-packed reeds mean no one will see through it!
Best for Shade: Biggun 26ft. Reed Fence
At 1.6ft tall, this fence is pretty versatile. Fix it to the top of an existing fence or turn it into roller blinds for indoors!
Best for Decoration: Backyard X-Scapes Coffee Reed Fencing
Coffee-colored reed fences aren't as common, but they can be a great way of backing tropical-style décor to make the colors pop more.
What is Reed Fencing?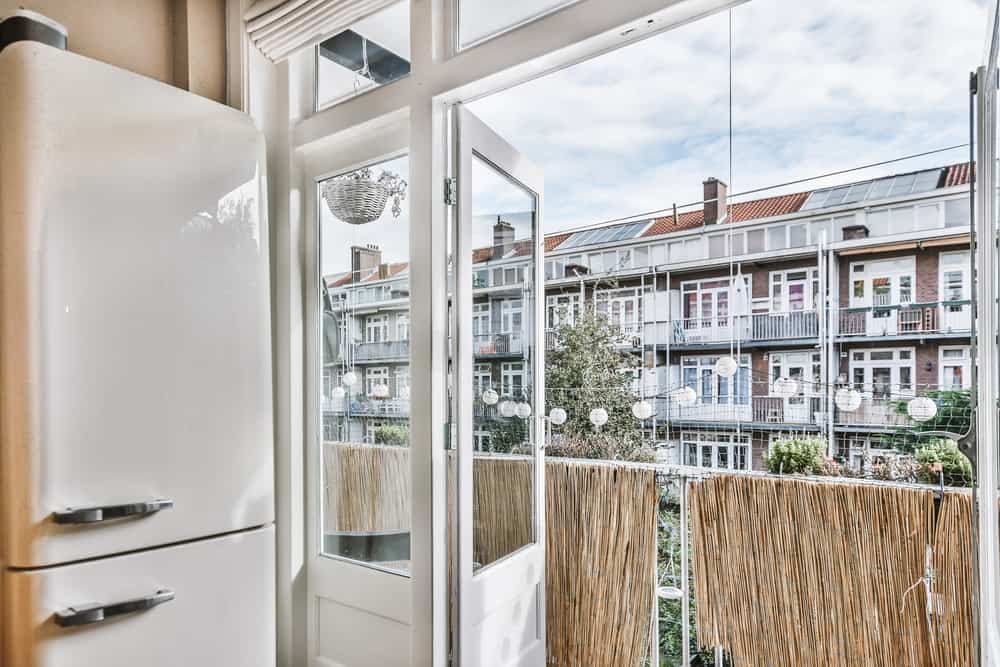 Reed fencing is a product made from freshwater reeds woven together. It often comes in a roll that can be cut to the desired length if needed. The reeds are peeled and sometimes polished before becoming reed fencing. Typically, the weaving material is steel wire or a similar rust-proof product.
The benefits of reed fencing include:
Reeds are a fast-growing member of the grass family, making them an easily renewable resource.
The majority of the fence is biodegradable, unlike plastic alternatives.
Thanks to their growing speed, reed fence is pretty cheap.
Reeds are naturally water-resistant and have a good lifespan when used outdoors (15-20 years).
Bamboo, Reed or Bamboo Reed Fencing?
If you've looked into reed fence before, you might have come across the term 'bamboo reed fencing'. While this sounds innocent enough, it's worth clearing a few things up.
Bamboo reed fencing generally isn't something you can buy and is more of a marketing term. The reeds used in fencing look like bamboo (they're closely related), but they're not the same thing. Reeds are thinner and more flexible, whereas bamboo – even young shoots – is thicker and stiffer. Reeds tend to look a bit more straw-like.
You can definitely buy (or make) bamboo fences but they're not the same as reed fencing, as reeds aren't bamboo. Keep this in mind because you'll often find that a search for "reed fencing" turns up bamboo fencing options and vice-versa. The distinction isn't that important, but it's worth clarifying in case you were looking for a product that doesn't exist.
Types of Reed Fence
There's not loads to say about the types of reed fence you can buy. The 3 biggest factors are color, height and diameter.
Reeds come in brown tones from natural to coffee. You could paint them, but these are the standard available colors.
Reeds are quite narrow – the thickest diameter you'll find won't be much more than 3/8".
Height varies massively, but the shortest fences are typically around 3ft. high, whereas the tallest can be 6ft. Fences can be shorter or taller, although these aren't as common.
The other thing to note is that the fence almost always comes in rolls. However, there's lots of flexibility over roll length, as it could be anywhere from 3 or 4ft. to over 20ft. It's best to have a rough idea of the area you need to cover before buying. You can cut it to length by snipping the wires, but it helps to get as close to the desired length as possible first.
Uses for Reed Fencing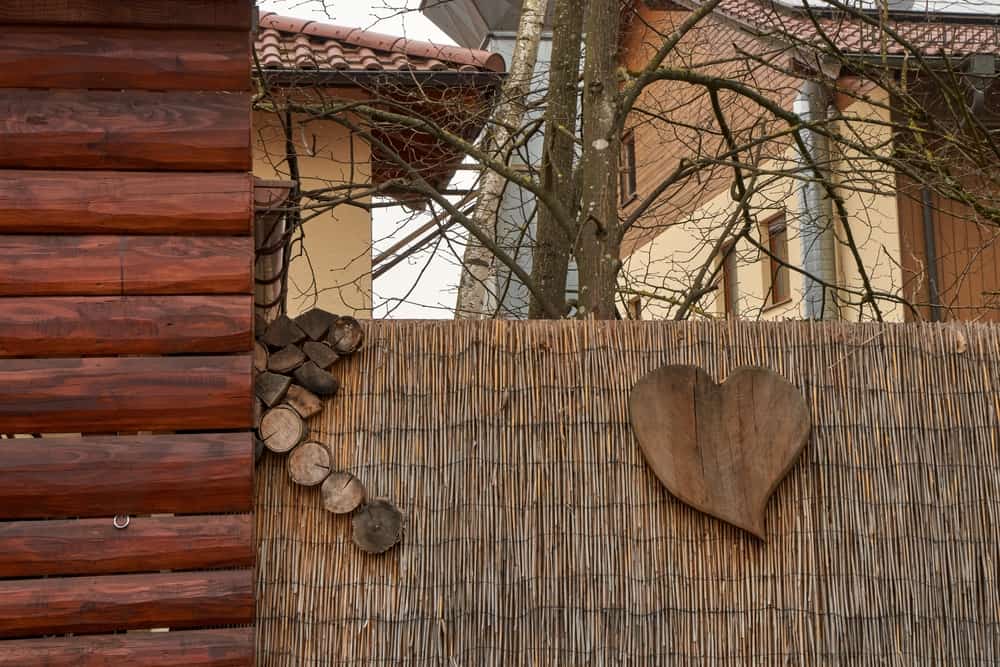 Some of the most common uses for reed fence include:
Privacy
The opacity of reed fencing makes it a good privacy option. You can find products that are 5-6ft. tall, which gives you plenty of coverage on anything from a balcony to a patio. You'll need an existing fence to attach it to, though.
Plant support
Providing it's not a heavy plant, you could easily grow something up a reed fence. Trailing plants such as honeysuckle or clematis would look great, but you'll need to securely anchor the fence to a wall.
Shade
For the same reasons it makes a good privacy screen, reed fencing works well as a shade from the sun. It won't block out all light like a blind will, but that could work in your favor if you're indoors.
Decoration
Fencing made from reeds is an ideal way of covering less attractive fences. For example, if you've got a chain-link fence around your property, you could fix reed fencing to it so it's hidden.
Pros and Cons of Reed Fencing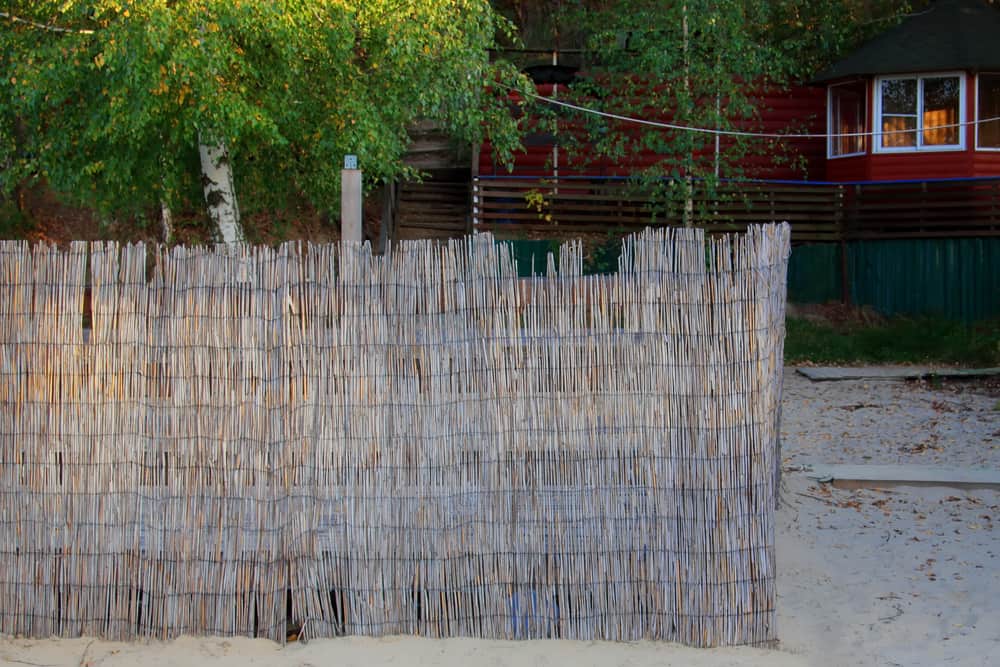 Although it's a versatile product, there are some things you should consider before buying reed fencing. The main pros and cons are:
Pros
1. Eco-friendly and renewable resource.
2. Cheap compared to bamboo or willow fences.
3. Biodegradable.
4. Can be painted or sealed to make it last longer.
Cons
1. Reeds aren't super durable – fencing might get damaged in strong wind.
2. You'll always need a structure for support, such as a wall or fence.
3. Lifespan will be seriously reduced in wetter climates, although sealant can help.
Although not a downside of this fencing material, it's worth noting that reeds are quite difficult to work with. You can cut them with scissors or gardening shears, but they're prone to splintering and cracking if you do.
Also, cutting through all the reeds in a strip of fence would take ages. For example, in a 14ft. fence of half-inch reeds, there'd be more than 300 individual canes! As such, it makes sense to find the correct height before buying or to adjust your plans based on what's available.
Best Reed Fencing Examples
Now that we've got a decent idea of what a good reed fencing product looks like, let's cover some examples and our top picks by use. These obviously aren't the only reed fences available, but they're included here to give you an idea of the sorts of things to look for in particular situations.
We've picked this reed fence as best for balcony railings because it's only 3.3ft. high. It's enough to cover a railing of standard height if you just want to enclose your balcony from the outside world. Of course, if you're after a taller fence for privacy, check out the suggestion below.
The reed is natural color, but it's polished so looks darker than the typical natural color. The roll is just over 13ft. long, so you could easily wrap a whole balcony with it. Failing that, it's pretty easy to cut to size.
Pros
Shorter than normal – good for railings.
Slightly polished.
Long enough to wrap most balconies.
Cons
Not tall enough for privacy.
This fence is better for privacy because it's around 5ft. tall. It would work well attached to balcony railings, garden fences, or even the side of your house if needed. As with other reed fences, the easiest way to secure it is with zip ties.
The reeds are closely packed, meaning it's quite opaque, too. This is obviously what you want for privacy, so keep a look out for it when choosing a privacy reed fence. It's worth noting that taller fences are less sturdy, so make sure you tie it at the top and bottom for greater stability.
Pros
Tall enough for privacy.
Easy to fix in place.
Color will work with most décor styles.
Cons
Less sturdy than a shorter fence.
We've picked this one as best for shading because it's shorter than a typical reed fence. At 1.6ft. tall, it's more versatile in terms of placement. For example, you could fix some to the top of a fence or even turn it into DIY blinds for your windows!
Don't be alarmed by it being so long, as it's actually 2 rolls in one bundle. Each is roughly 13ft. long, which gives you a bit more flexibility. The height is particularly useful, too, because it could be used for hiding stuff around the garden. A good example would be shielding bins or covering the underside of decking.
Pros
Reeds are tightly packed – good for shade.
Shorter than normal – more versatile.
Pack includes 2 rolls.
Cons
Height limits privacy options.
This fence is good for decoration, simply because it's a different color from the others on this list. It's coffee colored rather than natural, meaning it's about the darkest brown you'll find. While this might not suit everyone's décor choices, it makes a nice alternative to the standard natural, yellow-toned fences.
Also, it's 6ft. tall, making it the tallest on this list. As such, it's ideal for fixing to an existing backyard fence for a bit more privacy. Reed fencing like this would look great as the backdrop for some colorful plants or beachy or tropical décor.
Pros
Darker color than most reed fences.
Quite tall.
Easy to fix in place.
Cons
Might be too dark for some décor styles.
Final Thoughts on Reed Fencing
You should now be armed with all the necessary information to pick out some reed fencing. Luckily, it's widely available, so you should have plenty of options in your local area.
Whatever color and size you choose, make sure to take care when installing it, as the reeds can be quite brittle. Once done, though, you'll have a fancy new reed fence that'll last a long time!