Balcony Boss is reader-supported. When you buy through our links, we may earn a small commission at no cost to you. For additional information, please view our policies.
Balcony decking is a great way to add outdoor space to your home or enhance your existing balcony. But, choosing the right materials and design takes some thought.
Luckily, that's what we'll cover in this article. Below are some top balcony decking ideas, including types, budget considerations, and the pros and cons of each.
What is Balcony Decking?
Balcony decking can be anything from a newly installed deck to an add-on to an existing balcony. Traditionally, decking was made from wood, although there's now a large range of non-combustible composite decking materials.
Decking is generally wood planks arranged on the floor, typically on a support frame. So, balcony decking is just this, but on a balcony!
Why Add Decking to Your Balcony?
Decking is a great way to add interest to a space and is certainly more attractive than concrete or other boring construction materials. On a house, adding balcony decking can transform a flat roof into a terrace, adding value to your property.
For a condo or apartment, balcony decking can refresh your outdoor space, and, if done properly, could also add value.
Considerations Before Installing Balcony Decking
As with any installation job, there are some things worth considering before you get started. These include:
Installation
This ultimately depends on whether you're building an entirely new deck or laying a floor on an existing balcony. If it's a complete installation, it makes sense to outsource the work to a decking company. They'll ensure your new deck is safe and secure.
But, if you're just adding a new floor to your existing balcony, it's entirely possible to do it yourself. You won't be making as many structural changes, so there's less at risk.
Type of Balcony
If you want decking flooring on an apartment or condo balcony, it's probably best not to rip up the existing floor (if you even can).
However, if you're installing balcony decking on a house, you've got more freedom for what to install. For example, you could build an entirely new deck or relay the floor.
Budget
Decking can be expensive. Composite and non-combustible materials are the priciest, but also last the longest. Before getting started, it's worth doing some research to get an idea of prices. Then, decide on your budget so you know how much freedom you have over plans.
Material
We'll cover this in more detail below, but material selection is an important part of installing balcony decking. It obviously impacts price, but also longevity, ease of upkeep, and weight.
In some situations, the weight limit will be important. For example, an apartment balcony has an overall weight limit, and so adding lots of heavy wood restricts what else you can have on it. If you feel this'll be an issue, speak to a decking professional for more specific advice.
Types of Balcony Decking
The products below are by no means an exhaustive list, they're just the most suitable options for apartment balcony decking or for use in homes and condos.
1. Balcony Floor Tiles
We'll start with the easiest, and generally least expensive, option: balcony floor tiles. They're small interlocking tiles designed to look like composite decking panels. As such, they're ideal as apartment balcony decking because they weigh next to nothing.
They're very easy to install, as you just clip them together. It also makes them suitable for small spaces, as you don't have to worry about cutting materials down. You can install them over existing floor surfaces without any issues.
With a bit of shopping around, you'll find a wide range of colors, styles and finishes. Balcony floor tiles are a good option if you don't want to spend a ton of money to refresh your existing balcony.
But, it's obvious that they're not real decking. Sure, this might not bother you, but if you're looking for easy, realistic decking, these aren't for you. If you're happy to lose a bit of realism, though, they're ideal for apartments (and particularly for renters).
Pros
Easy to install
Pretty hardwearing
Wide range of colors and styles
Ideal for renters
Cons
Obvious that they're not real decking
2. Natural Wood Decking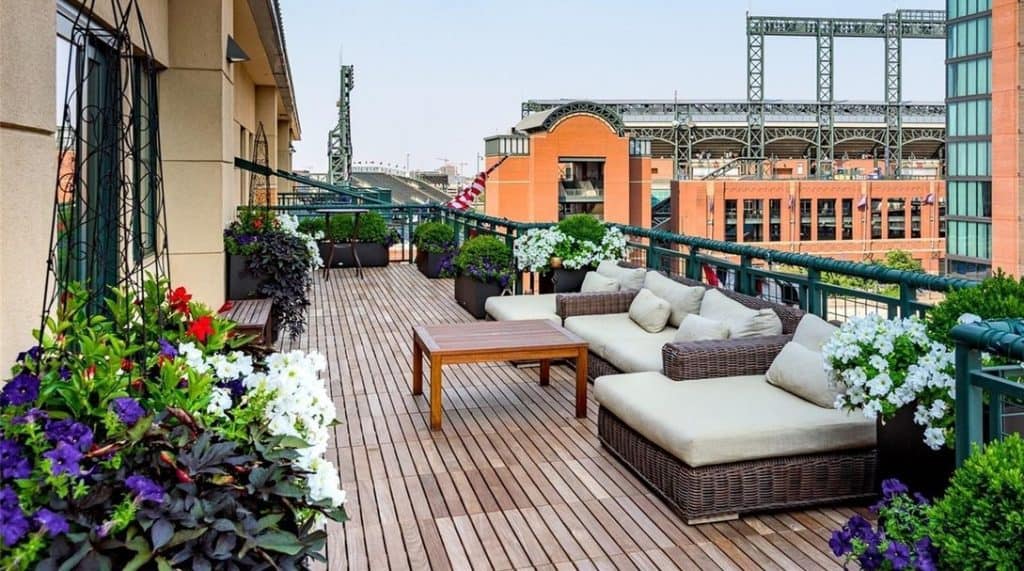 Natural wood decking comes in either softwood or hardwood varieties. It makes sense to group them together because they're similar materials, although there are plenty of important differences.
Softwoods are types like pine, fir, and cedar. While they're much cheaper, they're more prone to rot and damage. As such, they require more maintenance and must be treated with chemicals. They might not be suitable for use around kids and pets as a result.
Hardwood is much more durable and requires less treatment. Hardwoods include oak, beech, and mahogany. As the name implies, it's much harder so is more resistant. But, it's also slightly harder to install, particularly for balcony decking.
That said, you'd need a support frame for wood balcony decking regardless of where you install it. This might mean it's not suitable for apartment balcony decking, as you'll lose some height by adding in the frame.
Installed properly on a house or condo, wood balcony decking can look great and will last for years. There are plenty of balcony decking ideas for styles and setups, too, including railing designs.
Pros
Wide range of suitable woods
Quick and easy to build a wood deck from scratch
Plenty of durable woods
Softwoods are fine if treated properly
Cons
Softwoods are prone to rot
Sometimes not suitable for apartment balcony decking due to frame
3. Composite Decking
Composite decking is a relatively new player on the scene, but it solves all the problems of wood decking. It's made from sawdust or wood flour mixed with polymer or resin.
It's one of the best options for non-combustible balcony decking because it looks like wood but doesn't burn. As such, you shouldn't have any issues from insurance or planning perspectives.
The method for how to install composite decking on a balcony is much like wood decking. It needs a supportive frame that you screw the planks to, meaning it probably won't be suitable for apartment balcony decking. But, you might find thinner planks that'd solve this problem.
The main drawback of composite decking is the price; it's one of the most expensive options. That said, it lasts a very long time (over 50 years), making it a decent investment.
Also, it can be complex to build a supportive decking from this material. So, if you're wondering how to install composite decking on a balcony, be sure to hire a professional.
Pros
Lasts a long time
Resistant to mold, mildew, and rot
Non-combustible
Looks like wood
Cons
4. PVC Decking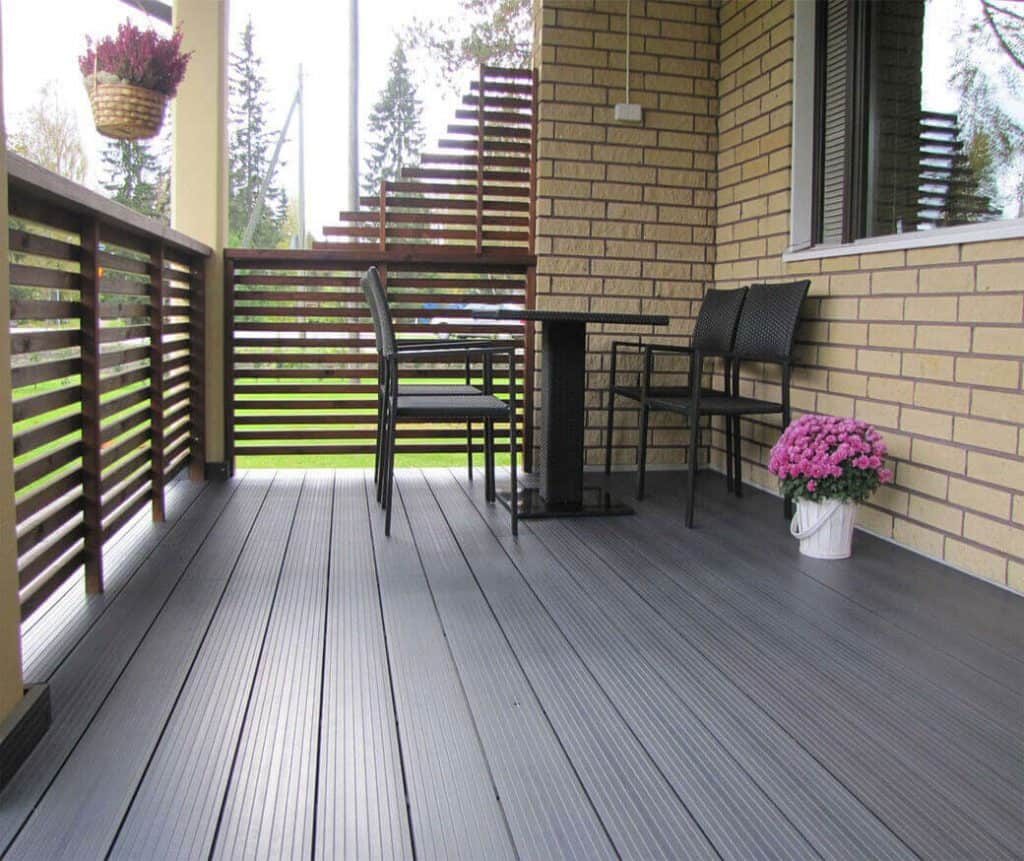 PVC is another suitable option for non-combustible balcony decking. It's plastic, but you can get a wide range of colors. While it'll never look as good as wood, it's a good alternative if fire safety is a concern.
It's fairly inexpensive, and you can get non-slip extras. As you might expect, it doesn't rot, although can be prone to UV damage. You'll have to shop around for a suitable type that matches your weather conditions.
You could certainly use PVC as apartment balcony decking because there aren't any weight or installation concerns. However, you'll still want a professional to do it, as installation is more complicated than wood decking. The biggest difference is that you don't lose as much balcony height when installing it.
The main downside of PVC decking is that it's not as widely available as wood or composite. This means you'll have to find a specialist supplier, which could increase the price. If fire safety and convenience are your main concerns, you might be better off with composite decking.
Pros
Long-lasting
Suitable for all types of balcony
Can be inexpensive
Low maintenance
Cons
Can be prone to UV damage
Less availability
5. Aluminum Decking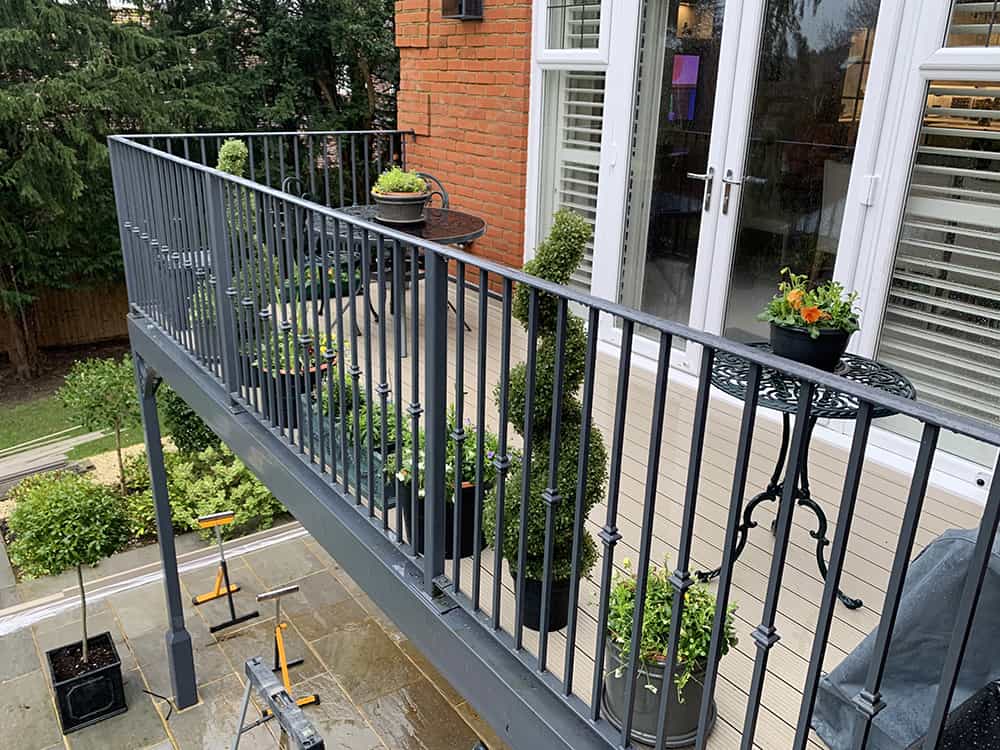 Few people consider aluminum as a decking material, but it has its benefits. It's completely weatherproof, doesn't rust, and comes with a range of non-slip and design extras. You could install it as apartment balcony decking with fairly little difficulty.
However, the two biggest downsides are cost and local weather. Aluminum decking planks are pricey, unsurprisingly.
Then, there's the issue of sunlight. Aluminum will get very hot in direct sunlight, meaning it'd be unsuitable for bright locations. It'd be fine in colder areas or for north-facing balconies, but this is a bit restrictive.
Pros
Completely weather resistant
Plenty of design extras
Suitable for most balconies
Cons
Will get very hot in direct sunlight
Expensive
Final Thoughts on Balcony Decking
Choosing the right balcony decking for your space can be difficult. Your biggest limitation will likely be how much room you have for installation, particularly on existing balconies.
Hopefully, this article has narrowed your choices down. If you're on a budget or can't make permanent changes, balcony floor tiles are the way forward. But, if you have complete freedom, composite materials are arguably the best for balcony decking.
Whatever you choose, balcony decking is a great way to liven up boring outdoor spaces.